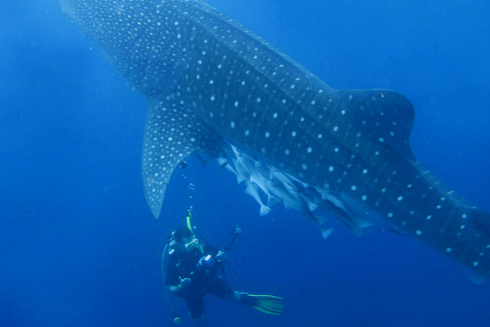 There are facts that most residents of the Northern Hemisphere must simply accept -- first and foremost among them is the existence of winter. Once the glow of the holidays fades, January and February bring polar vortexes, skin-whipping wind chills, frost-bitten extremities, cars that won't start, driveways that need shoveling, and hideous pools of salt and trash-strewn slush.
No matter how much mental preparation one goes through -- or how much whiskey and wine one consumes -- there's no escape from the soul-crushing reality of the year's cruelest season.
The world is magic, though, and while northerners suffer through rainstorms and blizzards, certain wonders emerge that can only be visited from late December to early March. Nothing warms the spirit quite like an impulsive mid-winter flight purchase, and these eight destinations are sure to round out any bucket list nicely -- just keep those fingers crossed that a blizzard doesn't hit the day the plane is supposed to take off! (But don't worry; if that does happen, at least you'll know what to do.)
1. Explore the Salt Flats of Salar de Uyuni, Bolivia
Salar de Uyuni is the world's
largest salt flat and one of Bolivia's most beloved natural sights, spanning over 4,000 square miles. There's debate as to
whether it's best to visit in the wet or dry seasons — but we vote for the former. From
January to March, the salt flats form a giant shallow lake fed by periodic
rainstorms. The payoff? When the clouds break, the still waters turn the flats
into a giant mirror that reflects back the mountains, clouds, and sky
in a breathtaking spectacle that's any professional or amateur photographer's
dream.
Head to the salt flats a bit earlier — in November — and though the looking-glass landscape won't be
as stunning, thousands of flamingos make the region their breeding grounds, which is a spectacle in its own right. However,
the wet season means sights like Fish Island — a cactus and fossil strewn hill
that improbably rises from the stark white salt flats — are off limits. Keep in
mind that this is a high-altitude adventure and guests should be prepared to deal
with a day or two of acclimatization. All the more reason to simply extend your trip!
2. Hike Torres del Paine National Park in Chile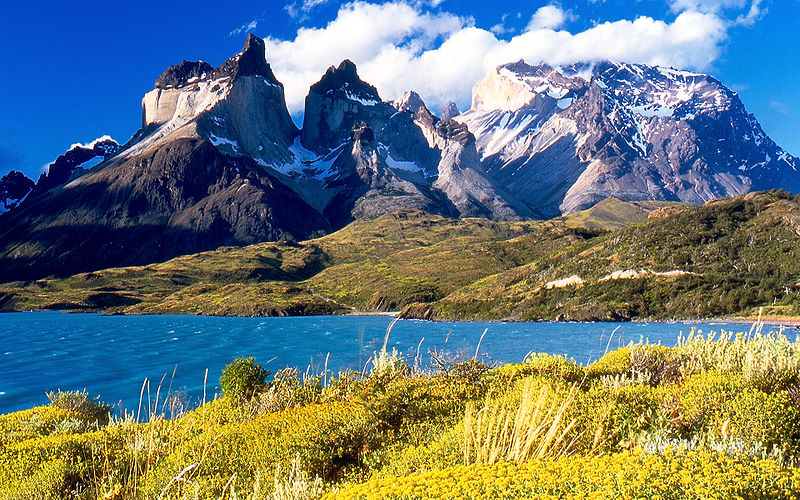 One of the most famous
national parks in South America, Torres del Paine is home to towering Andean landscapes and some of the world's best trekking. The W
circuit, a trek that takes four to five days to complete, is the park's most well-known feature and the infrastructure is
high-end all the way — at least by outdoorsy standards. With reservations, hikers have access to showers, proper beds, and even a cocktail or two at the refugios and lodges that dot the way. The
scenery is stunning and includes turquoise lakes,
jagged-tooth mountain peaks scraping the bellies of clouds, boulder-strewn
meadows, and wildlife like pumas and condor. Patagonia on both sides of the
Andes is prone to wild shifts in weather — sometimes within one day — so
travelers should go armed with gear for both heat and snow. The weather is best, the daylight hours are longest, and most of the park is accessible in January and February, though this is peak season and there will be plenty of other high-altitude lovers on the trail.
Hotel Pick: Direct
flights to Punta Arenas don't exist from most North American cities, so spend a
couple days exploring Chile's cosmopolitan capital, Santiago, on the way. Noi Vitacura is
a trendy boutique choice in the city's high-end Vitacura neighborhood — views
of the Andes are spectacular from the hotel's rooftop bar.
3. Watch the Northern Lights in Rural Iceland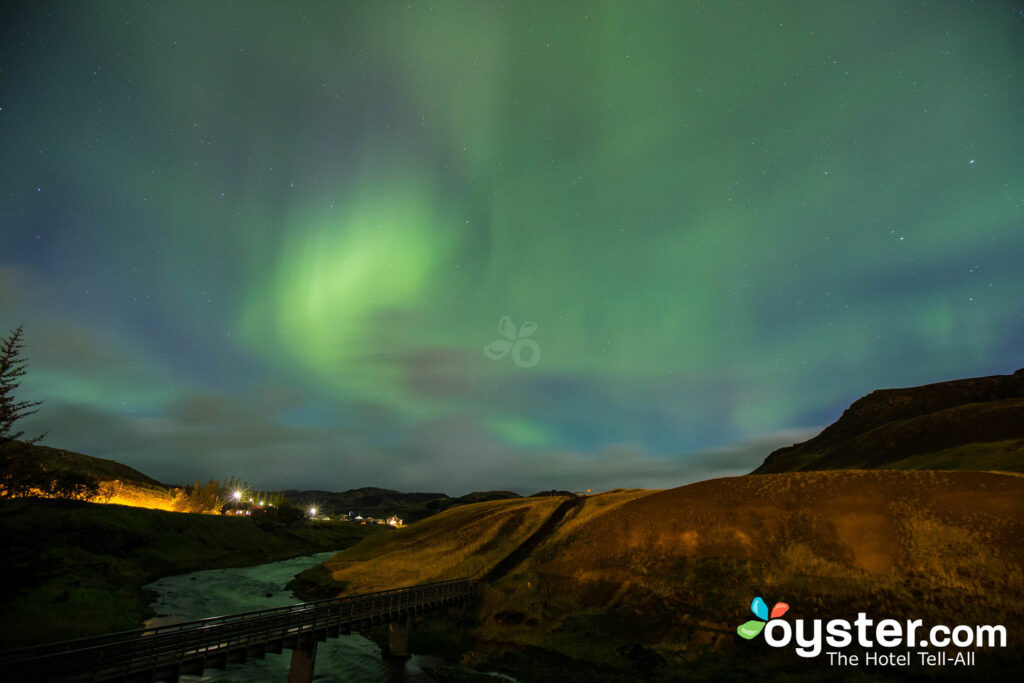 Yes, the plane tickets to
Iceland cost several pretty pennies during Northern Lights season, but witnessing
the aurora borealis — a phenomenon that happens when solar particles interact with the
earth's magnetic field — is worth every last cent. The
winter months guarantee the longest stretches of uninterrupted darkness, which
is key to seeing the lights; the sun is up for just over four hours on the
island nation's shortest day, December 22. That said, snowstorms can put a
damper on the colorful spectacle, so travelers have to build some flexibility into their itineraries. Additionally, it's worth the expense and the trek to stay outside
Reykjavik, where light pollution can decrease visibility.
Hotel Pick: Much of the ION
Luxury Adventure Hotel has been constructed specifically with the Northern
Lights (and ecological consciousness) in mind. The minimalist, urban-chic hotel
offers sleek rooms with luxe features like organic linens, and a bar built
to optimize Northern Lights views. The hotel is 45 minutes outside of Reykjavik
and guests should anticipate renting a 4×4 to reach the property.
4. Dive with Whale Sharks in Zanzibar, Tanzania
Above water, winter means
that the Great Migration is underway in Tanzania's Serengeti National Park. Meanwhile,
under the sea, whale sharks arrive to call the waters off East Africa home for the season. From November through February, between Tanzania's Zanzibar and Mafia Islands, the 40-foot behemoths of the sea — the ocean's largest fish — can be
seen in their highest numbers in the region. The experience is surreal and
requires a certain measure of bravery, but whale sharks are docile filter-feeders whose diet consists mainly of plankton. Zanzibar has dozens of outfitters that run tours into the more shark-heavy dive sites, and many tour operators run directly through the island's resorts. Travelers should investigate
dive companies ahead of time, though, as some tour operators are more respectful of
this endangered species' natural habitat than others.
Hotel Pick: The Baraza
Resort & Spa is about as elegant as it gets on Zanzibar, with only 30
stand-alone villas that are the definition of breezy and beautiful, with
private plunge pools. Travelers who want to drop less cash can try the more
humble Dream of Zanzibar, which has nice local touches throughout.
5. Sleep in Ice at Hotel de Glace in Quebec City, Quebec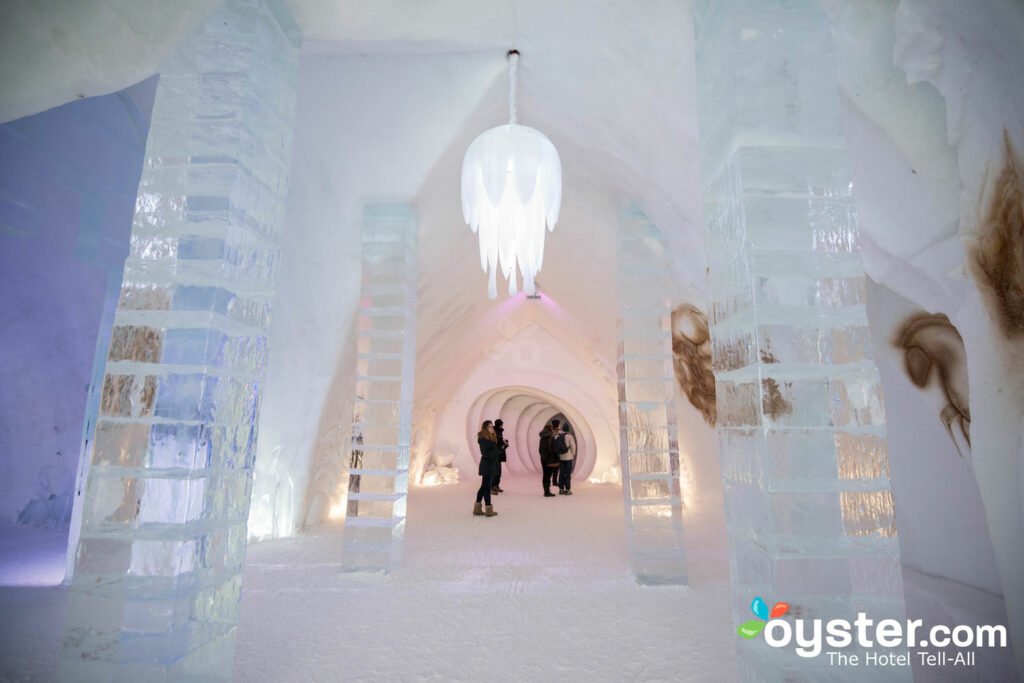 With 44 rooms to choose
from, Quebec's Hotel de Glace is as wintry as it gets. Every year since 2001,
the hotel has opened its icy doors from January to March. This is one of only two
properties in the world where guests can eat, sleep, and get spa treatments in a building made
completely of ice and snow — 500 tons of it, to be exact. Even the tumblers and
cocktail tables in the bar are hewn from blocks of ice. There are a few catches: Guests can only be in their rooms during certain hours overnight, and rooms
lack en-suite bathrooms and TVs — but each room's whimsical theme makes a
night spent here a brag-worthy experience.
6. Visit Death Valley in California
Death Valley can be dangerously hot during the late
spring, summer, and early fall, but in January and February the temperatures rarely
climb above 70 degrees and the otherworldly landscapes can be enjoyed for all of
their stark, unadultered beauty. Snow-capped mountains frame the valley around Badwater Basin — a salt pan that's the lowest point in North
America — while the slopes of the Artist's Palette can be photographed in all of their dazzling geological colors. When the infrequent winter rains evaporate, the valley floor around Badwater
Basin turns into a mind-blowing array of hexagonal salt formations that are
fueled by a massive network of drainage springs and high mineral concentrations
that make this lowest point in North America a sight to behold.
Hotel Pick: Many visitors
make their way to Death Valley from Las Vegas, as the city is home to the
closest major airport. Spend a day on The Strip in style before heading out
into the desert's rugged landscape. The Cosmopolitan is one of Vegas'
trendiest and chic spots.
7. Safari in the Botswana's Kalahari Game Reserve
Previously mentioned, the world's most famous big game migration takes place during the winter
through the Serengeti in Tanzania. However, Botswana's Central Kalahari Game Reserve — an inhospitable desert much of the year — is the world's largest wildlife
preserve and comes to life in vibrant color during the very same months. In
December, the seasonal rains turn the dusty expanse into grasslands peppered
with watering holes, drawing herd animals like zebra and wildebeests, plus the
predators who follow them — hyenas, lions, leopards, and the like. The Kalahari is
still shy of most tourists' radar and visiting it feels like setting foot onto a truly
undiscovered wilderness. Price tags can be higher than in more well-known
safari destinations, but the payoff — far from other tourists and alone with
the animals — is well worth it.
8. Drive among the Almond Blossoms in Majorca, Spain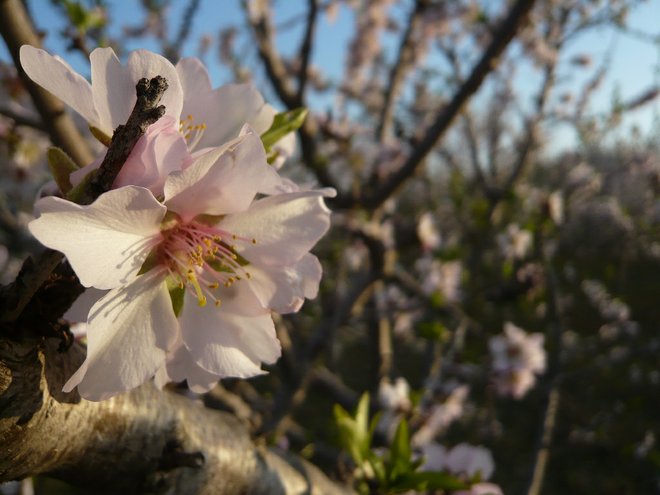 Not every winter
destination requires hiking, diving, or braving cold temperatures. Spain's
Balearic Islands sit in the Mediterranean Sea off of Spain's coast, and enjoy a
relatively mild climate all winter. In January and February, mountainous little
Majorca is covered in a soft white and pink blanket provided by the island's
thousands of flowering almond trees. The spectacle has drawn holiday-makers,
painters, and photographers for decades, and provides a fine chance to enjoy a
dazzling sight that rivals Japan's Sakura-matsuri cherry blossom season. Bloom times
vary year to year and differ a bit across the island, so it's best to make
historic Palma a home base. Simply rent a car, fire up the GPS, and enjoy
hopping around to find the perfect view.
Hotel Pick: The HM brand
of hotels offers some of Majorca's most stylish options. The HM Balanguera is a
laid-back, contemporary boutique property with a small rooftop pool and mountain
views. Its sleek sister property, HM Jaime III, is right in the city's historic
center and has a spa.
Related Links:
All products are independently selected by our writers and editors. If you buy something through our links, Oyster may earn an affiliate commission.