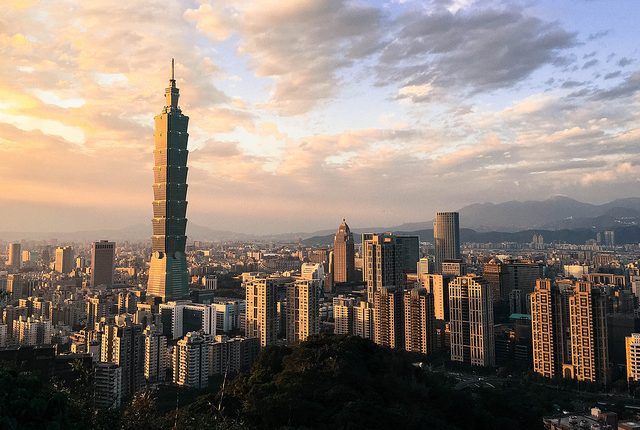 Upon arrival, Portuguese sailors dubbed this lush island "Ihla Formosa," which means beautiful island, though today, you know it as . This tectonic hot spot lies off the southeast coast of and directly north of the Philippines' island of . The geography of this (relatively) small island includes rugged mountains formed from the collision of two tectonic plates and gorges carved out by strong typhoons, such as the famous Taroko Gorge. As such, most of Taiwan's 23.5 million inhabitants live in the metropolitan regions packed into the flat plains along the western coast.
Taiwan has much more to offer travelers than its awe-inspiring landscapes (though we do think that connecting with the country's natural landscape merits considerable time during any visit). Its urban centers offer a variety of cultural experiences, notably a diverse range of cuisine, especially in lively night markets. , although perhaps a bit shabbier in appearance compared to glitzier Asian capitals, is home to many worthwhile monuments, temples, and museums. The metro service is easily navigable and assists travelers with evading the bustling street traffic. Taipei also hosts vibrant events, like the Taiwan Lantern Festival and Cherry Blossom Festival (there are actually multiple), which occur annually in either February or March.
If we haven't convinced you to book your flights yet, read on for an even longer a list of reasons why Taiwan makes an excellent trip, with something to excite any style of traveler. Have a look!
1. You can soak in one of Taiwan's many hot springs.
https://www.instagram.com/p/BPjQU77DfUP/
One soothing benefit of the tectonic turmoil underfoot is the availability of geothermal springs. The practice of taking baths in these springs has long been ingrained in Taiwanese culture. For those looking for a respite from city walking, take the Taipei metro to the New Beitou stop, which is just a short walk from the Beitou hot springs. This is an open air, public hot spring with lockers available for clothing and valuables. To avoid the crowds, head during business hours on a work day, and have a quiet soak among Taipei's grandmothers and grandfathers.
There are many more worthwhile springs to visit, but you'll need to venture outside of Taipei's metro system to get there. For a more natural setting, check out Wenshan hot spring, located in a cave along a gorge in Taroko National Park. The water temperature is well over 100 degrees Fahrenheit, which makes alternating between here and the cool waters of the adjacent stream ideal. Be careful as you make your way down the steps and into the cave, as rock falls are not uncommon. Another scenic bathing location is in the Fuyuan Forest Recreation Area. Explore the forested valley and waterfalls by trail before relaxing in the outdoor hot springs surrounded by butterflies (if you visit March to August).
Keep in mind that hot spring spas divided by gender are usually done so because bathers will be in the nude.
2. The night markets are incredible.
https://www.instagram.com/p/BUBM9vmjqeN/
Many of Taiwan's culinary delights are found in its cities' night markets. One of the most well-known Taiwanese specialties is stinky tofu, which can be found in any night market. It is typically deep-fried with pickled vegetables or prepared by diners themselves in pots of broth atop small tables. Don't let the peculiarly odorous smell deter you — the taste is significantly more pleasant! The crowds of people queuing for stinky tofu should encourage those feeling tentative.
The options abound in many of these night markets. Vendors offer everything from noodles, to sticky rice to squid on a stick to dim sum. For seafood lovers, a less obvious specialty we recommend is an oyster omelet. Expect the egg encased oysters to be topped with scallions or chrysanthemum. Another favorite is a creation called "coffin bread" — a thick slab of bread that's been hollowed out and toasted or fried to perfection. Tasty fillings such as shrimp with pineapple, chicken stew, and mushrooms are placed inside before being closed in by another layer of bread.
3. It's home to Taroko National Park and Taroko Gorge.
https://www.instagram.com/p/BTk23NrB6UJ/
Taroko National Park is home to the Taroko Gorge, which is arguably Taiwan's most famous attraction. The name Taroko is derived from the indigenous Truku tribe's language, meaning "human being." The tribe inhabited these mountains well before the ethnic Han came over from the Asian continent. There are still small indigenous populations living in their ancestral homeland within the park, though economic hardship has drawn many young people to the cities for work. An excellent opportunity to get some exposure to tribal culture, support the community, and take in the lush mountainous scenery is through an overnight trek with Trekkers can stay with an indigenous family atop a ridge with clear views of the surrounding peaks and valleys.
Most visitors come to Taroko National Park to view the humbling, immense gorge that has been carved out in the limestone. There are many viewing opportunities along the road into the park. Mind the guardrails and signs, as they are there to be keep visitors safe from falling rocks. Continue farther in on the entry road and you'll find a suspension bridge used by the Taroko people to transport supplies up to their villages. Conquer your fear of heights and make your way to the middle of the bridge for a bird's-eye view of the raging waters below. More rigorous walking and trekking opportunities abound, with plenty of ridges to get the adrenaline pumping. We recommend hiking up the Zhuilu Old Trail for those looking to escape the selfie-stick hordes lining the easily accessible roadside viewpoints.
4. You can join a public tai chi class at sunrise.
In urban centers, you'll see Taiwanese of all ages working up a sweat in public dance and exercise groups. Head to public parks along the Tamsui River or the Chiang Kai Shek Memorial to join in on some early morning tai chi. Expect dozens if not hundreds of middle-aged to elderly Taiwanese women emphatically following an instructor situated at the front of the masses.
5. You can a new sport: river tracing.
https://www.instagram.com/p/BTAni7rgeBg/
The sport was first established in Japan. It's a mixture of hiking, climbing, and bouldering through a river canyon. Proper footwear is key to proper river tracing — shoes made from wet-suit material are fitted with felt soles that can grip smooth rock surfaces. Clean, clear water is a must for an ideal river tracing location, since sediment clogs up the felt and diminishes the effect of the shoes. Conveniently, these nearly untouched waters are stunningly beautiful with waterfalls and turquoise pools. This is especially the case in Taiwan, where the idyllic conditions are just right. leads trips for all skill levels up waterways near Taroko National Park. River tracers will find plenty of waterfalls to climb and boulders perfect for jumping into crystal clear pools below.
6. It has a rich indigenous culture.
https://www.instagram.com/p/BUD9Io-FouP/
Taiwan is home to 14 aboriginal tribes that settled on the island long before ethnic Han settlers arrived in the 1600s. Today, these groups comprise about two percent of Taiwan's population. Most of the population is concentrated along the eastern coast. In Taipei, the Shung Ye Museum of Formosan Aborigines displays indigenous cultural artifacts, such as clothing and tools, and highlights traditional practices. For a more personal cultural encounter, consider heading down the east coast, well south of Taroko National Park, to Taitung County (under four hours from Taipei by high speed rail). Taitung has a substantial indigenous population and visitors can hear traditional music infused with modern flair at the This former sugar factory now serves as a performance space with a variety of weekend events. It also features art installations, locally brewed beer, and a cafe — all of which makes for a welcoming place to linger.
7. Taiwan is more affordable than other East Asian destinations.
https://www.instagram.com/p/BKlA5LzDHXX/
and South Korea are both deserving of the attention travelers have given them for decades. However, they're far from budget friendly, unlike Taiwan. A fresh meal at a Taiwanese night market will typically range from two to five dollars. Hostel beds are available for under $20, and a mid-range hotel room will run around $50 to $70 per night. Transportation won't set you back much either. High speed train prices from Taipei to Kaohsiung, Taiwan's second largest city, cost less than $50 at the current exchange rate.
8. The surfing scene is unpretentious.
https://www.instagram.com/p/BSidTHqjiZi/
Surfing giants like and the attract the bulk of wave-seeking travelers, making for a crowded experience. Those in the know are taking advantage of the sparsely occupied beaches of Taiwan. The sleepy town of Dulan, on the southeast coast, serves as Taiwan's surfing hub. Nearby surf spots Donghe and Jinzun are ideal for more experienced surfers. For those newer to surfing, check out , which functions as a guest house, surf shop, and bar (among other things). It offers half and full-day surf lessons as well as rentals. Plus, its proprietors can offer local knowledge on the best surfing spots.
9. You can escape the crowds.
Taiwan receives substantially fewer visitors than South Korea, Japan, and the backpacker hot spots of Southeast Asia. Away from the viewpoints in Taroko Gorge, you'll hardly see crowds of tourists anywhere. This makes for a destination where one can get off the tourist trail and engage with unjaded locals. Don't be surprised if any of the Taiwanese strike up a conversation to practice their English and find out where you're from.
Also, browse our honest reviews and photos of 258 Taiwan hotels
You'll Also Like:
All products are independently selected by our writers and editors. If you buy something through our links, Oyster may earn an affiliate commission.