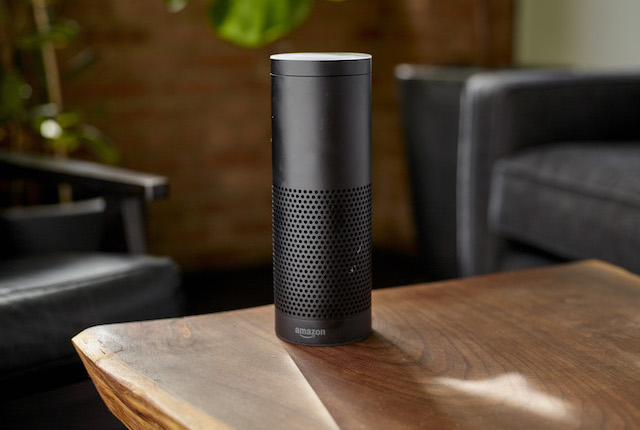 "Alexa, order wine." This morning, Amazon announced a new program called Alexa for Hospitality. The e-commerce powerhouse is introducing its popular digital personal assistant, the Echo, which users address as "Alexa," to select properties that are part of Marriott Hotels, Westin Hotels & Resorts, St. Regis Hotels & Resorts, Aloft Hotels, and Autograph Collection Hotels. Alexa will also be available at boutique properties, including Thompson Hotels, Joie de Vivre, Destination Hotels, and Alila. Via the Echo, hotel guests can ask for information about the hotel itself, like when the pool closes and where the spa is located. The device can also contact services like the concierge, housekeeping, and in-room dining, just by speaking to it. A simple command like "Alexa, order wine" should route through all the proper channels, ending in staff delivering wine to your room and an automatic bill. She (Alexa's default voice is female) can also perform tricks like reading books, playing music, and other "skills" that users select on the Alexa smartphone app. Hoteliers are hoping that Alexa will improve the guest experience and streamline operations by automating common questions and requests.
Jennifer Hsieh, Vice President of customer experience innovation at Marriott International, said in a statement, "So many of our guests use voice technology in their home, and we want to extend that convenience to their travel experience." Hsieh is right. Gallup and Northeastern University reported that about one in five American adults use an intelligent home device. But virtual assistants have also recently come under fire. Home users have reported eerie laughter coming from their Alexa devices and "Wired"reported that a hacker successfully installed malware that allowed all audio to be sent to a remote server. Companies that sell smart speakers (including Google Home and Amazon Alexa) are collecting data and being vague about how they might use voice recordings in the future. There are definitely risks involved with owning a digital assistant or sharing a hotel room with one.
So, what does the Alexa mean for your privacy in a hotel room? Amazon is claiming that they delete voice recordings at the end of the day, and don't have access to the guest's identity or room number. But Amazon customers can temporarily connect a personal Amazon account to the device in the room, allowing them to play their own music or audiobooks -- and provide more data to Amazon. There is no guarantee that companies won't use the information they gleaned from recording your voice to sell products or specific ads. Fans of Alexa maintain that the bots make their lives simpler. They have fully embraced the technology as a way to save time and efficiently find information. If you don't fall into that camp and you're checking into a participating hotel this summer, the smartest thing you can do is ask human hotel staff to remove the device from your room before you check in.
You'll Also Like:
All products are independently selected by our writers and editors. If you buy something through our links, Oyster may earn an affiliate commission.