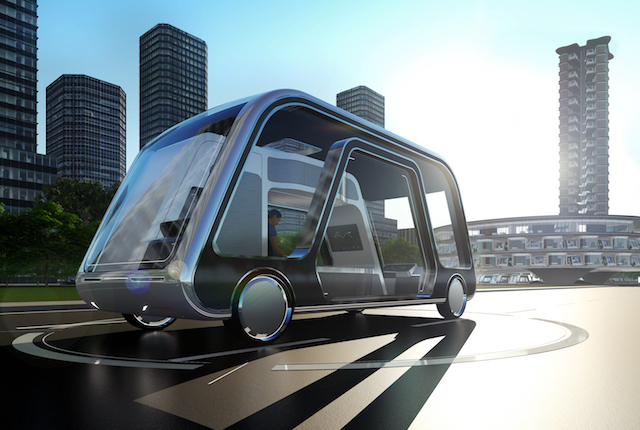 Imagine taking a road trip and not needing to pull over to refill gas. Or, never forgetting something at the hotel while out sightseeing for the day. How about cutting out airport commutes that involve long security lines, frustrating baggage fees, and unexpected delays? The Autonomous Travel Suite is aiming to make not one, but all of these wishes a reality.
Referred to as a hotel on wheels, each mobile suite features a sleeping area, a private bathroom with a toilet and sitting shower, a space for working or entertaining, and a small kitchen. It can also accommodate up to five people -- time to shake up those family vacations. It's true, this sounds similar to an RV experience, but unlike those vehicles, this autonomous hotel requires no one to take the wheel -- meaning passengers can sit back and relax rather than focus on the road. Plus, the whole thing is battery-operated. "Whether it's six or 10 hours, you'll feel comfortable inside it," says Steve Lee, designer at Aprilli Design Studio, the firm behind it all, reports USA Today.
The driverless suite, which won this year's Radical Innovation Award, will also be able to pick up and drop off passengers, and travel up to 10 hours on a single charge, according to USA Today. This would not only minimize typical travel costs, but also provide much more flexibility. Lee also plans to create an app to streamline the booking process.
But don't start canceling those domestic flights just yet. Although driverless cars have already been road-tested (and Tesla CEO Elon Musk says self-driving cars could be on the road by next year), the Autonomous Travel Suite likely won't make its debut until at least 2030, says Lee.
You'll Also Like:
All products are independently selected by our writers and editors. If you buy something through our links, Oyster may earn an affiliate commission.