Whether driving to the warm Florida coast or jet-setting to the sandy Caribbean islands, we've created a packing list that should cover all your beach essentials. Of course, take into account the destination's weather, what activities you'll be doing, and any other travel necessities (passport, power adapter, and phone chargers) when packing your luggage.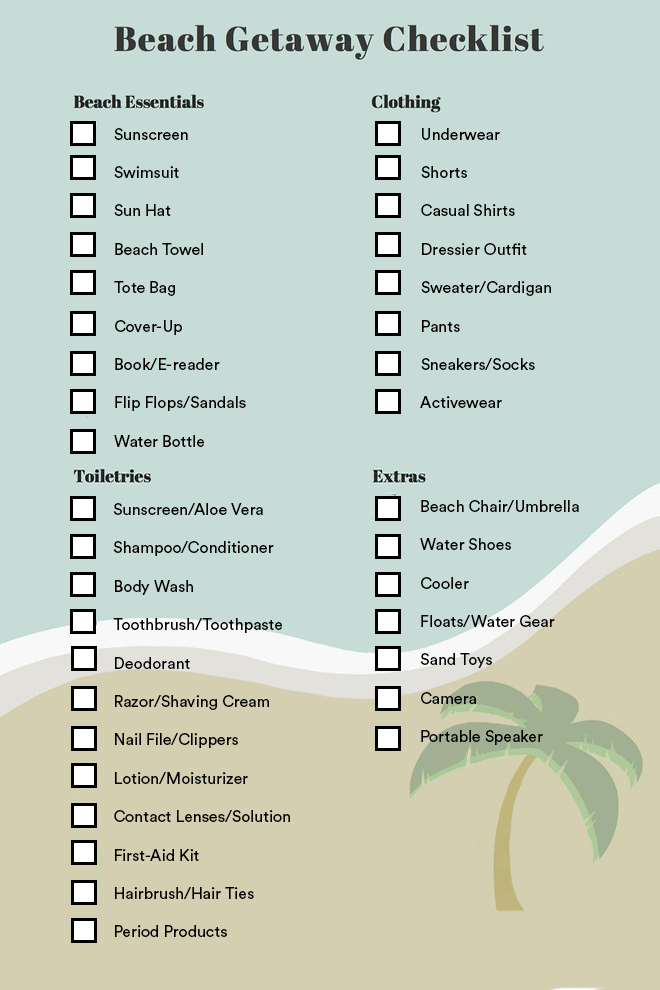 Beach Essentials
A successful beach day starts with your set up. A sturdy towel that doesn't gather too much sand is a must for both lounging and drying off. Opt for a beach chair if you don't want to lay out on the ground and don't forget a cooler for some oceanside beverages and a beach umbrella to protect you from the sun. When you're not playing in the waves or taking in the views, it's a good idea to have a few entertainment options on hand—like an e-reader or your favorite podcast—to pass the time. At the end of the day, throw all of your items in a handy tote bag (this one from Lands' End is extra large and customizable) or beach cart to haul them back to your car or hotel room.
Possibly the most important beach essential is a functional and fashionable bathing suit. This colorblock suit from Nordstrom is a great option for one-piece lovers, while this option from Swimsuits for All offers a similar aesthetic and color scheme in a two-piece. Pair your suit with a cute cover-up, a pair of sunglasses, a floppy sun hat, a water bottle (hydration is a key beach accessory!), and some sandals for a beach 'fit straight from your summer Pinterest board.
Related: 8 Essential Items to Pack in Your Beach Bag
Clothing
Make sure you have the basics: shorts, casual shirts, sleepwear, and underwear. Once these essentials are ready to go, think about the itinerary of the trip. Are you planning a nicer dinner or a night on the town? You may want to pack a few dressier outfit options (like a versatile black dress or some slacks) and a nicer pair of sandals. Does it get colder at night at your destination? Bring a light sweater or cardigan and a couple pairs of pants. Plan on hopping on a bike to see the sights or hitting the gym? Throw some activewear, sneakers, and socks in your suitcase.
Related: 9 Lightweight Summer Sandals Perfect for Packing
Toiletries
A toiletries bag for a beach vacation looks almost the same as one for any other trip, with a few notable exceptions:
Sunscreen: A critical part of a pre-beach skincare routine, make sure to pack some sunscreen for the face as well as a larger bottle for the rest of you.
Aloe Vera: If you forget to reapply sunscreen during the day, you'll be grateful you thought to bring along some aloe vera to soothe the burn.
Lotion and Moisturizer: These are probably products on your standard packing list, but they are doubly important to bring to the beach to rehydrate your face and body after a day of sun and salt air.
First-Aid Kit: Another good idea for any packing list, but especially handy for the occasional boogie board accident or seashell scrape.
Period Products: Few things are more frustrating than getting to the beach and realizing you've forgotten to pack a box of tampons. Make sure to always have some on hand or spring for some period swimwear like this set from Knix.
Related: The 15 Least-Crowded Beaches in the U.S.
Extras
Once your suitcase and beach bag are filled with the essentials, don't forget to consider these extras to elevate your trip.
Floats and Water Gear: Boogie boards, surf boards, snorkel gear, floats, SUPs – don't forget to pack your gear and any necessary accessories to float, paddle, and ride your way to a perfect day.
Sand Toys: If you're bringing children to the beach (or you plan to flex your own architectural muscles), you'll need the tools of the trade to build the best sand castle.
Camera: Capture amazing shots without risking your smartphone with this waterproof digital camera, capable of taking high-resolution images and video underwater.
Portable Speaker: For all those summer hits, definitely remember to throw a portable bluetooth speaker in your beach bag.
Water Shoes: If the idea of brushing up against some seaweed or sinking into the seabed makes you squeamish, water shoes are probably a good addition to your wardrobe.
Carol McPherson contributed to this story.
All products are independently selected by our writers and editors. If you buy something through our links, Oyster may earn an affiliate commission.