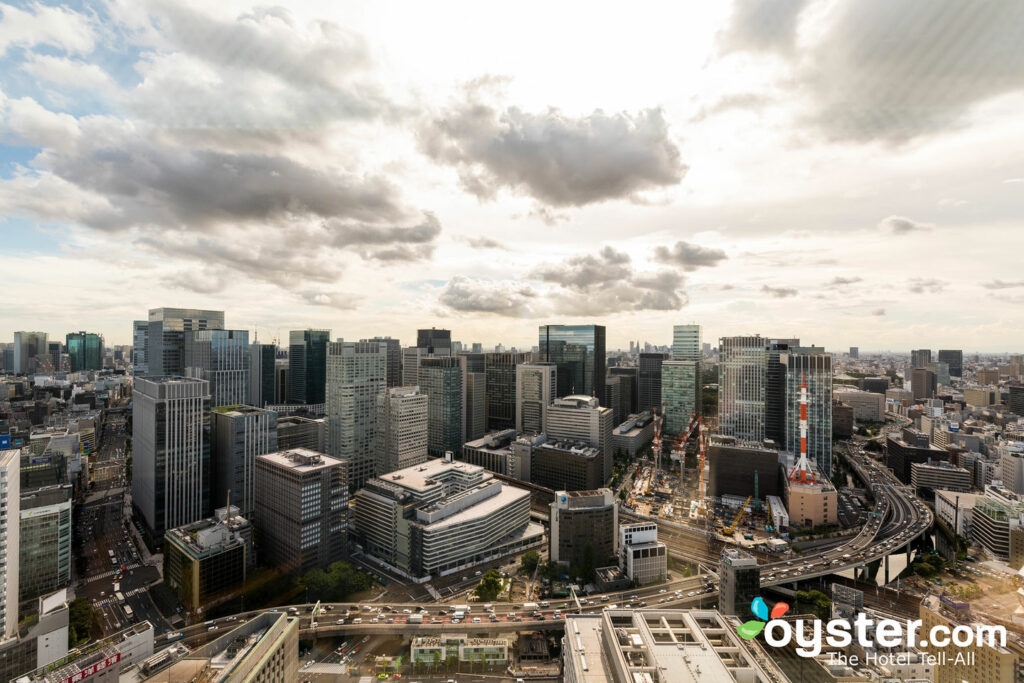 In 2018, Tokyo fell off the list of the world's 10 most expensive cities, but it's still known for having high hotel rates. Even a short stay in a traditional inn with shared bathrooms can set you back a few hundred dollars. However, if you're ready to splurge on a great stay in Japan's capital, there are plenty of options, from small luxury boutiques near world-class shopping and dining to huge international chain hotels with top-notch amenities. We've visited dozens of high-end properties across the city and discovered which ones are worth the buzz, so if you want to make sure you're getting the best value for your money, check out our list of the best bang-for-your-buck luxury hotels in Tokyo.
For reasonable rates that include great perks, Hilton Tokyo is a top pick in town. It's is one of the better-priced luxury properties — not only in the Shinjuku area, but in all of Tokyo — with rates that can be up to half of other high-end hotels in the city center. The range of amenities on offer, however, is comparable to those found in its more expensive competitors. Though the hotel is mostly geared toward business travelers, there are also plenty of perks for families and couples, including a great indoor pool, a 24-hour gym, an excellent spa with hydrotherapy areas, and two rooftop tennis courts. Rates include free shuttle service to Shinjuku Station, located a 13-minute walk away, plus access to the wellness and fitness facilities. Wi-Fi, however, is an extra fee. Rooms are modern, with iPod docks, LCD TVs, and minibars. Plus, views are stunning from most units. Travelers seeking additional perks may want to book an Executive Room or a suite, both of which offer access to a lounge that serves free breakfast and hosts evening cocktail hours.
Occupying floors 28 through 37 in a luxury skyscraper, the 289-room Conrad Tokyo is well-priced for a luxury hotel in bustling Shimbashi. Its rooms are some of the largest in the area and offer excellent city or Tokyo Bay views. Additionally, all units come with a wide array of amenities, including free Wi-Fi, coffeemakers, DVD players, and minibars. The gorgeous indoor lap pool and spa both offer striking city views, and the 24-hour fitness center has scheduled yoga, Pilates, and ballet classes. Great dining options include a sumptuous breakfast buffet, Japanese and fine French cuisine, and a sophisticated 28th-floor lounge with live music and panoramic views.
Located inside the massive business and shopping development of Roppongi Hills, the Grand Hyatt Tokyo is stunning inside and out. Its large, high-tech rooms have big windows that look overlook Tokyo, plus free Wi-Fi, Nespresso machines, stocked minibars, and high-end linens. The 10 dining options include an exceptional bakery, a jazz club serving tapas and a range of gourmet snacks, and an iconic steakhouse with terrace seating. The red-granite indoor pool is a highlight here, as is the massive spa, complete with relaxation areas, a beauty salon, and a fitness center with personal trainers and classes. The executive lounge, known fittingly as the Grand Club, offers free drinks, canapes, and breakfast for guests staying in certain units.
Occupying floors 47 through 51, the Andaz Tokyo is in a league of its own when it comes to style. Throughout the hotel, enormous windows offer stunning views of Tokyo, but the chic rooftop bar is the ultimate place to take in the epic sights. Starting at 538 square feet, rooms here are huge and feature amenities such as Nespresso machines, Bluetooth speakers, and minibars stocked with free non-alcoholic drinks (premium alcohol brands are free in suites). Rates are comparable to other high-end hotels in Tokyo, but include fantastic perks like free evening snacks and drinks, free use of smartphones, and free Wi-Fi. The gorgeous spa has five beautiful rooms — some of which have floor-to-ceiling windows overlooking the city — while the modern fitness center features a great indoor pool with Imperial Palace views. The hotel's five restaurants and bars draw locals and guests alike with excellent food and a hip vibe.
At a slightly higher price point than the Andaz, the Park Hyatt Tokyo is easily one of the most famous hotels in town. Sofia Coppola's "Lost in Translation" movie may have put this property on the map, but it stands on its own two feet. Understated decor makes the rooms a tad less impressive than some of its similarly priced competitors, but the overall feel is elegant and sophisticated. All feature luxe Egyptian cotton linens, Nespresso machines as well as electric kettles with traditional Japanese teas, and beautiful bathrooms with huge soaking tubs. The hotel's wellness and fitness facilities, including the expansive spa, gym with free classes, and big indoor pool offering panoramic views, are some of the most outstanding in Tokyo. Equally impressive are the on-site dining options and the New York Bar, known for its dramatic city views and nightly jazz performances.
The Tokyo Station Hotel is more than just another luxury property in the heart of Tokyo — it is a beautiful historic site located inside the massive Tokyo Station. In a city known for its futuristic skyscrapers, this hotel offers a rare glimpse into the city's pre-war architectural past — with all the perks expected of a modern luxury property and a tranquil ambience that's surprisingly insulated from the chaos surrounding it. Rooms are smaller than at other luxe properties in town, but all were fully renovated in 2012 and feature beautiful classic European decor and excellent amenities. Many offer views of the Imperial Palace. The multiple on-site dining options are excellent across the board, as is the modern spa — complete with a hydrotherapy area and several treatment rooms — and the gym (for an extra fee). The hotel's chief concierge has also just joined the exclusive Les Clefs d'Or association, which only welcomes the world's best hotel concierges.
The Mandarin Oriental may have higher rates than other five-pearl properties in town, but it covers its bases when it comes to features and services. This sleek, decadent property has a gorgeous design that feels elegant without being over-the-top, three Michelin-starred restaurants (and several other more casual dining options), and a stunning spa with fabulous city views. Other noteworthy facilities include a 24-hour fitness center and a program of cultural activities where guests can learn all about tea ceremonies, traditional flower arrangements, and even martial arts. Rooms — some of the largest in Tokyo — occupy floors 30 through 38 of the Nihonbashi Mitsui Tower. Entry-level units start at 538 square feet and feature high-end touches, including Bluetooth speakers, stocked minibars, TVs in bathrooms, and delicate teapots with a selection of specialty Japanese teas. The Ritz-Carlton, Tokyo is similar option, but rates there are generally higher.
You'll Also Like:
All products are independently selected by our writers and editors. If you buy something through our links, Oyster may earn an affiliate commission.