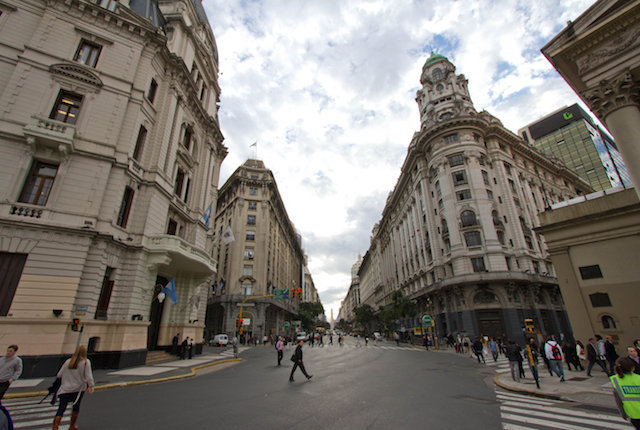 Translated as "fair winds" or "good airs," enchants anyone who visits. Between the manicured plazas, 19th-century architecture, modern art museums, trendy boutiques, and buzzing restaurants, there's plenty to do in this cosmopolitan capital. Known as the Paris of America, travelers tend to marvel at its European likeness. The early-morning medialunas, late-night tango, and constant steak searing set it apart. But despite all its parks and tree-lined boulevards, Buenos Aires is indisputably urban. If the hustle and bustle of city life gets to be too crazy, consider spending some time in its lesser-known (and calmer) surroundings. Perhaps the best part of this city is its proximity to the countryside and international charm. Take a look at our favorite day trips from Buenos Aires, which will help you find a temporary change of pace just beyond the city limits.
Buenos Aires may be the capital of , but La Plata has been the capital of the since 1882. Just 35 miles from Buenos Aires, it was South America's first completely planned city and often referred to as the "City of Diagonals" because of its innovative street layout. Diagonal avenues cross a three-mile square grid, connecting the public plazas that exist every seven blocks. Beyond easy navigating, there's plenty of green space to sit back and enjoy the ambiance. The Plaza Moreno in the city center is the best place to start. Here, you'll find two important landmarks, the neo-Gothic Cathedral of La Plata and the German Renaissance Palacio Municipal (City Hall). The former is known for its 37 beautiful stained-glass windows and the latter for its formal Salón Dorado ("Gold Room") reception hall complete with a marble staircase and spider chandelier. You can head to Plaza San Martin to see more government buildings. The Teatro Argentino opera house and UNESCO-protected Casa Curutchet are also worth a visit.
Next, you'll want to wander to the world-class Museo de La Plata, a natural sciences and archaeology museum that covers everything from dinosaur fossils and Egyptian mummies to pre-Columbian cultures and taxidermied animal exhibits. For animals of the live variety, head to the zoo portion of the museum. The sprawling Pereyra Iraola Park and 140-acre Paseo del Bosque Trail are other good spots for a green break. If you time your trip right, you could experience the city's weekend market, Feria Artesanal de Plaza Italia. The leather, silver, textiles, ceramics, local artwork, and handicraft stalls are full of spectacular souvenir options.
Travel time by bus: 1 hour
Hotel Pick:
Given that is located just on the other side of the Río de la Plata, Buenos Aires offers several international day trips as well. The most popular is the picturesque Colonia del Sacramento, which was founded by the Portuguese back in 1680. As the nation's oldest city, you'll want to spend plenty of time wandering the narrow, stone-paved streets and admiring the colorful buildings of the historic quarter. The Portón de Campo city gate, with its grandiose stone pillars and quaint wooden bridge, set the scene for your exploration. You can access the city's Basilica del Sanctísimo Sacramento and several small museums with one tourist ticket, but the best landmark is the 1850s-built lighthouse. Ascending the 111 spiraling steps to the top provides a beautiful 360-degree view of the city and water below.
If all that exercise makes you hungry, try a traditional chivito sandwich made of churrasco steak, bacon, cheese, tomatoes, and olives. Wash that down with a glass of Uruguayan Tannat (a red wine). The city's charming plazas, architecture, and shops can be appreciated in just a few hours, so leave some time for the nearby Playa Ferrando beach. If you want to reach the coastal areas without boarding another bus, do as the locals do and rent a scooter or golf cart. Be on the lookout for antique cars, which point to the area's wealthier times. The whole day will feel like stepping into another time period. Just don't forgot your passport!
Travel time by ferry: 1 hour and 15 minutes
Hotel Pick:
Montevideo is a great day-trip option if you have more time to spare, as the ferry ride here takes a bit longer. Though it is a capital city, it's much calmer than Buenos Aires and frequently ranks as the most livable city in South America. Just don't be surprised to see peeling paint, crumbling facades, litter, or graffiti. It all points to the city's shrunken population (1.3 million citizens) and current economic crisis. Most tourist attractions are concentrated in the 18th-century Ciudad Vieja. It's the oldest part of the city, and old-world charm from the former millennia remains (think ornate colonial buildings, museums, art galleries, family-run restaurants, and vintage signs). Other must-sees include the iconic Palacio Salvo, the stately Solis Theatre, and the grand Plaza Independencia. Its claim to fame is the imposing monument to national hero José Artigas.
You'll also want to allocate plenty of time for the waterfront Mercado del Puerto, which is full of both artisan wares and some of the juiciest steaks on the continent. To burn off all those calories, choose to walk along the Calle Sarandí pedestrian shopping street, Avenida 18 de Julio, or the curving Rambla of Montevideo from Playa Ramirez to Playa Los Pocitos. You'll see plenty of rollerbladers, cyclists, and runners along the way. Before you board the ferry back to Buenos Aires, let yourself get lost in the thump of candombe. The streets of Palermo are full of gyrating dancers and talented drummers every night and they're happy to have locals join in.
Travel time by ferry: 2 hours and 15 minutes
Hotel Pick:
The beguiling Paraná Delta consists of hundreds of small, densely forested islands. Once a swamp, the area is now a popular destination for Porteños and tourists alike. Tigre acts as the gateway and epicenter of them all. It got its name from the jaguars (previously called tigers) who used to roam the region, but you won't catch a glimpse during your visit. Fortunately, the town retains the animalistic and mysterious nature of its namesake. A motorboat ride along the Delta's grass-lined canals offer a tour of local stilt homes and colonial mansions, but you'll want to disembark to experience the town's beautiful Museo de Arte. It was an early 20th-century social club and casino and has been restored to its former glory after a few decades of disuse.
You also won't want to miss the daily Puerto de Frutos craft market, which has food, leather goods, and handicrafts on display along the River Luján. We also recommend stopping by Museo del Mate, which traces the history of the traditional tea-like beverage and gives visitors a chance to sample it themselves. Other favorite activities include kayaking, canoeing, swimming, fishing, hiking, and horseback riding. After Buenos Aires, the lush forests and coffee-colored channels here will feel like a whole new world. The beautiful Isla El Descanso and Isla Martin Garcia are also worthwhile stops if you want to extend your trip. They similarly combine remarkable art, fresh cuisine, and up-close nature experiences.
Travel time by train: 1 hour
Hotel Pick:
5. San Antonio de Areco, Argentina
Capital cities, small towns, and beach destinations offer great one-day wonders, but none of them provide a glimpse into gaucho (cowboy) lifestyle. Gaucho traditions are as sacred to Argentinian culture as tango dancers and football players. Situated just 70 miles from Buenos Aires, the historic city of San Antonio de Areco is a great place to learn all about it. Settlement of the area dates back to the 1600s, making it one of the nation's most historic cities. More than 100 artisans work in the town, keeping leather crafting, silversmithing, pottery, woodworking, and handweaving traditions alive. It's the perfect place to buy leather belts, silver belt buckles, spurs, ponchos, wood decor, and other authentic gaucho-related souvenirs.
The only real sights are a few museums, including Museo Gauchesco Ricardo Güiraldes, and the church of San Antonio de Padua. San Antonio de Areco's magic can be felt along its colonial streets, in its lush plazas, and in the nearby estancias (cattle ranches). There are several nearby ranches that you can visit for a día de campo (country day) or overnight trip. This means climbing on a horse yourself, roaming the plains, and watching farmers work on the land. While San Antonio de Areco is pleasant any time of year, the town really comes to life during the Fiesta de la Tradición in November. Folk dancing, live music, and epic asado (barbecue) will certainly get you in the gaucho spirit, but the highlight is the skilled horsemen who display their best tricks on horses during round-the-clock shows.
Travel time by car: 1 hour and 20 minutes
You'll Also Like:
All products are independently selected by our writers and editors. If you buy something through our links, Oyster may earn an affiliate commission.