If you thought summer was fun, there's a ton of stuff on the books for fall. Noncommittal temperatures may be throwing a wrench in your ability to plan for this year's fall foliage, but that doesn't mean you can't still plan a fantastic weekend getaway this autumn. While we love leaf-peeping as much as everyone else, it's only one piece of the season's puzzle. Fall crisp temperatures and low humidity enhance hiking conditions, shoulder season crowds (for some spots), and calendars filled with seasonal events like apple picking, pumpkin racing, and ghost hunts. It's prime season for apple cider, pie, and home-cooked meals. There's so much going on nearly everywhere you look that figuring out where to go can be hard. To help, we've put together this handy list of where to go for the best weekend getaways this fall around the country. There's a spot for you, whether flying, driving, or taking the train, leaving from New York City or Seattle, or traveling solo or with friends and family. All the destinations are within three hours of New York City, Washington D.C., Chicago, or Seattle, and pack just enough fall punch for a perfect weekend escape.
Aspen From Chicago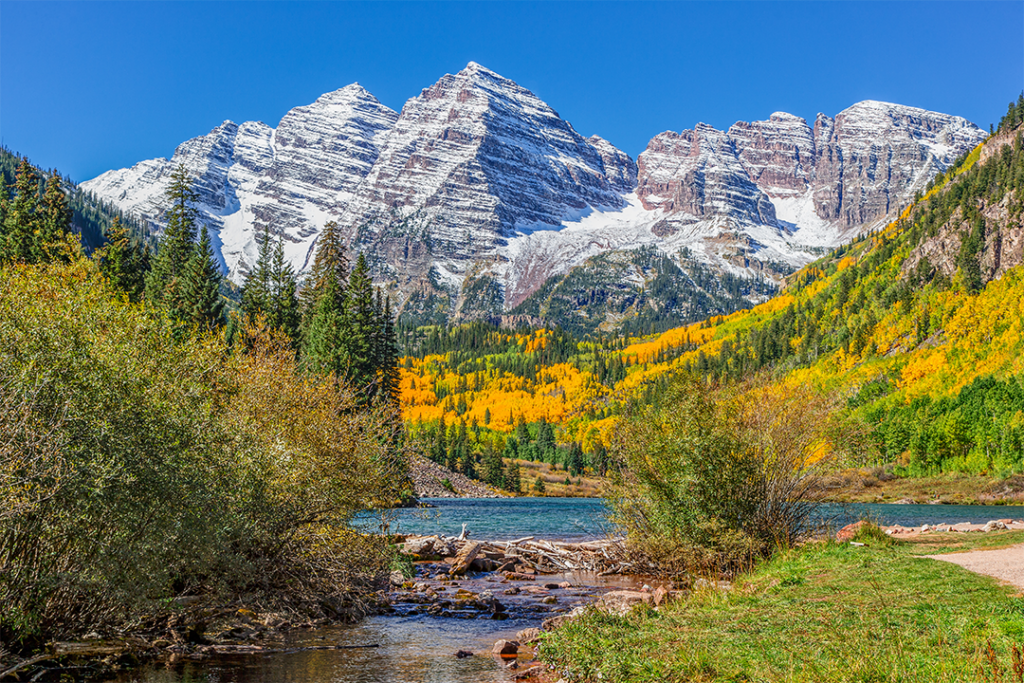 Aspen is a prime fall destination in its own right and a perfect anchor for those looking to leaf-peep along the area's many scenic highways and byways. Colorado's fall colors favor deep yellow, gold, and honey shades. From Aspen, you'll have easy access to the photogenic Maroon Bells and several scenic drives — like Independence Pass, Rocky Mountain National Park, and Blue Ridge Parkway — that can be driven in quarter-, half-, or full-day itineraries. Back in town, hit up a farm-to-table restaurant or farmer's market or hike in the crisp fall air.
Time: Flights to Aspen are around two hours and 50 minutes nonstop, once weekly.
Where to Stay: Viceroy Snowmass
Upstate New York From New York City
Fall may have put a cork in summertime's rose season, but in upstate New York, the crisp weather and warm tones celebrate another fermented fruit drink. New York cider has spent the last half-decade making a comeback to the upstate area. Treating yourself to a tasting tour with a heaping side of colorful foliage is a fantastic way to ring in the fall. Whether you go north-to-south or south-to-north, plan your itinerary to include stops at Embark Craft Ciderworks and Apple Country Spirits in Williamson, Bellwether Hard Cider and Wine Cellars in Trumansburg, Graft Wine + Cider Bar in Watkins Glen, and the Finger Lakes Cider House in Interlaken where you'll learn all about different fermentation techniques, pairing cider with food, and just how versatile apple alcohol can be. We recommend taking your time so you can soak in the gorgeous fall scenery, stop off at the roadside markets, and maybe even pepper in a few of the 212 state wineries along the way.
Time: Flights to/from Rochester clock in at about an hour and 10 minutes. Flights to/from Ithaca run about an hour and 20 minutes.
Grafton, Vermont From New York City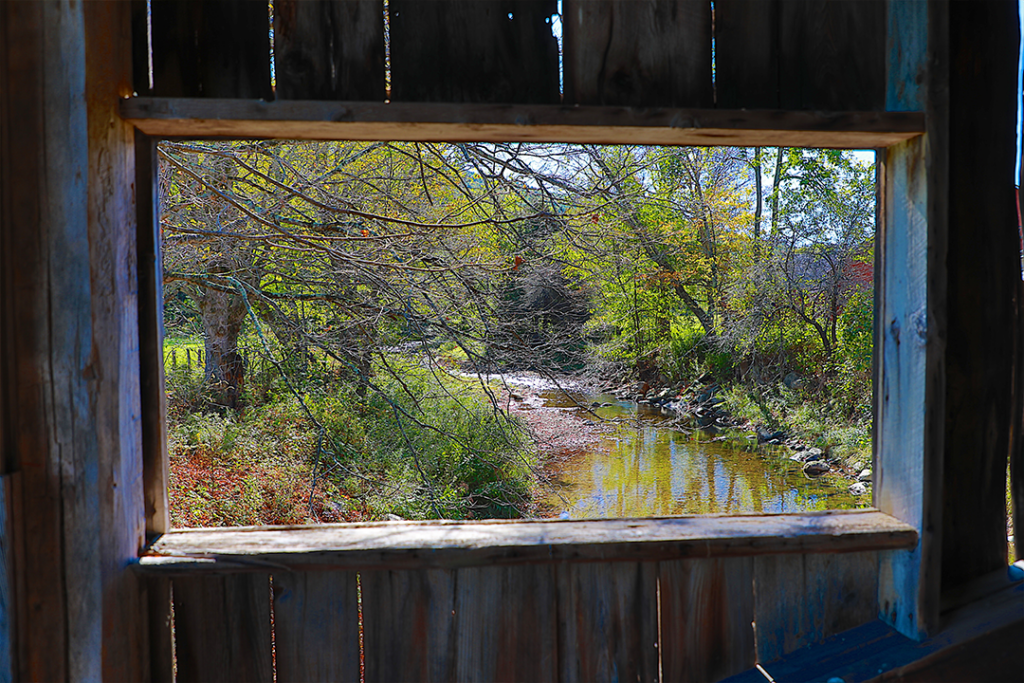 Sometimes, a long weekend getaway can take you away from your space and time. Such is the case with Grafton in Vermont. Full of perfectly restored and maintained historic buildings, picturesque bridges and brooks, a petting farm, and old barns repurposed as restaurants and hotel rooms, this welcomely quaint spot is the perfect fall getaway for busy city dwellers who need to recharge and/or romance. Plus, you'll be surrounded by stunning fall foliage and handmade Vermont cheeses — does it get better than this?
Time: Flights to Lebanon, New Hampshire, are about two hours and 45 minutes, plus an hour's drive to Grafton.
Where to Stay: Grafton Inn
RELATED: What to Pack for a New England Fall Getaway
Traverse City, Michigan From Chicago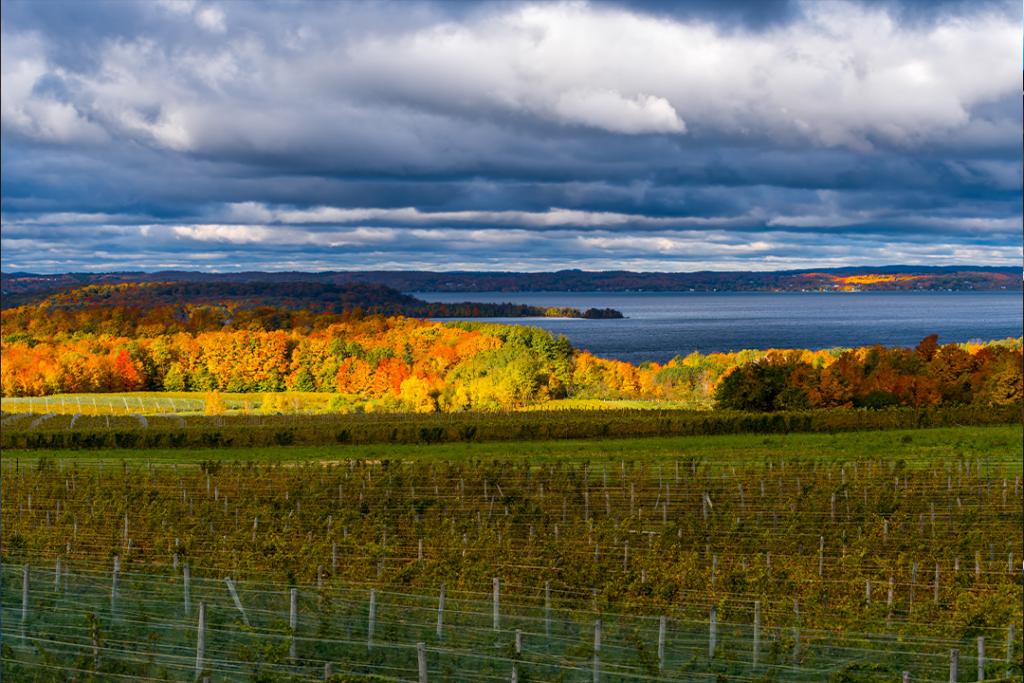 When most people think of fall, their thoughts immediately land somewhere in the northeast: Vermont, New York, or Connecticut. But in-the-know travelers know that fall's changing leaves don't discriminate and will go wherever the temperature invites them. Michigan's Traverse City is radiant in the fall and has some pretty cool ways to enjoy the scenery. For example, Traverse City is on the water, so you can get out of your car and on the water to give yourself a unique perspective — from the inside of a kayak on the Boardman River — as you take in the reds, oranges, and yellows glowing from the trees. Taste local wines at Brys Estate as you walk over the vineyards and the Secret Garden. Plus, you can visit a local lighthouse (yes, in Michigan) and take in unique fall vistas from drives along the M-22 and M-37.
Time: Flights to Traverse City clock in at under an hour nonstop.
Where to Stay: Bayshore Resort
Philadelphia from Washington, D.C.
Philadelphia's Benjamin Franklin Parkway is flanked with fall foliage, cocooning visitors in the warmest autumn colors from above. It's also the most city-central spot to leaf-peep, making it convenient for anyone who wants to pop into a few of Philly's museums before or after. The University of Pennsylvania has fiery fall colors surrounding its picturesque Victorian Gothic architecture, or for the full-on Victorian experience, check out the bursts of color throughout the 92-acre Victorian gardens at Morris Arboretum. Suppose you like a little action with your leaf-peeping. In that case, Philadelphia is packed with timely autumn events and activities like the Apple Festival in November (think: apple everything), a unique two-day mushroom festival with a carnival and street fair, and over 25 harvest festivals.
Time: Philadelphia is around a two-and-a-half-hour drive or a one-and-a-half-hour train ride from D.C.
Where to Stay: The Rittenhouse Hotel
Virginia From Washington, D.C.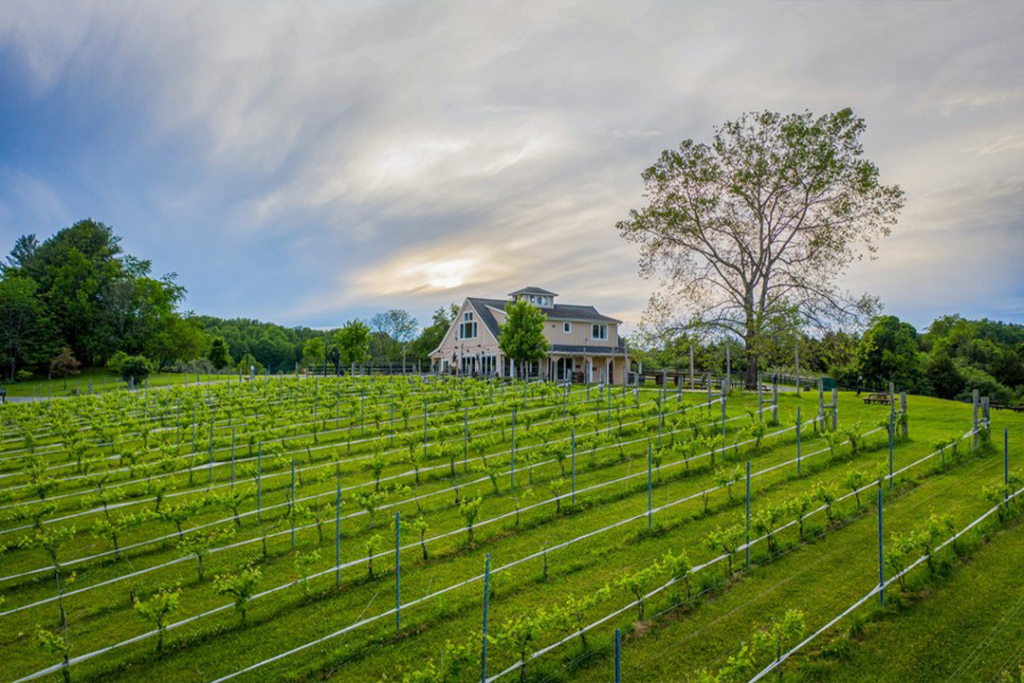 They say that Virginia is for lovers, and we think a fall weekend getaway filled with wine and delicious eats in Virginia is love at first sight (and bite). This indulgent weekend getaway from D.C. couldn't be any easier since you can live the dream in about an hour. Base yourself in Middleburg or Leesburg for close access to the two dozen wineries in Loudoun County, plus some surprisingly good museums, boutiques, and restaurants. Wineries worth a visit include 50 West Vineyards, Sunset Hills Vineyard, Greenhill Winery & Vineyards, and the Stone Tower Winery. Leesburg's downtown Wine Kitchen is a great place to sip through wine flights and eat through a locally sourced menu, while the King Street Oyster Bar is the perfect spot to slurp down some of Virginia's famously delicious bivalves.
Time: Middleburg is an hour and 15-minute drive from Washington, D.C.
Where to Stay: Lorien Hotel & Spa
RELATED: Best U.S. National Parks to Visit in the Fall
Portland, Oregon From Seattle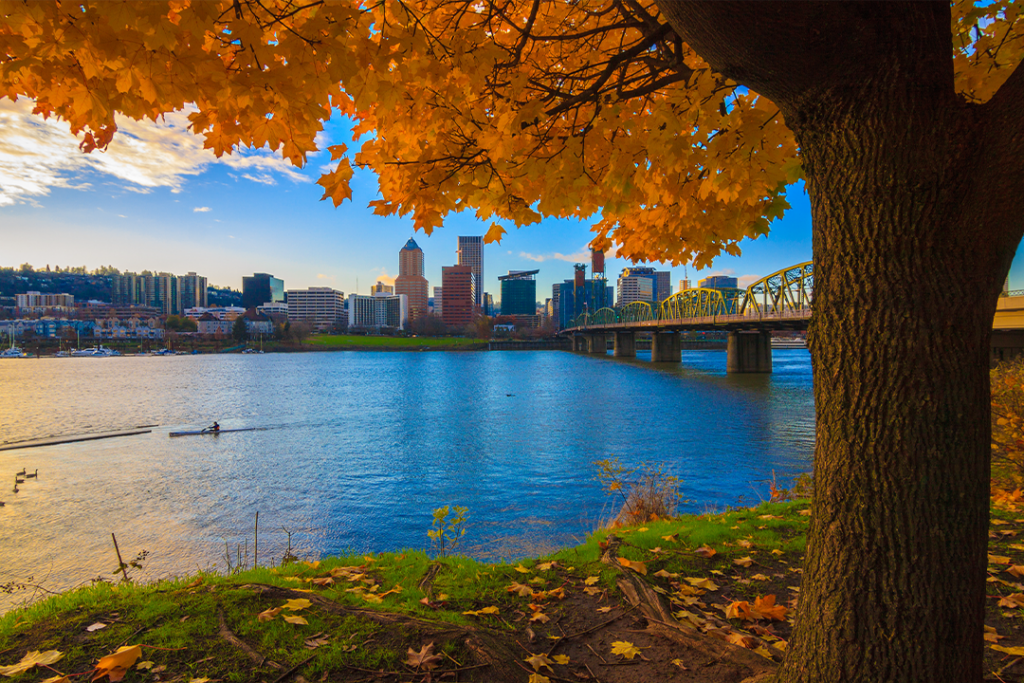 Portland's close proximity to Seattle makes it a no-brainer for an easy weekend getaway this fall. From fresh local brews made with fall hops, corn mazes, a giant pumpkin regatta, fantastic fall foliage, and a wealth of festivals, Portland offers a cornucopia of autumnal delights. From October through December, there's a ton to do on the calendar. We've got our eye on the annual post-Thanksgiving Wine Country Thanksgiving, where over 150 of the area's wineries open their doors to the public for special tastings and art exhibitions.
Time: Portland is a 45-minute flight or approximately three-hour drive from Seattle.
Where to Stay: The Hotel Zags Portland
Orcas Island From Seattle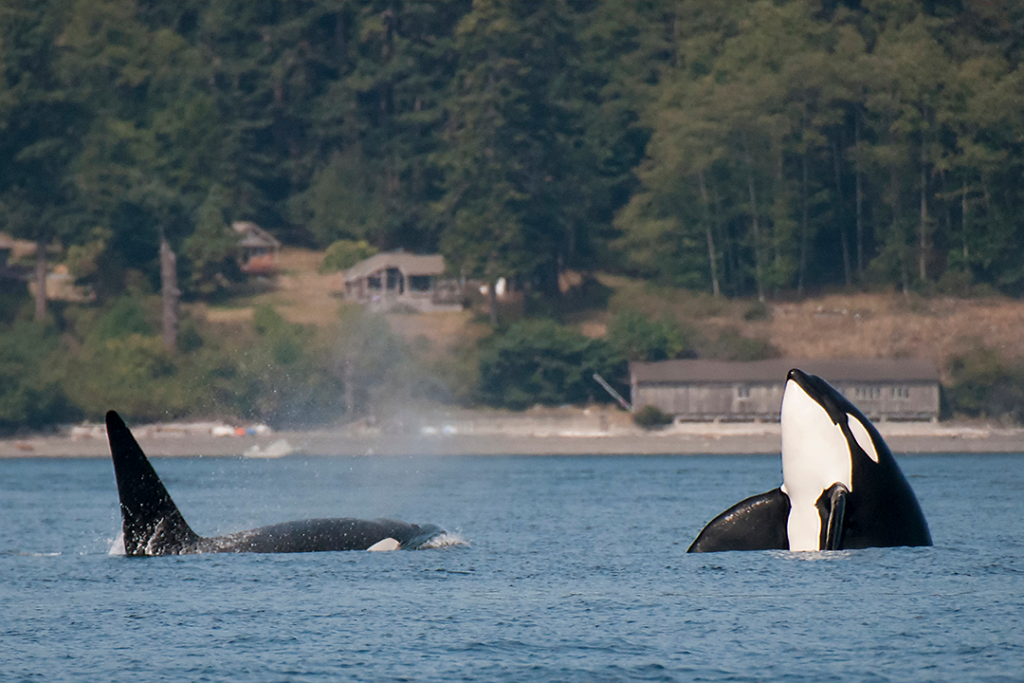 Orcas Island is an excellent fall weekend getaway spot for those looking to escape the throngs of people or at least the seasonal crowds of leaf-peepers and pumpkin patches. We're almost hesitant to spill the beans on this serene "secret" escape. Since this is a popular summer destination, many folks cross the San Juan Islands off their list once fall rolls around, but doing that means missing out on the area's peaceful vibe, lazy days filled with skipping stones on the beach, fall colors and evergreens mirrored across the top of the water, and watching starfish feel their way around sandy bottoms. Fall visitors also indulge in smaller crowds and tons of fall activities like horseback riding through the 5,252-acre Moran State Park, the Fall Festival and Haunted Hayride, and the Orcas Island Beer Fest in November.
Time: Orcas Island is a three-hour drive from Seattle.
Where to Stay: Outlook Inn on Orcas Island
All products are independently selected by our writers and editors. If you buy something through our links, Oyster may earn an affiliate commission.