One of the most beautiful cities in the world, Paris is an ode to fashion, gastronomy, romance, architecture, museums, wine, chocolate, and even cabaret. Combine all of these ingredients and you've got the trip of a lifetime with some serious expectations. In other words, every moment counts. Luckily, there are time-saving ways to skip the line at important attractions, plus cool walking and bike tours, and -- for travelers who want to explore France beyond its capital -- day trips to the Champagne region, Palace of Versailles, and Giverny -- once the home of Impressionist painter Claude Monet. If you want a leg up on creating the best itinerary for Paris, consider booking these tours and attractions right now.
Prices are subject to change.
Whether it's your first or fifth trip to the City of Lights, your vacation will likely commence with a visit to the Eiffel Tower. We don't blame you. This popular attraction has timeless appeal — and the big crowds to go with it. So why not bypass the lengthy queues? On this 90-minute experience, you'll meet up with your group (maximum 20 people) and an English-speaking guide for access to the second-level platform. From here, there will be time to enjoy views of the Louvre, Arc de Triomphe, Notre Dame Cathedral, and the Sacré-Coeur while learning local tidbits from your guide. The tour also allows attendees to wander around the tower's base and visit Trocadéro Gardens, peppered with fountains and sculptures, for one of the best Eiffel Tower photo ops. Romantics hoping to see the tower after dark can choose the evening tour option instead. Note that these tours don't include access to the tower's top floor.
While other evening cruises along the Seine combine a boat ride with a ticket to the Eiffel Tower, this three-hour gourmet dinner is a more leisurely way to enjoy the views from the water. Your evening begins with a hotel pickup and transfer to the Left Bank. Climb aboard the vessel, where you'll be greeted with an aperitif, and settle in at your table. The glass-enclosed boat offers panoramic views in every direction as you glide past illuminated monuments and sites like the Musée d'Orsay, Louvre, Place de la Concorde, and Notre Dame Cathedral. The boat will eventually turn around at the Île Saint-Louis for the return trip, during which you'll glide along the Right Bank for a different vantage. As you dine, enjoy music from an onboard band. Though it will cost a pretty penny, previous guests rave about this top-notch night out.
If you've ever dreamt of cycling through the streets like a true Parisian, you'd be wise to check out this tour. Paris is one of the most bike-friendly cities in Europe and there's a multi-year plan to add more bike lanes and even bike highways. On this three-hour jaunt, you'll explore several arrondissements with an English-speaking guide. No reason to be intimidated — you can feel safe while following your guide through the city's top attractions like Napoleon's tomb and Les Invalides before continuing along the Seine River. There will be time for photographs and stops to purchase French snacks before returning to the starting point, so bring some cash. Bonus: Ask your guide for local restaurant recommendations before you say your goodbyes.
With many heavily touristed sites in Paris, there are times when the masses here can be too much to take. This tour, which visits the city's lesser-known destinations at a more relaxed pace, is a great antidote to that feeling. Meet your small group and guide in central Paris, then set off for a three-hour stroll starting with Belle Époque architecture in the Eighth Arrondissement. You'll continue through tucked-away arcades, hard-to-find alleys, and hidden streets offering rich medieval history, while visiting specialty food shops and artisan cheesemakers along the way. The tour culminates in Le Marais, an LGBT-friendly neighborhood that's also packed with Jewish, Middle Eastern, and Chinese cultures. Here, kosher bakeries, noodle joints, and gay bars mix with trendy cafes and vintage boutiques. More quirky options are available, including a night walking tour of Paris' ghosts, mysteries and legends.
Need a break from the city? Heading outside of Paris provides a wonderful glimpse into other reaches of the nation's history and some amazing scenery. This nine-and-a-half-hour excursion visits both the Palace of Versailles — once the home of King Louis XIV and Marie Antoinette — and the garden at Giverny, which inspired many of Claude Monet's most famous paintings. Break up the trip with a gourmet three-course lunch (with wine!) at the Moulin de Fourges restaurant, an 18th-century mill on the banks of the Epte River. The tour also includes some free time to wander through the expansive gardens behind the Palace of Versailles before traveling back to Paris. Prepare to take some gorgeous photos (and for a long day — it's not a short tour, by any means).
The most popular cabaret in the world shows no sign of letting up. If you've seen the movie or heard stories in your high school French class, it could be time to experience the spectacle for yourself. The current show, 'Féerie," includes 80 showgirls, musicians, and dancers dressed in feathers, rhinestones, and sequins. Take a seat with a free glass of sparkling wine and enjoy the two-hour choreographed spectacle. While most previous guests loved the experience, some commented on tight seating and high prices for drinks (though given its history and status, that's perhaps not surprising).
As the world's most visited museum, drawing 10 million visitors each year, the Louvre is undeniably popular. Unfortunately, the lines to enter often reflect that fact. But fear not — with this pass, you'll greet your guide near the museum and sail to prioritized entry for a comprehensive tour. See the Louvre's three most famous masterpieces — "Venus de Milo," the "Winged Victory of Samothrace" and Leonardo da Vinci's "Mona Lisa" — and hear the fascinating tales surrounding each one. After your tour concludes, feel free to continue exploring the Louvre on your own. This is a quick way to see the high points of the Louvre, if you're short on time. It's worth noting that some previous guests reported not being able to keep up with their guide. Additionally, once you're inside, you will still have to contend with crowds around the museum's most popular works, even when you're with a tour.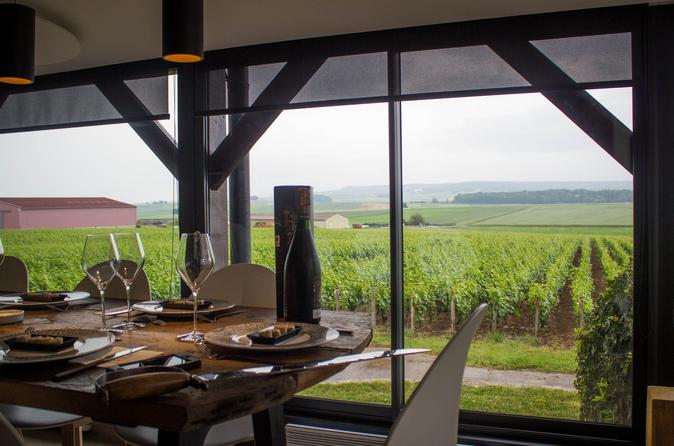 This is your chance to experience the culture and centuries-old traditions of Champagne — both the UNESCO-listed region and the famed beverage that it produces. With a small group of no more than eight fellow enthusiasts (plus an expert sommelier guide), you'll spend a full day visiting distinguished Champagne houses, tasting several samples, and learning about local varietals like pinot noir, pinot meunier, and chardonnay grapes. Your excursion includes estate tours, a traditional rustic lunch, and intimate tasting sessions amid breathtaking scenery. During the drive, expect stunning French countryside views on display from your air-conditioned minivan. If there's time, there could be a stop in Hautvillers, home to the ancient Benedictine abbey of a local monk whose name you might recognize: Dom Pérignon.
Centered around the Sorbonne's main campus, this iconic neighborhood on the Left Bank is still the hub of academic culture in Paris. This two-hour evening tour explores the quarter's complex and colorful history with a local guide. On the excursion, you'll see Paris' three most beautiful churches (Notre Dame Cathedral, Sainte-Chapelle, and Saint-Étienne-du-Mont), photograph top monuments and landmarks like the Cluny Museum and Luxembourg Gardens, and learn about the events and characters of the past like Ernest Hemingway and Victor Hugo. Previous guests have remarked that this is a walking tour of exteriors only. If you're keen on entering any of the sites, shops, or restaurants, plan to do that on your own time.
If this isn't the best way to round off Paris' list of tours and experiences, then we don't know what is. Those who appreciate premium chocolates, cakes, croissants, fresh baguettes, and other baked goodies will be in heaven with this three-hour tour of delectable bites. Greet your group (maximum eight people) at a central location, and spend the afternoon strolling around charming neighborhoods as your culinary guide offers insights on Paris' past. Enjoy intermittent samples and hear how French food traditions came into being over the centuries. With this small group format, you'll have plenty of chances to gather intel from your guide on France's gastronomic scene — perfect for helping you make excellent dinner plans that night.
Hotel des Grands Boulevards is a gorgeous boutique hotel in the heart of Paris. Housed in an 18th-century building, the 50-room hotel stands out for decor that radiates Parisian charm. Every room feels like a modern, chicly pared-down version of Marie Antoinette's boudoir: All feature queen beds dressed in satin sheets and pastel bathrooms with upscale beauty products (think Sachajuan shampoo and Malin+Goetz lotion). The restaurant serves all meals and specializes in elegant French/Italian cuisine, while The Shell cocktail bar is open nightly until the wee hours. When the weather is nice, the hotel serves drinks on its rooftop terrace. (Tip: Get there early if you want a spot.)