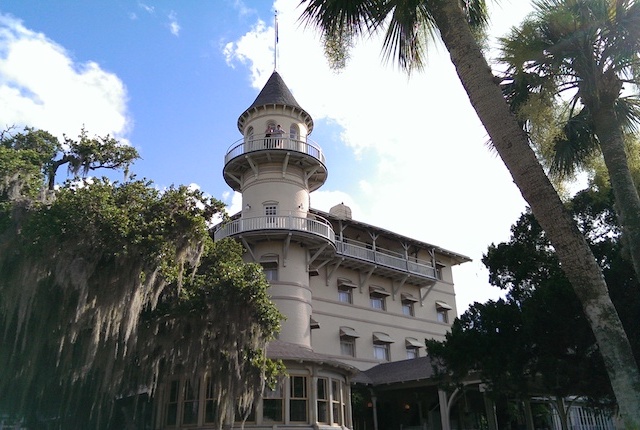 Life in Georgia is more varied than you may imagine. It's not all antebellum homes and barbecue. Sure, you can find almost 100 restored mansions and plantations in Madison, and Southern Soul Barbeque on St. Simons Island has some of the best down-home cooking in the state. But for visitors who want to look beyond the expected, Helen, at the foot of the Blue Ridge Mountains, resembles a Bavarian Alpine village, Senoia is the backdrop for much of "The Walking Dead," and Greensboro has several PGA-worthy golf courses. Here are eight of the best small towns in Georgia.
Blue Ridge
Built up around an extension of the Marietta and North Georgia Railroad, Blue Ridge has a particularly scenic view from its position at the top of the state. The town of about 1,300 is nestled between the Tennessee and the Alabama Rivers, in the shadow of the Blue Ridge Mountains. Popular pastimes here include hiking, trout fishing, and admiring waterfalls. For those who want to take a trip back in time, the Blue Ridge Scenic Railway travels to McCaysville, Georgia, in a reconditioned early 20th-century train. Autumn is an optimal time to take the ride, as the fall foliage is especially spectacular. In town, you'll find a mix of luxury attractions and rustic culture, with opportunities for glamping, wine tasting, and surveying the work of local artisans.
Dublin
Georgia's Dublin reportedly earned its name because the green slopes that ripple through the local topography reminded Irish immigrants of their homeland. Geographically, the town of a little more than 16,000 was important for being the halfway point between Savannah and Atlanta. These days, many of the downtown buildings still recall the sturdy post-war years of the mid-20th century. Theatre Dublin's neon marquee could easily be a backdrop from "Happy Days," and the shows here are a mix of movies (like a "Grease" sing-along), concerts (such as The Kentucky Headhunters), and plays ("An Afternoon with Mark Twain," for example). Other family-friendly fun includes the Herrin Compound racetrack, Take Five amusement park, and Dublin-Laurens Museum, Heritage, & Cultural Center. Speaking of history, Confederate president Jefferson Davis camped near Dublin's Oconee Bridge shortly before being captured in 1865.
Along the southeast coast of Georgia, Brunswick is protected by two barrier islands, Jekyll and St. Simons. Bordered by rivers, the port city has been a strategic location throughout its history for trade, shipping, and the military. The Brunswick Old Town Historic District has several well-preserved buildings, many of which date back to the beginning of the 20th century. The Old City Hall, completed in 1896, was designed in a "Richardsonian Romanesque" style that makes it resemble a European castle. Those who prefer water sports to architecture will enjoy sailing, swimming, and kayaking here. Vacationers can also look for one of the 300 species of birds found in the area (many can be spotted on the Colonial Coast Birding Trail). When you work up an appetite, find a bowl of Brunswick stew — a tasty combo of chicken, pork, and beans. St. Simons, an island that's officially part of Brunswick, is also home to Southern Soul Barbeque, a restaurant housed in a 1940s gas station that serves up traditional ribs and brisket as well as inventive dishes inspired by Jamaican jerk and Cuban seasonings.
Senoia
This small town in the middle of eastern Georgia has received quite a bit of national buzz. Not only was Senoia featured in the movies "Fried Green Tomatoes" and "Driving Miss Daisy," but a lot of filming for "The Walking Dead" also occurs just outside of downtown. Why so much Tinseltown attention? Chances are, when you think of an all-American village, you envision something like Senoia: a peach-emblazoned water tower, turn-of-the-century brick storefronts, and plenty of modest homes with quaint details and spacious porches. The town embraces its "Walking Dead" connection with local tours that point out filming locations and even an official gift store, the Woodbury Shoppe. Beyond its on-screen fame, there are acres and acres of tree-covered land to appreciate and picturesque paths to stroll down. The nearby Cecil B. Day Butterfly Center in Callaway Gardens shelters 1,000 butterflies in an 8,000-square-foot glass conservatory.
Helen
Why is a Bavarian Alpine town located at the edge of the Blue Ridge Mountains in northeast Georgia? In 1969, Helen was a low-key logging town spiraling into decline when a few businesspeople invited a local artist, John Kollock, to envision a way to make the area more exciting to visit. Kollock had visited Bavaria several times during his military service in Germany and started sketching the town with Tudor facades and shops. In less than 20 years, Helen turned into a quaint village with a wooden toy maker, a winery, and a fried cheese restaurant. Big events that add thousands of visitors to the local population of 500 include Oktoberfest (which lasts from September to November), Lavender Fest, a spring hot-air balloon race, and glittering Christmas decorations. In addition to the German-themed attractions, the area also has plenty of wide-open terrain for horseback riding, hiking, and zip-lining.
Milledgeville
During the years 1804 to 1868, Milledgeville served as the capital of Georgia and became home to numerous antebellum mansions and plantations built by well-heeled landowners. Today, the town of 19,000 still has numerous historic buildings that recall its genteel glory days, including the Old State Capitol, Old Governor's Mansion, and Rose Hill Greek Revival home at Lockerly Arboretum. Flannery O'Connor, author of "Everything That Rises Must Converge," grew up here, and her home, Andalusia, is a museum currently under renovation. Nature lovers will appreciate the Oconee River, which borders the town and played an important role in its founding. Milledgeville's riverwalk is a fine way to while away the hours. Those who like spookier adventures can the explore the abandoned state hospital.
Madison
Local lore suggests General Sherman couldn't bring himself to scorch the mansions of Madison during his March to the Sea campaign because they were just too precious and refined. The city's protection may have actually occurred because the town was home to a pro-Union politician with close ties to Sherman's family. Whatever the truth may be, Madison — a town of approximately 4,000 people — now has nearly 100 restored antebellum homes and its historic district is one of the largest in Georgia. Streets are dotted with Greek Revival, neoclassical, Victorian, and Romanesque houses with white columns, ornate woodwork, and manicured flower beds. Visitors can also shop the town's antique stores and grab a bite at one of the barbecue restaurants. Just outside of Madison are miles of family farms, many of which have stands where visitors can buy peaches, flowers, and homemade cheeses.
Greensboro
Located in northeast Georgia, Greensboro appeals to people who love the outdoors as well as small-town Southern life. Lake Oconee offers activities such as fishing, boating, and jet-skiing. Also along the lake are numerous golf courses (the town has 10) that lure players from around the country. Reynolds Lake Oconee has sections designed by Jack Nicklaus and other holes created by Rees Jones, who is known for his work on the PGA Championship courses. For those who don't like driving a tiny ball down a fairway, the adjoining Ritz-Carlton resort offers an array of spa treatments and activities for kids like scavenger hunts. Downtown Greensboro also maintains interesting pieces of its history, such as the Old Rock Gaol, a prison that dates to the early 1800s; the Baber House Museum, home to one of the earliest African-American doctors in Georgia; and the Greene County Cemetery, the final resting place of several Revolutionary and Civil War soldiers. Shoppers looking to pick up a piece of quaintness can look to the Genuine Georgia artisan marketplace or Butterfly Treasures.
You'll Also Like:
All products are independently selected by our writers and editors. If you buy something through our links, Oyster may earn an affiliate commission.