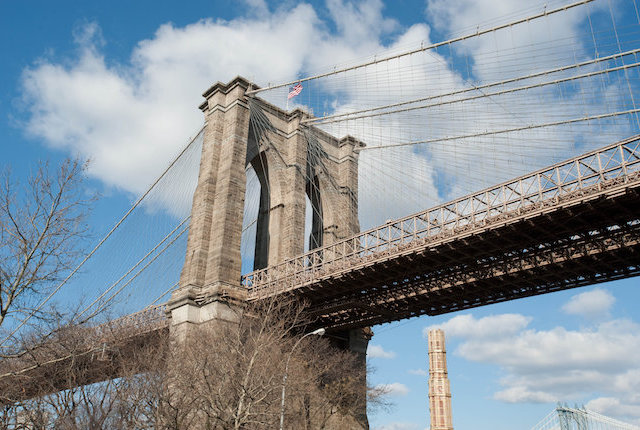 Not long ago, telling fellow travelers that you were from Brooklyn either elicited puzzled looks or was considered uncool. Now, this New York City borough draws millions of visitors every year, thanks to its hip, multicultural, and artistic offerings. While some neighborhoods have gentrified to nearly mimic the look and feel of Lower Manhattan, Brooklyn is huge and there is plenty to explore, both on the map and under the radar. Whether you're spending the day, the weekend, or your entire trip in this beloved borough, here are some of the best things to do in Brooklyn.
1. Picnic in Prospect Park.
Olmsted and Vaux, the designers behind famed Central Park, also devised Prospect Park. The 526-acre park is brimming with three distinct areas, an ice rink, zoo, performance space, and plenty of space for relaxation and exploration. We like Prospect Park because it's a bit more wild than Central Park, and the wide open Long Meadow area is perfect for picnics.
2. Take a brewery tour at Brooklyn Brewery.
https://www.instagram.com/p/BKGfk5LDVVR
Beer lovers, take note: Brooklyn Brewery is open for tours and tastings seven days a week. Founded back in 1988, this Williamsburg brew haven now has lagers, IPAs, stouts, ales, and more stocked in bars around the world. The best part? It's free, though super fans can choose to pay for "small batch" (a.k.a. small group) tours or even beer dinners. Check the site for tasting room hours and tour times.
3. Spend the day in Red Hook.
For some Brooklynites, the waterside neighborhood of Red Hook is akin to a faraway land. For many tourists, it's not even on the map. Historically a thriving and important port area, Red Hook was later largely abandoned and filled with warehouses. However, over recent years, the area has seen a resurgence, thanks to its great dive bars, quirky activities, art galleries, and delicious eateries. We suggest making a day of it. Some highlights include the mouthwatering meats at Hometown Bar-B-Que, open artist studios at Pioneer Works, sunset views and backyard games at Brooklyn Crab, and themed holes at Shipwrecked Miniature Golf. Bars worth a visit include the historic Sunny's Bar, Fort Defiance, and Brooklyn Ice House.
4. Hunt down gravestones in Green-Wood Cemetery.
While the idea of visiting a cemetery may be grim, Green-Wood Cemetery is not your typical plot. This 478-acre burial ground has over 600,000 grave sites, including a handful of famous residents like Jean-Michel Basquiat. Beautiful in every season, it provides a great way to soak in some architecture, history, and hilltop views while perusing sculptures, shrines, the modern glass mausoleum, and unique tombs, like the popular pyramid tomb of Egypt enthusiast Albert Ross Parson.
5. Catch a show.
NYC is brimming with nightly live music and performances, so committing an evening to either — or both — is a must. We've caught some crazy and outstanding shows over the years, from the drag queen ballerinas of Les Ballets Trockadero de Monte Carlo at the Prospect Park Bandshell to Macaulay Culkin's pizza-obsessed Velvet Underground band, Pizza Underground, at Baby's All Right in South Williamsburg to live recordings of NPR's "Ask me Another" at The Bell House in Gowanus. There are also indie theater shows, plus summer movies in Greenpoint's McCarren Park and Brooklyn Bridge Park. Feeling adventurous? Sign up for a secret show with Sofar Sounds where you won't know exactly where or who will be performing until the last minute.
6. Check out the Brooklyn Museum.
With so many legendary museums in Manhattan, it's easy for tourists to bypass the Brooklyn Museum. Beginning as a library back in 1823, this gem is one of the country's largest and oldest museums, and its permanent collection features installations and pieces of historical and social relevance, decorative art, and contemporary work. Exhibits have included, "The Legacy of Lynching: Confronting Racial Terror," "The Fashion World of Jean Paul Gaultier" "David Bowie is," "The Dinner Party by Judy Chicago," and Ai Weiwei's "LEGO Collection Point." Admission is by suggested donation. Just keep in mind the museum is closed on Mondays and Tuesdays.
7. Stroll through the Brooklyn Botanic Garden.
The Brooklyn Botanic Garden is located next to the Brooklyn Museum in Prospect Park, and is open year-round. Admittedly, there's not much to see in the middle of winter, though spring and summer bring tulips, cherry blossoms, and other beautiful blooms. The 52-acre garden is home to 12,000 different species of plant life. Check the site for which plants and trees are at their peak during your visit. For a real hectic treat, time your visit in the spring during Sakura Matsuri, the Japanese cherry blossom celebration.
8. Capture incredible views of Lower Manhattan.
Some of the best Instagram-worthy snaps of Manhattan's famous skyline come from the Brooklyn Heights Promenade. Elevated and parallel to Brooklyn Bridge park, this 1,800-foot pedestrian walkway has incomparable views across the East River to Lower Manhattan. If you look to the left, you can even spot Lady Liberty herself.
9. Have some old-school indoor fun.
https://www.instagram.com/p/BgKUzVwjy_v
Let the retro games begin. While we normally wouldn't suggest going bowling in a big city, Brooklyn's old-timey games and bar culture has us hooked, especially on rainy or snowy days when we'd rather huddle inside with a hot cup of cider. Head to The Gutter, Greenpoint's dive bar and bowling alley, or head to Park Slope for some bocce ball at Union Hall and delicious cocktails at Royal Palms Shuffleboard.
10. Shop for records.
What's more Brooklyn than searching through bins at the record store for rare or re-released vinyl from your favorite bands? Records are hiding everywhere in Brooklyn, from street-front stoops to vintage stores and coffee shops. Some of our favorite finds have been hiding in the crates of Bushwick's Human Head Records, Earwax Records in Williamsburg, and Co-Op 87 Records, Captured Tracks, and Academy Records in Greenpoint.
11. Take a ferry ride on the East River.
Back in the day, ferries were the only way to get between Manhattan and Brooklyn — and it took hours. Today, the NYC Ferry Service takes approximately 34 minutes to go from DUMBO to East 34th Street in Manhattan, with stops and pickups in South Williamsburg, North Williamsburg, and Greenpoint in Brooklyn. Even if you have no specific destination, this relaxing ride is an inexpensive and unique way to get around Brooklyn or head to Manhattan.
12. Walk across the Brooklyn Bridge.
The Brooklyn Bridge is one of the country's oldest bridges and the most iconic landmark in Brooklyn — and you can walk across it. Stretching across the East River, connecting Manhattan and Brooklyn, the bridge offers spectacular views. Budget about 30 minutes at minimum for the crossing and bring your camera.
You'll Also Like:
All products are independently selected by our writers and editors. If you buy something through our links, Oyster may earn an affiliate commission.