If the number of hotels currently being built in Ao Nang -- one of the main tourist hubs of the Krabi Province -- is any indication, the region is experiencing something of a tourism boom. And it's little wonder why. The coastal province in southern Thailand is a world of postcard-perfect islands, lively little beach towns, and jagged limestone cliffs covered in unspoiled rainforest. Ahead, seven Krabi experiences that are absolutely essential.
1. Island-Hopping in the Andaman Sea
There are around 200 islands in this part of Thailand. Most are little more than spindly rock towers shooting out of the Andaman Sea, but some are are jungle-clad idylls with emerald lagoons and gorgeous beaches. One of the most popular ways to see the islands is on the four-island boat tour, which goes to Poda, Hong, Chicken, and Tup islands, and often includes a stop at Phra Nang Cave. Whether your hire a private boat or sign up for a group tour, island excursions include swimming, snorkeling, and lunch on the beach.
2. Hitting Mainland Beaches, Too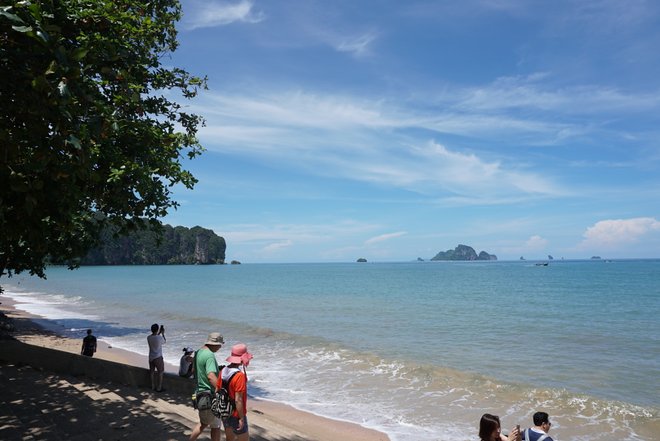 Offshore islands aside, the Krabi mainland boasts 60 miles of coastline. Krabi's shore is exceptionally dramatic and beautiful, with craggy cliffs hugging the coast and magnificent views of the limestone outcrops. And because many travelers are off visiting the islands, the mainland beaches are often peaceful and quiet.
Hotel Pick:
3. Rock Climbing in Railay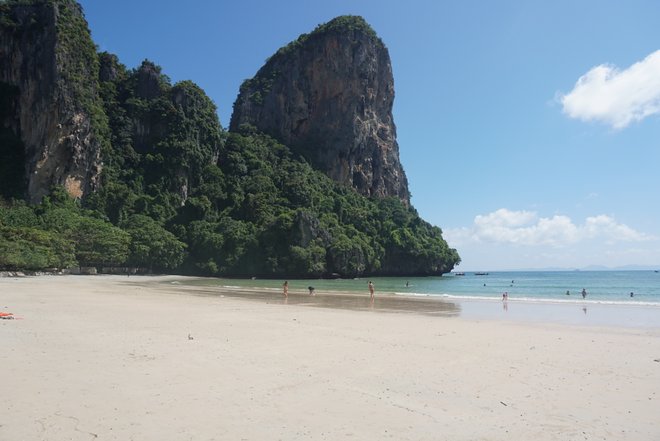 Though technically on the Krabi mainland, Railay is completely cut off from its neighbors by a wall of sky-high limestone rock. Called karsts, these rough, rugged cliffs are iconic to the region and the reason why Railay is one of the best rock-climbing destinations in the world. At least half a dozen climbing schools on the peninsula offer half- or full-day courses for all levels, from newbies who have never harnessed up to competitive climbers. When not bolted to the rocks, be sure to kayak and paddleboard in the pristine lagoon on Railay West, hike up to the Railay viewpoint, and visit Phra Nang Beach on the tip of the peninsula — described by many as one of the most beautiful spots in southern Thailand.
Railay Hotel Pick:
4. Indulging in Massages in Ao Nang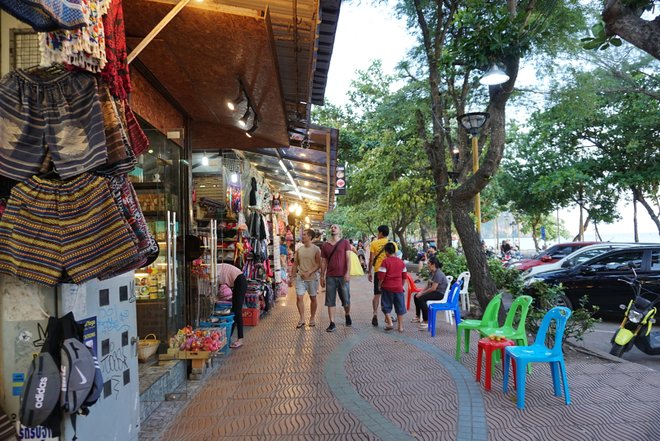 Spas with dirt-cheap massages can be found all over Thailand. The beach town of , which serves as a gateway to Krabi's tourist-friendly islands, has an especially large concentration of massage shops with even lower prices than you'll find elsewhere in the region. Hour-long oil massages and reflexology sessions start as low as 250 Thai baht (or less than $8). We recommend Ruen Sukhothai, on the main drag of Ao Nang, about a five-minute walk from the beach. In addition to cheapie massage spots, the rowdy tourist center is packed with street-food vendors, bars, cafes, tailors, hostels, pharmacies, local travel agents, and motorbike hires.
Ao Nang Hotel Pick:
5. Eating Through the Krabi Weekend Night Market
On Friday, Saturday, or Sunday nights, Krabi Town's night market comes alive with street-food stalls, souvenir sellers, and live performers. Wall-to-wall stands sell everything from handmade jewelry to tie-dye garments, pad Thai to fried crickets, and coconut ice cream to cocktails served in bamboo stalks. Fresh fish is tossed over charcoals, coconut cakes sizzle in blackened pans, and troughs of exotic mushrooms wait to go into spicy soup. To up the sensory factor even more, singers, saxophonists, guitarists, and dancers perform on a stage and in the streets.
Krabi Town Hotel Pick:
6. Dipping in the Emerald Pool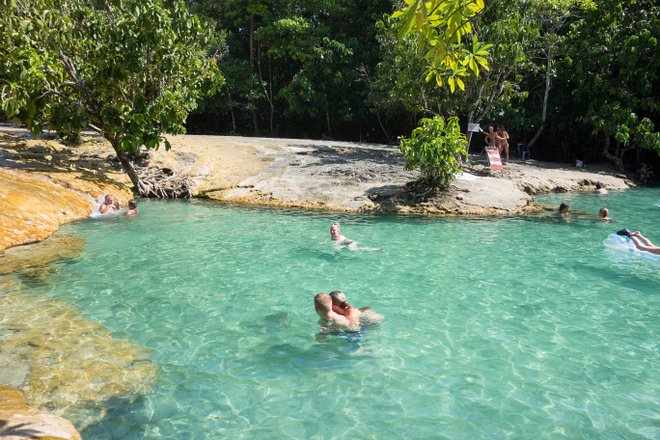 Krabi's islands, beaches, and coastal towns (Ao Nang and Krabi Town) are all huge draws, but the interior part of the region should not be overlooked. Inland Krabi is home to pristine rainforests brimming with waterfalls, hot springs, caves, and endemic wildlife. Thung Teao Forest Natural Park is a nature preserve containing natural spring-water pools — accessed by a nearly mile-long trail over a raised platform — that are almost otherworldly shades of green and turquoise. The small admission fee includes access to the Blue Pool, where swimming isn't allowed but photos are, and the Emerald Pool, a dazzling crystal-clear oasis that's pleasant for swimming. Go early in the day before the crowds take over.
7. Exploring the Phi Phi Islands
A national park, the Phi Phi archipelago is a group of six islands about a two-hour speedboat ride south from Railay on the mainland. The main ferry port is at the village of Tonsai on Ko Phi Phi Don, the de facto capital of the islands and the only island with hotels and traveler conveniences. (Ko, also spelled Koh, means "island" in Thai.) Set on a thin isthmus with stunning twin bays, the town is packed with party hostels, beach bars, dive schools, bakeries, massage parlors, banks, and every other tourist necessity.
Elsewhere on the island, rustic bungalow resorts offer peace and quiet. The white-sand Long Beach and Loh BaGao Bay (also spelled Loh Ba Kao Bay) are exceptionally beautiful spots far from the crowds found in the commercial center. Hotels and in-town tour/boat operators can arrange day trips to renowned dive sites and other Phi Phi islands, like Bamboo Island and Ko Phi Phi Leh. (Phi Phi Leh is home to Maya Bay, the legendarily beautiful film site for "The Beach." Since the movie's release, the bay has been near-devastated by mass tourism, and is currently closed to visitors indefinitely.)
Ko Phi Phi Don Hotel Pick:
You'll Also Like:
All products are independently selected by our writers and editors. If you buy something through our links, Oyster may earn an affiliate commission.