We are firm believers that both the Catskills and Adirondacks are gorgeous, must-visit spots for all four seasons. The summer lakes, spring hikes, fall foliage,, and winter snow sports are just a few reasons we feel blessed to have these versatile destinations right in our own backyard. (Oyster.com is headquartered in New York City.) But what's life without a little friendly, fun-for-all-seasons competition? Here's how these two popular New York getaway destinations stack up against each other in a season-by-season brawl.
Are you Team Catskills or Team Adirondacks? Make your case in the comments!
Summer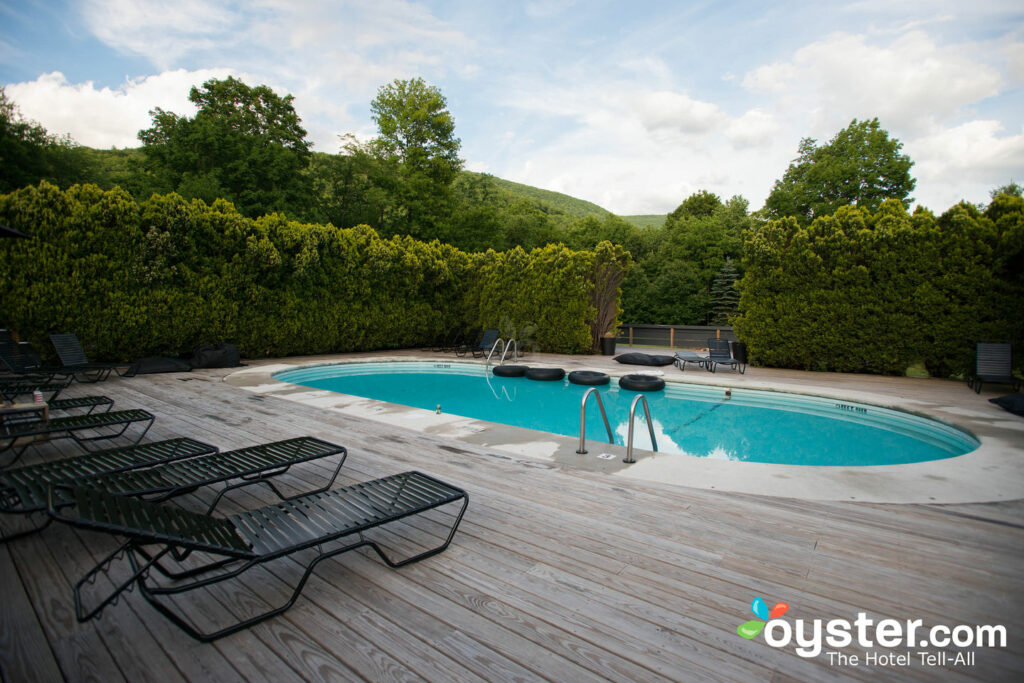 Ah, summer. Any way you spread the sunscreen, chances are you'll be hard-pressed to not enjoy summer in either spot. Head up to Adirondacks, where you're likely to find steamy summer temperatures that stay around the 80s and 90s.You can choose to cool down at one of the many microbreweries or wineries; navigate a local lake via canoe, kayak, or row boat (free if you're staying at the Blue Lagoon Resort in Diamond Point Lake George); bump down some whitewater rapids; or catch a little A/C in one of the region's many museums.
The Catskill summer temps tend to bounce around from the 70s to the low 90s during the day, with cool, perfect-for-summer-fire-pits nights in the 50s and 60s. It's optimal weather to try out the region's water-based activities — most within easy access from The Graham & Co.'s hip and rustic-chic grounds. You've got your choice of lazy river tubing, refreshing dips in some of our country's best swimming holes, hiking to picturesque waterfalls, and even some adventurous whitewater rafting in Batavia Kill's Class II-V+ rapids.
And the summer winner is…The Catskills!
Fall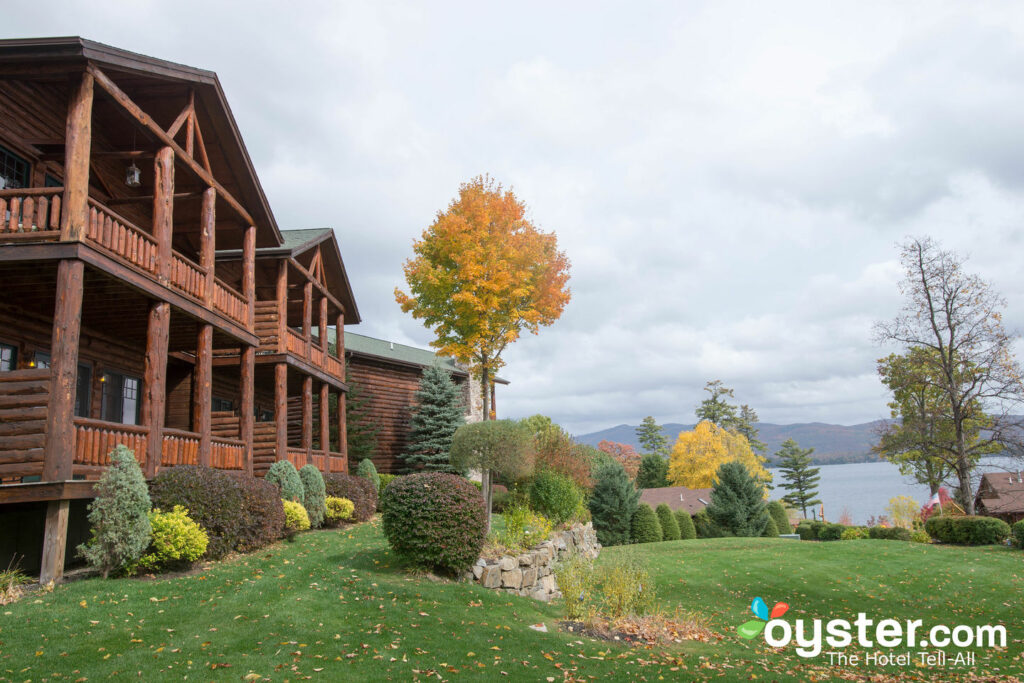 The fiery hues of upstate New York's fall foliage is a major draw for tourists during the autumn months — with the Catskills and Adirondacks both being known favorites among leaf-peepers. In either spot, you can pump your legs up and down the mountain hiking trails, though it may be hard to take your eyes off the vivid colors exploding from the surrounding trees. If your neck starts to crick (or your legs cramp), the Catskills region has plenty of spots, like Windham Spa, where you can relax and pamper yourself. There's also a ton of famous fall season activities in the region, including Oktoberfest in Hunter (we recommend staying at The Thompson House for the convenient freebies and family-friendly features), crisp outdoor camping, scenic drives, and family-friendly apple picking and pumpkin patching. However, since most of these activities are also available upstate — with the addition of calmer, family-friendly rapids; a fall Jazz Festival in Lake George; and a slew of scenic wine trails (to name a few) — we are going to have to say that…
The fall winner is…The Adirondacks!
Winter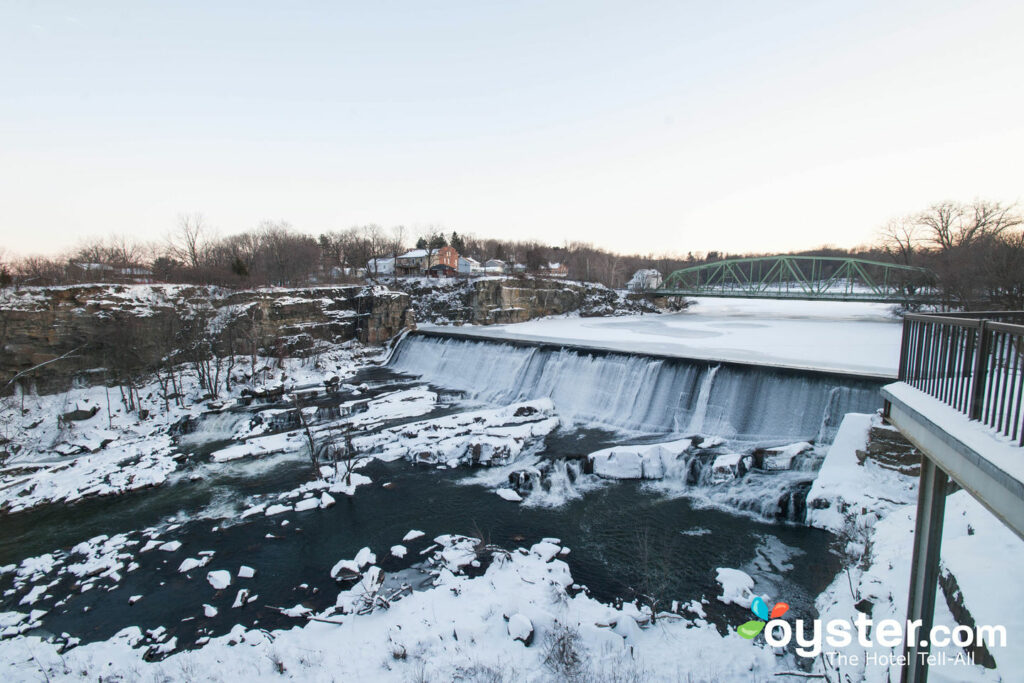 It almost goes without saying that both of our beloved destinations are snow-filled paradises in the winter. The majority of the regions' winter visitors come to hit the slopes on skis, snowshoes, snowmobiles, and snowboards. The Catskills offers visitors a chance to try their hand at Nordic skiing over a mellow 26-mile trail that stretches from Bloomville to Grand George, while cross-country skiers can test their skills on Claryville's combined 22 miles of groomed and track-lined trails. You can also plop down and enjoy the 650-foot ride down Windham Mountain on a snow tube, or tuck into a steamy hot tub at a local hotel. Father north in the Adirondacks' six-million-acre region (2.6 acres are owned by New York State), you can take your adrenaline a bit further with ice fishing, ice skating, and ice climbing; or buckle down with the family and check out the numerous winter carnivals and festivals, or dog sledding. We've got our eye on Cascade's Full Moon Ski Party, where the light of the full moon guides cross-country skiers to live music, bonfires, and food stations set up on the trail.
And the winter winner is…The Adirondacks!
Spring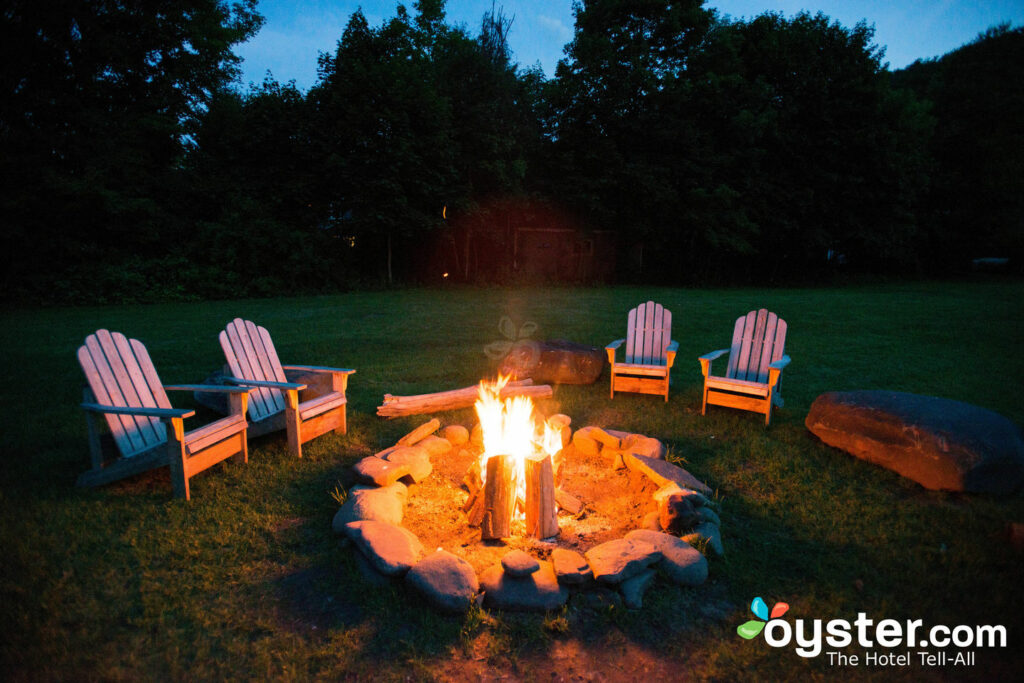 After the snow melts, the gorgeous flowers, bird chirps, and joy that New York State's spring season brings is undeniable. While scenic hikes are a no-brainer activity (unless you've got killer allergies), both of these beautiful regions have other reasons to come and ring in spring. Head to the Adirondacks, and you can paddle through the lakes, scuba dive the five shipwrecks in St. Lawrence River, or opt for a relaxing gondola ride at the base of Gore Mountain. Adirondack thrill-seekers also have the chance to raft down the Hudson River's Class IV-V "big water" season rapids, while those visitors over in the Catskills take a different perspective from about 600 feet up on Hunter Mountain's New York Zipline Adventure Tour, the longest and highest in the U.S. Though the springs and lake in the Catskills may still be a little cold for tubing and swimming, the warm, but-not-yet-hot springtime temperatures are ideal for taking long walks, dipping in ans out of antique stores, visiting roadside farm stores, and tasting your way through the Catskills cider region.
And the spring winner is…it's a tie!
Related Stories: