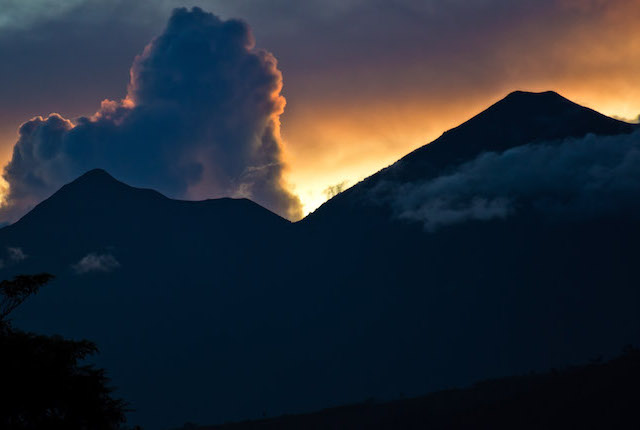 Volcan de Fuego, one of Central America's most active volcanoes, erupted on Sunday, spewing lava and clouds of smoke nearly six miles into the air. The fast-flowing lava -- which reached 1,300 degrees Fahrenheit -- hit nearby villages, engulfing entire communities in volcanic ash, mud, and rock. The deadliest eruption in the country since 1902, when the Santa Maria volcano eruption led to thousands of deaths, this devastating event has killed more than 60 people. Another 15 have been hospitalized, CNN reports, and nearly 300 have been injured. That death toll is expected to rise, as rescuers continue to reach a number of villages.
CONRED, the national disaster management agency, said the eruption would impact 1.7 million people across the country. More than 3,000 have already been evacuated to temporary shelters, and the Town of El Rodeo had already been "buried," BBC reports. Other towns impacted include Alotenango and San Miguel Los Lotes. The ash from Fuego volcano, located 27 miles southwest of Guatemala City, reached as far as the city's airport, causing it to close. (Though Guatemala City's airport reportedly reopened for private flights on Monday morning, flights to and from the airport were canceled, leaving thousands stranded.) The volcano, 12,346 feet above sea level, is also near the popular tourist destination of Antigua, which is covered in ash. Authorities caution residents, saying new eruptions could occur and to be on alert for mudslides with volcanic material.
This comes after Hawaii's Kilauea eruption, which rocked the Big Island in early May. Unlike the Hawaii volcano (a shield volcano), the Fuego volcano (a stratovolcano) let out pyroclastic flow, a mix of ash, rock, and volcanic gases that rushed over homes, roads, and villages. According to CNN, pyroclastic flow can race down a volcano at hundreds of kilometers per hour — faster than people or cars — making it more dangerous than lava. Guatemala is also situated on the Ring of Fire, a 25,000-mile horseshoe-shaped area of intense volcanic activity and earthquakes.
As rescue efforts continue to help victims, Guatemala's President, Jimmy Morales, has declared three days of national mourning.
All products are independently selected by our writers and editors. If you buy something through our links, Oyster may earn an affiliate commission.