Whether you are one of the lucky couples who is having more sex during the pandemic or those less fortunate whose flames of passion have dwindled, a change of scenery will spice up your relationship, especially if the boudoir is in a hotel that features something sexy on the menu.
When it's safe to travel, sweep your partner away to somewhere new. We curated a list of hot hotels with sexy drinks, dishes and desserts to get the party started.
Forbidden Fruits, Santa Barbara Wine Country, California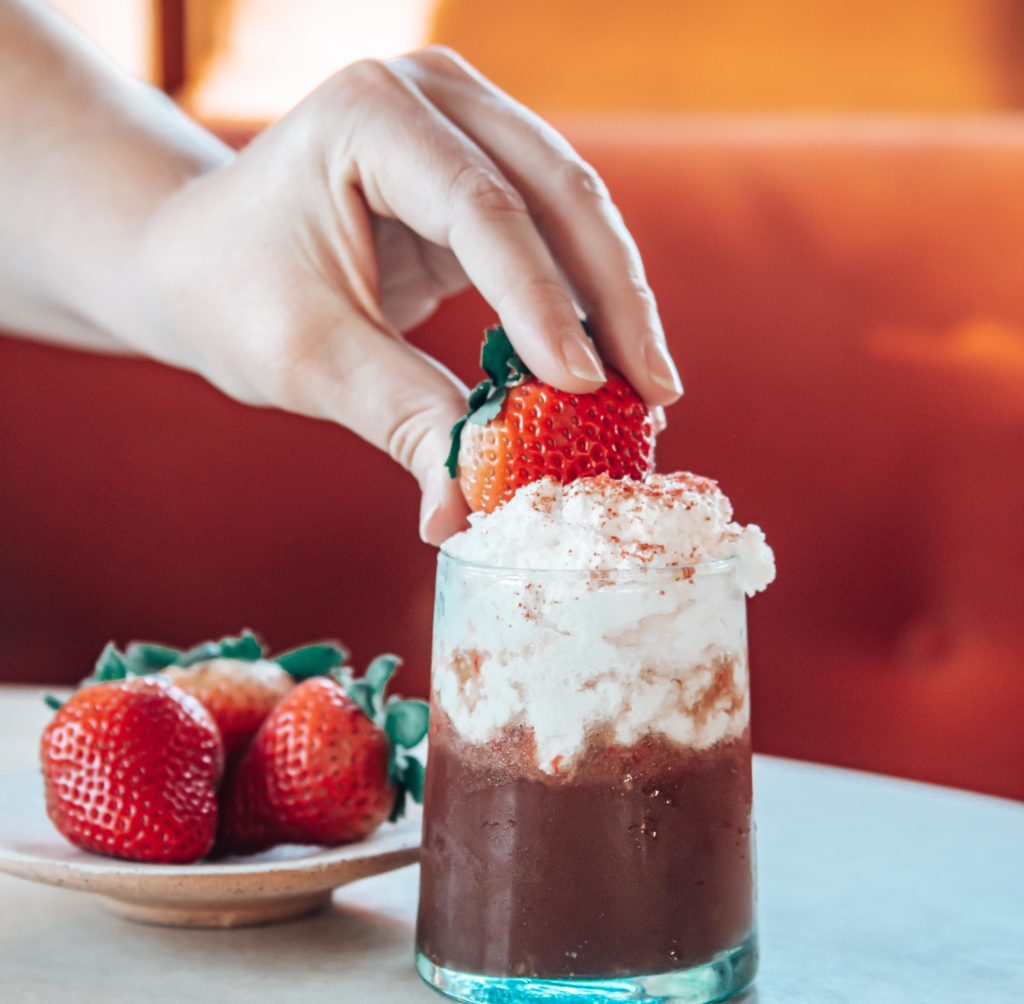 Couples can bring retro road trip romance to life at Skyview Los Alamos, a new hotel created from a 1950s motel in Santa Barbara wine country. At the hotel restaurant Norman (as in Bates!), bartender Carlos Lara whips up sexy seasonal cocktails like an aphrodisiac cocktail called Forbidden Fruits. Inspired by chocolate-covered strawberries, the cocktail includes vodka, Chocolate Liqueur, espresso, and house strawberry cream topped with strawberry dust, served with a side of fresh strawberries. Couples can dip the strawberries into the house-made whip together for a romantic nightcap before heading back to their rooms, which feature push-button indoor fireplaces, outdoor showers, and private decks overlooking wine country.
Chocolate Heaven, Conrad Fort Lauderdale
Melanie Pabon, executive pastry chef at the Conrad Fort Lauderdale, and her culinary team created an interactive twist on the classic chocolate-dipped strawberry as a fun, luxurious and romantic way for couples to end their meal with something to share. "The chocolate sphere – playing the role of the chocolate traditionally used to dip the strawberry – is uniquely filled with Strawberry Bubbly confit, Manjari 64% Chocolate Cremeux, Valrhona Chocolate Cake, and strawberry air. For the final 'wow moment,' the couple pours the warm strawberry honey sauce over the sphere to reveal the fresh strawberries inside," says Pabon. Couples can enjoy panoramic views of white sandy beaches, the Atlantic Ocean and the Intracoastal Waterways of Florida where they can create their own "wow moments."
Skyrockets in Flight, Granada Hotel & Bistro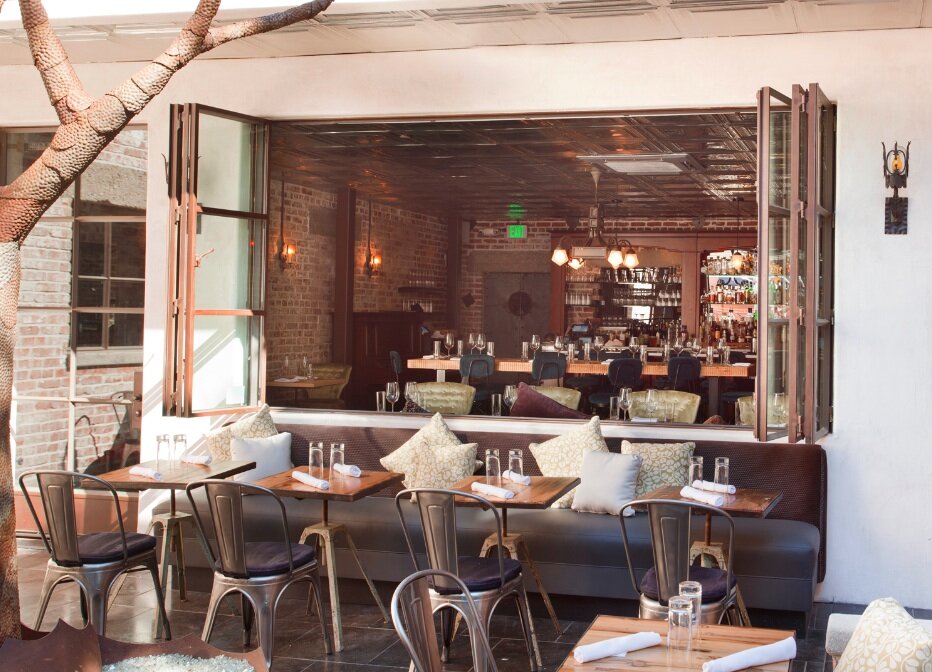 The Granada Hotel & Bistro in San Luis Obispo, California is a new hotel housed in a 1920s exposed brick building once rumored to be a brothel, creating a cheeky modern escape for a romantic getaway. The hotel's restaurant, The Granada Bistro, serves up a cocktail called "Skyrockets in Flight" featuring Beefeater gin, strawberry-infused Campari, rose syrup, Cocchi rosa and sparkling wine. Prepared by bartender Chuck Wheaton, the cocktail energizes the palette with succulent strawberries, lemon hearts, and bubbles. It's light and refreshing for an afternoon delight. Couples can retire to their rooms and keep the romance going with Baceae chocolates, local rose, and Diptyque candles, all included in the room's curated mini-bar.
Raise the (Caviar) Bar, Britannia Hotel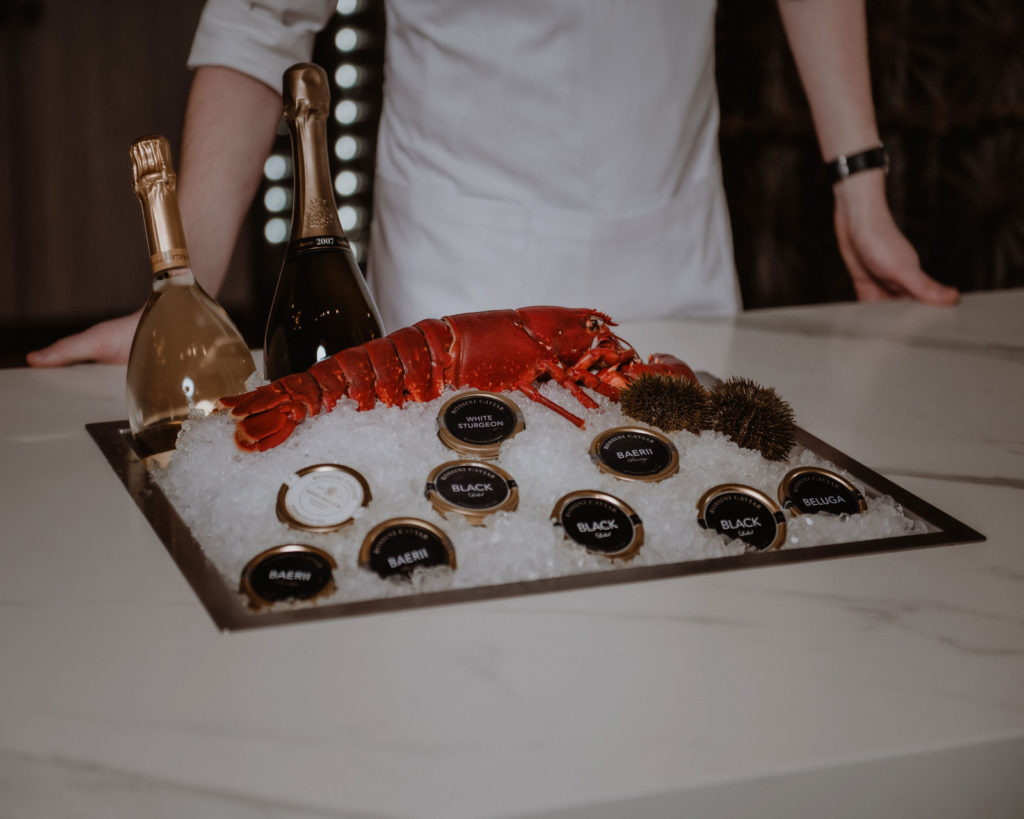 Britannia's Michelin-starred restaurant Speilsalen recently reopened with a caviar bar; the only one of its kind in the Nordic region. The caviar bar is laden with several different types of the aphrodisiacal delicacy, all with a distinctive character, based on different types of sturgeon and with a variety of salt and ripening time. "The tasting is accompanied by champagne or vodka. " We are delighted to announce that Speilsalen is the new Krug Ambassador, meaning we will be able to offer an even larger selection of this fantastic champagne, both by the glass and by the bottle. The caviar bar is an extraordinary restaurant experience in itself, and the combination of bubbles and caviar is guaranteed to 'get the party started', so to speak!" says beverage director Henrik Dahl Jansen.
Burn for You, Ashford Castle
Ashford Castle, the legendary 13th-century five-star castle hotel in Western Island, offers a dreamy romantic royal Irish getaway. Bar Manager Noli Alngohuro whipped up a new signature cocktail called "Burn for You" that he serves in a chilled champagne flute topped up with Lanson Rosé Champagne and garnished with rose sugar crystals and homemade white chocolate shards. Served with three Lanson Rosè Champagne chocolate truffles on the side, the cocktail is the perfect prelude to a bath drawn with rose petals in the royal setting.
Vuelve a la Vida , Tierra Magnifica
Tierra Magnifica's Chef Paulo Valerios makes a romantic dish that incorporates local flavors and aphrodisiacs — and recommends a cocktail for the "after party." Valerios named this dish Vuelve a la Vida because it translates to 'Come Back to Life.' Piangua mollusk brings the aphrodisiac qualities and the chili brings the heat. And we use local ingredients to bring our guests into the moment." The Chef recommends bringing the Nosara Princess cocktail to your room after dinner and sipping it on your balcony. The cocktail is named after the Princess of Nosara, a historic woman whose enduring love affair lives on in local legends.
Elevated Oysters, The Reach Key West, A Curio Collection by Hilton
Oysters are a great vessel for fun flavor combinations and a well-known aphrodisiac. You can take something that by itself doesn't look attractive and dress it up and create a very sexy dish on your menu. "This dish I have played around with a couple of times, the flavor combination of gin, tonic, and cucumber with the oyster is a wonderful mix of flavors," says Kevin Spencer, the executive chef who lovingly places the oysters on top of a salt made from crushed sea salt and rose petal.
Guacamole Jimador, JW Marriott Cancun Resort & Spa
While avocados maintain their innocence as spreads on toast and as toppings on poke bowls, they're also an aphrodisiac, used throughout ancient times to get couples in the mood. Some attribute avocados' magical mood-boosters to their creamy texture, suggestive shape, high price tag and exotic origins. At JW Marriott Cancun Resort & Spa, avocados are held in high regard and used in a variety of ways. The sexiest avocado-based culinary dish is awarded to the Guacamole Jimador. Made with two ripe avocados, tomato, onion, serrano pepper, and coriander, this guac also includes a special ingredient: 4 oz. of Jimador Tequila or a reposado tequila dating back 100 years. If the avocados don't ignite the passion, the infused tequila certainly will. To keep the magic going, couples can create their own in-room spa experiences with a steamy bath or turn up the heat with restorative spa treatments, cocktails by the infinity pool, and brunch baskets in a private Bali-style day bed overlooking the ocean.
Black Magic, W Punta de Mita
All products are independently selected by our writers and editors. If you buy something through our links, Oyster may earn an affiliate commission.