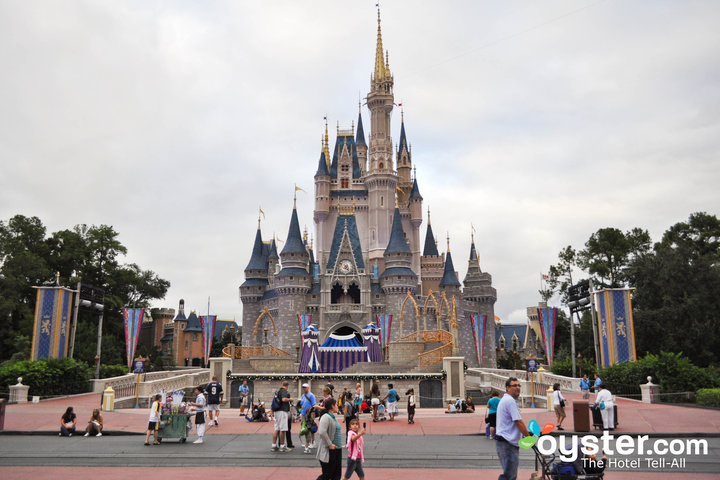 Most of us don't need much convincing to go to Disney World in Florida. Children love it, moms and dads are sentimental about it, and grandparents wind up feeling like kids again. Deciding where to book, however, takes a little more thought. You'll find scores of options in every direction from Cinderella Castle. For most Disney devotees, staying at a Walt Disney World Resort is a no-brainer. Yes, it can cost a bit more than staying off-site, but a Disney World Resort comes with a slew of perks that not everyone is aware of. Here's how to maximize the benefits that come with staying on a Disney property and create the best possible getaway for you and your crew.
Set up your FastPass+ extra early.
The coolest and newest attractions tend to have the longest lines, but if you're staying at a Disney World property, you can make waiting in queues a non-issue. With a FastPass+, you can head right to the FastPass line, which is usually much shorter. Plus, guests at any Disney World Resort can reserve spots for the hottest shows and attractions 60 days in advance (everyone else can do so 30 days beforehand).
So, how exactly do you get a FastPass+? When you book your hotel room, buy and link your theme park tickets to your reservation. Then, you're all set to pick your allotted three FastPass+ experiences (at one park, per day) at no additional charge. You can use your FastPass+ for classic rides like Big Thunder Mountain Railroad and Mission: SPACE, as well as to secure seats at shows that are typically packed, including Fantasmic and Indiana Jones Epic Stunt Spectacular. You can even use it to get a jump on meeting your kid's must-hug characters, including Cinderella and Mickey, and snag spots in special viewing areas for parades and nightly fireworks. The passes do run out, so being able to nab the ones that are most in demand well in advance sets your vacation up right.
Get your free MagicBands.
MagicBands go along with the FastPass+. These colorful, waterproof wristbands are free to Disney World Resort guests. You'll use one to check in at those FastPass+ entrances, but it does a lot more than that, too. A MagicBand is the key to your resort room, gets you past the front-gate turnstiles at theme parks and water parks, and serves as a "charge card," so the price of any food and souvenirs you purchase goes directly onto your resort statement. It even links the pictures snapped by Disney photographers to your PhotoPass account. How, you ask? Simply touch your wrist to sensors, called touchpoints, throughout the Disney property. You can also trigger personalized sound and light effects at special touchpoints. It's a simple concept that can make your vacation simpler and run a lot smoother.
Your family's set of MagicBands will be shipped to you, so that you have them before you leave home. If you book last-minute, they'll be waiting for you at check-in. You can mix and match colors for your group (pink, green, red, purple, orange, yellow, blue, or gray), and they can be personalized with each person's name (on the inside). Even better, your MagicBands are yours to keep as a memento of your trip.
Strategize on how to use Extra Magic Hours.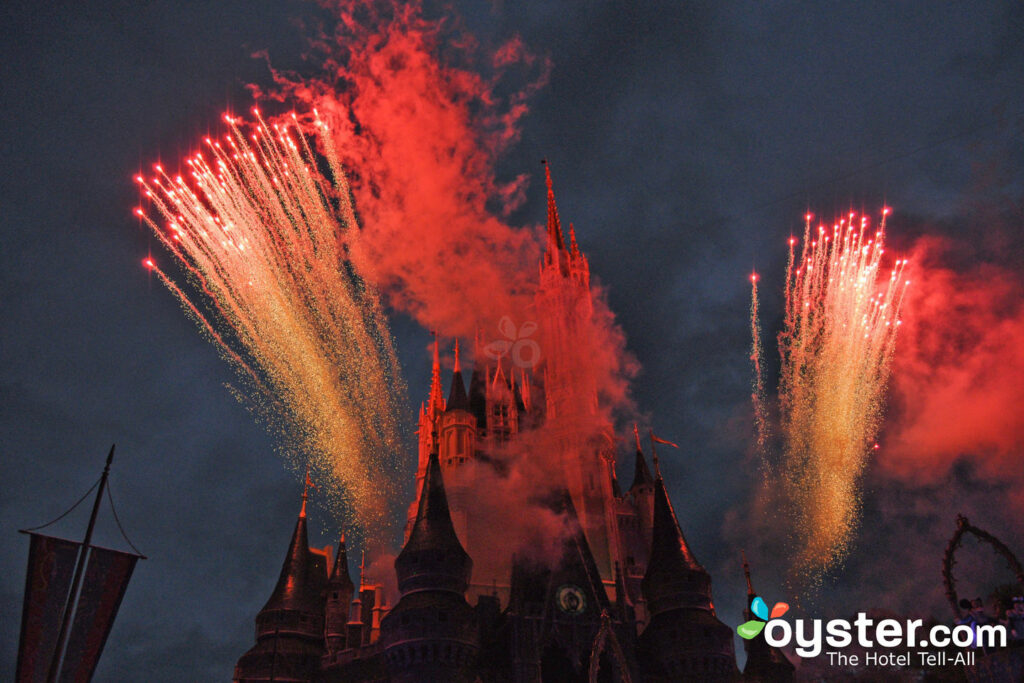 Extra Magic Hours, available only to Disney World Resort guests, are worth taking advantage of as well. Each theme park (Magic Kingdom, Epcot, Animal Kingdom, and Hollywood Studios) has a day when it either opens early or closes late. This allows guests to enjoy the park when it's cooler and less crowded. The specifics of which park is offering the extended hours (and when) will be listed in the welcome folder you receive at check-in, or is available from your resort concierge at any time.
Just keep in mind that unless you purchased a Park Hopper ticket, you can't split Extra Magic Hours within the same day. For example, you won't be able to get into Magic Kingdom early, and then move over to Epcot for their late closing. Tip: Pandora — The World of Avatar, the newest attraction in Disney's Animal Kingdom, is opening late from May 27 to July 4, 2017. Disney World Resort guests can hang out there from 11 p.m. to 1 a.m.
Remember that pools are only one factor.
Many of the Disney World properties have amazing pool areas. And most of the year, it will be hot enough to swim, so booking a resort based on its pool (or pools) makes perfect sense, especially if you're traveling with kids. But look at the bigger picture first. For example, the is home to the three-and-a-half-acre Ol' Man Island pool complex, which is done up to resemble a swimming hole on steroids. Any kid (and many grown-ups, for that matter) could happily pass hours there. But will you? We've all heard the advice to take a mid-day break and go back to your hotel to relax by the pool. It sounds logical, but many families ditch those plans last minute, as they're having too much fun at the park. That being said, it may be wise to weigh other factors, including room rate or distance from the park you're likely to spend the most time in, more heavily.
Consider what the magic is worth to you.
If you want to squeeze every drop of Disney magic out of your vacation, it is wise to stay at a Walt Disney World Resort. Each of the Disney properties features the authentic details and special touches you find in the parks. The stories your kids love are brought to life at the Disney resort, with themed pools, lobbies, and rooms. Some resorts, such as the and , also have character dining in their restaurants. From a logistics standpoint, you're not only close to the theme parks and water parks, but you are also situated within a short distance of the entertainment and shopping at Disney Springs. Speaking of shopping, here's an insider secret: If you're a guest of a Disney hotel, you don't have to schlep your shopping bags around all day. Any merchandise you buy in the parks will be delivered directly to your resort at no charge.
Take transportation into account.
What many Disney World Resort guests see as the best perk of all is being able to skip a rental car. The free transportation provided to guests starts at the Orlando International Airport, with Disney's Magical Express, a comfy coach that whisks you off to your resort. Once you land, you'll find plenty of signs directing you. Plus, you don't have to wait at baggage claim and haul your belongings. Just provide your baggage claim numbers, and your luggage will be brought directly to your room. Your bags can take up to three hours to catch up with you, so just make sure to keep essentials, such as medication, a swim suit, and that MagicBand — with you. You'll get a lift back to the airport as well.
From your hotel, you can hop on a shuttle, ferry, water taxi, or monorail to reach the parks or Disney Springs. The mode of transportation you choose depends on where you're staying and where you're headed. Generally, the pricier properties are on the monorail, water taxi, or ferry lines, while the budget properties take guests from point A to point B via shuttles. The shuttles are the least convenient option, as the rides can be long and make more stops than expected. For instance, the shuttle ride from Disney's All-Star Movie Resort to Magic Kingdom takes about 25 minutes. Disney's Art of Animation Resort is another budget property that operates a shuttle, but at least the buses are dedicated to that resort.
The morning shuttle ride can be a lot more bearable, as guests head out to the parks at different times. At the end of the day, however, almost everyone leaves at the same time, after the fireworks.The wait to get on a shuttle can be as long as half an hour. Once you're on board, you might have to stand as well. Overall, the whole ordeal can be rough on young children. If budget is a top concern, the price for the quality of the budget properties can be hard to resist. In that case, you may want to consider leaving before the fireworks.
On another note, even those who have their own car should consider staying at a Disney World Resort, as you can park for free at all the parks and Disney Springs.
Calculate food costs.
If you're a fan of all-inclusive vacations, there's a way to bring that experience to your Disney World trip — if you're a guest of a Walt Disney World Resort, that is. Book a Magic Your Way Vacation Package with a Disney dining plan, and you can prepay for your family's meals and snacks. You can choose from more than 100 full-service restaurants, quick and casual eateries, and even character meals. A special drink mug comes with the package, and you can refill it as many times as you wish at any of your resort's quick-service restaurants. A few different plans are offered, so consider which meets your needs the most.
Regarding the specifics, you'll pay for your food with your MagicBand, and your receipt will show how many meals you have left (and which kind). Just keep in mind that some of the table-service restaurants book up well in advance, especially during peak season, so be sure to make reservations as soon as you can. You can do that online or by calling (407) WDW-DINE.
Size up your accommodations.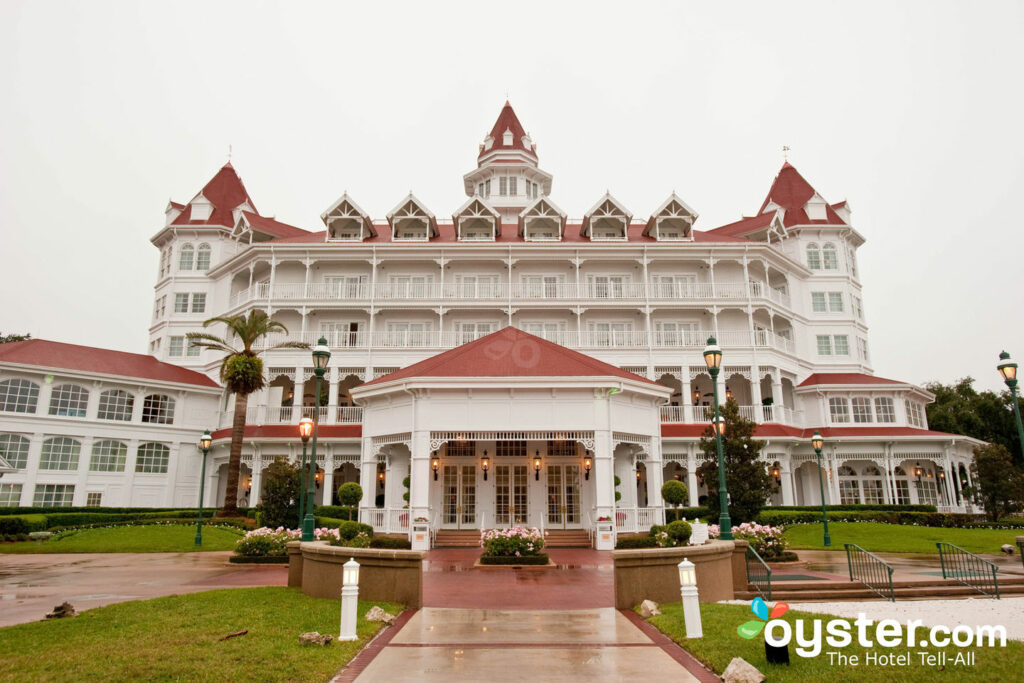 Got three kids? Bringing grandma along? Plenty of Disney hotels are designed with a variety of accommodations for families of five (or more). For example, Disney's Grand Floridian Resort & Spa has a selection of suites and villas that sleep up to nine. And suites at Disney's Polynesian Resort have views of the Seven Seas Lagoon. Larger accommodations mean you can save money (and avoid the hassle) over splitting your brood in two rooms.
You'll Also Like:
All products are independently selected by our writers and editors. If you buy something through our links, Oyster may earn an affiliate commission.