Holiday travel is around the corner and you likely have a lot going on: last-minute work emails, last-minute packing, and last-minute shopping. The last thing you need is for your skin to go haywire. But it seems like skin always freaks out when flying, especially around the holidays. Is it the bone-dry airplane cabin? General travel stress? The systematic replacement of water with eggnog and mulled wine? "All of the above," says skincare expert Olga Lorencin. The facialist to Reese Witherspoon and Halle Berry shared her top tips for keeping skin merry and bright.
Hydrate, hydrate, hydrate!
When it comes to clear and calm skin, alcohol and caffeine are saboteurs, while "water is your best friend," according to Lorencin. It may be hard to imagine doing the checkpoint-to-gate slog without a special Starbucks treat, but replace that syrup-laced latte with pure H2O, and your skin will thank you. Nothing motivates us to stay hydrated like S'well's super-cute, stainless-steel bottles, which keep water cold for a full 24 hours and fit perfectly under the bottle-filling stations sprinkled throughout the airport.
Turn your carry-on into a skin-saving arsenal.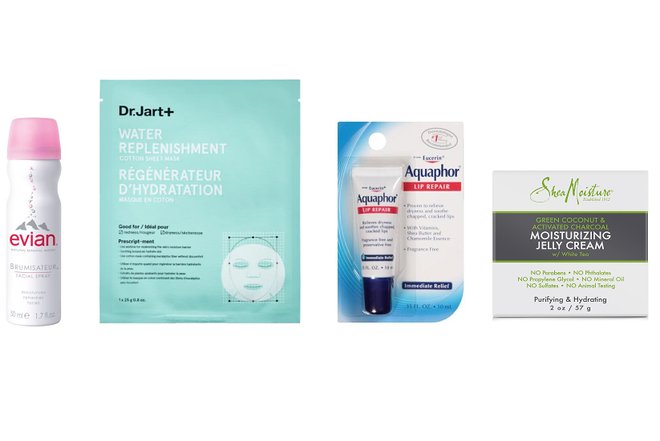 It's important to hydrate inside and out. Lorencin recommends moisturizing throughout the flight, where the onboard humidity levels hover at roughly zero. Stash a facial mist (Lorencin loves , which come in travel-size bottles) and a light moisturizing cream in your carry-on — we love the bouncy Jell-O texture of , made with ultra-hydrating shea butter and coconut. Lorencin also suggests emollient-rich , which prevents the dry cabin air from sucking every bit of moisture out of your pout. And if you're really brave, don't be afraid to break out a sheet mask. These cooling cotton masks from Dr. Jart won't budge and perhaps won't catch the attention of your seatmate, as they have no added fragrance.
Don't forget sun protection.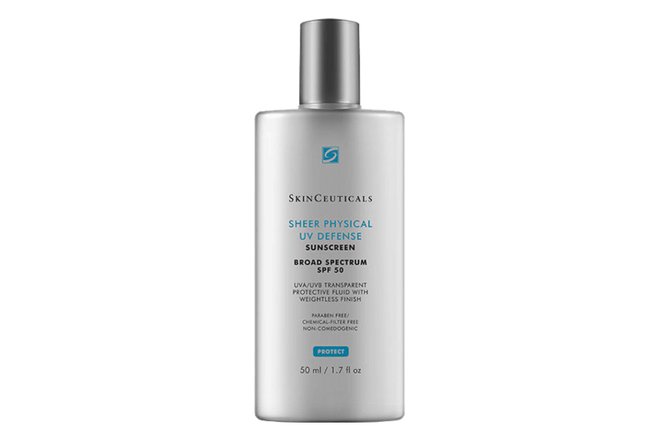 You may equate travel days with terminal-connecting tunnels, middle seats, and general sunlessness. But if you're lucky enough to snag a window seat, or if you're anywhere near one, you'll need to wear sunscreen. After all, you're 30,000 feet closer to the sun's harmful UV rays than usual! Lorencin's favorite is SkinCeuticals Sheer Physical UV Defense SPF 50, a velvety fluid that absorbs and dries quickly.
You'll Also Like:
All products are independently selected by our writers and editors. If you buy something through our links, Oyster may earn an affiliate commission.