The City of Light is also the city of love, and that includes the special bond between a mother and a daughter. Whether your mini-me is a toddler, a sassy teen, a recent college grad, or a mom herself, Paris is an ideal destination to experience together. At the same time, it can feel a bit overwhelming to make a see-and-do list, especially when you have a limited amount of vacation days. You'll want to allow for plenty of downtime to explore freely, wander into shops, pop into a cafe for a bite, and browse intriguing markets. After all, Paris isn't a city to rush through on a strict schedule. That said, we've put together a short list of ideas on how to have a memorable mother-daughter vacation in this glorious city. Bon voyage!
1. Book a hotel with a great atmosphere.
Staying at the will be a thrill for fashionistas of any age. You'll get personal attention (there are only 17 accommodations, after all) and the rooms and junior suites were designed by Christian Lacroix, who added his bold and distinctive flair. Fittingly, the hotel is in the upscale Haut Marais district, which gets plenty of buzz for its chic restaurants, unique food stalls, and sumptuous boutiques.
2. Enjoy the sweet life.
Spending time in Paris and not savoring that quintessential French treat, the macaron, is practically blasphemous. Ladurée has arguably the best — each one is a delicate work of art. (The hot chocolate and croissants are excellent as well.) The shop in Saint-Germain-des-Prés tends to be less crowded than the Champs-Élysées outpost. And take heart: Ladurée also has shops in several big cities around the world, so you may not have to go cold turkey once you're back home.
3. Set sail.
Sure, Bateaux Mouches is a touristy attraction, but that doesn't mean it's not worth a visit. As you drift down the Seine, you'll get a different perspective of the Eiffel Tower, Louvre, Notre Dame, Conciergerie, Musée d'Orsay, and more than you would on foot. Plus, each journey is narrated, so you know exactly what you're looking at. The tours run day and evening, but there's nothing quite like seeing Paris lit up at night. As you float under each bridge (there will be a few), passengers often cheer to get the echo effect. This adds a dose of fun to the spectacle of it all, especially for kids.
4. Get thee to the gardens.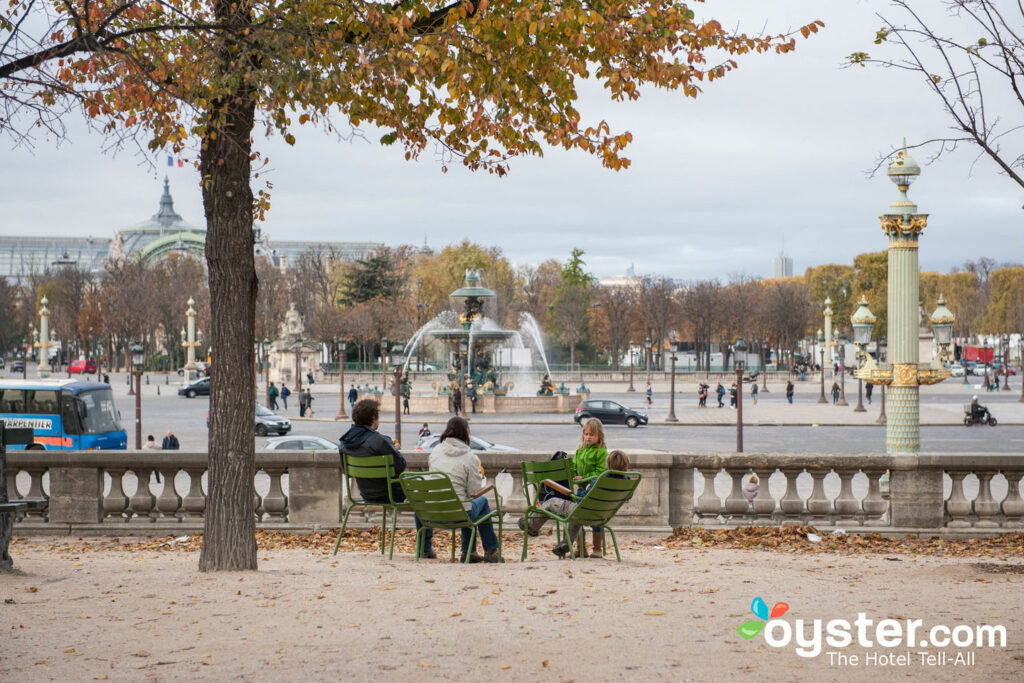 If it's a sunny day, make a stop at Jardin des Tuileries. Local families while away the hours here, especially on Sundays, and it's easy to see why. You'll find two ponds where you can steer miniature sailboats and feed ducks. There's a beautiful carousel, a playground, a marionette puppet theater, and donkey and pony rides. During the summer months, there's also a fair, with a Ferris wheel. The gardens, which separate the Louvre from the Place de la Concorde, have an interesting history, too. It gets its name from the tile factory that was in the vicinity in the 1500s. King Louis XIV's gardener landscaped the park in 1664, resulting in the French formal garden-style that it has to this day.
5. Check out Disneyland Paris.
In the likely event that you're curious about what the European version of the Happiest Place on Earth is like, head to Disneyland Paris. Located in Marne-la-Vallée, about 20 miles east from the center of Paris, this entertainment resort features a pink-hued Sleeping Beauty Castle instead of Cinderella Castle. There also happens to be a dragon hiding underneath the castle, and you can drop in on him. Plus, you'll find most of your favorite Disney rides here. While this venue is half the size of Magic Kingdom, you won't regret devoting a day to see it.
It's simple to get back and forth, too. Marne-la-Vallée station is the last stop on Line A of the commuter RER train, which departs from the city center. Disneyland's front gates are located right at the station. The trip takes around 40 minutes, and the trains come with velvet seats and, if you're lucky, a French accordion player.
6. See the Eiffel Tower the easy way.
Here's an idea for how to see the Eiffel Tower. Instead of braving the lines and crowds, which likely won't end well if your daughter is young, consider heading to the lovely lawns of the Champ de Mars, instead. You can spread out and enjoy a picnic lunch, with a killer view of the iconic landmark. Plus, this vantage point is free, unlike the one you get from the top of the tower. The area also has a cute playground. And when you're done, stop by the nearby Musée Rodin to see the famous Thinker sculpture.
7. Tackle the Louvre.
If your daughter is still in elementary school, or not particularly into art, you may be tempted to skip the world's most famous museum. Don't. Paris Muse offers kid-centric guided tours of the Louvre for ages 6 to 12. It allows you both to take in the major masterpieces, including the Mona Lisa, in a strategic way. You'll see the same art as your daughter, but she'll get an added layer of interaction in the form of a treasure hunt. The families and their tour guide go through a range of collections, culminating in a surprise at the Louvre's famous glass pyramid. Who knows? You may wind up leaving with an aspiring artist.
8. Shop like you mean it.
https://www.instagram.com/p/BGehzIVJffv/
You'll undoubtedly be tempted to shop during your visit to Paris. Stop in at Bonpoint, where the interior design is as chic as the clothes. And the store doesn't only cater to tots — Yam is their sophisticated, luxe line for teens. Although there are a handful of Bonpoint shops scattered around Paris, the one on Rue Tournon in Saint-Germain-des-Prés is particularly large, with eight distinctly decorated rooms and a manicured garden. The duds don't come cheap, but you can't put a price on the experience, which includes being fawned over by an attentive shopkeeper, choosing from an array of dazzling wares, and walking out with a peach-and-ivory shopping tote that's tied with grosgrain and spritzed with Eau de Bonpoint, their signature orange blossom and petitgrain fragrance.
9. Walk on the wild side.
Jardin des Plantes, a botanical garden in the Left Bank, is a refreshing place to catch your breath, but it's also home to a zoo. Established in 1795, the zoo is the oldest one in all of France. Plus, the architecture here is magnificent. In fact, walking around, admiring the buildings, is nearly as interesting as watching the antics of the animal residents. Tip: Don't miss the caracals and the red pandas.
10. Book it.
https://www.instagram.com/p/BRn-iRdlqpp/
Visiting the Chantelivre book store on the upscale Rue de Sèvres is a real treat. It includes an adult section, with classics as well as contemporary novels in English and French, along with non-fiction and coffee table volumes on art, cooking, and more. The vast children's department houses fantasy and sci-fi, as well as comic and picture books, plus a smattering of games. The staff, as you might imagine, really knows their stuff, and is happy to offer personalized suggestions for good reads. The shop also hosts kid-centric concerts, story times, and other events for families.
NOW WATCH: A Time-Lapse of the Eiffel Tower in Paris
https://www.youtube.com/watch?v=7xtUD6LUhZw
You'll Also Like:
All products are independently selected by our writers and editors. If you buy something through our links, Oyster may earn an affiliate commission.