Visitors to New York City often search frantically for hotels with beautiful skyline or Central Park views -- and we get it, they are fabulous. However, many travelers forget that New York City is an island surrounded by water, and many hotel rooms have spectacular water views. We pulled together a list of great hotels in the New York City area with river views from rooms, gyms, and rooftop bars. So trust us on these hotels and their beautiful water views -- your Instagram feed will thank you.
Hotel Hugo is a boutique property in SoHo with lots of spaces to enjoy New York City water views. Rooms here have a variety of Hudson River views, and some are less obstructed than others, so it's best to make a request with the front desk for one with top-notch vistas. However, if you find yourself stuck in a room without Hudson River views, don't fear. Head to the hotel's rooftop bar and nightclub, Bar Hugo, for a glitzy cocktail and panoramic views of the Hudson River, New York City skyline, and World Trade Center. Whether it's day or night, it's a sure spot to get stunning water views.
Millennium Hilton New York One UN Plaza has just the right combination for great water views. It's located next to the United Nations on the East River, and the hotel starts on the 28th floor of its building. As such, most rooms offer wonderful views of the East River, and if you request a corner room, you might be treated to both river and skyline views, which are even more enthralling during the rising and the setting of the sun. For those who wish to get in a workout, the gym is another great spot for views. as the cardio machines and the weight machines face the river.
While most hotels on this list are located in Manhattan, the Brooklyn-based The William Vale is just too perfect to leave out. Head to its rooftop bar, Westlight, for the stunning views of the East River, Manhattan, Queens, and Brooklyn. The outdoor terrace is seasonal, so when it's cold, just cozy up on a couch with a drink and enjoy the water views. Those staying in the hotel are also able to enjoy water views from many of the rooms — some will even get to do so from furnished balconies. If all that isn't enough, the trendy hotel has a great Italian restaurant, gym, and fun public spaces to enjoy.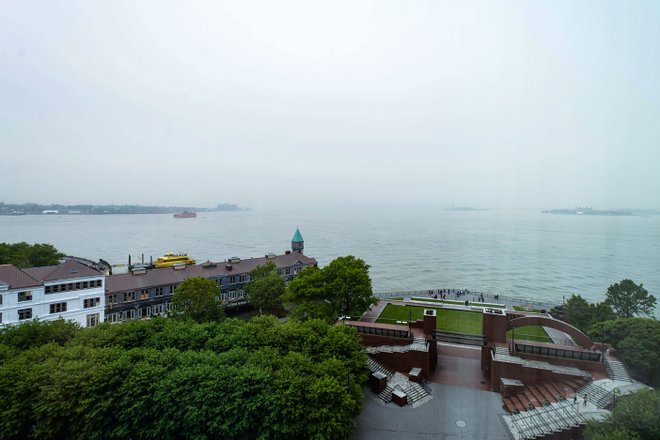 While all the hotels on our list have great water views, if you stay here, you'll get the opportunity to see the Statue of Liberty from your room, and, well, that's hard to beat. The Ritz-Carlton New York Battery Park sits next to the Hudson River, just around the corner from the ferry departure points for Ellis Island and the Statue of Liberty. Some rooms at this property have lovely Hudson River views, complete with telescopes that allow guests to explore the bay and get a close-up view of Lady Liberty.
The Standard High Line is one of the trendiest hotels in New York, thanks to modern and hip interiors and a cool location in the Meatpacking District, just off the High Line park. With wall-to-wall, floor-to-ceiling windows in many of the rooms and in the gym, guests of The Standard High Line are given beautiful views of the Hudson River. We particularly love the Hudson Studio units, as they offer deep tubs next to the windows for a nice soak with great views.
The Kimpton Brand is known for its sophisticated and trendy hotels, which include the Hell's Kitchen haunt Kimpton Ink48. Though it has a solid gym, eco-friendly spa, and a farm-to-table restaurant, its best feature might be the rooftop bar, Press Lounge. With an open-air, wraparound terrace that offers views of the Hudson River and Manhattan skyline, it often attracts non-guests, however, guests always have first dibs on entry to this beautiful space. Many rooms vary between city and river views, so you'll have to request water views if you want them. If you're able to fork over the cash, book the Riverview Terrace Suite — it offers outdoor space, as its name suggests.
The Bentley Hotel is an industrial-chic hotel on the Upper East Side of Manhattan with spacious rooms, some of which have East River views with a twist. With two thousand bridges in New York City (no, they're not all as big as the Brooklyn Bridge), there should be many hotel with views of at least one of them, right? That's the case at the Bentley Hotel. Many of the rooms have views of the Queensboro Bridge, which connects Manhattan and Queens. Travelers then can enjoy watching boats and ferries make their way along the East River, cars drive over the Queensboro Bridge, and the Roosevelt Island Tram (which runs along Queensboro Bridge) ferry passengers to and from Roosevelt Island.
While most waterfront hotels in New York City are pricey, guests will rejoice in learning that the Riverside Tower is the best budget-friendly option with water views. Riverside Tower is one of the tallest buildings located across from Riverside Park, and though it features an outdated design and visible aging and wear throughout, the views are quite spectacular from rooms on higher floors. If you can look past tube TVs, tight spaces, and old-fashioned floral comforters, it's hard to beat the sunset views over the Hudson River here.
You'll Also Like: