Technology and innovation have made traveling more comfortable and fun -- from sleek luggage that will charge your phone to portable speakers that liven up any beach or camping getaway. But, while there are certain travel products worth dropping hundreds of dollars on, we always appreciate a good bargain. So with that in mind, we've rounded up 10 of our favorite travel gadgets (not all are electronic, though) under $20 to help you nail your next trip without spending a small fortune.
Many travelers know one of the most useful gadgets to have is a portable charger. Whether you're hiking, spending a full day sightseeing, or getting on one of those dreaded airplanes without individual charging ports, having a back-up charger when your phone or tablet battery dwindles can be not only convenient, but also vital. This Anker Astro model is as compact as a candy bar and reportedly holds about two phone charges. Boasting a 4.5-star rating on Amazon, customers seem to agree on its effectiveness. It's currently being sold for $18.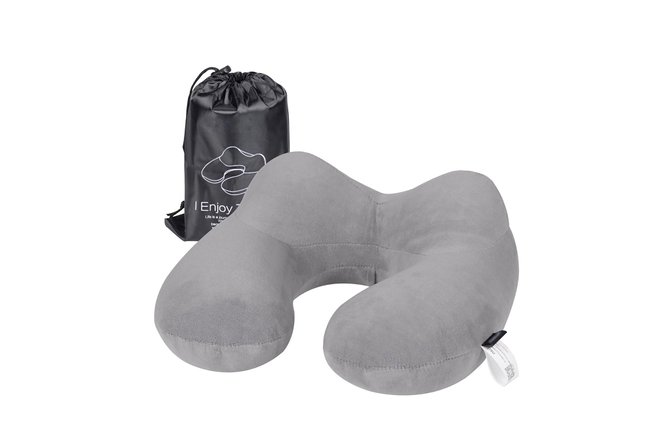 If you're someone who can't sleep on the plane without a neck pillow, but don't like the added weight of one, an inflatable travel pillow is your best bet. The Hawkko pillow has the typical neck pillow design when inflated, but it deflates to be stored in a drawstring bag that can be tied around luggage or stuffed in a backpack. It's not as luxe as memory foam pillows, but it's soft, comfortable, and gets the job done. Plus, it's hard to beat the current $11 price.
While we think packing down to a carry-on is the best way to go to avoid lost or damaged luggage and baggage fees, if there's no way to avoid checking a suitcase or overhead bin space runs out before you board, handing your bags over may be your only option. Given that this can be a bit anxiety-inducing, it's always wise to have a TSA-approved lock on hand to keep your stuff secure while it's out of sight. This Tarriss lock has a flexible cable strap, three-digit code, and a search alert that changes from green to red if someone from TSA ended up opening your bag. A set of two costs just $15, for inexpensive peace of mind at an airport, hostel, or hotel.
Anyone who has had to buy a bottle of water an airport knows that they can cost a whopping $4 for one Dasani. It's much more economical to pack your own bottle, though that once again leads us to a space issue. That's where the HYDAWAY bottle comes in. The 21-ounce bottle collapses down to just 1.25 inches and weighs under half a pound. Store it in your handbag or pocket when going through airport security, then fill it up at a water fountain by your gate. At just under $20, you'll have made up the cost after just a couple of flights.
If you travel to multiple countries, it's all but guaranteed you'll need to buy a universal adapter to charge your electronics. Although some hotels may have some for guests to borrow, most of the time, you'll have to buy one from the minibar or a nearby store. Skip the hassle and order the Iron-M Universal Travel Adapter for $16. It works in over 150 countries. It can charge up to three devices at a time, though you'll have to double check the current/voltage compatibility.
Whether you're a professional photographer or just love snapping photos on your phone, traveling with a lightweight, mini tripod is an excellent way to take stunning pics without lugging around lots of camera gear. This $16 Tairoad model is a particularly great bang-for-your-buck, as the legs are bendable, allowing you to wrap legs around balcony railings or tree branches for those special shots — and it comes with a free smartphone and GoPro mount. Keep the legs in and it also acts as a selfie stick.
Many hotels offer in-room ironing facilities or dry cleaning for a fee, but if you're traveling somewhere that doesn't, or will be in and out of meetings all day, this mini steam iron is a cute and convenient alternative. It fits in your hand, so little luggage or tote bag space will be occupied, and it's powerful enough to get wrinkles out of all your clothing materials. At $18, this is one of the cheapest products available, or you can spend about $7 more for the more popular Ivation iron.
If you're doing any water based activity and taking your phone, you'll likely want to skip the Ziploc bag and invest in a waterproof case. There are some expensive phone cases on the market, but we think this $10 case by Vansky is at the top of the pack. The case is floatable — so no worrying about your $700 phone sinking to the bottom of the ocean — has an adjustable lanyard and armband, and external jack. It fits smartphones up to 6.3 inches (the iPhone 7s Plus is 5.5 inches) and works up to 100 feet or 30 meters in water, so taking photos while snorkeling or swimming is easy.
Perfect for outdoor activities like camping and hiking, the Luci inflatable solar light is a compact, durable, and waterproof lantern that's completely solar powered. Weighing 4.4 ounces and collapsing down to an inch, it's light enough to carry around, and the bottom strap can be hung from a backpack or tent. Keep it in the sun to charge during the day, and then use one of the four settings — low, bright, super bright, and one-second flashing — at night. It's currently sold on Amazon for $19.55 and a single charge will last up to 18 hours.
Not to be nervous Nellies, but feeling safe when traveling is always a top priority. One easy and budget-friendly way to accomplish that is with the Sabre personal alarm, which has an alarm pin that can be pulled or activated by its motion detector. It has both a magnet and key ring, so you can attach it to valuables you're worried about being left at a hotel or hostel, or you can keep in your hand while walking in an unfamiliar area where your safety sensors are ringing. Just beware that the alarm is loud, at 120dB, and can be heard from 600 feet away.
You'll Also Like:
Oyster.com is a participant in the Amazon Services LLC Associates Program, an affiliate advertising program designed to provide a means for sites to earn advertising fees by advertising and linking to