Spain continues to be one of the world's top vacation destinations, meaning it is increasingly difficult to find that elusive, uncrowded spot away from the tourists. However, if you know where to look, you can still discover plenty of lovely beach towns that are tucked away and unspoiled by the annual influx of visitors. That's where we come in. Below, we compiled a list of the six best secret beach towns in Spain.
Overlooked by its castle, this ancient walled town has become a bit more popular since appearing in the hit show "Game of Thrones." However, while Spaniards are generally aware of this beautiful town, it hasn't made much of a blip on the international tourism radar. Less than a two-hour drive from the city of Valencia, Peniscola is home to a picture-perfect old town, stunning views over the Mediterranean, and numerous sandy beaches worth exploring.
Cedeira
Galicia in northwest Spain is full of hidden gems — particularly the northern coastline (Rías Altas), with its many wild and uncrowded beaches. The small town and fishing port of Cedeira offers up pretty scenery, as well as ample eateries to keep folks well-fed. Playa de la Magdalena is the town's main beach, with a small chiringuito (beach bar hut) at one end. It's very clean, quiet, and safe, and a great option for kids. There are numerous tiny sandy coves to explore nearby, as well as rugged cliffs to walk along. There's also another big stretch of white sand at Playa de Vilarube, where the river, Rio das Mestas, meets the sea. Vilarube is a good surf spot, but it's also a lovely place to swim in the warm pools left by the tide. Its setting makes for some spectacular sunsets, too.
Ribadesella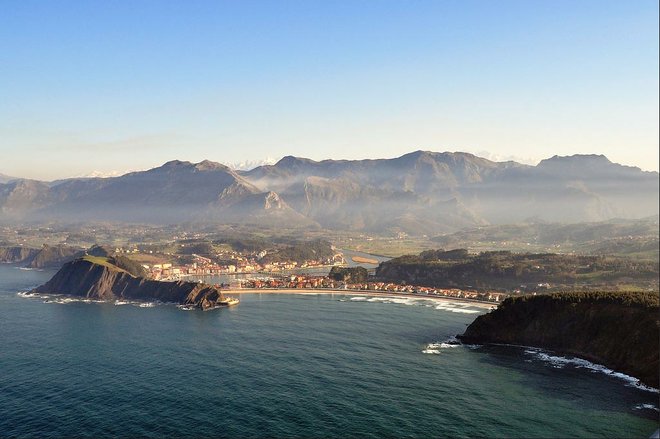 Asturias is a beautiful, but lesser-known, region of northern Spain, and Ribadesella is a small coastal town within it. Flanked by high mountains, this town is situated on the bay of the estuary of River Sella. The beach here features a dramatically curved stretch of golden sand. The area is well-known for its caves containing prehistoric drawings, and there are many more secluded beaches to discover on this stretch of coastline, including Playa de Gulpiyuri. Technically a flooded sink hole, Playa de Gulpiyuri appears to be a landlocked beach, as the tide draws the sea water through a network of underground tunnels. Ribadesella itself is very picturesque, with colorful buildings rising above the white sand and turquoise sea.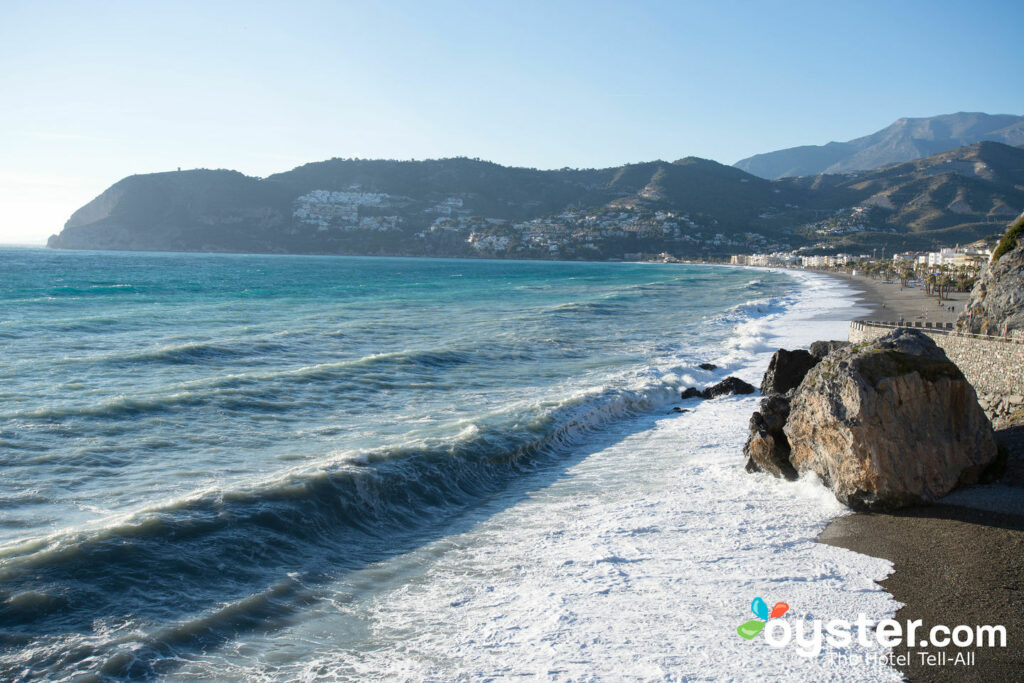 Situated in Andalucia, on a stretch of Spain's south coast known as the Costa Tropical, Almuñécar not only has wonderful beaches and great weather, but it is only an hour from the famous city of Granada, which features incredible Moorish architecture. Furthermore, it is also not far from the spectacular Sierra Nevada mountain range. A rocky outcrop, called the Peñones de San Cristóbal, divides the town's two beaches, which have numerous chiringuitosat the back.
Es Grau
Es Grau on the northeast coast of Minorca is a nearly perfect beach town for families. The shallow turquoise waters are ideal for small children (and adults), and while the sand may not be white, it is soft and there is lots of it. The beach backs on to S'Albufera des Grau nature reserve, and you can catch a small boat from the village to other more remote beaches like Cala des Tamarells, a great spot for snorkeling. The village itself is picturesque, with a handful of bars, restaurants, and shops, though not much else. Minorca is generally a low-key and family-friendly island, and much quieter than its neighbors Majorca and Ibiza, but the northern coast is the quietest area of all. There are no resorts or huge hotels in this area, yet it is still only a 15-minute drive from Mahon, the capital city.
Viveiro
Viveiro, in northwest Galicia, leaves you spoiled for choice when it comes to beaches. There are the estuary beaches in Viveiro Bay, (the main one being Covas Beach), a huge arc of golden sands with a promenade at the back, and the smaller Seiramar and Sacido beaches. Sacido is lovely and quiet, with beautiful views, but notably shady in the afternoons, as it is backed by cliffs. Within a few minutes' drive, you can reach the wild beauty of Playa de Abrela, which feels as if you've been dropped onto a stretch of white sand in the middle of a forest. Tip: To make the most of the endless small coves and wide bays of this area, hiring a car is essential.
You'll Also Like: