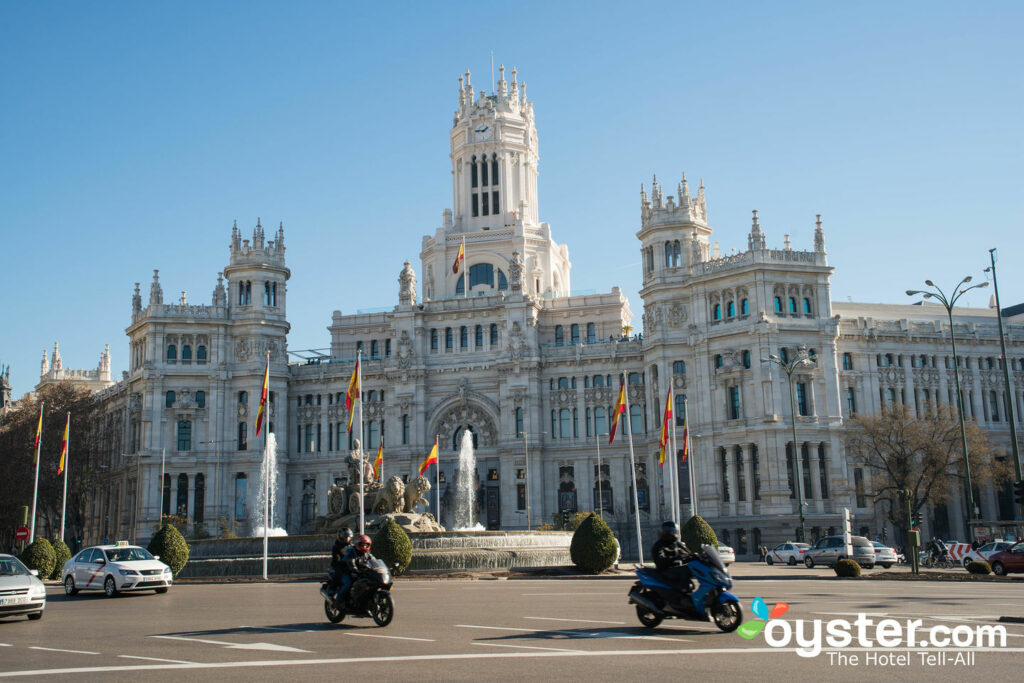 To put it bluntly, Madrid is a stunner. It's not that we don't hear the criticism out there -- summers are too hot, they say; there's no beach. However, the charm here runs deep and lasts around the clock. There's something perpetually alluring about the Spanish capital, and it has an almost limitless amount of things to see, do, taste, drink, and explore. And while its barrios may feel intimate, Madrid is a pretty big place -- the third largest city in Europe, to be exact. With that in mind, we're breaking down the must-see sights and the under-the-radar secrets that will make any trip memorable. So whether you only have a long weekend or you have a full week to spare, read on for how to see as much as you can in one of the most vibrant cities on earth.
Day 1: Go Big or Go Home
While the pace of life in Spain is certainly more relaxed than what's found in London or New York, Madrid is a perpetually bustling place. With that in mind, there's little rest to be found on your first day, particularly if you only have three days in town. Yes, Madrid is one of Europe's biggest cities, but its historic center is surprisingly compact and easily walkable (just beware of the bolardos — small streetside posts that can trip up even the nimblest traveler). Start with a typical Spanish breakfast, which consists of little more than fresh juice, strong coffee, and a sugar-packed pastry (just keep in mind that the Spanish cafe frequently doesn't open early, though we found some options along Calle del Pez, in Malasaña — like old-school El Palentino or El Salton).
Start the day by ticking off the must-see spots around town — and a visit to the Prado is a fine way to do just that. Officially known as the Museo Nacional del Prado, this collection ranks up there with New York City's Metropolitan Museum of Art, the Louvre in Paris, and London's National Gallery. And that reputation is deserved. Its storied halls are home to most of Diego Velázquez's most iconic canvases, including "Las Meninas," as well as works by Rubens and El Greco. However, it's the Goya collection that stuns. Aside from Goya's epic canvases like "The Third of May 1808," it's the room housing only Goya's enigmatic and disquieting Black Paintings that steals of the show. Do not miss them on your visit.
The Prado could occupy an entire day, though it's smaller than its aforementioned cousins. In any case, it will likely be lunch time when you leave, so head to the nearby Barrio de las Letras, a part of town also known as Huertas. Here, picture-perfect Old World bars line charming (and quiet) lanes that are peppered with trendy coffee shops, boutiques, and restaurants. You'd do fine stopping into any of these restaurants for lunch (around 2 p.m. in Madrid), but some spots will require reservations. We love the menu at Rayen, a perpetually busy (and creative) vegan joint, though if you're feeling adventurous, La Dolores is a vibrant tapas restaurant and bar with a Spanish-only menu and a whole spread of authentic bites.
From Huertas, you're within easy striking distance of a whole lot of history. Miguel de Cervantes, author of "Don Quixote," lived at Calle de Cervantes 2, and if you follow pedestrianized Calle de las Huertas to the west, you'll reach Plaza Mayor. It's a bit of a tourist trap, but the square — ringed by buildings that date back to the 16th century — certainly makes for a fine place to enjoy an overpriced coffee and snap pictures of the bustling scene. Around the holidays, it's home to a popular market. The narrow lanes that run off of the plaza are photogenic and worth strolling around in for an afternoon. You can pick up everything from Spain's iconic jamon iberico to tacky souvenirs to big-name goods (especially as you head north toward Sol).
Day 2: Feed Your Soul With Art and a Little Retail Therapy
Despite its somewhat stuffy reputation among Spain's notoriously bohemian cities, Madrid has a deep creative streak and nightlife that doesn't stop until well after dawn. Kick things off with a pastry (or more filling brunch) at La Bicicleta, an impeccably hip little cafe in Malasaña with excellent coffee and great pastries. From there, head down pedestrianized Calle de Fuencarral, which is lined with countless shops selling everything from one-of-a-kind kicks to high-end men's and women's wear. It's thronged with people day and night, and the street scene alone is something of a marvel.
From there, hop the metro at Gran Via and head to Atocha. This area is home to the city's main train station, which is pretty for a quick visit (and has a somewhat incongruous tropical garden that's filled with an improbable number of live turtles). However, the reason for coming down this way is to visit another of the world's most impressive museums: the Reina Sofía (officially known as the Museo Nacional Centro de Arte Reina Sofía). This is Madrid's modern and contemporary museum, and mounts exhibitions that cover everything from La Movida Madrileña (the bohemian counterpoint to Franco's brutal regime) to legendary Spanish and international artists. However, the museum is perhaps most famous as the home of "Guernica," by Pablo Picasso. Pictures of the jaw-dropping masterpiece aren't allowed, but it's a spectacular creation that exceeds expectations. Check Dora Maar's photographs that hang along an adjacent wall and offer a fascinating glimpse into the creation of Picasso's work.
When you start getting hungry, head to nearby Lavapiés, one of the more diverse neighborhoods in the city. We think the mix of Indians, Africans, and trendy Madrileños makes it a great spot to explore. The neighborhood has great Indian food, but if you're in the mood for something more typically Spanish, opt for tiny La Berenjena, which whips up delicious tapas and is almost always packed with locals. The streets of Lavapiés are also home to lots of small galleries, particularly along Calle del Dr. Fourquet, as well as great cafes, including El Colmo and Cafe Libreria.
Head back north to while away the late afternoon. Chueca, Madrid's lively LGBT-friendly neighborhood, is packed with boutiques and markets that are all begging you to drop some coins. Head north from the Chueca metro station and stop by the trendy shops that stock everything from Scandinavian minimalist jackets to breezy frocks. There are also a number of galleries that double as boutiques, including Mad is Mad, which stocks reasonably priced queer art alongside rotating installations. For those with more luxurious inclinations, cross over into neighboring Salamanca, where high-end threads are the name of the game.
At night, join the tapas bar crawl in Malasaña, where massive packs of jovial (and drunk) Madrileños pass cans of Mahou as they wander from one classic tapas bar to the next. The streets themselves take on a party atmosphere in this neighborhood, though it's also home to nightclubs that host jazz nights, rock DJs, and more. If you're looking for LGBT-friendly nightlife, neighboring Chueca is packed with everything from lively little gay bars to no-clothing sex clubs. Just remember that clubs in Madrid don't get going until well after midnight.
Day 3: Stroll El Rastro and Fill Up on Chocolate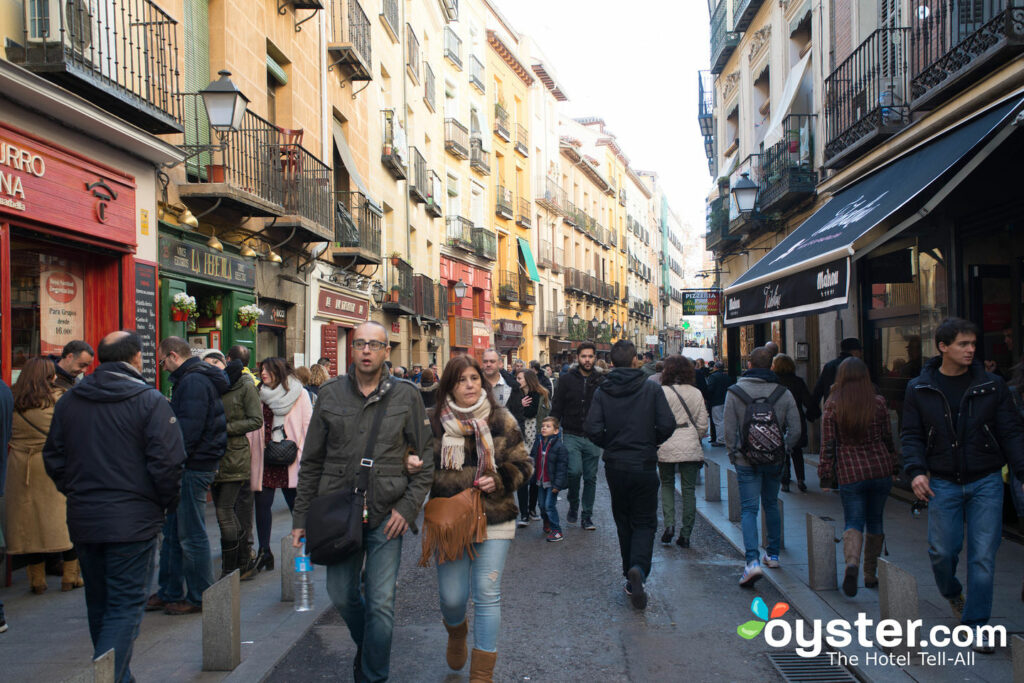 If you're only in town for three days, make sure one of them is a Sunday. This is when Madrid's La Latina — a vibrant, but old-school barrio — comes to life with El Rastro. This massive market sprawls along Plaza de Cascorro and down the hilly streets. Here, you can pick up anything from discounted socks to rocker T-shirts, though the best finds are in the antique stalls and shops that line the streets that snake off of the main market. The whole area is thronged with people and not designed for the crowd-averse. There are also great spots fill up on a simple Spanish lunch. Several streetside kiosks and stalls sell bocadillos, cold beer, and other bites. Plus, there are a number of trendy brick-and-mortar shops to check out in the area, like Molar Discos & Libros, a record and book store that specializes in graphic novels and art zines.
There's plenty of great street art to be found throughout La Latina, and you'd do well to head to Mercado de la Cebada for a far less touristy take on Madrid's food market scene. From here, it's easy enough to walk to Madrid's more polished side — it's a 15-minute stroll to the Catedral de la Almudena and neighboring Palacio Real. You can choose to pay for a tour or not — the palace is certainly opulent in the extreme, though we think hanging out in the stunning gardens that flank the building is just as impressive.
You might try one of the markets for dinner. Mercado de San Miguel is touristy (and pricey), but packed with all sorts of sweet and savory plates. For something slightly less packed with foreigners, check out Mercado San Anton, which has a rooftop for kicking back with a beer or cocktail while sampling food from one of the 22 vendors down below. If you want something with more of a sit-down, catered-to vibe, try Diurno (in Chueca) or Nanai (in Malasaña).
Most importantly, though, you'll need to save room for dessert. Walk off your meal by wandering through Calle Fuencarral or Calle de la Montera, or hit up the open-late department stores along Gran Via. Once you've cleared a little room in your belly, head to Chocolateria San Gines. This place is legendary for its churros and chocolate. Queue up with the masses, place your order at the register, and then take your ticket and find a table (there are two floors plus outside seating). If you want to do it like a real Madrileño, hit up the chocolateria after a night of partying and drinking — it's open 24/7, after all.
If You Have Two More Days
A long weekend in Madrid might feel like a tight squeeze, but with five days, you'll get to explore some of the more hidden corners of the city, as well as those remaining big-ticket items you couldn't fit into a long weekend. Spend part of your fourth day in town exploring Parque del Retiro, Madrid's version of Central Park. It's a gorgeously manicured green space that's filled with strolling families, rollerbladers, joggers, and romantic couples. Scenic settings abound, particularly next to the pond near the northeastern corner of the park, while the Palacio de Velazquez and Palacio de Cristal serve as extensions of the city's main museums and mount free exhibitions. On the other side of the Centro, the Templo de Debod has an equally romantic perch overlooking Madrid's western reaches. The reconstructed Egyptian temple is particularly scenic at sunset. You can also spend your afternoon strolling the boutiques of Malasaña, which is packed with vintage shops, artsy spots, and cutting-edge clothiers. There are some especially great urban-wear stores along the streets to the south and east of Conde Duque Cultural Center (which mounts free exhibitions).
On your fifth day, devote some time to exploring Madrid's more independent side. This city has no shortage of art spaces, though we think it's worth checking out a trio of them that are clustered around the southern reaches of the Centro. Start by heading back to Lavapiés, where you'll find La Tabacalera. This former tobacco plant has been taken over by collectives who run free workshops, put on performances and plays, host lectures, and provide instruction in everything from horticulture to aerial acrobatics. The space has a ramshackle vibe and the basement level is a warren of semi-dark alleyways with some of the coolest street art you'll find anywhere in the city. From there, head to La Casa Encendida, which has a similar counter-cultural bent. After that, head south to Matadero. Like La Tabacalera, this is a repurposed space that's composed of several massive former slaughterhouses. These days, the complex houses everything from an experimental theater to a cinema, as well as a library and multiple exhibition halls. On the last weekend of every month, Matadero also hosts a farmer's market that's packed with stalls selling local treats, coffee, and drinks.
If You Have a Full Week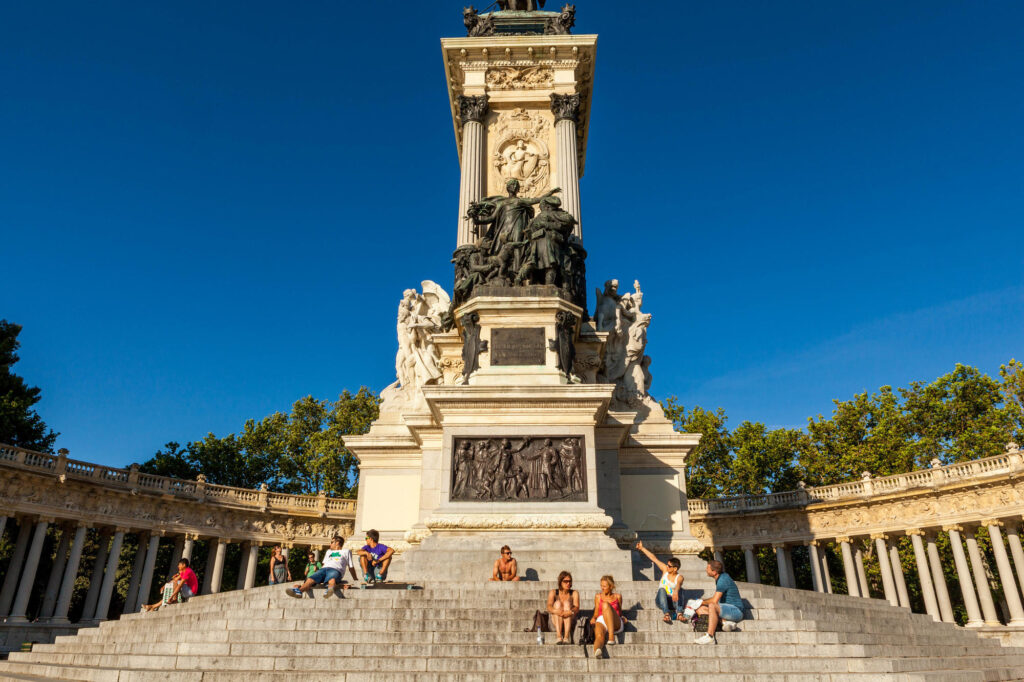 Aside from the joys of moving about Madrid at a more relaxed pace — stopping to spend longer afternoons in impeccably hip cafes, taking in concerts at Joy Eslava, and exploring new parks like Madrid Rio — spending a week in Madrid also gives you a chance to get out of town. Toledo is probably the most popular day trip from Madrid, and it's an easy one. Buses depart from the station at Plaza Eliptica (connected to the Centro by metro), and the trip is about an hour long. Once there, it's a climb up the steep, winding streets to reach this hilltop town. It's not the least touristy place, but the well-preserved Old World vibe is pretty incomparable. The Toledo Cathedral is a spectacular sight when glimpsed down the town's narrow alleyways, plus there are vantages from many of the hillside cafes and the Alcazar overlooking the countryside below. "The Burial of Count of Orgaz," one of El Greco's most famous works, can be found here — as can a museum that was created in a house that reportedly belonged to him (but did not). Be sure to sample the city's marzipan, as it's world famous.
For some excellent views within the city, head to Palacio de Cibeles, which is Madrid's City Hall. This strikingly ornate structure mounts amazing art exhibitions and has a rooftop with 360-degree views across Madrid.
What You Should Know Before You Go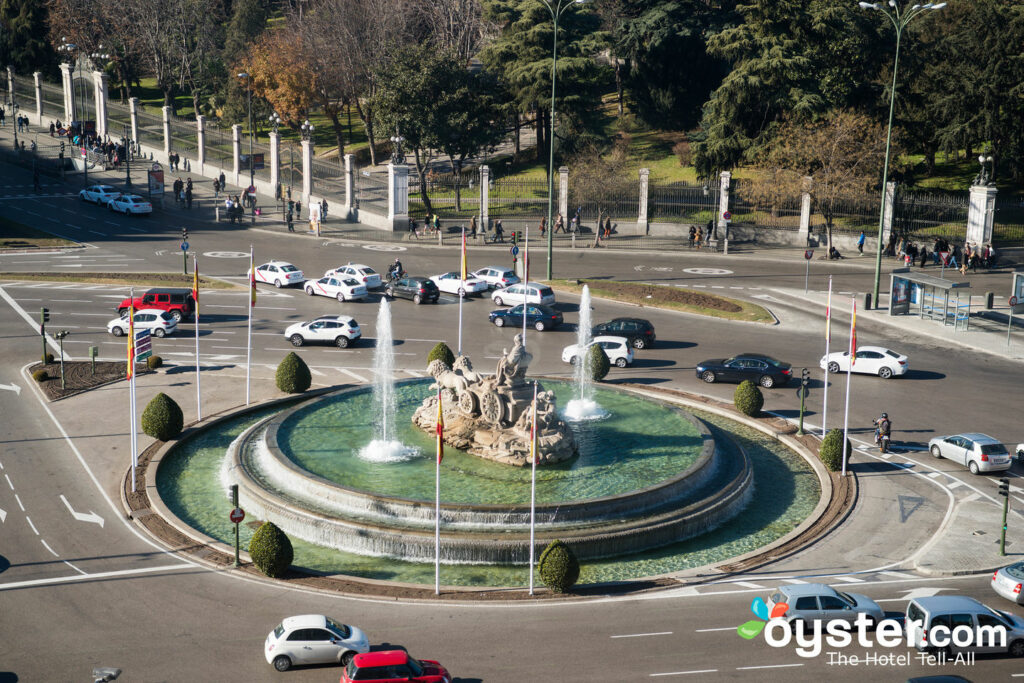 Madrid's airport is well connected to the city by metro and bus. If you're taking the metro and plan on using it frequently, buy a 10-trip pass with an airport supplement. The travel time to the city center is about 40 minutes. When the metro isn't running, your best bet are the airport buses, which depart from Cibeles. It's also worth noting that the siesta is real in Madrid. Most of the small boutiques in Huertas, Malasaña, and Chueca — as well as the small galleries in Lavapiés — close for several hours in the afternoon, and reopen for a few hours in the evening before closing again. Keep in mind that lunch and dinner are late affairs compared to when most Americans eat.
Where to Stay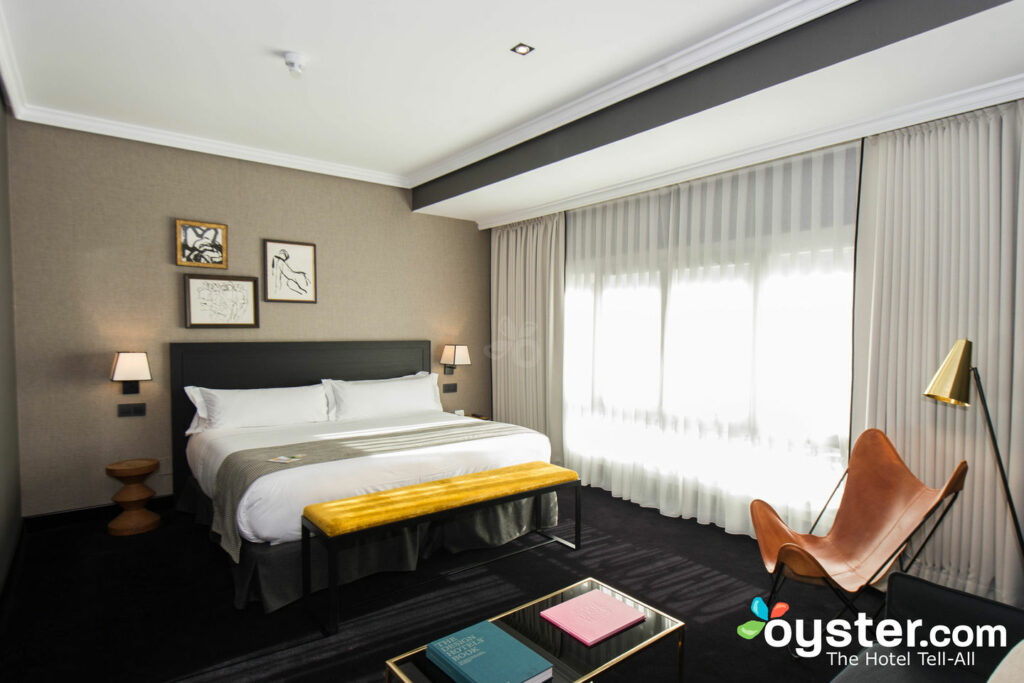 Madrid can be a bargain-hunters dream when it comes to hotels — except during high season. From late May through September, rates can be high, but you're still likely to score a far nicer place than in other major European capitals at lower prices. For something that's chic and sexy, right near Cibeles, the Prado, and Gran Via, check out The Principal Madrid. It's housed in a historic 1917 building and has lots of luxury boutique appeal. If you need something that's less of a splash, we always love the Room Mate hotels, and there are outposts in Chueca (Room Mate Oscar) and Huertas (Room Mate Alicia). It's also worth looking at the intimate Artrip Hotel, which has lots of bohemian appeal right near Madrid's famous trio of museums.
You'll Also Like:
All products are independently selected by our writers and editors. If you buy something through our links, Oyster may earn an affiliate commission.