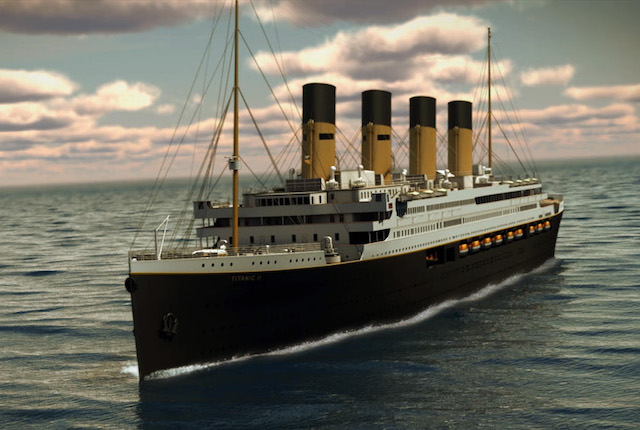 Titanic II is set to make its debut -- and no, we're not referring to a sequel of the 1997 blockbuster starring Leonardo DiCaprio and Kate Winslet. A fully-functioning replica of the famous ship -- complete with a luxe pool, first-class dining, and even a Turkish bath -- is scheduled to make its maiden voyage in 2022. It will embark on a two-week trip from Dubai to Southampton, before tracing its original, fateful route from England to New York, which tragically ended on April 15, 1912, when the vessel struck an iceberg. But good news: the new model includes modern navigation and safety technology, USA Today reports. And yes, that includes enough lifeboats and life jackets. Following its inaugural sailing, Titanic II will hit the high seas on other routes around the globe.
Plans to recreate the RMS Titanic were first introduced back in 2012, but the project was paused due to financial problems. However, Blue Star Line, the company behind the replica, never let go -- and resumed the building process, which will cost $500 million (a significantly higher price tag than the original ship). If you can't seem to hold out until 2022, a Titanic-themed hotel, featuring original artifacts, opened in Belfast last fall, Conde Nast Traveler reports.
The Titanic II can accommodate approximately 2,400 passengers and 900 crew members -- almost the same number onboard the original vessel. The brand-new ship will also reportedly have the same layout and details, from the dining rooms to the grand staircase. Folks can even choose between first-, second-, and third-class cabins. All of this is to say passengers will have plenty of opportunities to recreate the movie's legendary scenes, including screaming "I'm the king of the world!" at the top of your lungs. Just hang on to all your expensive blue gemstones.
You'll Also Like:
All products are independently selected by our writers and editors. If you buy something through our links, Oyster may earn an affiliate commission.