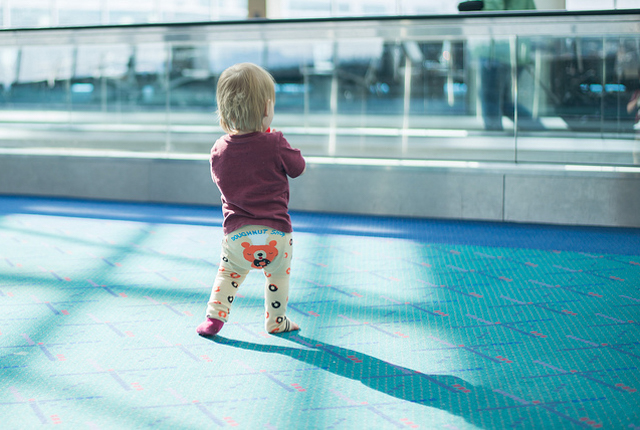 Traveling with a baby can be daunting. You might worry that your child will cry during the entire flight. Or, perhaps you'll be concerned that he or she will never be able to settle down and sleep in a hotel. Or, maybe you're afraid that your little one may get ill while abroad and you'll be unable to find a good pediatrician. Don't worry, as there's a lot of advice floating around.
It's arguably less stressful to travel with a baby than a toddler, assures Morgan Statt of ConsumerSafety.org. "When you travel with a baby that has yet to start walking, it becomes much easier to ensure their safety since you'll be carting them around," she says. We've rounded up some expert advice on traveling with a baby, from the planning and packing stage to what you need to know while flying, driving, and staying at a hotel. Of course, every child is different, so always respond to what your little one needs, even if it doesn't seem to jive with the advice offered by one of the experts. After all, ensuring your child is happy and safe is paramount.
Planning
1. Check your carry-on checklist: While it might be obvious that your carry-on luggage will be filled with supplies for your baby, here's a quick checklist suggested by Tangela Walker-Craft of Simply Necessary Inc.: tissues, diapers, antibacterial wipes, disposable plastic bags (for soiled and wet items), an umbrella, a sweater or jacket, a plastic rain poncho, a first aid kit, age-appropriate drinks, non-perishable snacks, disposable spoons and straws, books, toys, and other entertainment.
2. Join a Facebook travel group: "Facebook groups like Bebe Voyage and Families Who Love Travel are wonderful resources for family travelers." — Elizabeth Newcamp, Dutch Dutch Goose
3. Carry extra clothes and a Ziploc Bag: "After a disastrous experience, I learned to always carry half a dozen empty gallon Ziploc bags, each filled with a clean set of clothes. Always bring more clothes and diapers than you think you'll need, too. The Ziploc bags are great to put dirty clothes in," says Ann Thariani of Gilden Tree. Yashy Murphy of Baby & Life adds, "Always pack an extra outfit for the parents, too. You don't want to know what it's like sitting on a four-hour flight with poop-stained pants and the telltale signs of a leaking boob!"
4. Stock up on dollar store finds: "Go to the dollar store and buy several cheap things they haven't played with before. It could be a toy car, be a light-up wand, or even a whisk — anything to amaze them for a millisecond is gold on a flight." — Marcy Comer, Dosh
5. Bring a fan: "When traveling, consider buying a rechargeable fan that can go anywhere with you. Many babies overheat easily and most car seats are not very breathable. A rechargeable fan will help keep your infant cool as well as save you money by not having to buy batteries." — Collin Guernsey, Explorer Gear Co.
6. Find out if you can find formula on the road: "For parents who are giving their baby formula, research if it's available at your destination so you don't need to carry too much." — Candi Wingate, Care4Hire.com
7. Have emergency contacts on hand: "Save an ICE (in case of emergency) contact on your cell phone. Plus, place an ID bracelet on your newborn — on his or her blankets, clothes, and other items as well." — Wingate
8. Book a bassinet with the airline: "Book a bassinet in advance. Don't be the parent that turns up [at the airport] and finds that they are all taken, and thus, has to have a sleepy baby on their lap for hours." — Laura Hall, Kid & Coe
9. Use a carrier: "Invest in a good baby carrier. Not only does it help to transport babies, but it's a great place for them to nap on the go. It's also a fantastic way to fly with a baby. The first time I flew with my oldest [child] by myself, he was nine months old. I was nervous about the six-hour flight, but he ended up sleeping in the carrier for the entire flight. It was the first time I had been able to read a book or eat a full meal since he was born." — Marcie Cheung, Marcie in Mommyland
Flying
1. Buy the extra seat: "Buy the extra seat for your child. Most airlines allow kids under two to fly free. If you have a super active kid, it's worth paying for your baby to have his or her own space. That said, my [other child] is fine without their own seat. It's all about knowing your kid." — Comer
2. Call the airline before your flight: "Call the airline in advance and tell them you are traveling as a family. They have special seats reserved for families. If there aren't any seats when you book online, they can accommodate you." — Comer
3. Fill and check the car seat: "If you tend to overpack, car seat bags are key. Yes, this means you'll need to check your car seats before boarding the plane. However, the space the bags provide for all the extra kid things will be a lifesaver. The car seats themselves only take up a small portion of these enormous body bag lookalikes, leaving an absurd amount of room for diapers, toys, blankets, souvenirs (upon return), clothes, and more. Fun fact: These car seats do not count against your luggage tally. Therefore, their weight is also irrelevant, so fill them to the brim." — Jodi Lin Gresham, Jodi Lin PR
4. Find a stroller under 20 pounds: "If you travel with a stroller less than 20 pounds, most airlines will allow you to take it onto the plane. This means you can have it through all of your connections. We learned the hard way, however, that twin strollers under 20 pounds must be checked at the gate, due to their width." — Gresham
5. Consider a GPS: "Airports are usually crowded and chaotic and are an unfamiliar location for children. To avoid a 'Home Alone 2' scenario, consider having your children wear a GPS tracker. These enable parents to easily locate their children should they get lost in the bustle of a travel day." — Sage Singleton, SafeWise
6. Let them walk and run to release energy: "For a baby who is walking, I always try and let them walk up and down the aisles at least once an hour, and run in a safe area in the airport." — Thariani
7. Feed before the flight: "Go ahead and give your infant a top-off of his or her milk just before you get on the plane. This way, you can stave off hunger for another hour." — Jill Simonian, The Fab Mom
8. Make friends with fellow passengers: "If your baby generally has a happy demeanor, face him or her outwards while waiting at the gate and boarding the plane. This way, other passengers will be able to interact with your child by smiling, waving, or using different gestures. Then, if your baby ends up crying during the flight, they'll be less likely to show their irritation." — Morgan Statt, ConsumerSafety.org
9. Remain calm: "Being stressed or anxious about your baby crying during the flight could cause your child heightened stress. If approached about your child's discomfort during the flight, take a moment before reacting. This could calm your and your child's nerves." — Sharon Schweitzer, Protocol & Etiquette Worldwide
10. Manage your own expectations: "While on the plane, your time will be spent taking care of your kids. Don't expect to watch a movie or take a nap. Setting yourself up with the expectation that the flight will be about the kids will put you in a great mindset rather than setting you up for frustration." — Comer
11. Console your crier: "Begin by setting expectations appropriately. For example, a newborn may wail loudly no matter what you do to console or comfort them. When this happens, fellow travelers may cast angry glances, but you must take it in stride. You likely don't know your fellow travelers, so the opinions that they hold of your parenting skills is of no consequence. What matters is the newborn. Focus on consoling the baby. Everything else is irrelevant at that moment." — Wingate
Hotel and Lodging
1. Book a baby-friendly hotel: Avoid hotels that are young adult hot spots, that host concerts, or are designed for couples only, advises Schweitzer. Reviews from previous guests also help.
2. Nursing moms should call ahead: "Call the hotel and tell them you are a nursing mother and need a fridge in the room. Ask for a crib to be set up, too. Both of these are usually free for nursing mothers and families. Less gear to bring, less stress on mom. Most hotels have these amenities, as do many Airbnbs." — Comer
3. Babyproof the house: "Friends and families' homes aren't always childproof or baby-friendly. Once you arrive, check for safety hazards. Maybe you're staying at grandma's house and she has an antique bassinet. Make sure it is sturdy and safe. Sleep guidelines have changed and improved dramatically over the years, and what was once acceptable may not be safe today." — Lisa Furuland, DockATot
4. Check the windows: "In terms of safety, always check the windows in a hotel to make sure they are locked. We had an extremely close call at a hotel in Cairo, where our son came close to falling out of a third-story window. Do a safety check in any hotel room as you would do at home." — Thariani
5. Consider renting toys and more: "See what kind of rentals are available [at your hotel]. On a trip to Kauai, we rented an exersaucer for our nine-month-old. It was a great place for him to hang out while we got ready to explore the island. Plus, we didn't have to pack other toys." — Cheung
6. Maintain a routine: "Maintain your routine as best you can — a brief bath, short book, full feed, whatever it is you do to signal to your little one that it's time to drift off. Babies recognize these signals and understand it's time for bed," says Courtney R. Zentz of Tiny Transitions. Simonian adds, "My sister and I had the crazy idea to take both of our four-month-old babies to the coast and expected the worst, but they were great! We synced up their sleep, eat, and play schedules, so that they napped at the same times, ate at the same times, and were happy and awake at the same times. This made our days and nights impeccably easier. By keeping their usual schedules intact, everyone was happier and less stressed."
7. Bringing familiar items: "Bringing familiar items from home can help. My sons 'happy bear' came with us on many trips to help adjust to the new locations and sleep environments. Without him, no one was happy!" — Ancy Lewis, Sleeping Little Dreamers
8. Dress your baby in layers: "Dress your baby in soft layers that are easy to put on and take off. A vest and sleepsuit is the ideal outfit for traveling. Trousers, tops, dresses, and tights can bunch up when your baby is sitting still for long, and can make them feel uncomfortable." — Tristan Seymour, Lodging World
Traveling by Car or Train
1. Travel while the kids are asleep: "Travel during naptime and bedtime, as it's easier for children to drift off to sleep with the gentle vibration of a car or airplane." — Zentz
2. Make scenic stops: "On road trips, I pre-plan stops every hundred miles. I research the route online, so I can discover fun parks, children's museums, rest stops, and other locations we can visit along the way to give my son time to stretch his legs. He's always less offended about being put in his car seat after these stops." — Bailey Gaddis, Your Serene Life
3. Pack some favorite CDs: "If you're traveling by car, bring your newborn's favorite CDs along for the journey. Most newborns find car rides pacifying, and the CDs can enhance that experience." — Wingate
4. Purchase window clings: "Place window tinting clings or removable window shades on the rear windows." — Wingate
5. Opt for a train when you can: "Trains are best for traveling [with kids], as it allows for space to move around. This keeps the baby entertained and provides breathing space, which is equally important for parents." — Rashmi & Chalukya, GOBeyondBounds
Pediatric Medicine
1. Research doctors: "Always find out who the local pediatricians are by either joining a local Facebook group or by contacting a parenting blogger in the city you're visiting. Both options are great resources for local travel tips." — Murphy
2. Locate the nearest hospital: "Research your new location and look at the embassy website for local doctors [before the trip]. Also, check where the nearest hospital is located beforehand. You are better off having all emergency contact numbers and addresses before you need them." — Carrie Pasquarello, Global Secure Resources Inc.
You'll Also Like:
All products are independently selected by our writers and editors. If you buy something through our links, Oyster may earn an affiliate commission.