Best Beach Hotels in Palm – Eagle Beach, Aruba
Take a look at the best beach hotels in Palm – Eagle Beach.
See All Palm - Eagle Beach Hotels
1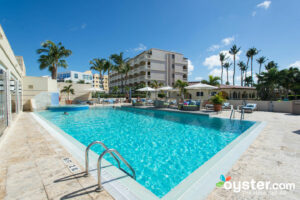 Four-pearl Bucuti & Tara Beach Resort is an adults-only property taking up a prime stretch of sand at the southern end of Eagle Beach. This eco-friendly, 104-room hotel has a stellar reputation and many guests return for its intimate and exclusive, yet unpretentious vibe. The main activity here involves lingering on the sand under shade umbrellas, or lounging by the chic beachfront pool. Guest rooms are handsomely decorated with luxurious decor and higher-end amenities such as iHome systems, charging docks, minibars, and built-in TVs in bathroom mirrors. A free breakfast buffet is served daily, and dining is a highlight -- including five-course menus at the intimate gourmet spot, Carte Blanche, and romantic beachfront dining at Elements. Bucuti & Tara is one of the area's chicest hotels, but those looking for a stylish stay that's kid-friendly can consider Divi Aruba All-Inclusive.
2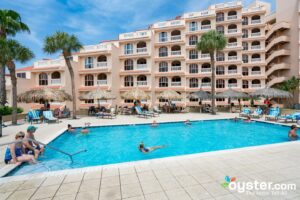 Playa Linda Beach Resort is a 214-room time-share property located directly off the sands of Palm Beach. Most of the clean rooms have an apartment-style design with full kitchenettes, separate living rooms, and private outdoor space, making it well-suited for longer stays. Plus, the resort's two-bedroom units, waterfall family pool, and kids' club are big draws for anyone traveling with the kids in tow. There is also a hot tub, an Asian-themed spa, and plenty of places to grab a drink on-site, as well as a plethora of restaurants, shops, and entertainment located in the hotel's plaza and along the buzzing main drag out front. It's worth comparing rates with the nearby Divi Aruba Phoenix, which also offers multi-bedroom units with full kitchens.
3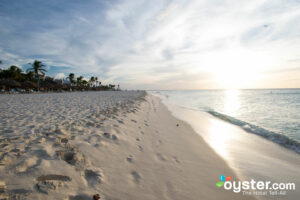 Costa Linda Beach Resort is a quiet, 155-room upscale beachfront resort just south of the Low Rise hotel zone. The large, two- and three-bedroom Premier suites have full kitchens with shiny appliances, private terraces, and contemporary beach decor, while the slightly snug Cayena suites are a bit dated and dim. There is no room service, but there's a handful of leased out restaurants and shops on-site and within the small surrounding plaza, as well as a spa, gym, and games. The and lagoon pool are draws, but those looking for a party or nightlife may want to consider something father north.
4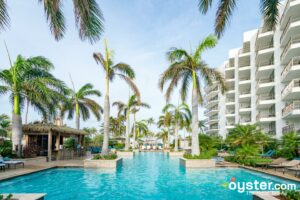 The Aruba Marriott Resort & Stellaris Casino is a four-pearl hotel located in the High-Rise Hotel District, one of Aruba's main dining and entertainment centers. The hotel's 411 guest rooms are neat and well-maintained, offering huge bathrooms and private balconies. Amenities are excellent and include nine restaurants and bars, a striking pool, and a popular casino, yet the ambience is pleasantly low-key. Guests might want to compare rates with the nearby Hyatt Regency Aruba Resort Spa & Casino.
5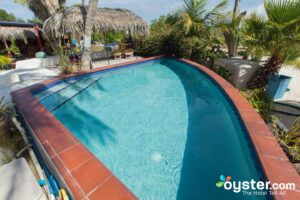 Beach House Aruba is a two-and-a-half-pearl hotel located directly across from Hadicurari Beach. The hotel's eight rooms, apartments, and suites are homey and cheerful, with most offering lovely open-air kitchens or kitchenettes. Features are limited to a small but appealing pool and free Wi-Fi -- there's no restaurant or breakfast service. Set within an appealing garden, the hotel feels like a secluded retreat, yet the bustling High Rise district is a 10-minute walk away. Travelers might want to compare rates with the nearby Carinas Studio Apartments, though this property lacks a pool.
6
MVC Eagle Beach is a mid-range 19-room boutique across the road from Aruba's famous Eagle Beach. It is mostly made up of contemporary (if snug) Double Rooms, though there are a few larger adjoining rooms, making this a nice option for couples, small families, or groups looking for a beachside bargain -- the free breakfast doesn't hurt either. While the small and shallow pool isn't good for much more than dipping, there's plenty of space to grab some sun, a bite to eat, or a drink. Some people find noise to be a problem, but if you can wear earplugs, this quaint beachside pick is hard to beat for the price.
7
Following extensive 2016 renovations, this upscale Hilton (formerly a Radisson) stands as an icon of modernist architecture with chic surroundings on Aruba's popular Palm Beach. Its 357 rooms are spacious, comfortable, and handsomely appointed, with furnished balconies or patios and a choice of views. Highlights include two lovely big pools, immaculate tropical garden grounds (complete with caged Macaws), a top-notch spa and fitness center, and beachfront dining, although kid-focused activities are surprisingly lacking. The Hilton is a popular hub for couples and families seeking an elegant backdrop to their Aruba vacation. A major plus is the prime location -- right on popular Palm Beach -- perfectly calm for swimming and floating; with plenty of restaurants, bars, and nightlife within walking distance. Travelers seeking an upmarket vibe for adults only could try Bucuti & Tara Beach Resort.
8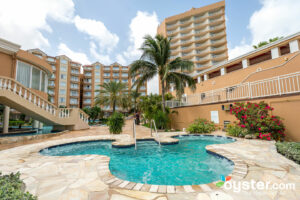 The four-pearl Divi Aruba Phoenix Beach Resort is the Divi group's only tower property, just 11 minutes from the capital of Oranjestad. It's located on Palm Beach, and guests will have easy access to the High-Rise District's restaurants, casinos, and nightlife. The 240 stylish suites come in a range of sizes (studio, one, two, or three-bedroom), and have fully-equipped kitchens, flat-screen TVs, DVD players, and balconies with ocean views. The newer Beach Tower offers upgraded amenities such as stainless steel appliances and washer/dryer combos. The numerous features -- including a large outdoor pool, two popular beachside restaurants, tennis courts, a modern fitness center, and impressive spa -- make this resort feel much bigger than it actually is. Travelers who aren't into tower hotels could try Divi Village Golf & Beach Resort.
9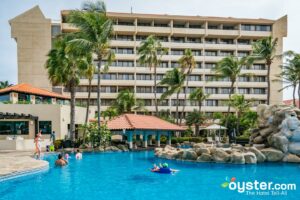 The Barcelo Aruba is a three-and-a-half pearl hotel located on busy Palm Beach. The hotel's 364 rooms are smart and tidy, offering minibars as well as narrow balconies or terraces. The decor could use a refresh in some areas, but on the plus side, the hotel features a gorgeous beach, lovely pool, and all-inclusive access at over a dozen restaurants and bars. Many more dining and entertainment options can also be found in the surrounding High-Rise Hotel district. Expect to pay extra for Wi-Fi in the rooms. Guests might want to compare rates with the nearby Riu Palace Aruba, a slightly bigger all-inclusive resort.
10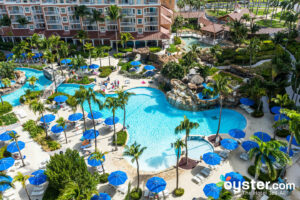 The always-bustling Marriott's Aruba Surf Club is one of three huge beachside Marriott resorts that sit side by side in Aruba's popular beachfront High Rise district. The safe, family-oriented three-pearl Surf Club has 450 clean, comfortable rooms (with kitchenettes) and apartments that are spotless and comfortable, albeit dated. Many enjoy wonderful views of the pool to the ocean. Highlights include the series of pools with a Lazy River (though deck chairs can go fast), a waterslide, and a top-notch fitness center. Plenty of restaurants are located nearby, which is lucky because on-site dining is limited to casual poolside fare and to-go snacks from the convenience store -- and it's all overpriced. Travelers seeking more on-site dining options could try the Holiday Inn.
11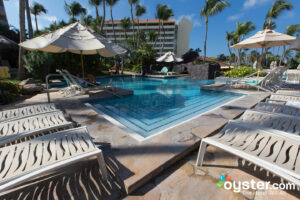 The Hyatt Regency Aruba Resort and Casino is a four-pearl hotel located in Aruba's Palm Beach High-Rise Hotel District. With a fabulous three-tiered pool, waterslide, full-service spa, busy casino, and access to beautiful Palm Beach, the hotel has a high-energy atmosphere and there's no shortage of things to do or eat on-site. Beautifully landscaped grounds and sleek decor in the public spaces inject the Hyatt with a welcome dose of style and tropical flavor, that doesn't quite carry over to the rooms. The 357 guest rooms are clean and bright, and come with flat-screen TVs and large bathrooms. Though not a new hotel, the Hyatt is meticulously cared for, and the vibe here is somewhat more upscale than many other High-Rise properties in the area. Those after an all-inclusive deal could try Divi Aruba All-Inclusive.
12
Hotel Riu Palace Aruba is a three-and-half pearl hotel located on crowded Palm Beach. The resort's 450 guest rooms are attractive and many include balconies or terraces. The Riu checks all the boxes you would expect from an all-inclusive resort: large pools, a swim-up bar, a wide selection of mediocre dining venues, and a lovely spa and fitness center -- it also has a high-energy atmosphere. There's also a large casino with slots and table games. It's worth comparing rates with the nearby Occidental Grand Aruba Resort, which has nicer rooms and usually comparable rates.
13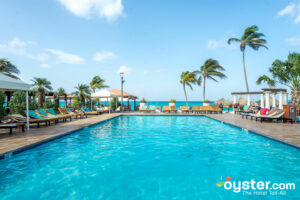 Divi Aruba All Inclusive is a three-and-a-half-pearl all-inclusive resort straddling the white sands of Druif Beach, a 10-minute drive from Oranjestad. Many (but not all) of the 261 rooms and suites look out over the beach and all have furnished balconies, Nespresso coffeemakers, and sleek bathrooms. However, it's the facilities that really stand out, including multiple buffet and a la carte restaurants, a spa, a nine-hole golf course, four pools, and free use of non-motorized water sports equipment. Nightly entertainment includes fire shows and live music. Guests also get access to the facilities and restaurants at the nearby Tamarijn Aruba, which has more for kids and is a better option for families, owing largely to the presence of a kids' club.
14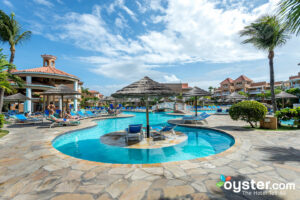 Divi Village Golf & Beach Resort, renovated in 2010, is the most sprawling of the five Divi properties on the island. All 348 suites , decorated in understated island-style decor, appeal to families with king beds, queen-size pull-out sofas, modern bathrooms, and fully equipped kitchens. Despite its name, the property is actually a short walk away from Druif Beach, located across the road. However, guests enjoy close proximity to tennis courts, a 9-hole golf course and, and a modern clubhouse, containing two restaurants with scenic views. All-inclusive packages include access to the restaurants and bars at neighboring Divi Aruba and Tamarijn Aruba, as well as to resorts' activities and kids' club. This resort grounds are expansive -- be prepared to walk, or take advantage of the free shuttle service between resorts and the casino.
15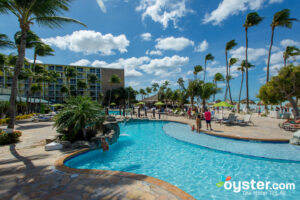 The three-and-a-half-pearl Holiday Inn Resort is a big family-friendly beachfront property with a traditional resort vibe, and plenty to eat and do on-site. Its 597 guest rooms are pleasant enough, but some are dated and show wear while others are more modern, with stylish coastal decor. All have air-conditioning, flat-screen TVs, and furnished balconies. There's a slew of organized activities to entertain the American and European guests who stay here, though the lottery system to snag a palapa on the hotel's busy beach can be a nuisance. The all-inclusive option and prime Palm Beach location make the hotel a decent value, especially for those with young kids. The abundance of restaurants, nightlife, and shops across the road make it easy to venture out. Travelers seeking a less crowded beach setting could try Divi Village Golf & Beach Resort.