Best All-Inclusive Hotel Cuisine in the Dominican Republic
Food and drink is unlimited and included in your reservation at an all-inclusive resort. But at many all-inclusives in the Dominican Republic, mass-produced grub ranges from illness-inducing to merely passable. Here's a list of the stellar exceptions that prize both quality and quantity. There's enough variety at these buffets to keep things from getting monotonous, and the a la carte restaurants (slightly more formal affairs where tables have to be reserved in advance), will turn even the fussiest eater will into a foodie.
See All Dominican Republic Hotels
1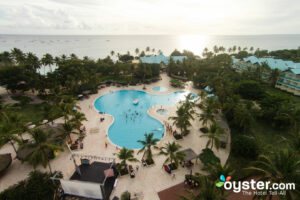 High quality, good variety, and attention to detail make for accommodating, fun, and enjoyable mealtimes. Although it's just a buffet, World Cafe creates inventive, delicious dishes like fresh shrimp still in their shells for dinner and fluffy pancakes with just a hint of zest for breakfast. The a la carte restaurants -- six in all -- prove even more impressive, with beautiful presentation and well-prepared foods. Guests can choose between Mexican, pan-Asian, Italian, French, Dominican, and seafood.
2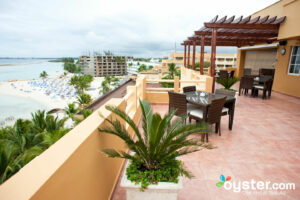 Fresh, above-average cuisine, the Oasis Hamaca offers impressive meal choices. Breakfast at the La Cotica Buffet includes an omelet and egg station, waffles and pancakes, and fresh juice, and lunch and dinner are just as varied, with abbreviated versions of each served at Mango's, a buffet near the beach. El Rigoletto serves a wide variety of pastas, as well as quality fish and meats. The Santa Fe Grill offers Mexican fare in a festive Southwestern setting. Plus, for an extra fee, guests can indulge on fresh grilled fish and lobster literally on the water at El Pelicano, a restaurant built on stilts above the sea.
3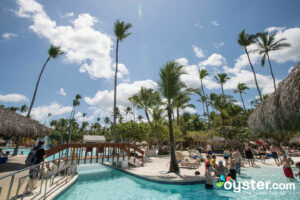 Known across the Iberostar brand for its extensive, high-quality dining, the spread at the Bavaro's main buffet is comparable to the variety available at the considerably more expensive Natura Park. If you wake up late, the snack bar by the pool also provides eggs, pancakes, fruit, and burgers. Of the resort's four a la carte restaurants, Jambalaya, the Cajun restaurant, is the most popular, but Japanese Harishu also service excellent sushi.
4
La Cana, the resort's buffet restaurant, has one of the largest and most varied selections in the D.R. Spanning three rooms, the buffet spread has plenty of fruits and vegetables for healthy eating. Of the a la cartes, the steak house, Media Luna, is overwhelmingly everyone's favorite, with La Perla, the seafood restaurant, coming in a close second.
5
Though the buffet is often mediocre -- save the fresh-made pancakes and doughnuts at breakfast -- the a la carte restaurants are a significant improvement. El Pescador, a seafood restaurant, serves grilled fish, fried squid, salmon fillet, and beef tenderloin, all of which of a significant better quality than the great majority of other Dominican all-inclusive resorts. The Oriental Restaurant serves Asian fare, and is also a guest favorite. Just be sure to snag reservations early.
6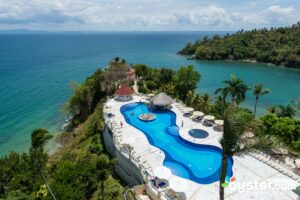 One of the only all-inclusive resorts with excellent vegetarian options, the Gran Bahia Principe offers a buffet that includes more than a salad bars. In addition, there are three a la carte, including an "international" restaurant, La Orquidea, which is perched on a cliff overlooking Samana Bay. La Castia and El Pescador are down the hill, closer to the water, and also serve high-quality food with excellent sea views.
7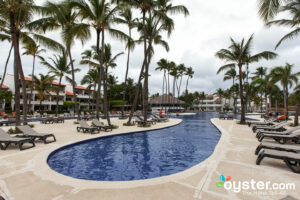 Le Buffet, the resort's main buffet restaurant (surprise!) has as large a selection as the Iberostar Bavaro, if not as much variety as Natura Park. But the a la carte restaurants are its strong suit. The Mexican restaurant La Hacienda and Las Reses seem to be the most popular with the guests our reporter interviewed. The pizzeria, however, proved to be the biggest hit, what with playful waiters happy to spin a pizza for the cameras and serve up fresh slices all night long. With 9 restaurants and 4 bars.