Best Boutique Hotels in Barcelona's Gothic Quarter
Medieval buildings, charming cobblestone streets, stunning cathedrals, and lively cafes and nightlife make Barcelona's Gothic Quarter one of its most popular neighborhoods. Lodgings-wise, the area is defined by upscale boutique hotels with a focus on design and service. Here are the best in the historic center.
See All Barcelona Hotels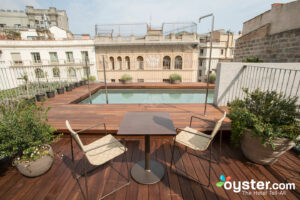 One of Barcelona's top-rated hotels, the 28-room Mercer Barcelona offers the intimacy of a boutique hotel and the amenities of a larger property. Rooms have two standout features: Comfortable and luxurious beds done up in high-end white linens, and beautiful open-plan bathrooms with rainfall showers and Molton Brown toiletries. All rooms incorporate stone walls, beamed ceilings, wood floors, and large windows, and feature twice-daily housekeeping service. Some rooms have balconies. For a property with just 28 rooms, the Mercer Hotel Barcelona packs in several features that might be expected of a much larger property. Guests can eat and imbibe on the rooftop deck, in the cocktail lounge, in the tapas bistro Le Bouchon, and in Jean Luc Figueras' Mercer Restaurant JLF. There's also a terrace on the hotel's fourth floor that houses a plunge pool and offers views over the ancient rooftops of the Gothic Quarter. Free Wi-Fi and 24-hour room service are available, but not a spa or fitness center.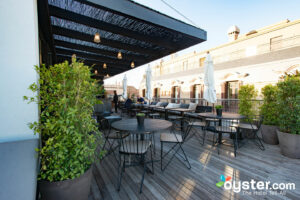 Opened in 2015, the 30-room Hotel The Serras is a chic and stylish boutique hotel with modern luxuries in an intimate setting. The rooftop terrace bar and pool have spectacular views of glitzy Port Vell, while the hotel's fine-dining restaurant overlooks the old city's palm-lined streets. From top the bottom, the entire hotel has a sophisticated designer touch. Rooms exude a pristine, spa-like ambiance thanks to the airy white-on-white decor that's accented with dashes of black. Everything is modern and chic: white walls are paired with light wood floors, while recessed lighting runs along the ceiling, emitting a warm glow. Amenities include 24-hour room service, smart TVs, and Nespresso coffee machines, while bathrooms are especially upscale with large, rainfall showers. There are no spa or parking facilities, however, and rates can be double that of other luxury hotels. Another option in the Gothic Quarter worth considering is the Hotel DO, which has a small spa and three restaurants on-site.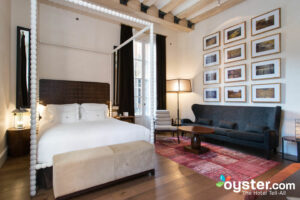 Set in a beautiful 19th-century building, Hotel DO is a boutique luxury hotel with just 18 beautiful rooms. Some have extraordinary views, but all have great modern-chic style, Egyptian cotton linens, big windows, and lavish bathrooms. However, single rooms are a bit cramped, and double rooms have two single beds pushed together, and room decor isn't as sleekly chic as what's found at Hotel The Serras. But a spa, rooftop terrace and pool, three brilliant restaurants, and a beautiful lobby round out this luxe property's many amenities. Hotel DO has a great location just off Las Ramblas on a beautiful historic square, putting it within walking distance of the Gothic Quarter's many sights.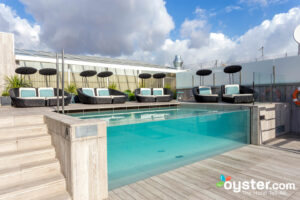 Catalonia Magdalenes is an upscale urban hotel -- built and opened in 2016 -- oozing chic decor, with Roman ruins incorporated. Its 61 guest rooms are chic and well-equipped with seating areas, flat-screen TVs, minibars, USB ports, and great Wi-Fi. Modern bathrooms feature heated towel racks and roomy walk-in rainfall showers. For a boutique-style hotel, Magdalenes packs in a solid lineup of facilities. An excellent breakfast buffet (complete with Champagne and a Bloody Mary station) is served (for a fee) in a beautifully tiled dining room. There's also room service with a menu focused on sushi. During summer, free tapas and drinks are served on the rooftop terrace, which also features a small plunge pool and plenty of cushioned couches and loungers. During cooler months, a snack bar opens in the lobby which extends to a courtyard patio. Guests also have free access to a small basement spa with a heated relaxation pool, steam bath, and massage treatments, plus a compact gym with LifeFitness equipment. Foodies may prefer Hotel DO, however, for its three exceptional on-site restaurants.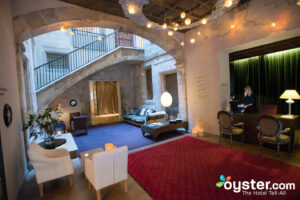 This upscale, 22-room hotel is located in the historic Gothic Quarter and housed in two buildings, one that dates back to the 12th century. Though there's no spa or pool, the hotel is gorgeously decorated with art and modern furnishings. The rooftop garden is a highlight and contains various seating, including hammocks, positioned in a feng-shui style. Rooms are spacious and filled with simple, stunning decor, but some experience outside noise and lighting is very dim. The on-site restaurant receives good reviews and a welcome drink is a thoughtful touch. However, there is no spa, pool, or gym here; for those features, stick with Catalonia Magdalena.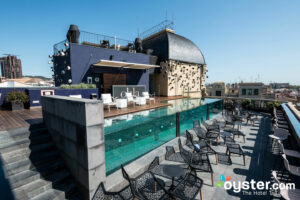 The stylish and luxurious Hotel Ohla is centrally located in the Gothic Quarter of Barcelona. This boutique option offers 74 modern rooms (a little less luxe-feeling than the ones at Hotel Neri) with high-tech amenities and free Wi-Fi. One standout feature here is sexy walk-in showers in the middle of some rooms, though this design may not be for everyone. The chic rooftop pool and lounge offers incredible city views along with a space to sunbathe. Dining options include La Plassohla Restaurant and a separate cocktail bar. This is the place for an upscale romantic getaway, and an eco-friendly one at that: Ohla contains solar panels, LEDs, and natural toiletries.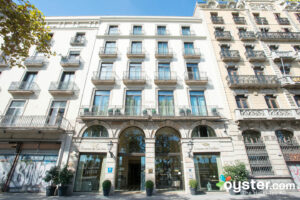 The Duquesa de Cardona is a boutique hotel that blends old-school charm with understated sophistication. The lobby is quaint, with checked floors and elegant velvet chairs that give it the look of an old-fashioned parlor. This classic feel carries through to the other common areas and guest rooms. Even the standard rooms have plenty of space, as do the bathrooms. The hotel's terrace with a small pool and bar is a real perk, but, unlike Ohla, there is no gym here.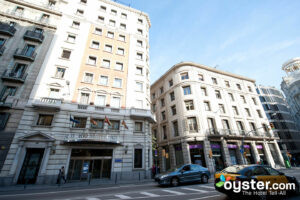 The 79-room H10 Montcada is a small upscale boutique, across the street from the metro and the Barcelona Cathedral. Rooms are modern, spare, and stylish, with wooden floors, brown leather accents, and great amenities such as free Wi-Fi, flat-screen TVs, Nespresso machines, and tons of toiletries. But most are on the small side, and units on lower floors may experience traffic noise and vibrations from the metro. The restaurant serves a varied breakfast buffet in a homey room (for a fee) and the lobby bar has a speakeasy-meets-travel theme that is charming and elegant. The highlight, however, is the beautiful seasonal rooftop terrace with a whirlpool, padded loungers, a bar, and 360-degree views. But for a rooftop pool (not just a whirlpool), Duquesa de Cardona is a better choice.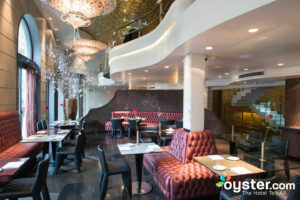 The Hotel Bagues is a luxury boutique property located on Barcelona's famed pedestrian boulevard Las Ramblas in the Gothic Quarter. This 31-room hotel, housed in a mid-19th century palace, was remodeled in 2010 and has an ultra-modern, darkly cool aesthetic. Home to the centuries-old jewelry shop of Art Nouveau jewelers Bagues-Masriera, the hotel has thoughtfully decorated each room and suite with pieces from the collection. Guest rooms are seductively styled with animal prints and dark leather, and some suites have more opulent touches such as gold-leaf detailing. While the standout  feature of this hotel is its location, it also offers a bar and restaurant, and a lovely rooftop terrace with a small pool overlooking the Gothic Quarter. Wi-Fi is free. Be aware that some rooms are quite noisy, and those facing the interior stairwell don't get much light. Guests seeking quiet rooms in the same area -- but not on Las Ramblas -- might want to check out the Mercer Hotel Barcelona.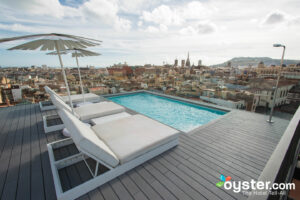 The three-pearl Yurbban Trafalgar Hotel is a modern and stylish boutique hotel that opened in 2014 in the quiet El Born neighborhood, within a brief walk of many attractions in the Gothic Quarter and the Urquinaona subway station. Its 56 rooms are clean and quiet with a minimalist decor and 40-inch smart TVs. The walk-in, rainfall showers are exceptionally nice, but some rooms are tiny and dark. Notable amenities include a restaurant, free Wi-Fi and laundry facilities, and a lovely rooftop bar and pool with spectacular views. The hotel also hosts a nightly wine and cheese reception. Note that Yurbban is a full pearl class below H10 Montcada and Hotel Bagues, so while those properties are upscale, this one is mid-range.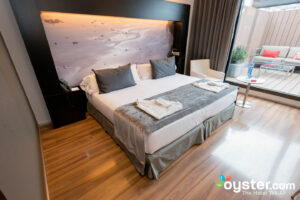 This modern 71-room hotel sits quietly on a quaint residential street in the Gothic Quarter, conveniently located near great shopping and dining as well as many tourist attractions. For guests who don't want to walk or take public transportation, there is a car rental place conveniently located right on-site. The hotel's decor is similar to many others in the area -- minimalist and sleek, with lots of gray and white. Better than most, though, is the rooftop pool, which is large and attractive with nice lounge seating as well as comfy round chairs. There's a good brasserie for dining, but guests can just venture outside to find multiple options for lunch and dinner. Note that rates here are generally on par with Yurbban's, but Yurbban's actually start lower and include free loaner Finna bicycles, access to laundry facilities, and nightly wine and cheese receptions.