Best Kid-Friendly Hotels in Barcelona
Yes, Barcelona is super-famous for its wild nightlife, but it's still a very family-friendly destination, one with fantastical architecture, museums, markets, an aquarium, a zoo, and a beach. Luckily for travelers with children or teens, we investigated around 350 hotels in Barcelona to find the best ones for families. Take a look at our picks for the best kid-friendly hotels in Barcelona, Spain and start planning your Catalon adventure!
See All Barcelona Hotels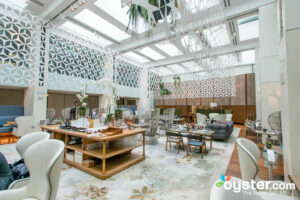 The 98-room Mandarin Oriental is one of the most luxurious hotels in Barcelona, and certainly has one of the most recognizable hotel brand names in the city. It has a great location on Passeig de Gracia, and offers all the high-end amenities one would expect from the chain, including a rooftop dipping pool, a beautiful spa, and numerous restaurants (one has a Michelin star). The hotel provides cots and fold-out beds to make family sleeping arrangements easier, as well as toys, books, and crayons to keep children entertained. Cookies or popcorn are also available upon request. The restaurants offer kids' menus, there are number of connecting guest rooms at the hotel, and parents can request babysitting services.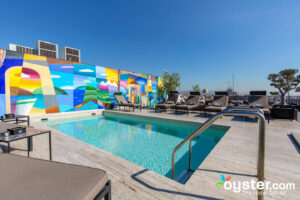 The 276-room Majestic Hotel & Spa has a prime location, steps from designer shops and Gaudi monuments. All rooms were renovated in 2011, giving them a fresh, modern feel. Amenities include flat-screen TVs, stocked minibars, Nespresso machines, and interesting art. Spacious marble bathrooms have Bulgari toiletries, bathrobes, and rainfall showerheads. For more luxury, the 41 suites offer views over Passeig de Gracia; some have private terraces; more space, and 24-hour personalized service. Families might want to choose apartments, which also include full kitchens. Other hotel highlights include a small rooftop pool and a rooftop terrace with an atmospheric bar and great city views; a contemporary on-site spa; and a fitness center. The restaurant serves a morning breakfast buffet and evening tapas; the bar offers live piano music; and the business center has free Internet.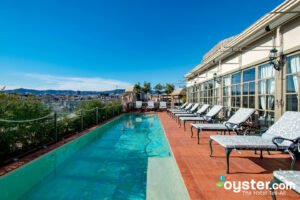 The Palace oozes elegance and old-world charm. Housed in an early 20th-century building a few blocks from the Gothic Quarter, the hotel is popular among well-heeled families, couples, and business travelers. The property boasts a Michelin-starred restaurant, Caelis; car service to the airport and major attractions; and a small but modern fitness center. The exclusive spa features the only Temazcal sauna in Spain, Anne Semonin products, and traditional Maya treatments. Classic, elegant rooms have upholstered walls, plush beds, and modern bathrooms with separate showers and tubs. Some even have Roman bath-style tubs. Updated in-room amenities include flat-screen TVs, minibars, DVD players, and free Wi-Fi.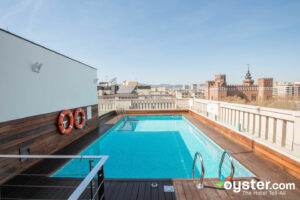 The 92-room K+K Hotel Picasso is a modern, sharp hotel located in the Born district of Barcelona. It is surrounded by quality restaurants and is within a 20-minute walk of many of Barcelona's top attractions including beaches, Las Ramblas, and Sagrada Familia. Rooms are clean and quiet -- thanks to sound-proof windows -- and the archway-laden exterior is charming. There is a rooftop pool with great city views and an expansive breakfast buffet, but the free Wi-Fi signal can sometimes be weak.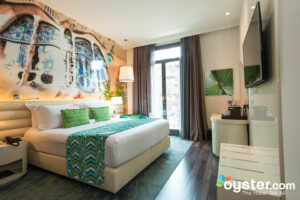 Travelers looking for modern, clean, and comfortable lodging near the center of Barcelona will want to consider the Hotel Indigo -- Plaza Catalunya. It occupies an older building in Barcelona that once housed another hotel, but a complete remodel in 2013 has given the space a fresh look. The decor is minimalist, the art is modern, and the location -- in the Eixample district -- means shopping, restaurants, and cafes are all within close range. The 77-room hotel is a good choice for both leisure and business travelers, though families and couples are the most common types of guests encountered here.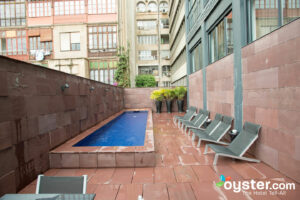 Families may enjoy the extra space afforded by these 41 apartment-style guest rooms at the upper-middle-range Barcelona's Suites Avenue. The luxury hotel also has a hard-to-beat location opposite Gaudi's La Pedrera and within walking distance of Plaza Catalunya and Las Ramblas. The surrounding area is filled with shops and restaurants. Having so many dining options nearby is particularly helpful, since the Suites Avenue lacks an on-site restaurant. It's a good choice for travelers who will be spending more than a few days in Barcelona and want the comforts of home not typically found in a hotel. Kitchens with refrigerators, ovens, stovetops and coffeemakers are all included, and some rooms have small balconies.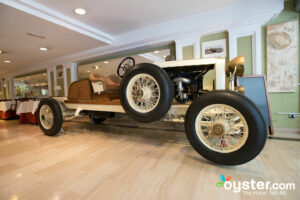 Apartments Restaurant Hispanos 7 Suiza is a clean, updated hotel made up of 20 apartments in a residential area of Eixample. A good fit for families who want to do their own cooking while in Barcelona, all the rooms have full kitchens equipped with ovens, microwaves, and dishwashers, and there are supermarkets within walking distance. The hotel is near the famous La Sagrada Familia and two metro stations. There are charming vintage automobiles on display and a cozy restaurant serves Catalan specialties.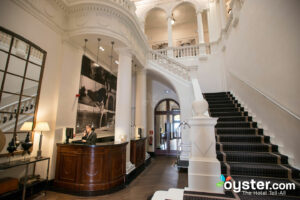 The Hotel Granvia is a genuine piece of Barcelona history. Built in 1870 as an elegant manor house for the owning family of the Bank of Barcelona, the Granvia was converted into a hotel in 1935 and served as a key social hub for the city's elite for many decades. Completely renovated in 2013, the hotel offers upscale rooms, sterling service, an ample breakfast buffet (for a fee), and an outdoor terrace café. It's a good fit for those who want a stylish and comfortable stay, but don't need a pool, fitness center, restaurant and other amenities that bring with them a higher nightly price tag.
The mid-range BCNGotic offers 13 self-serve apartment-style rooms (all with full kitchens and washer/dryers) in the heart of Barcelona's trendy Born district, just outside of the Barri Gotic. The apartments offer a taste of real life in the Catalan capital and have a modern, rustic charm, while a wide array of apartment sizes means that some units can sleep up to six people. The hotel doesn't offer many services, but the fully equipped kitchens and free high chairs and cribs make it a great value for families.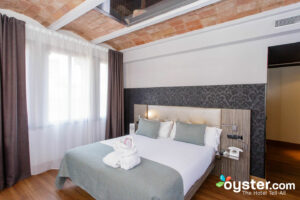 This 61-room hotel, part of the tech-savvy Petit brand, is a no-frills but contemporary choice located in Barcelona's city center, a few blocks from Plaza Catalunya. There isn't much to the property (it lacks any outdoor space -- a rarity for Barcelona) but it's a good value, especially for families. Rooms are starting to show wear and tear, but high-tech amenities such as flat-screen TVs, iPod docks and laptops help compensate. Balconies and exercise bikes are available in some, while others lack views, so be sure to specify room priorities when checking in. The quirky, modern lobby has multiple seating areas, additional laptops, and a small bar. Meanwhile, a more sophisticated breakfast room has soft lighting and beautiful exposed brick. Wi-Fi is free throughout the property.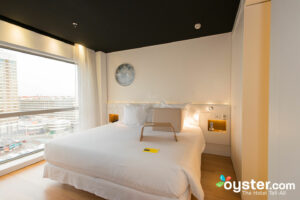 The upper-middle-range Barcelo Sants sits atop the Sants train station, the city's main rail hub, where two metro lines and several national and international rail lines converge. Its ultra-modern and quirky space-station theme can be fun, although it's not for everyone. Its 378 rooms are sleek, clean, and minimalist with minibars and free Wi-Fi, but the open bathroom layout might compromise privacy for some. Dining options are multiple and varied, and laundry/dry-cleaning and babysitting services are available.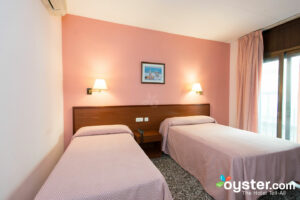 Hotel Cuatro Naciones is a mid-range property in an 18th-century building in the centrally located Las Ramblas neighborhood. The hotel's 54 rooms are plain, but they come with big closets, and some have views of the city. Though the location is the hotel's biggest draw, it does come with some additional perks such as free Wi-Fi and a basic buffet breakfast. It's also historic, and in the past two centuries it's housed the likes of Einstein, Stendahl, Chopin, and Buffalo Bill.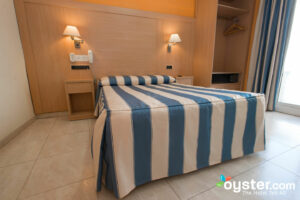 The two-pearl Hotel Canton attracts a diverse clientele with its reasonable room rates and convenient location. The 47-room property is situated in the Gothic Quarter, close to the beach and within walking distance of Barcelona's top attractions. Rooms are dated, but offer flat-screen TVs and mini-fridges. There's also free but reportedly spotty Wi-Fi, and breakfast is available for a small fee.