Best Nude Beaches in Jamaica
Although topless sunbathing is widely acceptable in Jamaica, spots for full-on nude sunbathing are a little scarce — but there are a handful of good resort options for vacationers who prefer to tan au naturel, whether they are spring breakers or moms trying to avoid tan lines.
See All Jamaica Hotels
1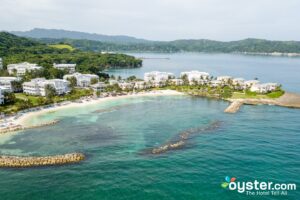 The Grand Palladium Lady Hamilton Resort and Spa lives up to its name -- it's a large, upscale, all-inclusive resort with multiple pools, numerous restaurants, bars, and even its own shopping areas. The look throughout is fresh and modern, and there are a wide array of activities and amenities, like tennis and water sports on the beach. Though it's a family-friendly resort, it has a clothing optional, adult-only areas as well. The 516 rooms mostly blend bright, contemporary design with subtle colonial details, and include a nice array of modern electronics like flat-screen TVs and iPod docks. For a hotel that's a little less lively, travelers should look into the mid-range Rhodes Resort Jamaica, though it lacks the all-inclusive rates and polish.
2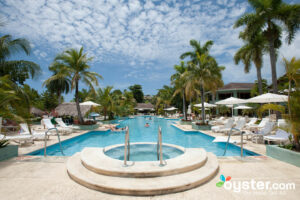 Though Couples Negril is more lovey-dovey, and less risqué, than other adult-only resorts such as the nearby Breezes Grand Resort & Spa Negril, it does provide a separate nude beach (the resort seems to think calling it "au naturel" is more tasteful, but we here at Oyster don't candy coat). The area has its own hot tub, and is somewhat cordoned off from the rest of the property, protecting those who don't wish to see what lies beyond as much as those who prefer to be naked in quasi-privacy. Still, virtually every third-floor room in building six has a bird's-eye view of the area's disrobed goings-on.
3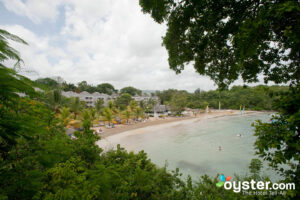 The resort's larger beach is a nude beach from morning until evening, and even has a pool that goes right up to the sand. Guests are warned that this "au naturel" beach is not simply "clothing optional" but rather prohibits clothing altogether.
4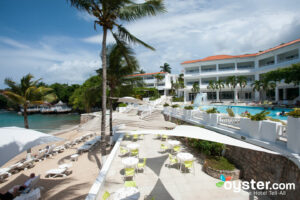 One of the island's first resorts and a former playground for 1950s Hollywood A-listers, this 226-room, 19-acre Ocho Rios all-inclusive is still a sophisticated option. Public areas are chic and modern, but the rooms fall a bit short by comparison. Most of the Jamaican Couples resorts have a dedicated nude section; here, it's the resort's namesake island, a small rocky refuge about a one-minute boat ride away from the mainland. It's a cool little spot, with a small pool, a little bit of beach, and a swim-up bar -- but guests must be willing to bare it all to experience it. The island's policy is not "clothing optional" but rather "clothing prohibited."
5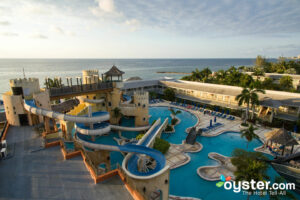 Not all topless sunbathers are party-hardy 20-year-olds. Sunset Beach is actually a great choice for families: Couples can bring the kids but still partake in some adult indulgences, like the nude beach down the shore from the resort. There are "no cameras" and "adults only" postings about 50 yards before the beach begins to make sure families don't accidentally stumble upon it -- which is especially important since the beach skirts the question of clothing "optional" by enforcing no bathing suits at all.
6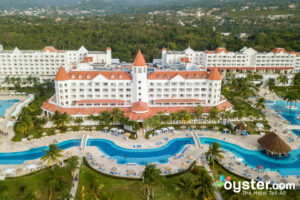 The Gran Bahia is a good choice for low-key parents and couples interested in naked sunbathing, but not partying. Despite the all-night karaoke, it's a pretty tame crowd, and the nude beach on the far western edge of the property is blocked off by a tall fence.
7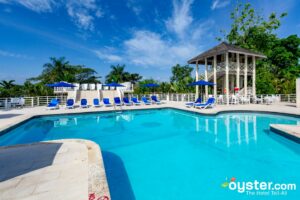 Designed for adventurous couples who want to add a bit of spice to their vacation, the all-inclusive Hedonism II is a popular mid-range nudist resort tucked into a quiet, private section of Negril's Seven Mile Beach. With a wide variety of activities andentertainment, this adults-only resort encourages guests to explore their wild side and indulge themselves. There is both a "prude" and a "nude" section of the resort to accommodate different comfort levels, and property highlights include the nude beach, waterslide, and a variety of pools and whirlpools on both sides. And guests that want to explore the area are close to a variety of restaurants, bars, and shops in downtown Negril.