Best Hotel Restaurants in New York City
A team of Oyster reporters spent months exploring nearly 200 hotels in New York. We slept in the beds, tested the service, and ate in the restaurants; these are the restaurants we were most fortunate to eat in.
See All New York City Hotels
1
With elegant decor, sophisticated service, and excellent food, this is simply one of the best restaurants in New York. It's garnered three Michelin stars for superstar chef Jean-Georges Vongerichten's French-fusion cuisine which is executed magically and paired with (usually French) wine.
2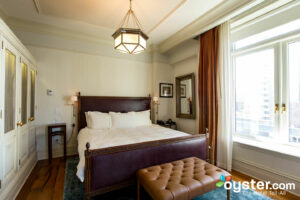 This fabulous rustic Italian spot from New York food scene darling Andrew Carmenllini is so good, most locals have forgotten that this TriBeCa restaurant used to be the unbelievably bad Ago. The demons, though, have been fully excised and now the only headache is getting a reservation. Luckily, guests get first dibs on the tables.
3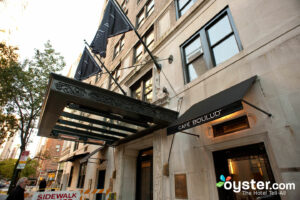 World-renowned three-Michelin-star chef Daniel Boulud manages food and beverage at the newly renovated Surrey, and guests receive priority seating at his perhaps-misleadingly named Cafe. To be sure, it's more casual than his Daniel, one of the city's best restaurants, but food and service here are still top-notch. The menu is broken down into four categories to help diners plot a course through the superb French-American choices: classic French (la tradition), seasonally inspired (la saison); vegetarian (le potager); and world cuisine (le voyage, frequently Asian-inspired).