Best Value Hotels in Tenerife
Tenerife is a place of staggering natural beauty, with dramatic mountain ranges, bizarre rock formations, and both golden-sand and pebble beaches. Also staggering: the sheer volume of resorts covering the coastline. Our investigators checked out nearly 200 Tenerife hotels to find the best bang-for-your-buck options on the island.
See All Costa Adeje Hotels
1 This quiet all-suites property draws couples and families who want an easy vacation in Tenerife sans the crowds. There are no beaches within walking distance (though there are two quiet black-sand beaches a short walk away), but the property has many on-site amenities, including a wonderful spa, three pools (one for kids), two restaurants, and a fantastic fitness center with group classes. Spacious suites are equipped with kitchenettes and balconies; most have panoramic ocean views. The largest ones can sleep up to five guests. Free shuttle service to Puerto de la Cruz makes it easy to explore the area -- but note that most all-inclusive and full board guests have found the lunch options limited.
2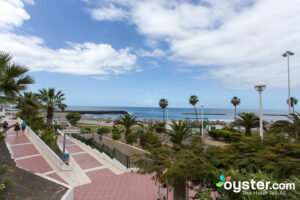 Less than a block away from Fañabé, one of Costa Adeje's largest and most famous beaches, the 473-room Iberostar Torviscas Playa is similar to most other mid-range beach hotels around. The rooms are all spotless, with flat-screen TVs, mini-fridges, and air-conditioning. There is also a large pool deck, modern fitness center, two restaurants -- including a buffet serving standard all-inclusive fare for all three meals -- and lots of kid-friendly features.
3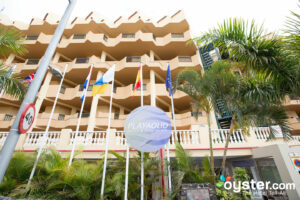 Set into a steep hill, Playa Olid is a maze-like mid-range hotel located a 10-minute walk from the beach. The family-friendly property has 202 studios and one-bedroom apartments with flat-screen TVs, fully stocked kitchenettes, and balconies or terraces. The last major renovations were carried out in the early 2010s, but not all rooms received facelifts, and some are basic and tired. The hotel has a buffet restaurant that offers a decent spread for all three meals, although it can get repetitive, and the poolside bar serves drinks and small snacks throughout the day. There is little else in the way of amenities, but for an inexpensive family vacation near the beach, Playa Olid is a good pick.
4
As a large hotel with apartments, kid-friendly amenities, two pools, tennis court, lobby bar, and competitive rates, Hovima Santa María mostly attracts families and couples on a budget. Amenities are overall basic and average, but the property is near the beach, and all units come with kitchens, flat-screen TVs, and balconies. Those looking to save some cash should note that there are several extra fees, including charges for Wi-Fi and in-room safes.
5
While it advertises itself as a luxury adult-only property, the Zentral is actually a no-frills, mid-range business hotel. Rooms are clean and spacious, but basic overall and featuring dated, uninspired decor. It is a decent pick for business travelers and couples on a budget, but the hotel lacks atmosphere and offers little in the way of amenities. Nevertheless, location within walking distance to the beach and to restaurants is convenient, and the rooftop pool -- although small and a little plain -- is a nice perk.
6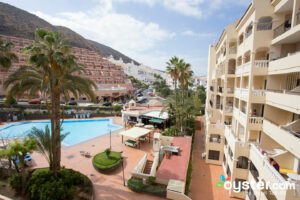 Castle Harbour Apartments is a budget option offering good value in a quiet location. The property is a steep uphill walk from Los Cristianos Beach, and decor is basic and dated throughout -- but guests will be hard-pressed to find better rates in this part of Tenerife. Studios and apartments feature fully equipped kitchens, flat-screen TVs, and balconies or terraces, and there is a large heated pool with a shallower area for kids. Just note that there are a few fees that can add up -- including charges for Wi-Fi and for use of poolside loungers -- and that there is a five-night minimum stay.
7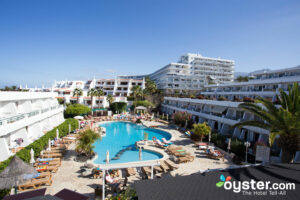 Hovima Panorama is housed in a couple of two-story buildings half a block from the ocean. This part of Costa Adeje is rocky and there is no direct access to a sandy beach, but some of the top beaches in the area are within walking distance or a short drive away. Decor is dated throughout, but housekeeping is thorough and both common spaces and rooms are kept spotless. In-room amenities are decent for a hotel in this price range, and include flat-screen TVs, Wi-Fi (for a fee), ceiling fans (though no AC), and balconies or terraces, some with ocean views.
8
Neptuno Aparthotel is a small budget hotel offering good value for money in Costa Adeje. The property has 106 studios and one-bedroom apartments equipped with full open kitchens and balconies (some offering ocean views). They're all spacious, clean and bright, but decor is basic, and technology dated. There are three pools (including one for kids), a tiny fitness center, and a snack bar -- but little else in the way of amenities. The beach is quite a hike away, but the hotel offers free shuttle service, and cabs are inexpensive. Extra fees can add up, but those looking to spend a quiet, peaceful vacation on a shoestring may find this to be a decent pick.