Best Albufeira Beach Hotels
Along with other seaside towns in Portugal's Algarve region, Albufeira is an ideal destination for those in want of a sunny, beachy getaway. The coastline is stunning, with golden-sand beaches backed by dramatic red sandstone cliffs. Most beach hotels in the area are built on top of the cliffs, which affords them incredible Atlantic Ocean views, but note that this also means accessing the sand requires a short walk via stairs and raised wooden passageways. With that in mind, take a look at the top beach hotels in Albufeira.
See All Albufeira Hotels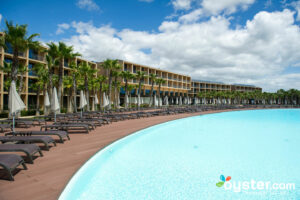 The upscale, 250-room Vidamar Resort Algarve is situated right on the dunes of Salgados Beach and is part of an extensive development midway between the Algarve tourist resorts of Armacao de Pera and Albufeira. The lovely long stretch of beach is a few minutes' walk via a footpath that runs directly from the hotel across the dunes. There is a cluster of restaurants within a five-minute drive of the hotel, at the end of the nearby Praia da Gale. The property practically overlooks part of the 18-hole Quinta dos Salgados Golf Course, while the Salgados Lagoon Nature Reserve is a short walk away.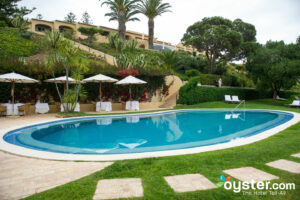 The 20-room Vila Joya is a luxury boutique perched on a hill Praia da Gale beach on the Algarve coast. While the beach is technically public, rocky outcrops at either end give it a private feel. There are no beach services, but a few beachfront restaurants are within a five-minute walk, and Albufeira -- with its many shops, restaurants, and busy nightlife -- is 10 to 15 minutes away by car.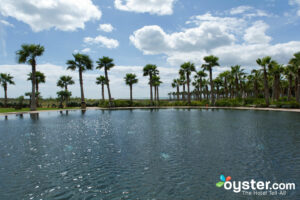 Salgados Dunas Suites is an upscale complex set on immaculately landscaped gardens overlooking the dunes of Salgados Beach. The relatively secluded location means there's little within walking distance, except of course the lovely wide stretch of golden sand. Its 155 rooms and suites are spartan yet stylish, with many featuring sea views -- though bathrooms are disappointingly small. There are nine outdoor pools, including three for kids, but they can be chilly in cooler months. A deluxe spa, quality dining, and direct beach access via a wood-planked footpath complete an impressive resort.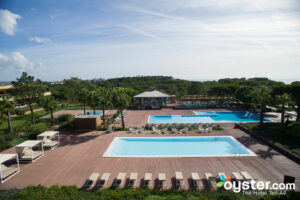 The 229-room EPIC SANA Algarve Hotel is an ultra-modern luxury resort bordering coastal cliffs that overlook a long expanse of golden beach and the Atlantic Ocean below. (Like many Albufeira hotels, the beach is a short walk down stairs and walkways.) The chic rooms feature high-end amenities such as Nespresso machines, and many have views of the Atlantic from their terraces.With great dining, decent family-friendly facilities, and a super-luxe spa, the hotel stands out as one of the best in the region.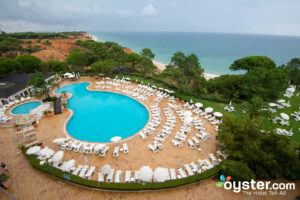 Overlooking five miles of golden sand beach, the 310-room PortoBay Falesia is a clifftop hotel with superb vantage points in the small Algarve town of Olhos de Agua. Pleasant rooms have modern comforts that include flat-screen TVs, minibars, and tea/coffee facilities, plus some feature sea-view balconies, though others overlook the car park. Solid facilities consist of two restaurants, two bars, two pools, and wellness amenities that include a spa and fitness center, plus play areas for children. All in all, it's certainly one of the better options in the area -- just note that while PortoBay is right next to the sea, it's 130 steps down to the five-mile long beach, so the return journey can be taxing (despite regular rest benches).
Aqua Pedra dos Bicos Design Beach Hotel is located in a relatively quiet spot in Albufeira, overlooking the sea and about a five-minute walk to the "Strip," where most of the town's bars, restaurants, and clubs can be found. The beautiful, sandy Bicos Beach is a few minutes' walk away, with direct access from the hotel (involving about 120 steps). Standard amenities in the rooms include flat-screen TVs, minibars, and Wi-Fi for a fee. But be aware of the age restriction -- children must be at least 13 years old, which is a pro for some as it makes for a peaceful atmosphere.
The 344-room Grande Real Santa Eulália Resort & Hotel Spa is a three-pearl, family-friendly complex set just behind the scenic Santa Eulalia beach on the outskirts of Albufeira. On-site facilities are extensive, with four outdoor pools surrounded by wood decks and lounge chairs, multiple dining options with shaded terrace seating, and a large spa. The range of accommodation choices -- from sea-view rooms to apartments with kitchenettes -- is also impressive but decor looks dated in places. The property also includes two tennis courts, a kids' club, and a playground. All in all, rates are competitive for everything on offer, though for slightly cheaper self-catering accommodation check out the clifftop Alfagar Village - Alfagar Aldeamanto Turistico nearby.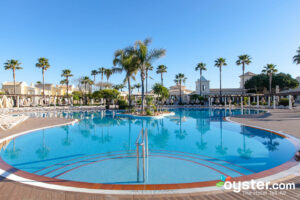 Adriana Beach Club is a sprawling all-inclusive that backs onto the golden sands of Praia do Poco Velho. As at most beach hotels, guests have to take a flight of wooden stairs down a red sandstone cliff to reach the beach. The resort has two big pools -- one indoors and the other set in a sunny outdoor terrace -- three buffet restaurants and two bars, a mini-golf course and a beach volleyball court, and a fun adventure playground for kids. That said, the resort's 438 rooms have some dated decor, and bathrooms need a revamp. They do, however, have flat-screen TVs, mini-fridges, AC, and outdoor spaces.
Sao Rafael Atlantico is a beachy upscale hotel with contemporary interiors and a prized setting above Sao Rafael Beach. The clifftop hotel has direct access to the beach below (via a five-minute walk down a wooden walkway) and also features two outdoor pools, a children's pool, kids' club, fitness center, and spa with thermal pools, sauna, and Turkish bath. The hotel also has several restaurants and bars, including a beachfront seafood restaurant. The 149 upscale rooms have a simple, minimalistic look, though we spotted some wear. They come with minibars, Nespresso machines, free Wi-Fi, and flat-screen TVs. All in all, well-heeled couples and tourists benefit from the direct beach access, wealth of facilities, and location not far from old town Albufeira.