Many travelers opt to see the world by cruise -- and it's easy to see why. The all-inclusive, yet customizable, experience offers the ability to visit a variety of places without having to pack and unpack. Plus, the bartenders, waiters, cabin stewards, concierges, performers, and rest of the crew all work hard so that you can have a great time onboard. That said, while you're letting loose on your well-deserved vacation, don't unwittingly (or intentionally) make these all-too-common missteps that are guaranteed to annoy your cruise ship staff. After all, part of the fun of a cruise vacation is to meet new people, not alienate them!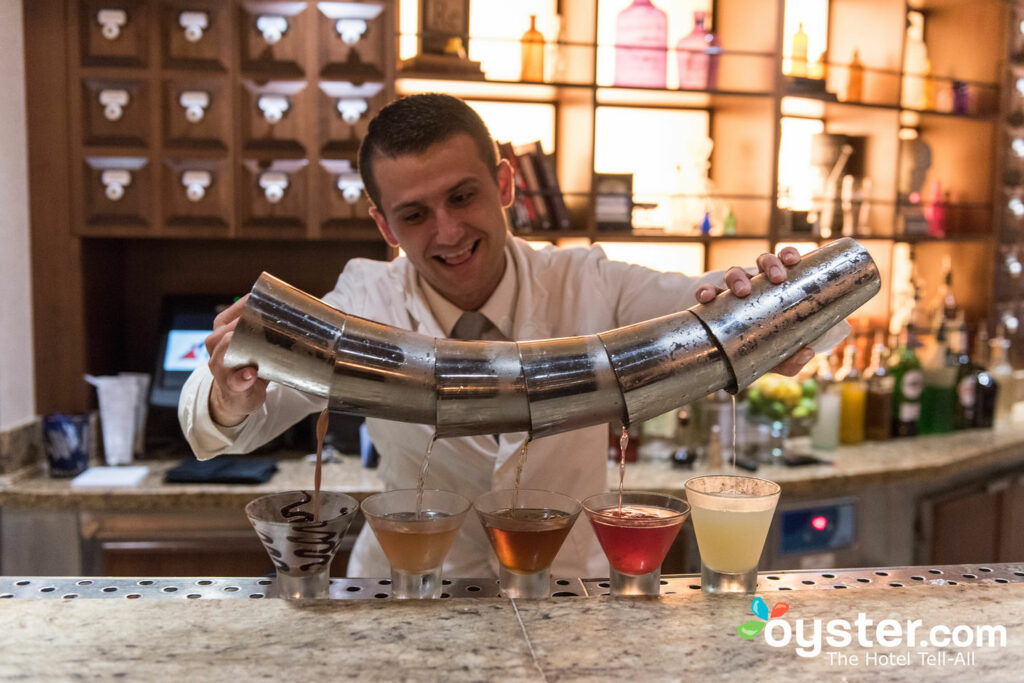 1. Buying Beverages for Others With Your All-Inclusive Drink Package
This has gotten a bit harder to do, since many cruise lines now require everyone staying in the same cabin to purchase the same drink package. Either way, it's not right to treat your new friend at the pool to a pina colada with a swipe of your room key. It can seem harmless, but the fact is, cheating the system only results in higher cruise fares for everyone in the future. And, more often that not, the bartender is on to you, and won't appreciate your generosity.
2. Leaving Room Service Trays in the Hallway
While this is done in hotels, cruise ship hallways are much narrower. Therefore, dumping dishes outside your door can make it hard for staff to navigate the hallway with their carts. Be courteous and leave the plates and cups in your room. Your cabin steward will clear them before you know it.
3. Doing Your Dirty Work in the Cabin Bathroom
If you want a spa day, make an appointment at the salon. Leaving splashes of hair color, nail polish, or makeup around the bathroom shower, tub, and floor will only slow down your housekeeper the next day. It's not necessary, and very inconsiderate.
4. Putting Your Luggage Out Late the Night Before Disembarkation
We're all for soaking up every last minute of a cruise, but don't be the person who puts their luggage outside their door at 2 a.m. when the cutoff was midnight. The bellmen on cruise ships have a serious system — they have to, with that many pieces of baggage to manage — and even a smattering of late-appearing luggage pieces can mess it up. Pack up before you head out for your last night, and neither you, nor your hardworking bellman, will have to worry about it later.
5. Leaving Dirty Underwear or Lingerie Around the Cabin
No one is saying you have to keep your room immaculate, but there's a limit. Glance around before you leave in the morning, and toss anything of a private nature in your suitcase. It'll just take a second, but it shows respect for your housekeeper.
6. Carrying Snacks Everywhere
We've all seen folks leaving the buffet area with a plate piled high with fries, fruit, tortilla chips and salsa, and a few mini eclairs. While it may seem like no big deal, the crew is left to clean up the inevitable mess these mobile meals make — spilled glasses, crumbs, and dirty dishes left everywhere.
7. Blowing Past the Cruise Staffer Offering Hand Sanitizer
It's rude, and also somewhat foolish. The risk of a stomach bug ruining a cruise for hundreds of passengers can be reduced by simply using hand sanitizer every time it's offered. Plus, the crew members dispensing it have a vested interested in their task, as they are not immune to any viruses that get a foothold on the ship.
8. Wasting the Cruise Concierge's Time
The concierge is there to help, but lining up when they're busy to ask questions like 'what time is the ship arriving in port tomorrow?' or 'what time is the comedy show tonight?' is bound to get a bit irritating. The answers to these FAQs can easily be found in the newsletter that gets left on your bed every night, on the cabin TV, and on the screens that are positioned around the ship. And please don't ask if they can book a shore excursion with an outside company.
9. Being an Impolite Theatergoer
Some cruisers think that since they didn't pay for tickets to the nightly show onboard, it's okay to trot in late, shout for a bartender, get up and leave in the middle, or talk among themselves during the performance. You wouldn't do any of that at a Broadway show, so don't do it in a cruise ship theater. Those performers work hard to keep you entertained.
10. Walking Around in Shops and Restaurants While on Your Phone
Cruise ship venues are generally tighter spaces than their on-land counterparts. Distracted people walking slowly (or coming to a dead stop), side-swiping servers or grazing a display of perfume bottles, will not enhance the staff's evening.
11. Wasting Lots of Food
There's nothing tackier than helping yourself to three plates of food at a buffet, taking a few bites from each, and then leaving them on the table. The endless free food mindset can get the better of our judgement, but try to err on the side of taking too little, because you can always get more. It shows respect for the cooks, who carefully prepare the food, and the workers, who spend time cleaning up after you.
12. Getting Drunk
Tipsy is one thing, obliterated is something else. Inebriated people on a ship are at best, an annoyance, and at worst, a danger to themselves and others. Either way, they're a problem that the ship's crew has to solve, so know your limits and avoid making a scene.
13. Jumping From Your Cruise Ship Balcony
Who would do this, you ask? A young man leapt off his balcony for fun while his ship was docked in Nassau, Bahamas. The supremely pissed-off cruise ship staff booted him off the ship and banned him from the line for life.
14. Ditching the Muster Drill
This procedure has so many moving parts that your crew surely doesn't enjoy it any more than you do. But it's the law, so make it easy on them and show up on time with your cruise card in hand, so that you can be properly scanned in.
15. Hogging the Pool Chairs
Saving a row of chairs at the pool by throwing down towels and then leaving to play a few slots or catch the ice-carving demonstration seriously irks the staff (and fellow passengers). Not only do staff members have to hear passengers complaining about this, but they also have to monitor how long the chairs have been unoccupied, so that they can remove the towels after a certain amount of time has elapsed.
16. Being Cheap With Tips
Stiffing the staff is not a fair way to save money. Crew members spend months on end away from their families, and the gratuities serve as their bread and butter. For that reason, the service on major cruise lines is typically excellent. So, don't be that guy disputing the gratuities with guest services on the last night. Another thing that is guaranteed to annoy your cruise ship staff? Those who enjoy fine-dining and fawning table service at one of the main dining rooms every night of the cruise, except for the last, when they grab dinner at the buffet to avoid tipping their waiter.
Whether you think you're prone to seasickness or not, it's probably best to pack an extra one of these just in case. It could make or break your time on the ship!
You'll Also Like:
All products are independently selected by our writers and editors. If you buy something through our links, Oyster may earn an affiliate commission.