Japanese pop culture is big on cute cartoon characters and mascots, as well as action-packed anime and manga comic books and graphic novels. The Japanese are also fans of modern art, and have a penchant for gadgets, mechanical toys, and video games. It's not surprising that these national obsessions and love for all things cute can be indulged in while staying in one of the many quirky themed guest rooms on offer at some Tokyo hotels. Cartoon and manga-themed hotel rooms are not necessarily designed with only children in mind either: Adults equally love these themes just as much as kids do! These five themed Toyko hotel rooms are sure to appeal to lovers of Japanese pop culture, big and small.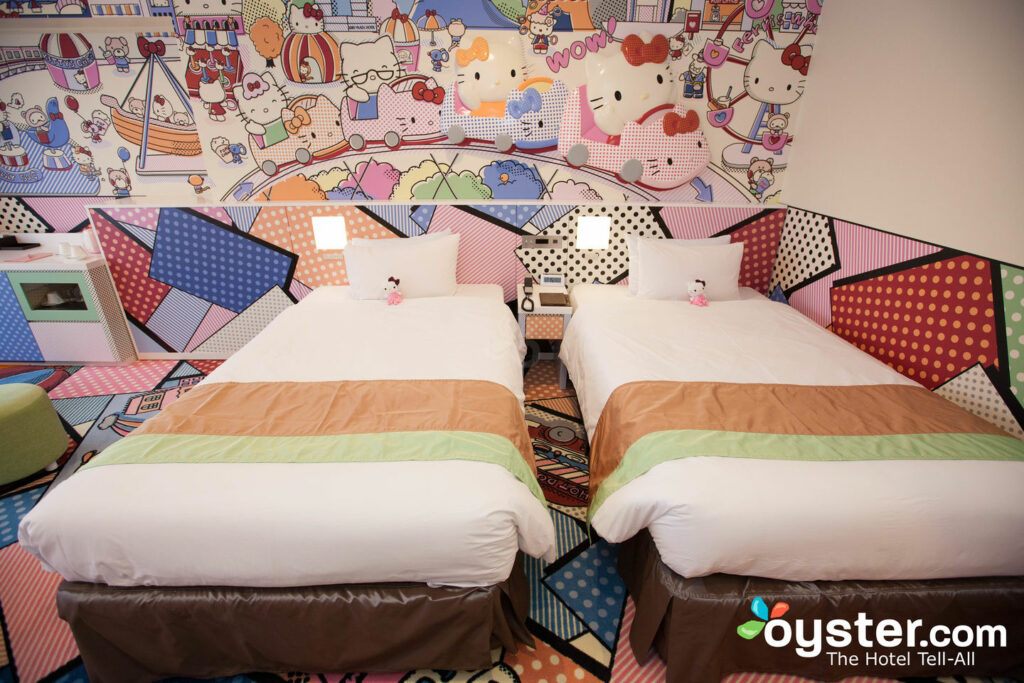 Hello Kitty, one of Japan's most popular and best known cartoon characters, is celebrated in eight themed rooms at Tokyo's landmark Keio Plaza Hotel. This huge 1,438-room hotel occupies two high-rise towers in Tokyo's vibrant Shinjuku district and was Japan's very first high-rise hotel, having opened its doors in 1971. Unveiled in 2014 for Hello Kitty's 40th birthday, there are four Kitty Town rooms designed for children and four Princess Kitty rooms that appeal to adult fans of the fictional cat.
Designated by bright pink bows on the guest room doors, the rooms offer guests plenty of Hello Kitty paraphernalia to go gaga over, including wallpaper, electric kettles, garbage cans, hairdryers, and even bathroom scales, not to mention plenty of pink — even pink bathtubs in the bathrooms. Guests can take home the Hello Kitty dolls displayed on the beds, as well as the Hello Kitty stationery, toiletries, and specially designed water bottles. If you're a Hello Kitty enthusiast, be warned that these rooms are very popular and book up to a year in advance.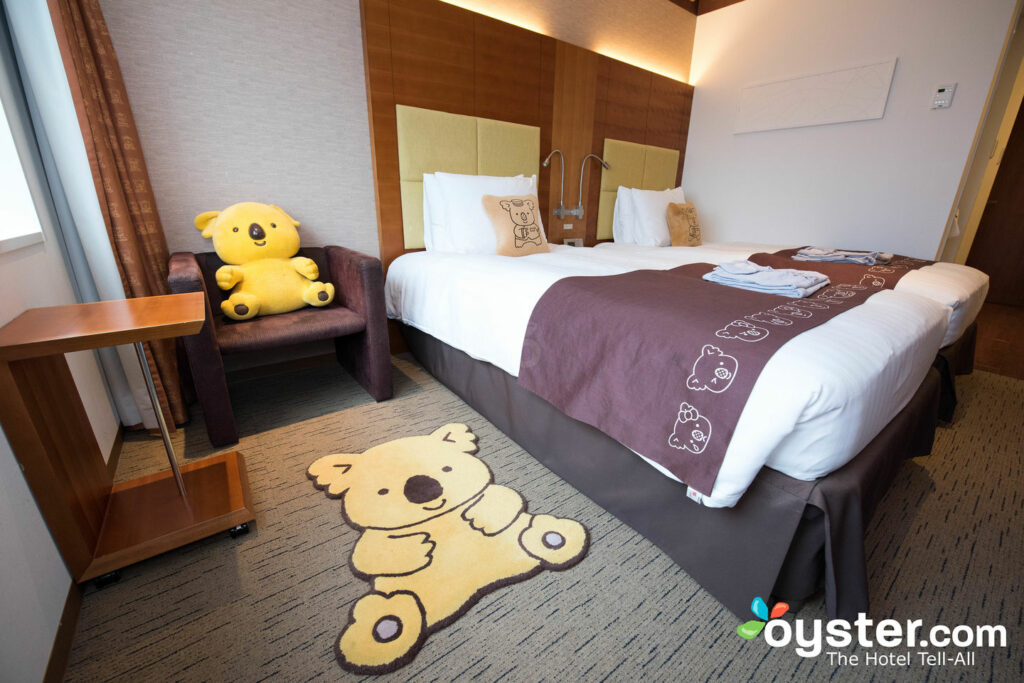 Koala's March is the name of a popular chocolate-filled cookie brand in Japan with a cute koala bear theme. The Koala's March–themed guest rooms at Lotte City Hotel in Tokyo's Sumida district feature images of the company's mascot decorating almost every surface: Not only the pillows, bed runners, and curtains, but also bath towels, cups and saucers, and even coat hangers and pajamas. There's also a koala stuffed toy in each room, and, of course, packs of Koala's March cookies to munch on. Scenic views of the landmark Tokyo Skytree tower, Japan's tallest structure, can be taken in from some of the guest rooms.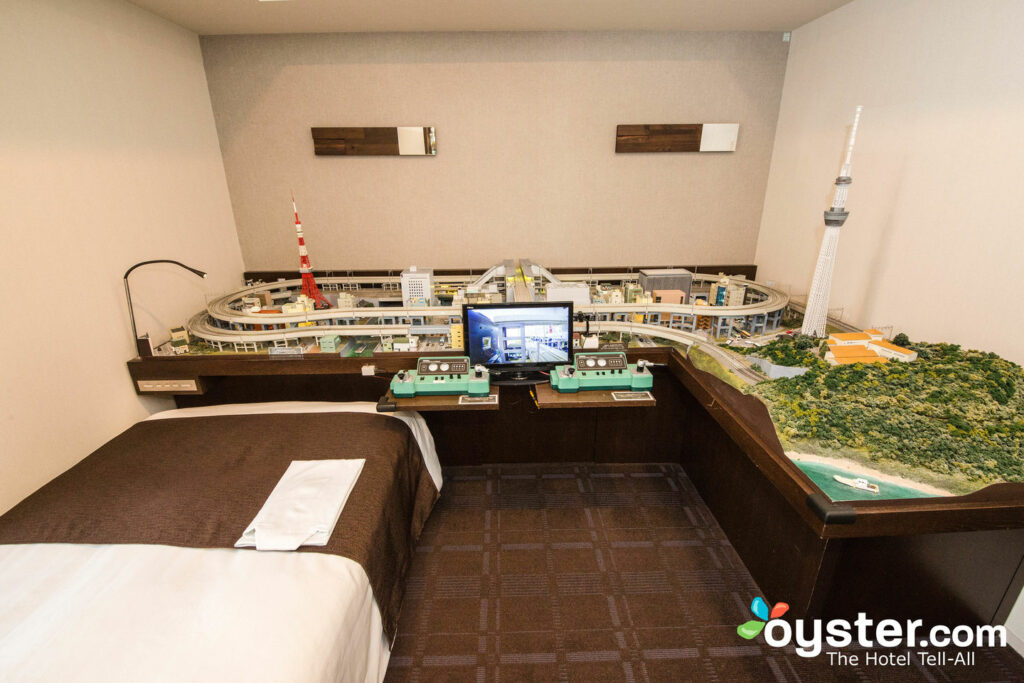 This otherwise generic business hotel in central Tokyo's Akihabara neighborhood has one specially themed room that appeals to train buffs. Tucked away in a corner of the Railway Room is a full-scale model of Akihabara, complete with models of the Tokyo Tower and Tokyo Skytree, and its own running railway made up of 98 feet of tracks. Guests can bring their own N scale train and take it for a run around the track, or failing that, borrow one from hotel staff. The room's train theme is complemented by a glass showcase featuring a display of train models, photos of old locomotives, and train-related books (in Japanese). If guests happen to get bored with the model track, they can train-spot from the window: Skinkansen bullet trains arriving at and departing from nearby Akihabara station are visible from here.
As part of a concept combining traditional Japanese hospitality and aesthetics, 31 of the 477 guest rooms at the Park Hotel in Tokyo's redeveloped Shiodome neighborhood have been transformed into works of art by local artists. Working with creative themes like Zen, zodiac, bamboo, poetry, public bathhouses, dragons, and Japanese washi paper, local artists were invited to stay in a guest room while transforming it into an original artistic work. The walls of the Sumo Artist Room, for example, are covered with larger-than-life paintings of sumo wrestlers, while a colorful painted motif of wrestlers decorates a wall of the bathroom. Information about the artist is on display in this room, as well as fact sheets about sumo wrestling, which explains aspects of the sport like the heavy "mawashi" belts wrestlers wear and their calorie-rich diet. The hotel occupies the top 10 floors of a skyscraper, with some guest rooms enjoying commanding views of Tokyo Bay and Mount Fuji in the distance.
Manga fans scramble to book one of the four Art Box rooms at Hotel Mets Shibuya. Located on the 14th floor, these manga-themed accommodatinos are decorated with cartoon images created by local manga artists. The rooms are painted in bright colors like mustard and saffron, with manga-style illustrations decorating the walls. Retro mugs and glasses add a vintage touch, and guests are free to take home the specially designed matching postcards and "tenugui" — Japanese hand towels made of light cotton. The hotel is located in the heart of trendy and youthful Shibuya, and many rooms overlook the spectacular city skyline.
You'll Also Like:
All products are independently selected by our writers and editors. If you buy something through our links, Oyster may earn an affiliate commission.