There's nothing quite like an early evening or morning walk through a quiet forest. The rustle of the leaves, birds overhead, the soft crunch of pebbles and moss underfoot. Whether you consider yourself a tree hugger or even just a tree admirer, Arbor Day is the perfect day to celebrate your love for the leafy. The lesser-known holiday celebrates the benefits of trees: They reduce our fossil fuel emissions, provide us with shade and clean air to breathe, and even help reduce stress. We've rounded up five stunning forests in celebration.
1. Sagano Bamboo Forest, Japan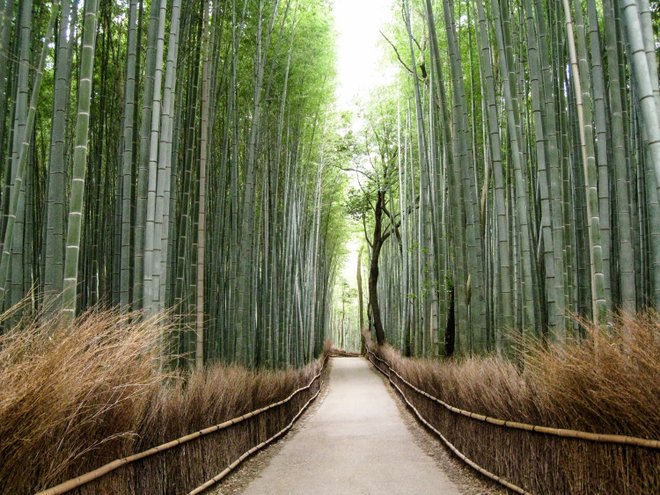 Located on the outskirts of Kyoto, the Sagano Bamboo Forest is one of the city's top attractions — and with good reason. Thousands of ethereal bamboo stalks sway around the wooden paths that weave throughout. While Sagano has grown more crowded with tourists over the past few years, the peaceful sounds of the trees rustling and creaking makes for a symphony you don't want to miss.
A luxury pick nearby:
2. Monteverde Cloud Forest, Costa Rica
A visit to Costa Rica's stunning Monteverde Cloud Forest is an incredible way to get an up-close look at one of the planet's most incredible ecosystems. Cloud forests only cover some one percent of the globe's woodlands, and climate change is expected to decrease that number. Visitors also have a chance to take in some of the world's most rare wildlife here: There are more than 100 species of mammals, 400 species of birds, and 1,200 species of amphibians and reptiles living within the forest's boundaries. If you get lucky, you may even spot a jaguar!
A romantic pick nearby:
3. Giant Kelp Forest, California
The world-famous Monterey Bay Aquarium is home to a slightly different kind of forest. At 28-feet in height, the institution's aquatic kelp forest is one of the tallest aquarium exhibits in the world. The kelp plants grow an average of four inches per day and received weekly pruning and trims from a team of scuba divers on staff at the aquarium. The tank is also home to an abundance of sea life that rely on the fast-growing kelp for nutrition and shelter, including sardines, leopard sharks, wolf eels, and more.
A kid-friendly pick nearby:
4. Olympic National Forest, Washington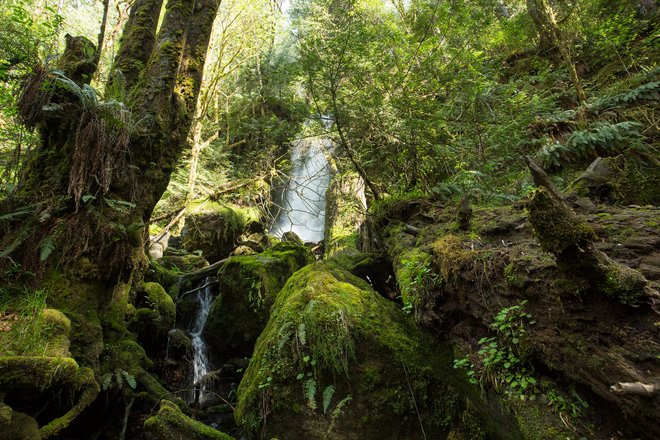 You might recognize Washington's Olympic National Forest from the silver screen — the lush swath of greenery played a prominent role in the "Twilight" film series — but aside from that, the 628,115-acre green space constitutes a stunning landscape, ranging from temperate rainforest to glacier-capped mountains and wild, rugged coastlines. The stunning Hoh Rainforest, within the national park, receives a whopping 12 to 14 feet of rain per year. The result? A lush, green canopy of trees accented by wild mosses and ferns that looks right at home as an enchanted forest in the movies.
A rustic pick nearby:
5. Black Forest, Germany
Another forest of legend, Germany's Black Forest got its name due to such dense tree cover that sunlight can't penetrate. The "Schwarzwald," as it's known in German, is home to one of the country's most beautiful natural landscapes, and also charming mountain villages complete with cuckoo clocks, half-timber houses, twisting cobblestone streets, and castle ruins. Taste wine along the bank of the Rhine River or enjoy an opulent day in Baden Baden, a 19th-century spa town and fashionable summer destination. This region of Germany truly is the stuff of fairy tales.
A luxury pick nearby:
You'll Also Like:
All products are independently selected by our writers and editors. If you buy something through our links, Oyster may earn an affiliate commission.