Sorry to be gross, but nothing spoils a perfectly good vacation day like a great big blister on your foot -- the burning, bulging culmination of bad walking shoes rubbing your skin with every exploratory step. And the wrath of wrong footwear can go beyond a pesky blister: A bruised toenail, aching arch, chafing sole, or shooting foot or leg pain all have the power to put the kibosh on your fun. Seriously, even a pinched pinky toe can bring a day of discovery to a screeching halt! Good walking shoes are literally the foundation of a successful vacation, whether it's in a European mountain town or on a party island in Southeast Asia. We've found eight great styles that give discomfort (and frustrating downtime) the boot.
Yes, these outdoor shoes score a zero on the chic-o-meter, but what they lack in sleekness and style they make up for with substance and staunchness. Polyester straps adjust via a pull-through system for a truly non-slip and custom fit, and resilient, grippy rubber souls can stride over ancient streets, backcountry hiking trails, or river rocks (Chacos are designed for wading through water) without missing a beat — or triggering a throb or even a flash of irritation. Whether you're heading on a 10-day walking tour of Italy or a two-week rafting trip through Glacier National Park, these shoes may well be the only footwear you need to pack.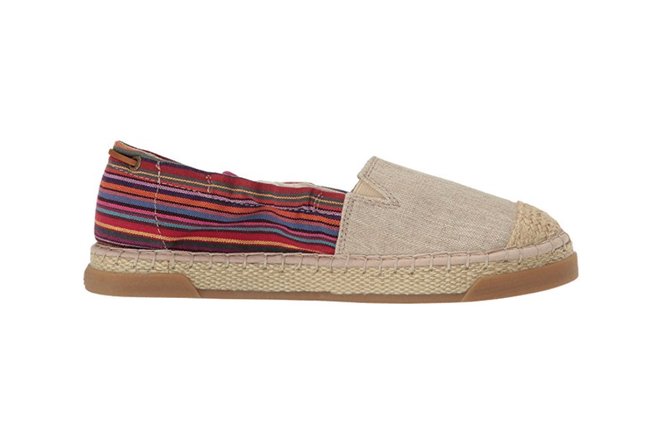 Espadrilles are a simple, easy-to-pack summer staple, and Sperry's step-in version with cute rope accents has plenty of backbone, as well. Their padded insoles help absorb shock, while their sporty rubber outsoles make them more hardwearing than the average espadrille. Stretchy sides allow easy slipping on and off and also give your feet the room they need to swell as the day goes on.
Here's a Sorel style you can wear straight from a guided city tour to a dimly lit tapas bar. The platform rubber sole provides traction and a little height, while foamy leather-covered footbeds give plenty of cushion. Two sturdy leather suede bands plus a back strap ensure steadiness — great for traipsing over cobblestones or ambling through museum gallery after museum gallery — but also look cool.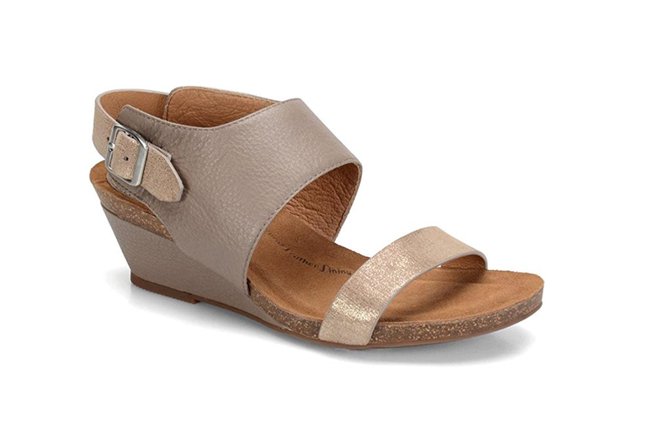 Flirtiness, meet durability. Sofft's Vanita sandals feature the company's comfy signatures — leather lining, latex arch support, major padding — plus fun color-blocking, metallic leather, adjustable slingback straps, and cork wedges that gives a bit of lift.
High-heel sandals may not seem like a great walking shoe pick, but hear us out. Swedish Hasbeen's two-inch contoured heels form to the shape of your foot, and are made from soft lime-tree wood that is crazy — almost weirdly — lightweight. The Helena's feather weight, thick Italian leather straps, and rubber soles combine to create a shoe that is far more foot-friendly than it looks. (And won't add much weight to your travel bag.) They're stable, secure, and insanely walkable.
Rarely do we toss out words like "polished" when discussing active shoes, but Allbirds' eco-friendly merino wool footwear earns the descriptor. Their newest style, the slipper-like Wool Lounger, has light foam soles, insoles that curb sweat and stink, and wool uppers (everything above the sole) that feel airy and ventilated in hot weather, yet stay toasty in the cold. The wool is grime-resistant, but the entire shoe is machine-washable.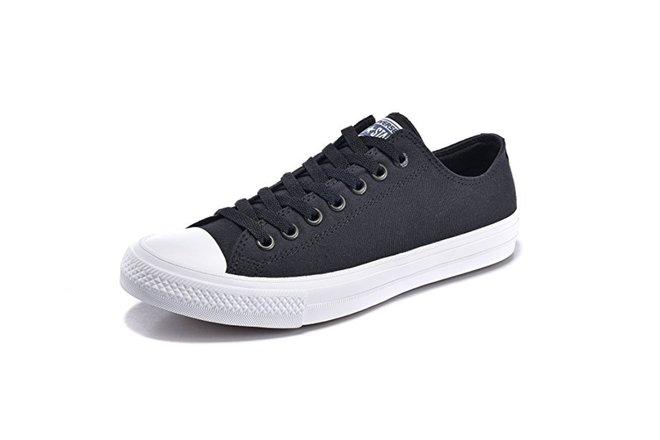 We all love classic Chuck Taylors, but the sad truth is that they're not great for long-haul walking — no arch support or padding to protect your feet from the shock and stress of repetitive pounding. It took the brand about 100 years (the All Star debuted in 1917), but Converse finally improved the design with the launch of the Converse Chuck II, which has super-beefy insoles to pad the arches of the feet and a spongy canvas upper and tongue about twice as dense as their predecessor's. (This writer rocked the entire Women's March D.C. parade route in her Chuck IIs, no problem.) Know that the shoes are still as narrow as ever, and that going the high-top route means a chunk of vacation time will be spent dealing with the laces. In the classic sneaker category, Superga's platform canvas lace-ups and Adidas' iconic Stan Smith tennis shoes are great go-tos, too.
Handmade with Italian leather, fine microfiber, and heavy-duty-but-bouncy rubber, La Canadienne's all-season, no-nonsense Sara Bootie is a travel (and life) essential. The pull-on/pull-off style has elastic panels on both sides, thick and springy soles that can handle years of tread, and a cool straightforward look that can play casual, tough, or dressy. Their slim fit and mid cut (hitting about an inch above the ankle bone) yield a ton of support and their waterproof exterior and interior lining keep your feet dry.
You'll Also Love:
Oyster.com is a participant in the Amazon Services LLC Associates Program, an affiliate advertising program designed to provide a means for sites to earn advertising fees by advertising and linking to Amazon.com.