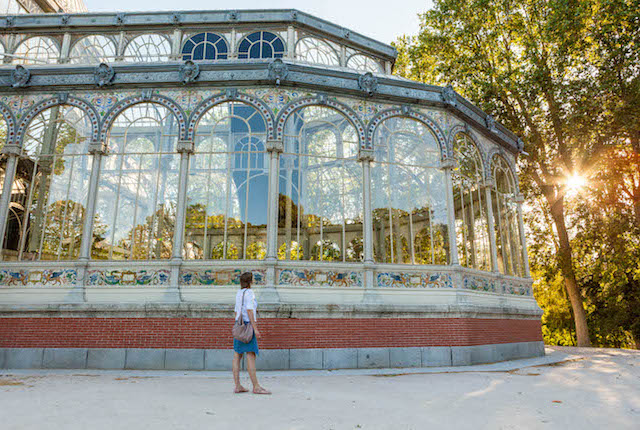 With its many extravagant festivals, pleasant climate year-round, and refreshing work-to-live attitude, Spain took home the title of third most-visited country in the world last year. This is nothing new, though. For the past few years, the country has been breaking its own records in tourism, and between its gorgeous architectural history, delicious cuisine, and diverse landscapes, it's easy to see why. If you're planning an extended stay in the Spain, consider making Madrid your home base, as its central location allows you to easily journey to other destinations in the country. Here, we've highlighted 11 trips you should take from Madrid.
Located between Madrid and Valencia, Cuenca is a convenient stopover or day trip between or from either city. It's renowned for its architecture, which includes rows of brightly colored homes perched on dramatic cliffs and the original stone fortifications that have protected the city from enemies for centuries. Cuenca's location was chosen with defense in mind, as it is situated on cliffs above the confluence of two river gorges. This once strategic position now provides tourists with outstanding views of the surrounding valley and cliffside homes. Recently, Cuenca has risen as a hub for contemporary art as well — the Museum of Spanish Abstract Art and a handful of smaller galleries are worth checking out. Overall, the dichotomy of ancient fortress walls and modern works makes Cuenca a can't-miss city.
Where to Stay:
Located less than an hour southwest of Madrid, Toledo is becoming increasingly popular with visitors. The city dates back to Roman occupation, and includes visible artifacts of the Christian, Muslim, and Jewish communities that once peacefully coexisted here. Today, visitors walking the cobblestoned streets of Toledo's historical core will pass synagogues, mosques, and a towering Gothic cathedral. The Mezquita del Cristo de la Luz conveys the cultural successions in Toledo, as its original thousand-year-old structure as a mosque was converted to a church 200 years ago. The result is a splendid mix of Islamic architecture and Christian paintings and adornments. The cathedral houses a gallery with works by Goya, Raphael, and El Greco (another of El Greco's pieces can be found in the Iglesia de Santo Tome). Toledo's medieval streets merit time to wander without an itinerary. Tip: To beat the day-trip crowds, consider making Toledo an overnight stop, so you can explore the ancient streets at a more relaxed pace in the morning or evening.
Where to Stay: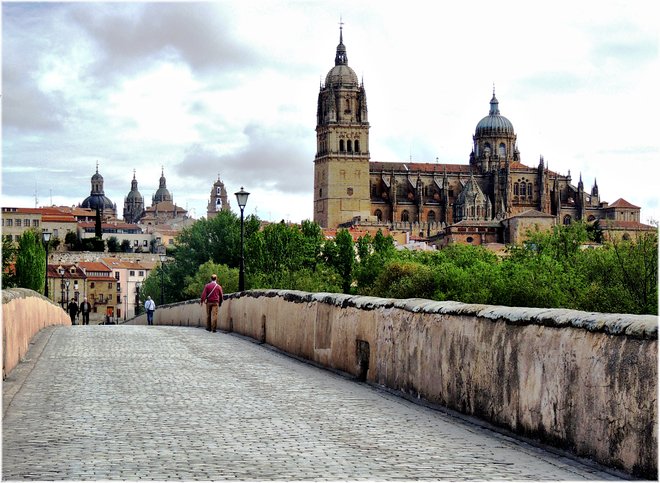 Salamanca's cultural and intellectual history dates back many centuries. The University of Salamanca was founded in 1218 and continues to draw Spanish and international students, providing a dose of youth and vitality to this historic city. For anyone looking to stay a while, the university has produced numerous language schools offering Spanish classes (the Castile-Leon region is known for its pure Spanish dialect). Salamanca's architecture is impressive, too. Many of the buildings are built from sandstone, creating an orange-hued glow across the city at sunset. The sandstone also lends itself to ornate carvings, with the most notable example being the House of Shells. This 15th-century structure dons 350 seashells carved from sandstone. Other remarkable sites include the old and new cathedrals, which stand beside each other, creating a fascinating juxtaposition of Gothic and Baroque architecture. The Plaza Mayor's outdoor cafes and restaurants bring life to the historic central square, which looks even more spectacular when lit up at night. Spain is also known for its hearty and lengthy lunches, and Salamanca is no exception. The region around Salamanca is renowned for its jamon iberico (cured pork from free-range pigs raised in oak forests). Another local specialty is perrunillas, which are round, golden cookies that are typically consumed alongside afternoon coffee or tea.
Where to Stay:
Situated just over an hour northwest of Madrid, Segovia is another popular day trip from the Spanish capital. Segovia earned UNESCO World Heritage status for its diverse and outstanding architecture. The historic city is bisected by a Roman aqueduct, totaling over 160 arches. It's hard to miss the massive granite structure, but head to Plaza Azoguejo to see where it meets the heart of Segovia. The Alcázar of Segovia is another architectural marvel that can't be missed. This fortress-turned-palace sits at the confluence of two rivers at the foothills of the Guadarrama mountains. Aside from its scenic location, the Alcázar's distinct ship-like shape has been transformed by subsequent occupiers since its construction in the 12th century. Today, the castle-palace functions as a museum, where visitors can explore the numerous halls and chambers decorated in Roman, Gothic, Renaissance, and Mudejar styles. Similar to Toledo, Segovia can get jammed with day-trippers, so consider spending the night to enjoy the city free of fast-paced tour groups.
Where to Stay:
Aranjuez lies just outside Madrid, to the south of the Tajo and Jarama rivers. Aranjuez was created as a royal family retreat, away from bustling Madrid, and it still serves as an escape from city life. The main draw then and now is undoubtedly the Royal Palace of Aranjuez, which was finally constructed in the 18th century under Ferdinand VI. The palace was built in late Baroque style, with a grandiose exterior. The interior is open to visitors, with numerous halls, courtyards, and works of art to admire. The Gabinete de Porcelana stands out for its entirely porcelain-lined walls and ceilings with elaborate decorations of garlands and animals. The grand palace is the centerpiece of the massive compound, which includes an array of impressive gardens and outer buildings. The adjacent and well-manicured Jardin de la Isla was used for royal functions, while farther out, the riverside Jardin del Principe houses botanical gardens, a grotto, and extravagantly designed pavilions. Aside from the royal compound, Aranjuez boasts some excellent tapas restaurants and cafes, too.
Where to Stay:
Packed with personality, Barcelona is the kind of place that travelers return to time and time again. Just two-and-a-half hours away from Madrid via high-speed train, the coastal city is one of Spain's biggest cultural and economic centers. Thanks to its beautiful beaches, laid-back lifestyle, and colorful culture, there's something for everyone. Architecture lovers will appreciate visiting the Sagrada Familia, the city's famous basilica designed by architect Antoni Gaudí, while foodies will enjoy pairing endless savory tapas with award-winning local wines. Stroll through the meandering alleys of the Gothic Quarter, get lost in the crowds watching street performers on Las Ramblas, post up at Barceloneta beach, or spend the afternoon exploring Park Guell.
Where to Stay: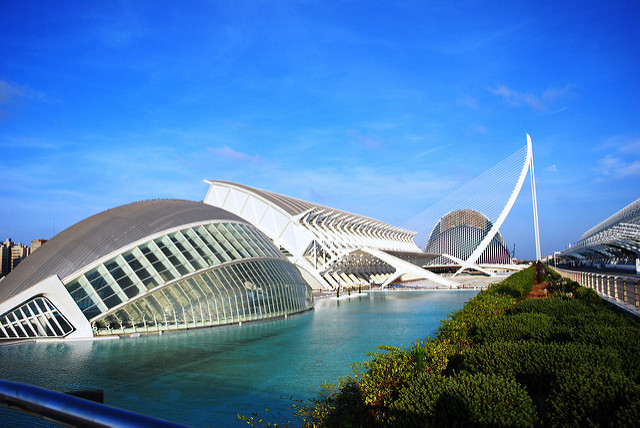 Under two hours from Madrid by train, Valencia is the ideal mix of traditional and modern. It's the proud birthplace of Spanish paella and home to one of the 12 treasures of Spain — the City of Arts and Sciences. Designed by architects Santiago Calatrava and Félix Candela and completed in 2005, the entertainment destination has quickly become the most recognized symbol of Valencia and the number one tourist attraction in town. Its stunning complex features an IMAX theater, opera house, planetarium, interactive science museum, and the largest oceanographic aquarium in Europe.
Not to be overshadowed, Valencia itself is also an active city and home to the Jardín del Turia, the largest park in Spain. What was once a part of the Turia river has since been re-purposed into a 5.6-mile-long urban park. After strolling its meandering paths, stop by the central market and shop for fresh, local produce, or relax on the beach with a refreshing Agua de Valencia cocktail.
Where to Stay:
Located south of Valencia on the Costa Blanca, the seaside city of Alicante has plenty to offer including a lively seaport, colorful promenade, popular beach, and a rich medieval history. Spend the day taking in 360-degree views of the city and sea from the Castillo de Santa Bárbara. Visitors can either take the lift up or enjoy a steep, twenty-minute hike to the top of Benacantil Hill. Not quite ready for a siesta, yet? Head to the busy Rambla de Méndez Núñez for a glass of sangria or mid-day espresso. Then, visit the Gravina Museum of Fine Arts, which is less than a ten-minute walk away, or spend the afternoon exploring the archaeological museum, MARQ. It's a little over two hours away from Madrid by train.
Where to Stay:
Tucked away into the the foothills of the Sierra Nevada mountains and 2,124 feet above sea level is Granada. It's about a four-and-a-half-hour train ride from Madrid. Surrounded by spectacular scenery, including snow-capped mountains complete with caves carved into their sides, the city is most memorable for its rugged terrain and Moorish fortress, the Alhambra. Visiting one of the oldest and best preserved castles in Spain (and certainly Granada's number one attraction) is worth braving the crowds that come with it. When you're done exploring the grand fortress, quench your thirst and fill your belly at a tapas bar in one of the only cities that still offers complimentary bites with the purchase of an alcoholic drink. Next, stop by the Parque de las Ciencias de Granada if you're interested in the sciences or purchase a ticket for a local Flamenco show if you're into the performing arts.
Where to Stay:
With captivating architecture and incredible plazas, Seville is both a classic and contemporary city located in the south of Spain. Located about two hours and 40 minutes away from Madrid by train, Seville blends historic Moorish architecture and ultra-modern projects for the perfect mix of past and present. It also has plenty of colorful and creative neighborhoods like Barrio Santa Cruz, where you can find some of the best local flavors and boutiques in the city. For those seeking the traditional side of Seville, visit the Alcázar, an old Moorish palace, or take in the splendor of the Plaza de España. For those looking for a more modern take on Seville, don't miss the oddly shaped wooden Metropol Parasol. Head up to the upper balcony for one of the best panoramic views of the city. Or, go back in time with the Past View virtual reality tour, which uses 3-D glasses and headphones to takes visitors on a virtual walking tour of Seville during different historical periods.
Where to Stay:
Only a one-and-a-half-hour drive south of Seville (and a four-and-a-half hour train ride from Madrid), Cádiz is the oldest continuously habituated city in Spain and one of the oldest in Western Europe. It's also where Christopher Columbus set sail on his second voyage—during which he accidentally discovered America. Thanks to its ideal position on the corner of the Iberian peninsula, Cádiz has also proved itself to be the most important port city in Spain and is strategically home to the Spanish Navy. But history isn't the only thing that draws travelers to Cádiz. Each year, the warm and welcoming people here host the Cádiz Carnival that lasts 11 days and features two large parades.
Where to Stay:
With additional reporting by Kevin Brouillard
You'll Also Enjoy:
All products are independently selected by our writers and editors. If you buy something through our links, Oyster may earn an affiliate commission.