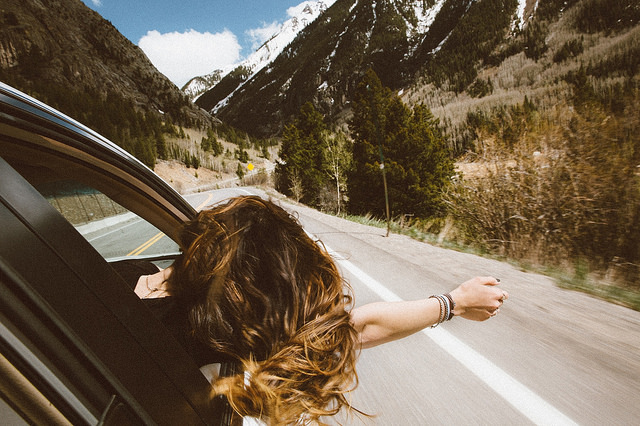 Traveling might be something you'll eventually do with the love of your life (once you meet that person), but there's something to be said about exploring the world while single. Apart from the distinct possibility of finding romance and meeting new friends on the road, solo travel allows for plenty of selfish me time that you just might miss once you're part of a permanent twosome. Solo travel means you don't have to worry about someone else's food preferences, energy levels, or whether they'll see you on the toilet in an unexpected peekaboo hotel bathroom.
Travel blogger Mick Salas, from TrotterHop, agrees with us. He's visited more than 40 countries solo and says of solo travel, "It could very well be the only time in your life where the only person you have to answer to is yourself!" His take? "For me, the most important aspect of seeing the world solo is that your experience, views, and opinions of the culture and people of where you traveled to are your own, and not influenced by other people." He's also a big proponent of the no strings attached lifestyle. "Solo travel means the freedom to meet as many people as possible and make new friends along the way (this includes hooking up)."
We rounded up the six most unforgettable trips to take before you get married...think of all the travel stories you'll have to tell your future partner (how much to censor is up to you).
1. Ko Phangan, Thailand
https://www.instagram.com/p/BVlHiZ6j9Dm/
Every 30 days or so, the picturesque sands on the southern area of Haad Rin in Koh Phangan turn from relaxed to rager for the Full Moon Party. Between 10 and 20 thousand foreigners and Thais stay up until sunrise for a night of drinking, dancing, and (some) illegal drug taking to trance and house music. Glow sticks, body paint, and tie-dye are prevalent. There's a burning man vibe here with trippy performers and a virtual army of vendors selling booze and food. The scene isn't for everyone, but the party is definitely a memorable experience. This isn't a romantic getaway, so enjoy it solo — maybe you'll even have a fling or two. Just make sure to party responsibly and take common-sense safety precautions.
A Party Hotel Pick:
2. Paris, France
https://www.instagram.com/p/BVnY1W8lUof/
Paris is the City of Love — but no one ever said it was the City of Love just for long-term couples. We can't think of a better place than Paris for your very own rom-com worthy meet cute. The 5th Arrondissement, also known as the Latin Quarter, is a bustling spot filled with young people and situated on the city's liberal leaning Left Bank. This is the place to stroll through city streets, pop into cafes for a bottle of Bordeaux, and mingle with locals. Who knows who you'll meet.
A Boutique Hotel Pick:
3. Machu Picchu, Peru
https://www.instagram.com/p/BVlPeTClNYN/
Machu Picchu is an epic, once-in-a-lifetime trip that involves a long travel journey and tricky logistics. Rain, altitude sickness, and crowds are additional stress scenarios that can make even the most loving couples bicker and argue. We say that a visit to the mysterious Incan citadel is best left for solo travel or with a group of friends. Another plus? You won't have to worry about looking good on an arduous hike.
A Value Hotel Pick:
4. Ibiza, Spain
https://www.instagram.com/p/BVnA7kuBOdE/
Unless you plan on marrying an international DJ star (and we encourage that union), you likely won't be spending much of your married life partying all night in Ibiza, which is why you should go as a single person. For the entire summer, the tiny Spanish island turns into a non-stop party with DJ sets, themed clubs, boat parties, live music, underground raves, and dancing on the beach. Some visitors only stop partying long enough to take a power nap before hitting the scene again.
A Luxury Hotel Pick:
5. Ubud, Indonesia
https://www.instagram.com/p/BVnFOicFP3W/
You don't have to be a party animal to have an unforgettable solo trip. Ubud is an ideal destination for those who prefer to take long bike rides into picturesque rice fields, hide out in the spa (treatments are super affordable in day spas), or lounge around in ornate hotel rooms decorated with carved wood and Hindu deity statues, writing in a journal and contemplating life. Ubud is where Elizabeth Gilbert focused on the love portion of her best-selling memoir "Eat, Pray, Love."
A Boutique Hotel Pick:
6. El Nido, Philippines
https://www.instagram.com/p/BVdkjwuln0K/
We asked Mick for his opinion on the what single travelers should look for in a destination. He advised, "Find a destination where it allows you to have 'me time' but also allows you to meet other travelers. There are plenty of destinations in Southeast Asia where you can do this — the Philippines is a great example, and we recommend the municipality of El Nido. You can find plenty of remote beaches or islands where you can have your alone time to sip coconut drinks while listening to your favorite music by the ocean. And then the next day it's easy to switch it up and join an island hopping tour to meet other travelers." Well said, Mick.
A Beachfront Hotel Pick:
You'll Also Like:
All products are independently selected by our writers and editors. If you buy something through our links, Oyster may earn an affiliate commission.