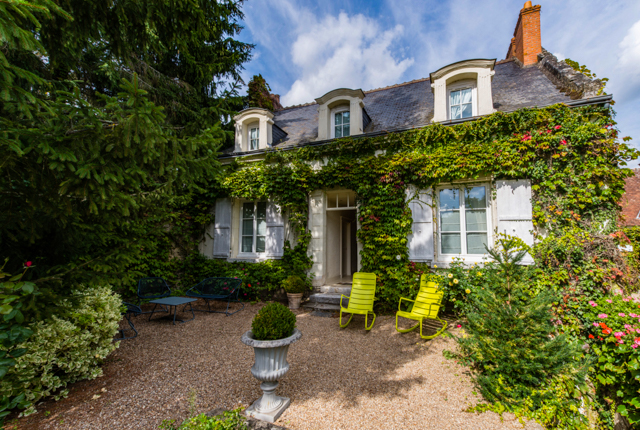 Not everyone has the same opinion on what qualifies as adorable when it comes to digs. Accommodations that are adorably charming or rustic to one person may be fussy or dated to another. Same with "chic," which can be seen as too minimalist and cold -- and "kitsch," which for many equals tacky and tasteless. As such, we cast a wide net when scouring France for this roundup of hotels -- hoping that at least one will trigger an "aw!" reaction.
This rustic-chic lodge attracts the hipster skier and snowboarder crowd, sporting decor that's a mix of chalet-style and Scandinavian design, plus stellar views of Mont Blanc. The breakfast room and lounge has an entire wall of tiny cubbies filled with red-accented knickknacks, and out back, there's a charming cobblestone terrace with red bicycles for guests to borrow and cafe tables. The red accents carry over to cozy guest rooms, done in sleek charcoal gray and white. Details like crafty Moravian-inspired chairs pulled up to desks, wood stump nightstands, and mini chalkboards outside with room numbers are part of the package. There are also family rooms, with wallpaper in kids' quarters covered in French verb conjugations (get 'em started early…).
A sea captain built the mansion in 1830 that today is the main house of this darling bed-and-breakfast, which also has apartments occupying a nearby 14th-century building. Located in the heart of Honfleur, the intimate, upscale property's name translates to "a little madness," which may very well speak to the decor — an eclectic mix of styles that yield a homey look overall. There's refined, Directoire style paired with contemporary furniture, rich velvet, and traditional floral-pattered fabrics throughout. And there's a posh, Moorish-inspired parlor that was once a bathhouse, accented with electric pink, orange, and yellow. A similar approach is taken with the individually decorated guest rooms — luxe damask wallpaper accents walls behind traditional wrought-iron beds. Jet-black Bourgie-style table lamps are set on rustic wooden dressers.
The breakfast room couldn't get more classic French-country: A large, oval wooden table occupies the center of the space, with ceramic teapots and jars of jam filling hutches and a line of McCoy mallard ducks nested on a shelf. But one of the sweetest spots on-site is the garden, with a meandering cobblestone path dissecting the lawn, dotted with flowing plants and manicured shrubs.
With five distinctive ivy-covered stone buildings dating to the 1700s — one with a turret — set on narrow lanes, and a central cobblestone courtyard, this idyllic inn located in Chenonceaux is like its own quaint mini storybook village. The upscale property's stylish lounge has stone walls, exposed wood-beam ceilings, and period furniture covered in posh fabrics, with fuchsia and tangerine-orange accents. There's also a bar with a velvet settee dotted with heart-shaped pillows that look sweet rather than cutesy. The Michelin-starred restaurant has homey appeal, with cornflower-blue tablecloths and striped Roman shades, and courtyard tables surrounded by climbing roses and window boxes. Some guest rooms have modern decor similar to the lounge, while others have a French-country look, and all feature pretty views of the grounds or open to gardens with brightly colored metal chairs.
Fans of "Alice in Wonderland" will be in heaven at this boutique hotel. Le Lapin Blanc (The White Rabbit) has framed sketches, vintage books, and assorted curios related to Lewis Carroll's children's tale filling the lobby. There are soft, pastel hues and playful but chic decor throughout, with a mix of mid-century modern and Scandinavian furniture. There are plenty of retro details, like the breakfast area's Smeg fridge and princess rotary phones in its 27 guest rooms. The adorable factor comes from the tiniest details: white mugs with cottontail handles, vanities with basin sinks tucked into power-blue tiled nooks, and bedside tables that resemble stacked marshmallows. While the look is storybook-sweet, the overall effect has a sophisticated flair with a romantic vibe.
With its grand spaces, this landmark Art Deco property may not be adorable in terms of size, but it has delightfully enchanting features. The five-pearl hotel capitalizes on whimsical decor in vogue during the period, such as canopy chairs, and playful themes, including the dreamy La Rotonde carousel restaurant and a circus tent bathroom for gents on the hotel's ground floor. Guest rooms are done in range of styles, from lavish 18th-century to attractive Art Deco, and many have bathrooms with colorful, sparkly sinks and bathtubs.
This romantic little bed-and-breakfast, with striking cobalt blue double front doors and shutters, is located in the medieval town of Antrain, close to the border of Normandy. It has only three guest rooms, a lovely back garden with a reflecting pool, and a parlor with a fireplace decorated with thoughtful details like a handsome chess board, a mini grandfather clock, and a floral terrarium in the window. Two bedrooms have traditional French 18th-century decor, and the third — the Venetian Room — features beautiful hand-painted furniture and Venetian carnevale masks.
Housed in a 19th-century building in Paris' 9th Arrondissement, this intimate bed-and-breakfast has adorable, carefully curated details that add whimsy to posh decor. The parlor room has an authentic "Guignol" mini puppet theater that dates to early 1800s in France attached to the bookcase, and its filled with period furniture covered in stylish, vibrant modern fabrics. Its three guest rooms (hence, Les 3 Chambres) have designer mid-century modern furniture and high-end wallpaper from Cole & Son. One room has plum paper with monkeys scampering around an ancient arched colonnade. Little details like room keys with tiny Eiffel Tower keychains, vintagey books about Paris set on nightstands, and curious knick-knacks, like snow globes or Chinese dragon figurines, add oodles of character.
NOW WATCH: 6 Most Adorable Towns in France
https://www.youtube.com/watch?v=GwnCYaoUON4
You'll Also Like: