Nestled in the heart of the Great Smoky Mountains, Dollywood is a theme park named after the legendary singer. But the family-friendly spot in Pigeon Forge, Tennessee, has a lot more to offer than country songs and blonde wigs. Keep reading for glimpse into one of Tennessee's most popular amusement parks, as well as for some tips on how to make the most out of your Dollywood adventure.
1. The roller coasters are the real deal.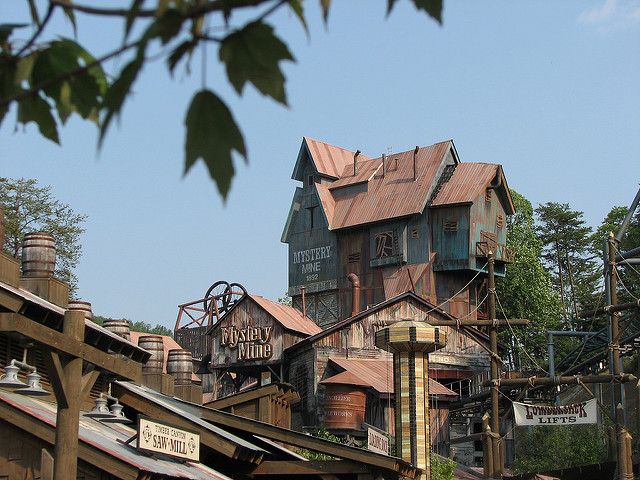 Dollywood's rides aren't for the faint of heart. You can speed down the Lightning Rod, the world's fastest wooden roller coaster, or soar through the air like a bird on the Wild Eagle. And don't let the cute wooden carts of Mystery Mine fool you. Its haunted darkness, rickety turns, and demonic sound effects make it the spookiest ride at the park. In fact, these coasters are so adrenaline-pumping that Dolly Parton herself has said between her motion sickness and fear of losing a wig, she's never taken a whirl on one of the rides.
2. There's Dollywood and then there's Doggywood.
Have a pup you don't want to leave behind at the hotel while you spend the day at Dollywood? Drop them off at Doggywood, a day boarding facility designed for furry friends. Your canine can spend the day with its puppy pals at the kennel runs and dog cottages. Make sure you get a reservation ahead of time, as Dolly's doggy day care fills up quickly.
3. It's home to bald eagles.
There aren't too many places in the U.S. where you can buy a 25-pound apple pie, ride a roller coaster, and see a bald eagle all within an hour. Dollywood is one of those places. The park boasts a 400,000-square-foot eagle sanctuary dedicated to giving the animals that wouldn't be able to survive in the wild a happy home. Visitors can get up close and personal with the majestic creatures, and then keep tabs on them via these webcams.
4. It's not all about Dolly.
The country singer is the namesake of this Tennessee park, and her warm, sassy energy radiates throughout the grounds. You can and should visit her old tour bus on the property, and the park's Chasing Rainbows museum, which is dedicated to her outfits, decades' worth of celebrity-studded photos, and a holograph of Dolly snapping her fingers and turning into a butterfly, is worth the price of admission alone. That said, Dollywood is more of an amusement park than it is a shrine to its queen. If you're headed there with a group of Parton worshippers, don't worry. You'll find fellow park-goers who are more jazzed about the funnel cakes and roller coasters than the country music.
5. The grist mill isn't just for show.
Dollywood's grist mill isn't just a great backdrop for your Instagram photo. It's also a fully operating grist mill that grinds corn and wheat to create delicious baked goods for the park. Don't leave without grabbing a loaf of the cinnamon bread.
6. It's constantly changing.
This park isn't stuck in the past. In addition to its ever-rotating troupes of talented performers, Dollywood adds at least one new major attraction, like a roller coaster or water ride, nearly every year. If you think you know Dollywood because you went there once as a kid, think again.
7. Dollywood isn't the only thing to do in Pigeon Forge.
A lot of travelers visit Dollywood as an easy day trip from Nashville, but there is plenty to keep you occupied for an entire long weekend in the Pigeon Forge area. It's full of family attractions like the Hatfield & McCoy dinner Show or the Titanic Museum. Plus, shoppers will love stocking up on goods like Lodge cooking gear and leather boots. And don't leave without spending a day hiking and picnicking in the scenic Great Smoky Mountains National Park.
You'll Also Like: