With Valentine's Day just around the corner, you may be scrambling for a fun and creative way to celebrate the day with your loved one. There's a certain playfulness associated with the holiday that appears in the selection of oversized stuffed animals, chocolate candies, and over-the-top gestures meant to symbolize our love. For those who want to dive into the cheesiness, we've put together a list of hotels across the world that play into romantic themes with room decor and special romance packages for couples. If you want to make this a fun, playful, and delightfully corny holiday for you and your lover, check these spots out.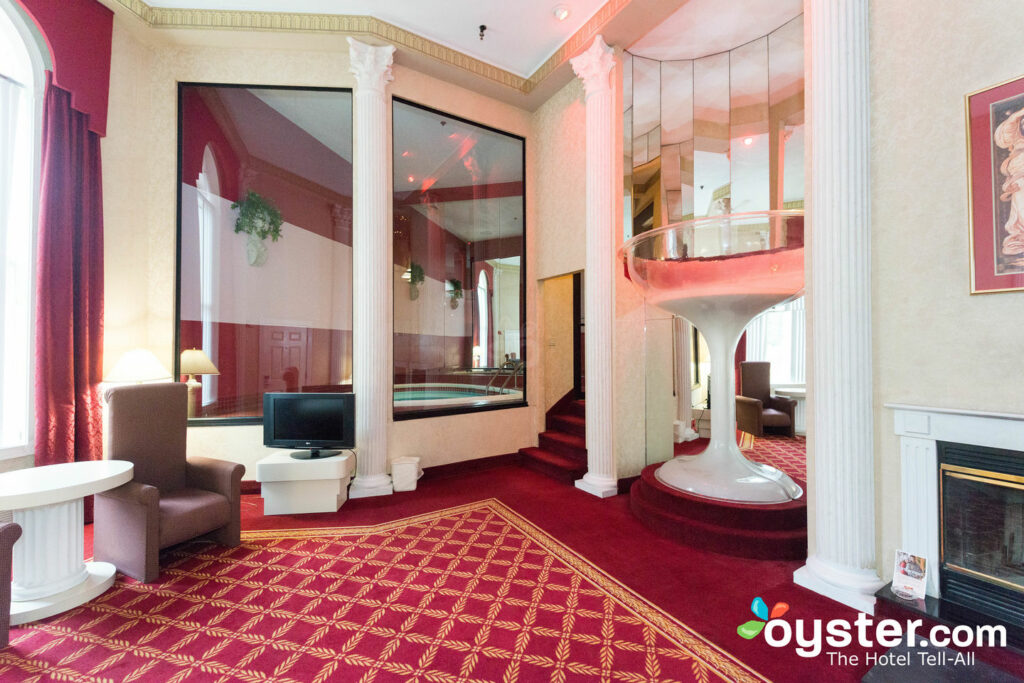 Pocono Palace Resort is a perfect couples retreat for those who want to spend Valentine's Day in bold fashion. You'll find that some rooms come with a lovely heart-shaped hot tub, but the real pièce de résistance is the Champagne glass hot tub found in others. Many of the red-and-pink hued accommodations have sinuous round beds to get you in the mood. If you want to enhance your stay, try one of the romance packages that include extra luxuries like bubble baths, massages, and Champagne. Or, take it a step further with horseback riding or a personal photo shoot.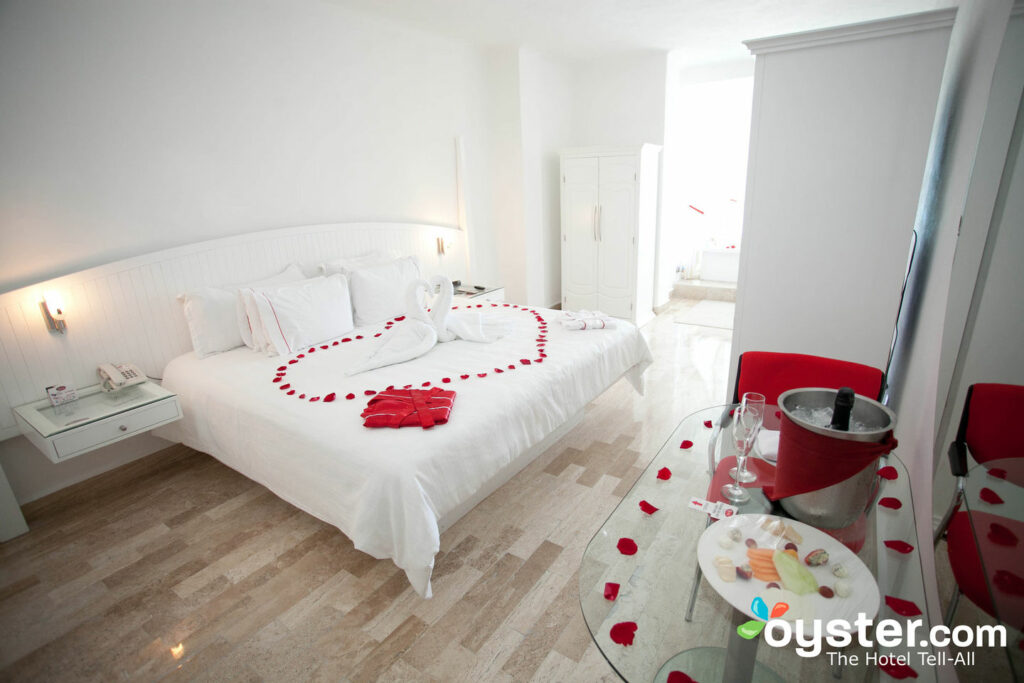 Bel Air Collection Resort & Spa provides what's expected of a resort in Mexico—an infinity pool, a spa, restaurants, and bars. However, their romantic rooms are a little over-the-top in all the right ways. The all-white Kool Lanais Suite welcomes guests with red rose petals laid out the shape of a heart on the bed. Guests will also find red and white robes, towels folded into swans, a whirlpool bathed in pink lights, and red petals surrounding a spread of wine and cheese. There are even rose petals in the bathroom. When booking their Romance Experience package for Valentine's Day, you can get all of the above, plus moonlight massages on the beach and a romantic dinner by the sea.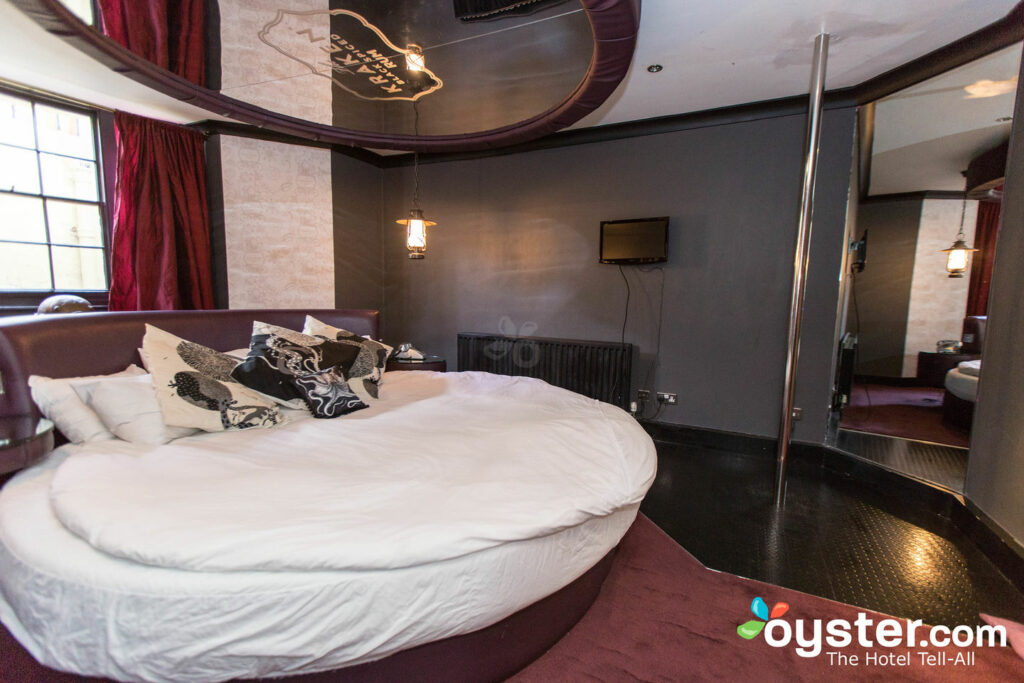 Rock out this Valentine's Day at Hotel Pelirocco, a boutique property in Brighton with counter culture–style rooms that have romantic amenities to make for a pretty kitschy getaway. There's the Nookii, a kinky room fitted with an iron bed with stocks and a sensual couples' board game. Then there's the Lovers Lair, which has a round boudoir bed, a pole-dancing area, plus a huge plunge bath. And don't forget to order something off of the adult amenities menu—yes, a leather paddle is available for your wild weekend.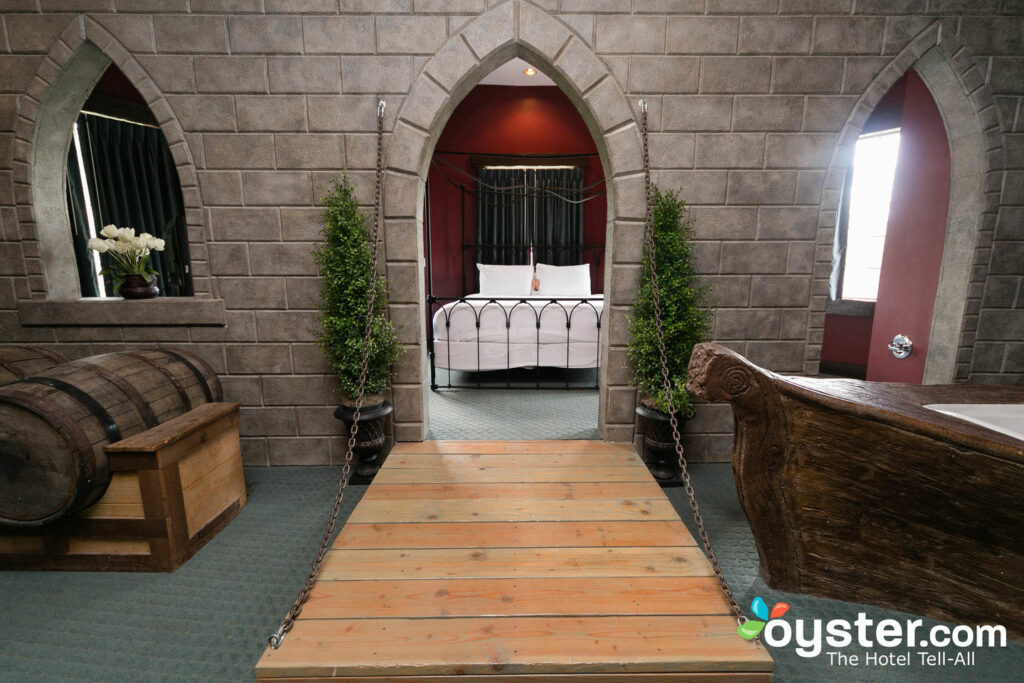 If role play romance is more of your vibe, you might want to head to Kansas City to visit Chateau Avalon. Rooms are themed: Choose from Camelot, Pirates Cove, Mayan Rainforest, Egyptian Palace, Roman Dynasty, and Monte Cristo, and many, many more. Murals of ruins and ancient statue replicas are placed in the Mayan Rainforest room, while Camelot has castle-themed decor complete with a full suit of arms and a tub housed in a wooden long boat. And, of course, there are special packages. You've got your basics like chocolate covered strawberries, Champagne, and rose petals, but Chateau Avalon Hotel takes it a step further with options like engraved Champagne flutes, a rose dipped in 24-karat gold, and even personalized messages in bottles.
Nothing says Valentine's Day like suspended beds covered in rose petals and a Love Box awaiting on top of the covers—and that's exactly what you'll find in some rooms at The Five Hotel. This boutique adults-only property in Paris focuses on love year-round with romantically decorated rooms, selections of soft erotica books, and sensual areas like the Love Capsule, an entirely red bar with a provocative atmosphere, and, as the website puts it, "where lovers in search of a shared odyssey can meet."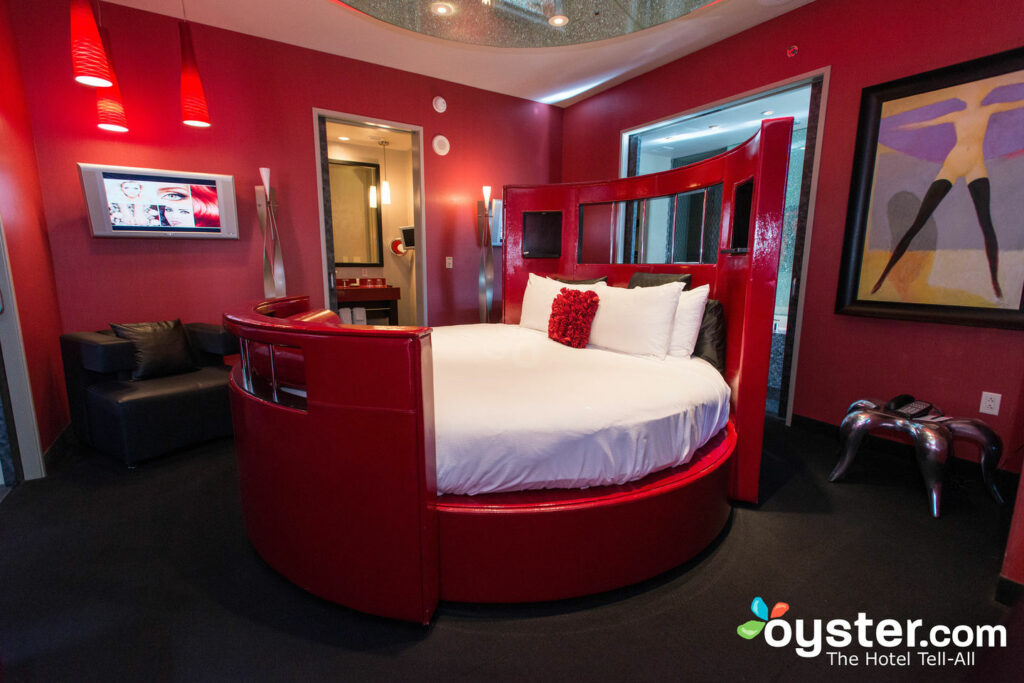 The Palms Casino Resort in Las Vegas pulls out all the stops when it comes to corny romance. Book the Erotic Suite for a rotating round bed and a shower with a stripper pole and nightclub lights. The Crib Suite has a hydraulic bed that tilts and shifts, while the Two-Story Sky Villa has a glass pool that extends out from the balcony and a personal massage room.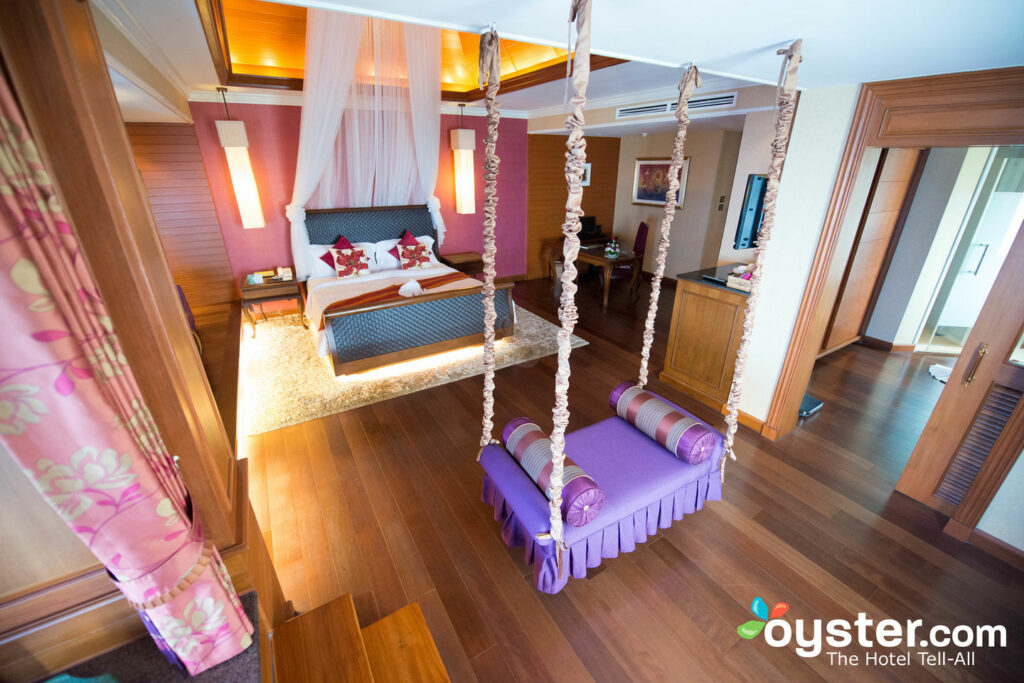 You and your partner can literally swing into Valentine's Day on a couple-sized swing in The Diamond Cliff Resort & Spa's Romantic Suite in Thailand. It's purple and frilly—a perfect romantic addition to the rose petals strewn on the bed and in-suite hot tub. The hotel is also offering a Valentine's Package that includes wine upon arrival, breakfast buffets, a romantic dinner, a floral bath, free cocktails, and fresh tropical fruit.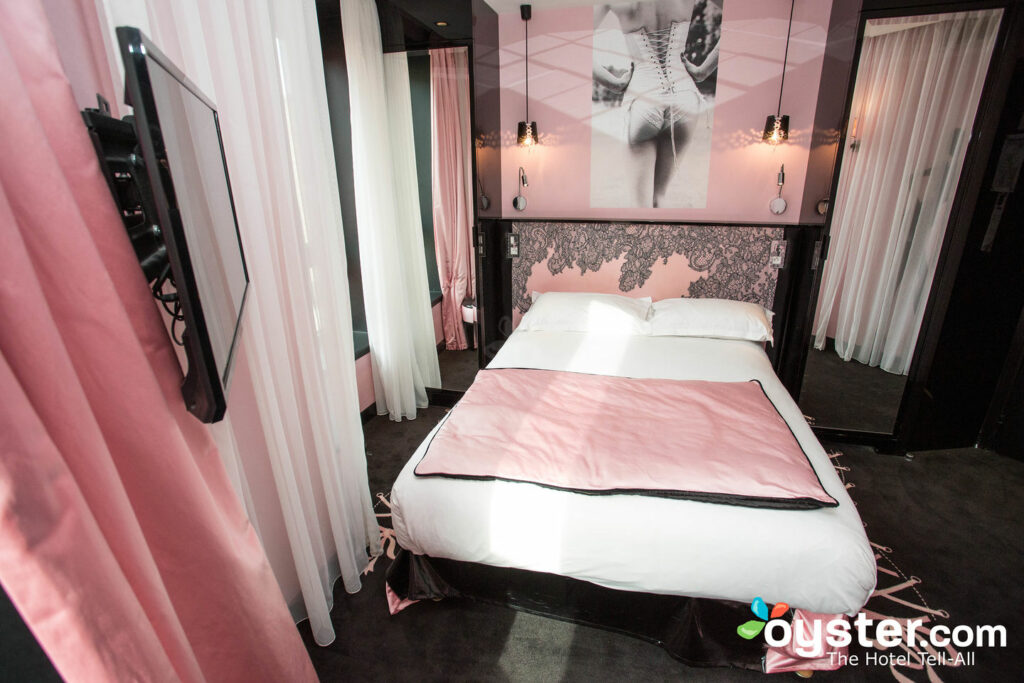 What's more fun than a themed hotel for a cheesy Valentine's Day experience? Hotel Vice Versa in Paris is designed to reflect the seven deadly sins, so the rooms are outrageous and absolutely provocative. The Anger Rooms have knives sticking out of the walls, while the Gluttony rooms have round beds decorated like cupcakes. And the Lust rooms? Well, they're sexy with a pink-and-black color scheme, heart-shaped sinks, and bodice laces on the carpet and lamps. Hotel Vice Versa also offers a few packages with Love Boxes, Champagne, and roses to add to your Valentine's Day celebration mix.
You'll Also Like:
All products are independently selected by our writers and editors. If you buy something through our links, Oyster may earn an affiliate commission.