Niagara Falls has captivated the hearts and imaginations of travelers for years. Once a prime honeymoon destination, the region around the falls has -- over time -- developed into a hyper-touristy world where tacky museums sit alongside gorgeous parks, casinos, wineries, and fast-food joints. With so much to see and do, we thought we'd help you out by breaking down where to stay, what to see, and how to save a few dollars in the process. Check out these eight tips below to make sure you have the best Niagara Falls vacation, whether you're on a romantic getaway with your sweetheart or have kids in tow.
1. Head to Canada.
We're just going to come out and say it: the best views of the falls are found in Canada. Niagara Falls, Ontario, provides long and direct vantages onto the American Falls, Bridal Veil Falls, and the Horseshoe Falls. The Niagara Riverfront on the Canadian side also happens to be a beautiful and bustling place, filled with lovely landscaped gardens, leafy paths, and plenty of benches to take in the spectacle. Many of the city's hotels are clustered on the steep hills that lead up from the river and gorge, meaning that jaw-dropping views aren't in short supply from hotel rooms as well. The busy border between the United States and Canada is easy enough to cross on foot or by car, but be aware that even for a quick day trip, you'll need a passport to enter Canada. Plan ahead, as wait times for new passports in the U.S. can take as long as eight weeks.
2. Or, hang out on the American side.
While you won't get the same jaw-dropping views of the falls from the American side, the acreage immediately surrounding them in the United States is protected parkland. The city itself doesn't exactly have much charm and can feel a little rough around the edges, but the wooded trails of Goat Island and Niagara Falls State Park's cliffside pathways put the falls so close that you can touch them (though we might strongly recommend against that). In fact, Niagara Falls State Park is the oldest state park in the nation. Travelers on the American side compete with far smaller crowds, meaning you might even find a spot where the only sound you hear is rushing water and your own thoughts — and that's the point of nature's majesty, right?
3. Prepare to get wet (and pack accordingly).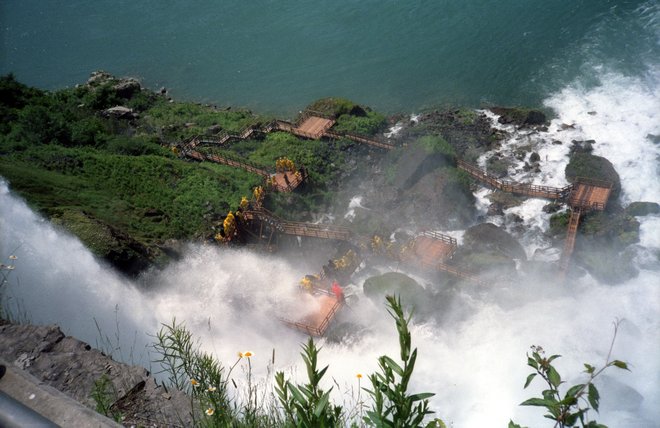 If you plan on doing any of the heart-pounding activities that offer up-close-and-personal encounters with the falls, you're going to get wet. On the American side, Cave of the Winds is a must do for those who like a little pulse-pounding adventure. Tickets are relatively reasonable, and travelers are given pairs of sandals to navigate the long wooden pathways that wind down the cliffs and behind the diminutive (but still impressive) Bridal Veil Falls. The wooden pathways are rebuilt every spring, and Cave of the Winds isn't open during the winter. Alternatively, Maid of the Mist boats (called Hornblower Niagara Cruises on the Canadian side) depart from both sides of the river. These tugboat sized ferries then depart into the churning waters of the Niagara Gorge, pulling ever closer to the Horseshoe Falls and its nearly 700,000-gallon-per-second cascade. Cheap plastic ponchos are ubiquitous on both sides of the falls, and while they are helpful in keeping most of your body dry, you'll want to consider bringing extra socks and footwear.
4. Don't be afraid to indulge in kitsch.
The glut of the tourist-oriented activities are on the Canadian side of the river, and it's an unabashedly tacky array of sights and sounds. Instead of looking for the bespoke within this haystack of cheesiness, we suggest indulging your kitsch-loving impulses and taking in all of the tacky entertainment without pretensions to high-minded pursuits. Clifton Hill and Victoria Avenue form the tourist heart of Niagara Falls, Ontario. In this area, you'll find all of the fast food your stomach could ever want, plus classic tourist traps like Ripley's Believe It or Not! Museum and Louis Tussaud's Waxworks. For couples, it might be worth bonding over getting spooked at one of the year-round haunted houses in town. If you're looking to up the nostalgia factor even more, make sure to book a hotel room with a heart-shaped bathtub or hot tub right in the bedroom — you'll be living like it's 1975.
5. Take historic day trips and visit quaint towns.
The history of the Niagara region goes way, way back in time — and much of it is military-focused, with Old Fort Niagara on the American side of the border and Fort George on the Canadian side. Both played roles in the War of 1812. These days, Old Fort Niagara has amazing Lake Ontario and river views, and puts on historical reenactments that can be fun for families. It's a little under 25 minutes away by car from Niagara Falls, New York. On the Canadian side, Niagara-on-the-Lake is worth exploring for at least a day or two. It's about a 30-minute drive from the Canadian side of the falls. This quaint town — more appropriate for the mature bed-and-breakfast set than young families with kids — is packed with galleries, cafes, and upmarket eateries. It's also home to a gorgeous lakefront and beach, a golf course with stunning lake views, and Fort George.
6. Discover under-the-radar local vineyards.
Here's a little known fact: western New York and southern Ontario are home to a vast wine-producing region worth visiting. The low, rolling hills of the region and terrain that's wedged between two climate-regulating lakes make this a prime place for grapes like riesling, chardonnay, and pinot noir. What's more? The vibe throughout the region lacks the pretense of some other more well-known American wine regions, and most of the vineyards here are tiny. That translates to warm welcomes at nationally and internationally recognized properties. In the United States, the Niagara Wine Trail is home to the Honeymoon Trail Winery, A Gust of Sun Winery, and Vizcarra Vineyards, among others. There are also seasonal festivals that are worth checking out, including a summertime wine-and-cheese event that takes place across 10 vineyards in New York's Niagara region.
7. Bring the kids for some family fun.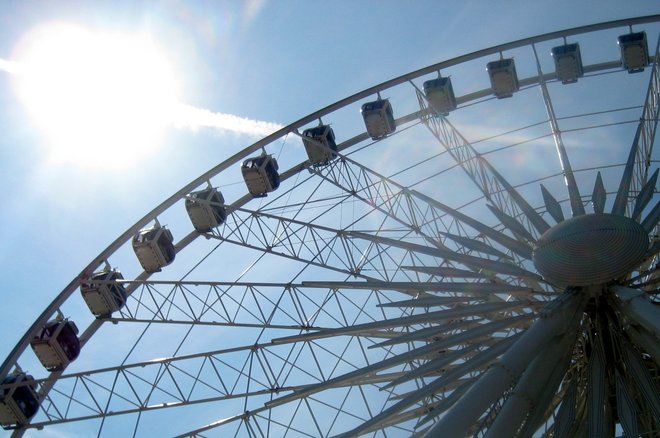 While the cliffs overlooking the Niagara Gorge might not exactly inspire calm in parents of energetic kids, there are more than enough kid-friendly activities in town to keep the little ones happy. Families with younger kids will do best on the Canadian side, as there's a wider array of hotels available plus way more activities on offer. Those of us who've been to the falls as children fondly remember the nightly light show that takes over the falls, projecting bright colors onto the roaring white waters. For indoor distractions, check out Hershey's Chocolate World, the Niagara SkyWheel, and one of the many indoor water parks on the Canadian side (Great Wolf Lodge and Fallsview are two of the most popular). For something a little more in touch with nature, check out the Niagara Parks Butterfly Conservatory, which is home to at least 2,000 butterflies at any one time.
8. Save a little cash.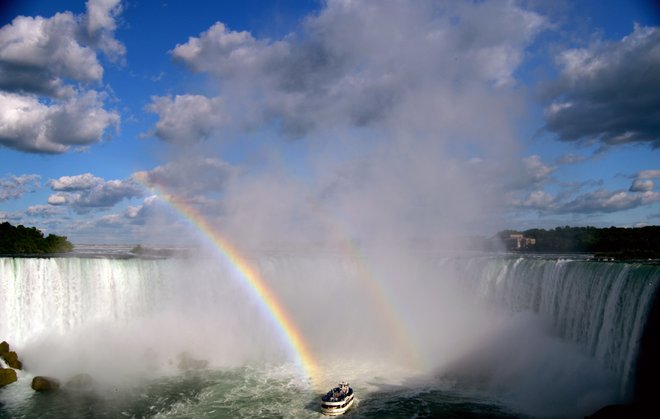 Like all tourist-packed destinations, spending quality time in Niagara Falls won't come cheap. However, that doesn't mean you have to completely break the bank to visit here. Check rates at hotels on the Canadian side if you're traveling with a family, as this will save you on commuting time and gas costs crossing the border every day to the kid-friendly activities. This is particularly true as room rates on both sides of the falls are roughly the same during high season. Many of the hotels in Niagara Falls, Ontario, have their own miniature theme parks or water parks and will bundle admission to those attractions with rates. There are also passes that can help lower entry fees into some of the falls-related activities on the Canadian side, including river cruises and Journey Behind the Falls. However, unless you plan on seeing the falls from every possible vantage point, it may not be worth shelling out the cost upfront. That said, these passes do include free multi-day use of the tourist-friendly WEGO system that shuttles travelers around town.
There are plenty of hotel options in Niagara Falls on both sides of the Niagara River. For travelers who want sharp and modern digs with prime views directly onto both falls and the Niagara Gorge, check out The Tower Hotel on the Canadian side. Views are top-notch, and the style is far nicer than you'll find at some of the unintentionally retro spots elsewhere in town. Travelers who would prefer a little nostalgic kitsch might do well at the Travelodge Hotel Niagara Falls Fallsview, which features heart-shaped hot tubs and country-inspired interiors. For grown-ups looking to add a little entertainment to their stay, check out the Seneca Niagara Resort & Casino, which has a range of mostly polished rooms and resort-like perks. Added bonus? It's stateside, so those without passports can be within striking distance of the falls without crossing the border.
Stay warm in the frigid and windy northern temps with this oversized scarf from Free People.
For more travel tips and inspiration, follow us on Flipboard.
You'll Also Like:
All products are independently selected by our writers and editors. If you buy something through our links, Oyster may earn an affiliate commission.