Science is all around you all the time -- quite literally, taking into account biology, chemistry, physics, and more. But science has recently made headlines on the U.S. political scene, with the slashing of the budget of the Environmental Protection Agency (EPA) and the removal of government restrictions to prevent climate change. Promoting the sciences is now more important than ever, so it's very fitting that hospitality world is now sharing science with travelers, via the opening of Chicago's new Hotel EMC2, part of Marriott's Autograph collection, scheduled for late spring or early summer.
The entire hotel, located in the popular Magnificent Mile neighborhood, is guided by a Leonardo da Vinci quote, appropriately displayed in the lobby: "Study the science of art. Study the art of science. Develop your senses — learn how to see. Realize that everything connects to everything else." Working at the intersection of art and science, acclaimed design firm Rockwell Group tackled the 21-story building. In the lobby, for instance, is a seven-foot-tall zoetrope — an early animation device — depicting a figure ice skating, blending the science of motion pictures with an aesthetic, sculptural component. The 195 guest rooms are inspired by 1920s science laboratories, complete with a "wet lab" (a glass bathroom with a curtain for privacy). And though they are state-of-the-art, the meeting and event spaces are decorated with vintage-style works of art resembling chalkboards on the wall, covered in equations and theories.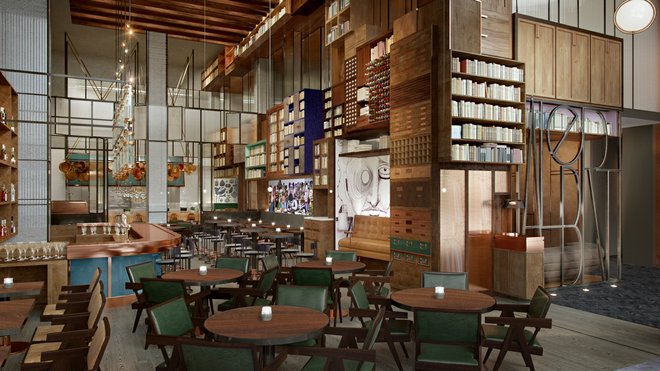 The hotel's restaurant, Albert — nodding, of course, to the genius whose famous equation gave the property its name — seats 120 patrons in a space evoking a 1930s university classroom. There will also be a 20-seat open kitchen in which guests can observe Brandon Brumback experiment with new dishes. Diners shouldn't miss the infused liquors made in house and developed by Food & Beverage Director Rebecca Royster.
"It's always intrigued me that people distinguish art and science as two different disciplines; I see them as one in the same," Scott Greenberg, President & CEO of SMASHotels, said in a statement. "Our unique hotel will pay homage to the symbiotic relationship of these fundamental concepts and transcend the traditional hospitality experience. It will educate, inspire and ignite imagination and innovation at every turn, challenging guests to expand their understanding of how everything is connected."
As Bill Nye the Science Guy says, science rules.
View in-depth reviews and photos of 154 hotels in Chicago.
You'll Also Like:
All products are independently selected by our writers and editors. If you buy something through our links, Oyster may earn an affiliate commission.