Raise your hand if you like freebies. That's everyone, right? Even better, you can earn those freebies by doing something you love -- going on a cruise. Every major cruise line runs loyalty programs, giving devoted travelers rewards for simply heading out on vacation. It's a win-win: Travelers get incentive to get back onboard again and again, and cruise lines get loyal customers eager to collect more lavish perks. Everything from commemorative pins to free cruise trips can be earned, depending on the program and how often you set sail. Take a look at our quick guide below covering all the major loyalty programs.
Carnival's VIFP Club
Carnival's touts itself as the cruise line for big-time fun, so it makes sense that the line's loyalty program calls each member a VIFP (a.k.a. Very Important Fun Person). Points are accumulated for each day of sailing, moving from Blue and Red membership levels up to Gold, Platinum, and Diamond. From the get-go, members are signed up for exclusive offers from the brand. At the Red level (up to 24 points, earned after your second sailing), passengers get a free bottle of water. Gold members (25 to 74 points) get commemorative pins for every sailing and a free farewell drink. But once the Platinum and Diamond levels are achieved (above 75 points), the freebies really pile on, including extras like chocolate-dipped strawberries, sea-day brunches, priority debarkation or tendering, or even cabin upgrades. (Find more info at Carnival benetfits.)
Our Pick for a Carnival Cruise: Carnival Vista
Norwegian's Latitudes Rewards
In 2017, Norwegian Cruise Line expanded its Latitudes Rewards Program to two new levels up at the top: Platinum Plus (175 to 699 points) and Ambassador (700-plus points). All of which shows just how crazy-popular this program is for NCL's superfans. A single point is accumulated for each night you sail, but members can also earn points for booking suites or cabins in The Haven. Points can also be earned for booking deals from the program's Insider Offers. What can those points get you? Well, even at the starter Bronze level (1 to 29 points), passengers get priority check-in, a bottle of sparkling wine, and additional internet minutes. Gold (55 to 79 points) and Platinum (80 to 174 points) levels heap on the discounts for shore excursions and spa treatments. But it's those lucky Ambassadors that get the ultimate prize: a free seven-day cruise. (Find more info at Norwegian Cruise Line Reward Program.)
Our Pick for a Norwegian Cruise: Norwegian Breakaway
Royal Caribbean's Crown and Anchor Society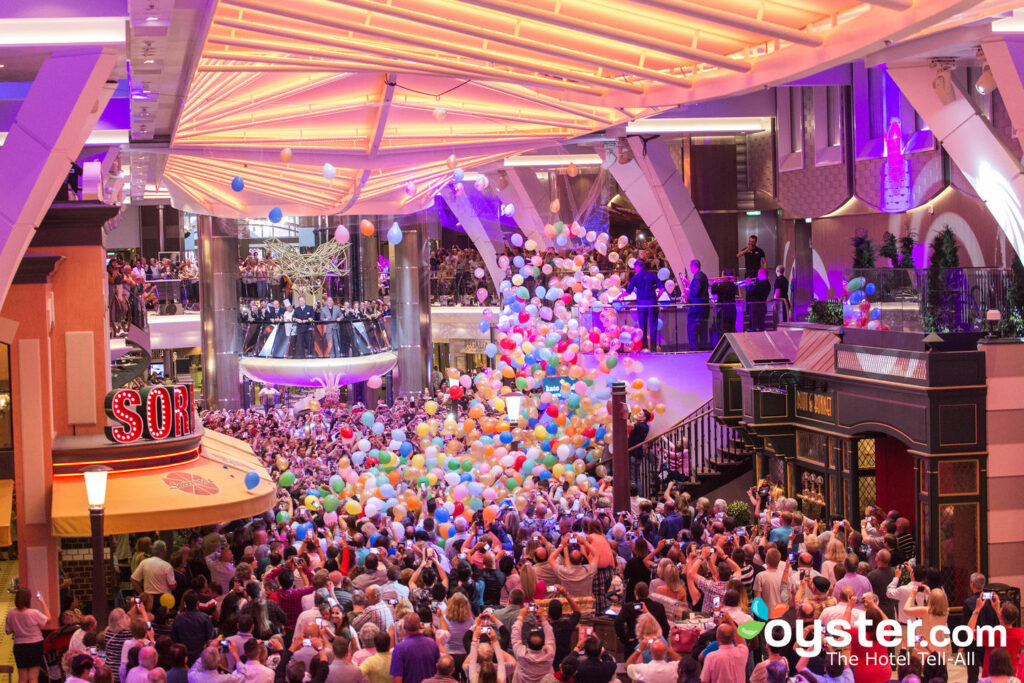 Royal Caribbean's logo — an anchor sporting a trident-shaped crown — has become the calling card for its loyalty program. And it has some deeply devoted fans climbing up its six levels: Gold, Platinum, Emerald, Diamond, Diamond Plus, and Pinnacle Club. The program is a points-based system where every night on a Royal Caribbean ship earns a single point, but suite bookings get double points. After three points, members qualify for entry-level Gold status, with priority check-in, an exclusive departure lounge with a continental breakfast, and reduced rates on upgrades. At 30 points, the Platinum level kicks in, with added perks like discounts on balcony and suite cabins and signature pins. Welcome snacks and beverages are added to the Emerald level (55 points). Diamond and Diamond Plus (starting at 80 points and 175 points) add other VIP perks like priority departure, behind-the-scene tours, and upgraded bathroom amenities. Those that reach the highest rung of Pinnacle Club (700-plus points) can claim, among other freebies, a certificate good for a seven-night cruise. (Find more info Royal Caribbean Crown Anchor Society.)
Our Pick for a Royal Caribbean Cruise: Harmony of the Seas
Holland America's Mariner Society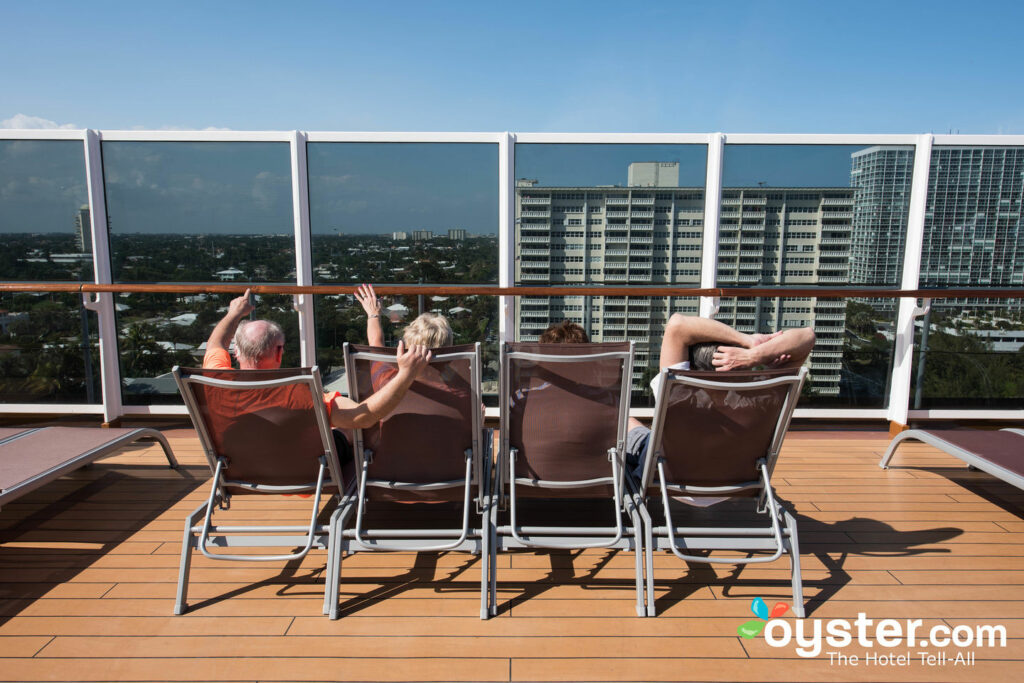 Holland America calls their Mariner Society program "the most generous rewards program at sea." And looking through their perks, there's plenty of truth in that claim. The program operates on a tally of "cruise day credits," where one day sailing equals one credit. But credits can also be earned from suite or penthouse bookings or onboard spending. Levels move from Star Mariner (one cruise completed) to Five-Star Mariner (500 cruise day credits). Even at the entry level, members get a free brunch with sparkling wine and discounts on their third and fourth guests. Two-Star Mariners get discounts on branded clothing and Three-Star Mariners expand those discounts to specialty restaurants and minibar purchases. The top two levels get plenty more perks, such as free wine tastings and laundry service; priority check-in, tendering, and disembarkation; and waived fees for those third and fourth guests. (Find more info here.)
Our Pick for a Holland America Cruise: Eurodam
Princess' Captain's Circle
Cruise loyalty programs aren't just a way to accumulate freebies; they also give you membership into a private club of explorers. (Feel free to invent your own secret handshakes.) Princess' Captain's Circle clearly taps into that sentiment. Even the entry Gold level, open to those who have completed one cruise, gets passengers commemorative pins, collectable stamps in a Princess Passport, and access to onboard events. Ruby members (31 to 50 cruise days) offer a direct line to the Captain's Circle help desk. Platinum level members (51 to 150 cruise days) get a cruise atlas outlining all sailings and their itineraries for that year, plus priority check-in. And the top tier Elites (150-plus days) get goodies like free afternoon tea and wine tastings, and priority tendering and disembarkation. (Find more info at Princess Membership Benefits.)
Our Pick for a Princess Cruise: Royal Princess
Viking's Explorer Society
Ocean cruise lines aren't the only ones with loyalty programs. Viking, which offers both river and ocean sailings, has its own enticing program. And given its focus on destinations and cultural education, it's no surprise that they've dubbed it the Explorer Society. Joining Viking gives devotees access to limited-time offers. Onboard, members are treated to an exclusive cocktail party. But the real perk kicks in after guests have returned home. In order to encourage another booking ASAP, Viking offers Explorers a travel credit that descends as time rolls on. If you book another cruise within the year, you'll get $200 for each passenger. After two years, it drops to $100. (Find more info at Viking Cruises.)
Our Pick for a Viking Cruise: Viking Star
Celebrity's Captain's Club
Celebrity has the reputation of being a swanky line that's a step above the mainstream. (Mimosas at sea, anyone?) But its loyalty program is incredibly inclusive and starts during (not after) your first cruise. The Preview tier (at zero points) gives passengers access to the Loyalty Desk and the club's newsletter. From there, passengers earn more points based on the number of nights they're sailing and the category of their cabin, with the priciest staterooms earning 18 points per night. Perks grow more lavish the higher you climb. For example, at the Classic level (2 to 149 points), passengers get a free scoop of gelato; the Select level (150 to 299 points) adds priority embarkation; Elites (300 to 749) get an exclusive tea and access to the club's cocktail lounge; and Elite Plus (750 to 2,999 points) gives discounts on drink packages and specialty dining, plus free high-end coffee drinks. The final category, Zenith (3,000 points and up), splashes out on free drink packages and laundry service. (Find more info at Celebrity Cruises Captains Club.)
Our Pick for a Celebrity Cruise: Celebrity Silhouette
Cunard's World Club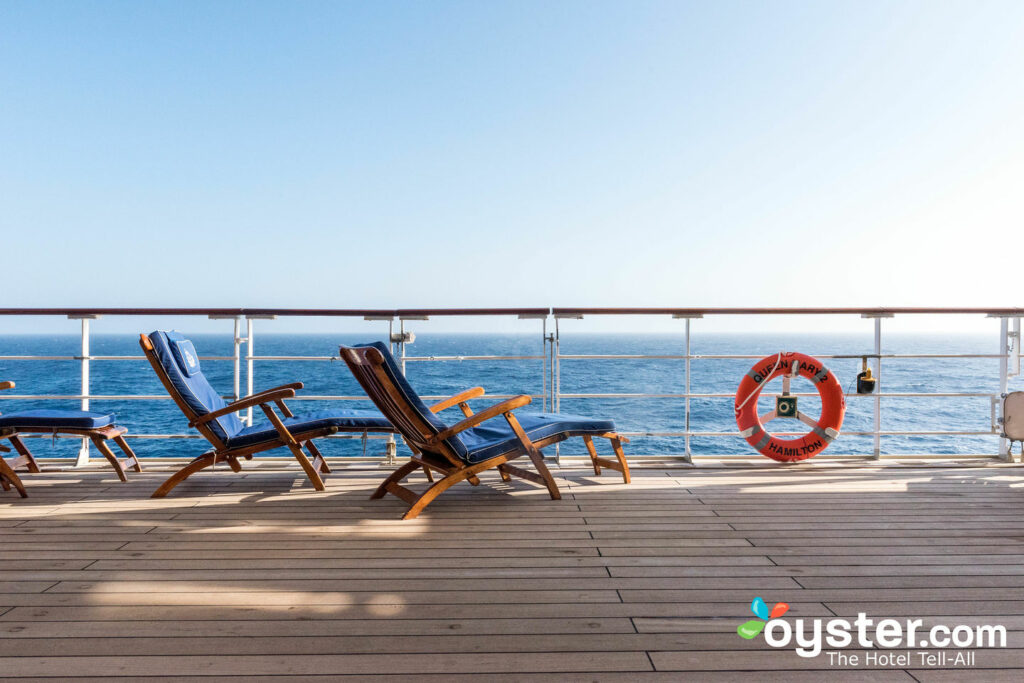 Pinkies up! Cunard is known for its opulent afternoon teas, butler service, and Art Deco aesthetic, all meant to evoke cruising's glamorous heyday. And devoted Cunard fans can accumulate perks based on their number of sailings or nights at sea. The four-tier program starts at the Silver level (one sailing), giving members access to a World Club representative. After two sailings, the Gold level adds free internet hours, a cocktail party, and a commemorative pin. Platinum (seven sailings) doles out free wine tastings and priority check-ins for voyages from New York and Southampton. The highest level, Diamond (15 sailings or 150 nights), receives all of the above plus a free dinner at one of the specialty restaurants and a dedicated Diamond concierge. (Find more info at Cunard.)
Our Pick for a Cunard Cruise: Queen Mary 2
Disney Cruise Line's Castaway Club
Devoted Mouseketeers (Ryan Gosling among them) could consider the Castaway Club the Mickey Mouse Club at sea. One of the more straightforward loyalty plans of the bunch, the Castaway program has three tiers that correspond to the number of cruises you've completed. The first, Silver, is for passengers that have done one cruise with the line. Even at this level, members get a dedicated help hotline and a welcome gift. After their fifth cruise, members can level up to Gold status, where they can attend an onboard reception with entertainment and get exclusive discounts. At the Platinum level, attained after 10 cruises, members get all of the above plus priority check-in and free dinner at the line's Palo restaurant. (Find more info at Disney Cruise Line Castaway Club.)
Our Pick for a Disney Cruise: Disney Magic
MSC's Voyagers Club
By now, it's obvious that plenty of cruise lines offer loyalty clubs, but MSC is the only one that gives travelers a loyalty program status match. Essentially, those frequent cruisers who have earned, say, Platinum or Five-Star levels from any competing programs will immediately enter MSC's program at the equivalent tier. It's a genius ploy to get loyal cruisers to switch from their longtime favorites over to MSC. But apart from their matching offer, how does MSC's Voyagers Club operate? Points are accumulated based on both the type of ship booked within the line's fleet and the length of the sailing. Onboard purchases and extra expenses, like spa treatments, also earn points. Membership covers five levels — Welcome (the first voyage), Classic, Silver, Gold, and Black (at 10,000 points or more) — and perks extend from welcome drinks and a dedicated help desk all the way up to free bathrobes, slippers, and dinner for two at specialty restaurants. (Find more info at MSC Cruise Voyagers Club.)
Our Pick for an MSC Cruise: MSC Seaside
You'll Also Like:
All products are independently selected by our writers and editors. If you buy something through our links, Oyster may earn an affiliate commission.