Abu Dhabi and Dubai are two of the seven emirates that make up the United Arab Emirates, and they differ greatly in their personalities. Here's a little more about these two destinations, including what you should see and where you should stay while you're there, which will hopefully help you choose which destination suits you better. Though, at the end of the day, you could always visit both! Abu Dhabi and Dubai are about an hour and a half away from each other, which makes traveling between them a breeze. A local bus ride between the two will cost 25 dirham one-way, while a taxi ride will set you back roughly 250 dirham. But if your schedule only permits a trip to one locale, read on to learn more about each.
Abu Dhabi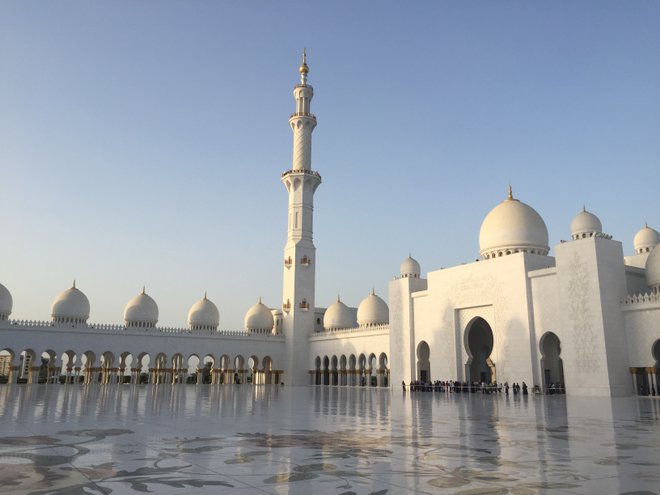 Abu Dhabi is the capital city of the UAE and the seat of the government. It's undoubtedly more quiet and conservative than flashy Dubai, but that's part of its appeal.
If you're looking for nightlife and activities, you won't find it here. Despite a large expat population in Abu Dhabi, there just isn't much to do when the sun goes down. If that's not important to you and culture is what you're after, opt for a few nights in Abu Dhabi.
Sights
There are a few great things to see and do during the day in Abu Dhabi, including the Grand Mosque, one of the largest and most incredible mosques I've ever seen. Ladies, you'll be given a full length hooded robe, so don't worry too much about what you're wearing before you get there. Try to arrive at sunset so you can see the lights change as the sun goes down.
You should also take a visit to the Abu Dhabi Falcon Hospital, the world's largest hospital specific to falcons. You'll learn a ton about these beautiful birds and their cultural significance on your visit here, and if you're lucky, you'll get to hold and feed a falcon.
For the adventurous, check out Ferrari World, a theme park home to some of the world's largest and fastest rollercoasters, and for fun, stop by Emirates Palace Hotel to try their famous cappuccino, topped with gold flakes (60 dirham).
Where to Stay in Abu Dhabi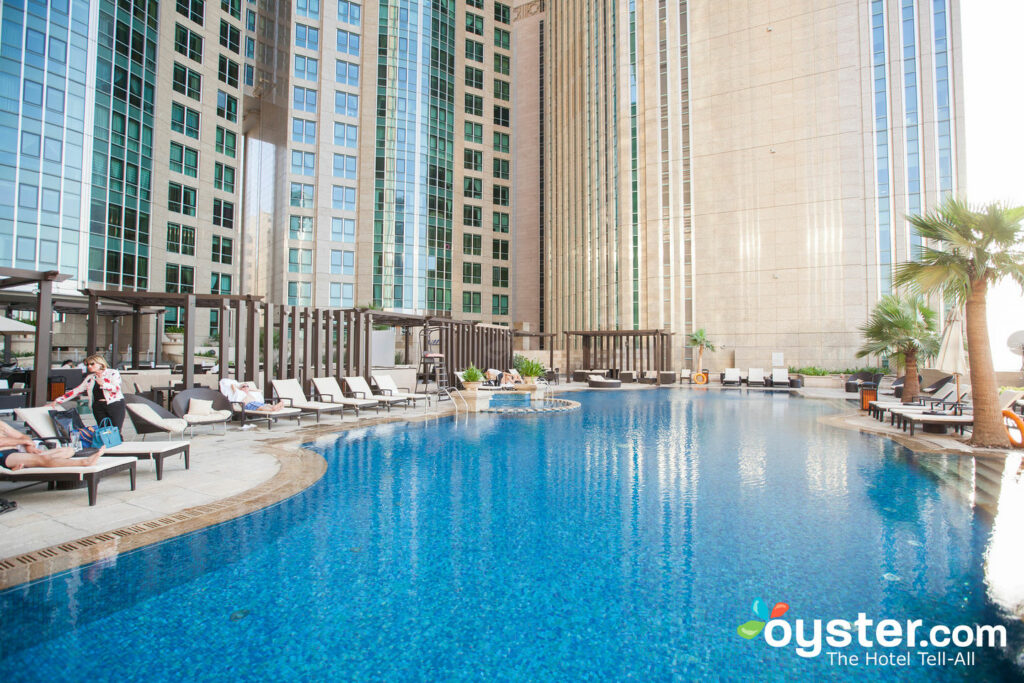 Set right near the water, this gorgeous hotel is top-notch with all of the amenities you'd find in an upscale hotel. I loved their pool bar, Chillo-s, and their pool. Rooms run around $150 per night, which is great for what you get.
For budget-minded travelers, the Royal Rose Hotel gets top marks. The decor here is French, with just a touch of over-the-top gold (this is the UAE after all), but it's right in the middle of the city, close to the corniche, and rooms start at around $77.
If you want to experience real UAE luxury, book a stay in the Jumeirah. With access to a private beach and attentive staff catering to your every need, you can really relax and enjoy all that the property offers.
Dubai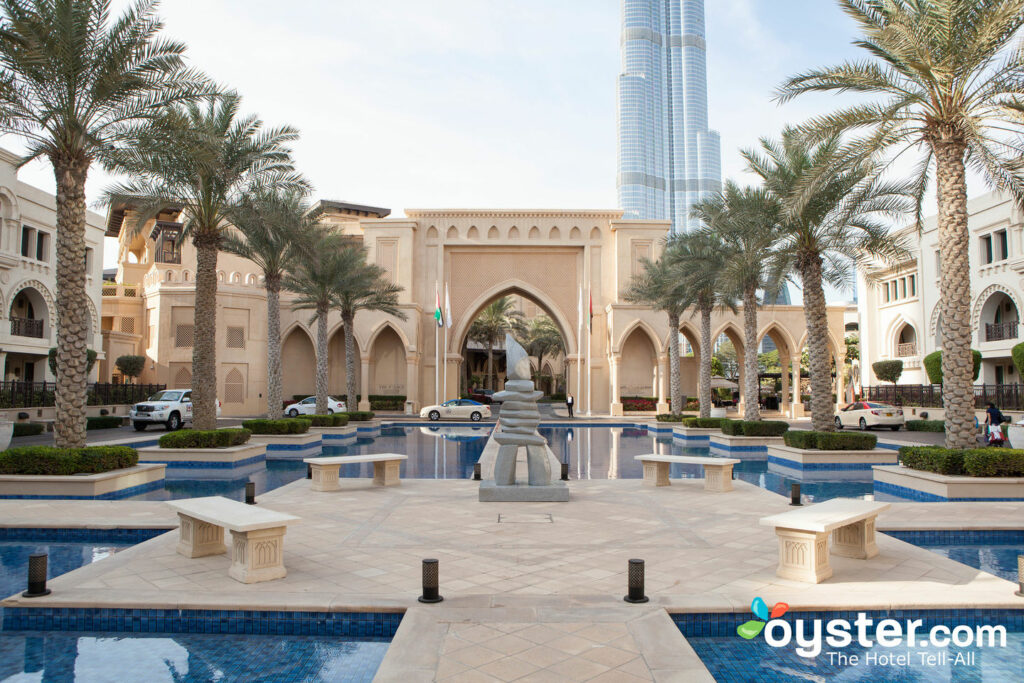 You've undoubtedly heard stories of the glitz and glam of Dubai. This is after all the home of the world's biggest skyscrapers, including the tallest building in the world, the famous Burj Khalifa.
While you can't readily buy alcohol at stores, you can certainly find it in bars and resorts here and there is a healthy nightlife scene made up of expats and travelers. If going out isn't what you're after, there are plenty of sights to keep you busy for a few days.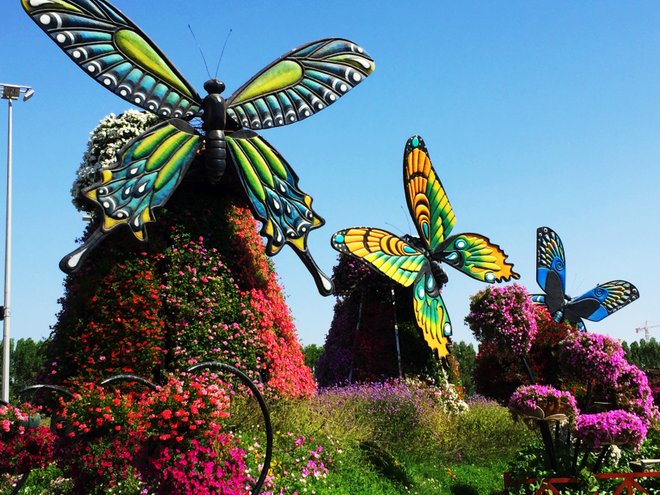 Sights
If you want to be wowed, take a stroll through one of Dubai's famous malls, Mall of the Emirates or Dubai Mall.
Within Dubai Mall you'll find the entrance to Burj Khalifa, over 150 stories tall. Your ticket will take you up to the 125th floor, but check the weather before venturing up as smog or clouds could obstruct your view of the city.
Within the Mall of the Emirates, you'll find Ski Dubai, an indoor ski resort that puts you on the slopes when it's 100 degrees outside.
To feel like you've fallen down the rabbit hole, take a stroll through the Dubai Miracle Garden. It's best to visit when the sun starts to go down as there isn't much shade, though the garden arrangements are impressive.
When you've had enough fun in the sun, cool down on Jumeirah Beach, which you'll have direct access to if you stay at a hotel on the water like Jumeirah Beach Hotel.
Where to Stay in Dubai
Escape the sometimes overwhelming bling of Dubai in this modern hotel that feels very old-world Arabia. Rates run around $150/night.
If budget isn't a concern, snag an overwater villa at Anantara Dubai. The villas have glass panels in the flooring, the only place you'll find this in the United Arab Emirates. If that's not enough, the property has three lagoon pools and a giant infinity pool.
Get the celebrity treatment at the Sofitel on the east crescent of Jumeirah Palm with stylish rooms and bathrooms, poolside service, and more.
So, Dubai, or Abu Dhabi?
We spent three nights in Dubai and one in Abu Dhabi, and we were glad to have experienced both, though we did feel like we wished we had more time to enjoy the calmness of Abu Dhabi. Ultimately it comes down to what you're looking for in a place — action or quiet?
Remember that while it's easy to get between the two cities, having to go three hours (1.5 hours each way) does wear you out. We learned this the hard way, staying in Dubai but booking activities in Abu Dhabi and having to go in and back out.
Which would you prefer?
When in the UAE, it's important for ladies to keep a scarf on hand when exploring the area in order to cover up when needed out of respect for the culture. This one from Nordstrom comes in a few not-so-bold colors which will be perfect for your trip.
You'll Also Like:
All products are independently selected by our writers and editors. If you buy something through our links, Oyster may earn an affiliate commission.