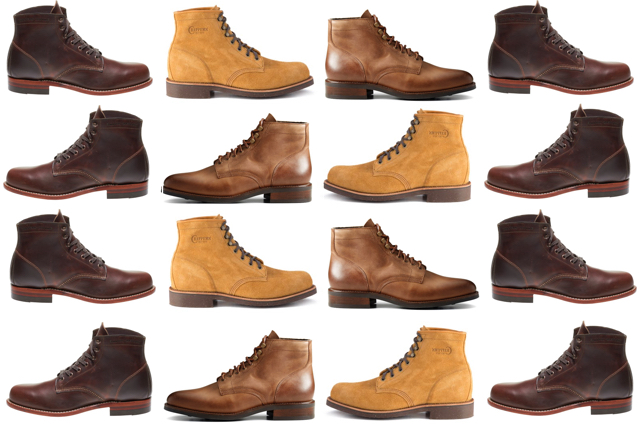 My life in boots can be summed up as limited: a pair of black dress boots and an urban workwear pair are all I have to show. With that in mind, I recently decided that I needed a footwear upgrade for a series of trips over the next few months. My itineraries are mostly urban, so New York City's landscape -- walk-up apartment buildings, flooded subway staircases, commutes by bicycle, and trash-filled sidewalks -- seemed like the ideal proving ground. Enter the Huckberry Chippewa Service Boot.
This is a great hybrid boot that's casual enough for everyday wear, and appropriate for both untucked and slightly more formal moments. It's also durable in the right ways -- the Vibram sole is used on the world's toughest hiking boots -- making it a perfect pick for all types of weather and urban terrains (the cobblestones of Europe, the uneven and dusty sidewalks of Mexico City, or the malls of Hong Kong). The upper is flexible enough to fit under pants without being bulky, and gives enough for everything from scaling endless staircases to biking to running to catch the subway.
Plus, the Chippewa Service Boot comes in a number of colors. I kicked it in the Roughout Tan -- a light suede option -- though more versatile shades are available. The light suede upper on the pair I tried does get a little beat up and picks up dirt pretty easily, so if you're looking for a boot that's going to look fresh after weeks of wearing them, opt for darker shades like Tan Renegade or Cordovan. You'll want to drop your size by half to get the right fit, and while the boots have a somewhat narrow silhouette, they are comfortable even for those of us with wider feet.
Are these the lightest boots on the market? No, but after a full day of wearing them, I didn't feel like they were too heavy. However, you'll want to wear them on any flights because they take up potentially costly weight in your luggage or carry-on bags. Unlike other brands that can be too loose or too tight at first, the Chippewa Service Boot didn't cause any pressure points or discomfort. They aren't cheap by any means, but you'll be able to make this your go-to footwear for any trip, and for a wide range of occasions.
You'll Also Like:
Oyster.com is a participant in the Amazon Services LLC Associates Program, an affiliate advertising program designed to provide a means for sites to earn advertising fees by advertising and linking to Amazon.com. Oyster also participates in the SkimLinks and SkimWords affiliate programs.
All products are independently selected by our writers and editors. If you buy something through our links, Oyster may earn an affiliate commission.