Additional reporting by Stefanie Waldek.
Whether you're going away for a week or a weekend, the right carry-on bag can make or break your trip. Have you ever struggled to cram your heavy carry-on into the overhead bin while angry passengers waited and stared? Ever not had enough room to keep all your flight essentials close by? Or ever just felt not-so-stylish while wheeling your bag down to the gate? Even if you're checking three bags (or none at all), there's a perfect bag to make getting on and off the plane quickly a breeze while still making room for anything you might need mid-flight -- and you can look good doing it! Here are 10 of our favorite choices for the perfect carry-on.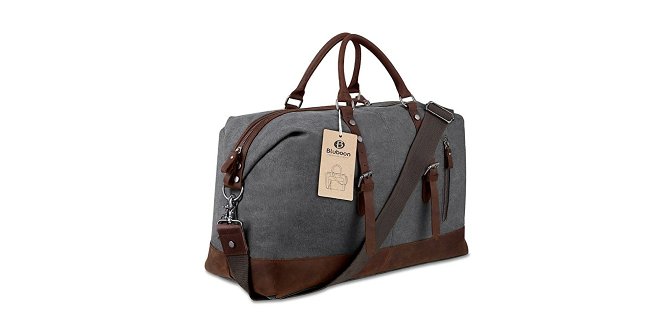 Our personal favorite choice for a carry-on is large leather or canvas duffle bag — perfect for not just a weekend away, but any 3- or 4-day business trip you might be taking. [Writer's note: I recently spent a long weekend in Martinique with just a duffle and had room to spare.] Depending on your destination, it shouldn't be hard to fit a few days worth of clothes into one and still be able to slide it into any overhead bin, or better yet, stuff it under the seat. If you're seated near the front of the plane, you'll be able to fly right off and getting your trip started right away. Best of all, picking a stylish bag, like this handsome canvas and leather duffle from Bluboon, allows you to go from home to the office to the gym after work. You might end up living with your weekender all week long!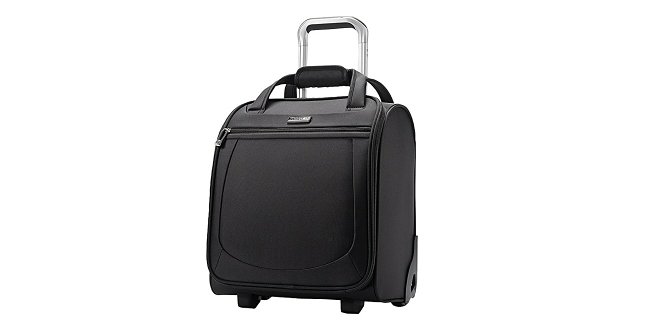 When thinking about what makes the best bag for travel, it's best to look to the travel pros — literally, those who fly professionally. Every time I see the flight crew roll up to the gate, they have some version of this handy bag rolling behind them. This compact suitcase is small enough to fit comfortably under the seat and has enough pockets and compartments to fit all of your travel must-haves. In addition to the main compartment, there is an exterior pocket for passports, boarding passes, and even a tablet or other small device. If it's a work trip you're taking, there is also an inner sleeve for your laptop. This is a great overnight bag for a frequent business traveler, someone who's in the air as much as the pros.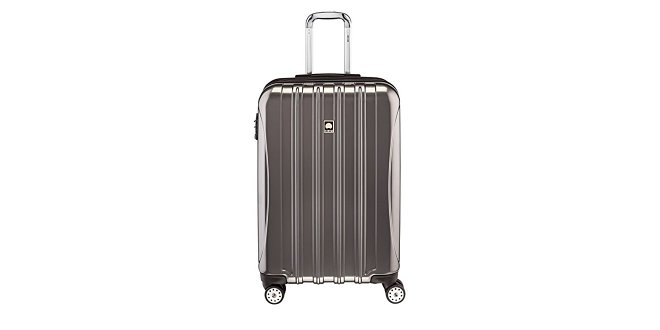 If you're looking for a more modern or convenient carry-on than a duffel, consider this lightweight polycarbonate spinner from Delsey. The double spinner wheels make for easy maneuverability and won't make you feel as if you're lugging your case through the terminal. The Delsey also features a comfortable handle system that locks into two positions for ease of use. As far as packing room goes, the suitcase has two large fully-lined compartments with multiple pockets, allowing easy access and organization for all of your stuff. Web straps and a zippered divider secure clothing and help minimize wrinkles, in addition to making sure everything fits in. Also, the bag can expand up to two inches for additional packing room. This is perfect for the return trip, as you know you almost always come back with more than you started with.
For a classic rolling carry-on, look no further than Travelpro's Platinum Magna 2. Travelpro was founded by airline pilot Bob Plath, who invented the Rollaboard when he got tired of carrying around his luggage, so you know you're in good hands here. The company takes its luggage engineering very seriously — they even do temperature tests to make sure the hardware works properly at a range of temperatures — so you can expect near perfection when it comes to these bags. The Platinum Magna 2 is lightweight and glides especially well (it has self-aligning wheels), making it easy to roll through a crowded airport.
When you live in an apartment, space is always at a premium, and most carry-ons do take up a fair amount of it when they're stored. Enter the Biaggi Contempo carry-on, which actually folds (relatively) flat for storage. When you're ready to hit the road, it pops right back open, giving you plenty of space to stash your belongings. We're also a fan of its four spinner wheels, which makes mobility a breeze.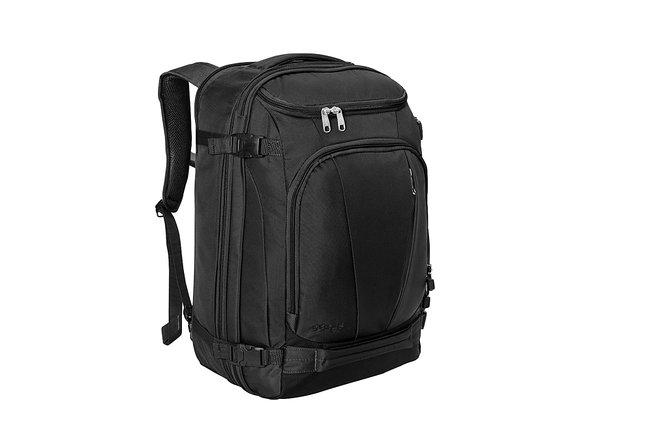 Sometimes it's easier to travel with a backpack rather than a rolling carry-on (cobblestone streets aren't always wheel-friendly). If you're looking for maximum storage, consider the eBags TLS Mother Lode Weekender Convertible, which has a rectangular shape that mimics that of a traditional suitcase — it even opens wide like a suitcase, so you don't have to go digging through all your items.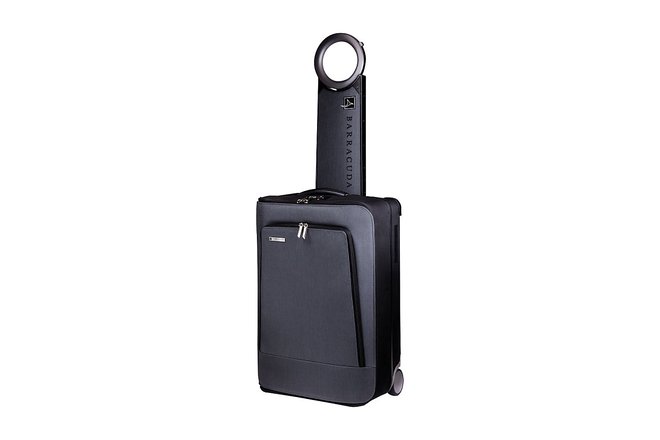 We've already mentioned the storage benefits of a fold-flat suitcase, and if you want one with spinner wheels, the aforementioned Biaggi is your best bet. But if you'd prefer a traditional two-wheeled bag, check out the Barracuda Smart Collapsible Carry-on Luggage. Not only is it collapsible, but it's got a laptop tray, a beverage holder, and a 10,000 mAH USB charger to make your wait at the airport just a bit more bearable.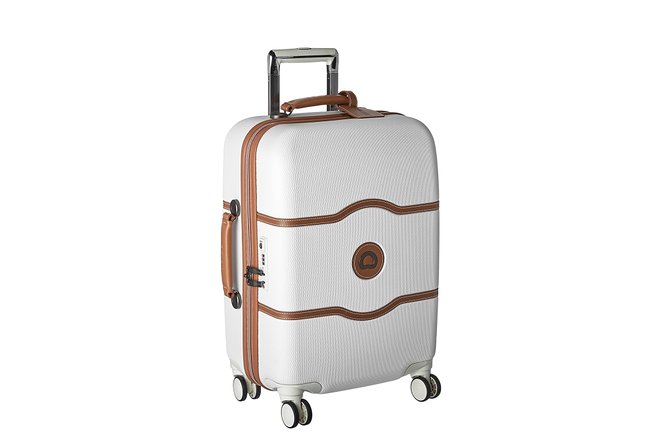 Care for a little nostalgia? The Delsey Luggage Chatelet takes the look of a vintage suitcase and applies it to a very contemporary hard-shell bag. One of its best features its a brake system that solves the problem of spinner suitcases rolling off without you. The Chatelet also has an integrated TSA-approved lock to keep your bag secure.
If you're shopping for a carry-on suitcase that will turn heads, you'll do well with this Tumi bag. Its sleek, modern shell features ripple-like undulations. It's like you're toting a sculpture…that also holds your clothing.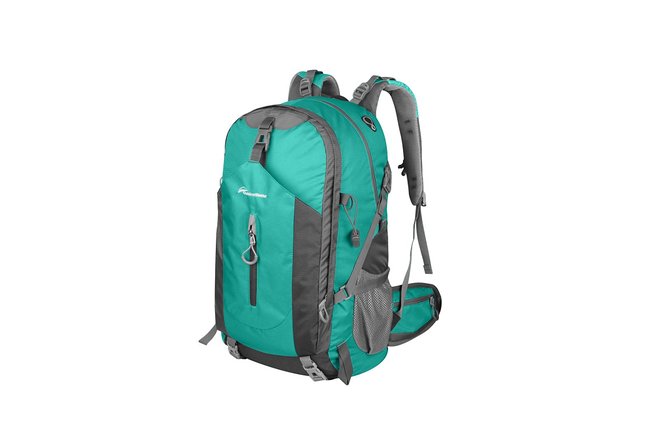 More than just a vessel to bring your belongings on a plane, this OutdoorMaster Hiking Backpack can hit the trails with you, too. There are pockets for all of your gear, a laptop compartment, and a waterproof rain cover to keep the bag dry.
You'll Also Like:
Oyster.com is a participant in the Amazon Services LLC Associates Program, an affiliate advertising program designed to provide a means for sites to earn advertising fees by advertising and linking to Amazon.com. Oyster also participates in the SkimLinks and SkimWords affiliate programs.
All products are independently selected by our writers and editors. If you buy something through our links, Oyster may earn an affiliate commission.