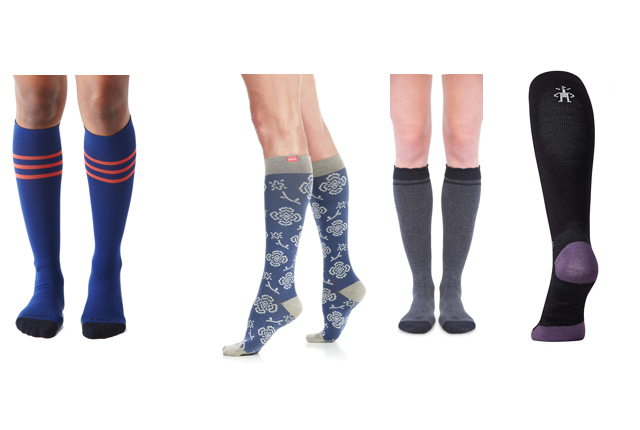 You know that point on long-distance flights when your sacrum is screaming, your knees are stiff, and your calves seem to be puffing up into two little hot-air balloons? Smart air travel habits, like drinking lots of water (and skipping free alcohol on international flights -- sorry), avoiding salt, and frequently walking the aisle, all help with cramped-cabin-induced aches and pains. Smart socks also help.
For those who are unfamiliar with compression socks, allow us to explain: We're talking about socks whose super-snug knit applies pressure to the lower legs, helping to boost blood and oxygen flow. This in turn fights swelling and discomfort. Compression socks are commonly used for pro-athlete and medical purposes, but they're not just for ultra-marathoners and the elderly. They are game-changers for passengers on long-haul flights, when inactivity can lead to lower-body bloating and even blood clots. With that in mind, here are the brands making the best (and best-looking) compression socks on the market.
Polka dots, flowers, and camo print may not seem revolutionary, but when Montana-based VIM & VIGR came to market in 2014, it rocked the sea of black compression wear with bright colors and statement-making prints. Finally, a compression product with both style and substance. In addition to different patterns, the brand offers regular and wide-calf sizing, two pressure levels (moderate and moderate/firm), and four fabric options ranging from lightweight cotton to moisture-wicking nylon. Today, brand devotees range from ICU nurses and office workers to pregnant women and people with varicose veins.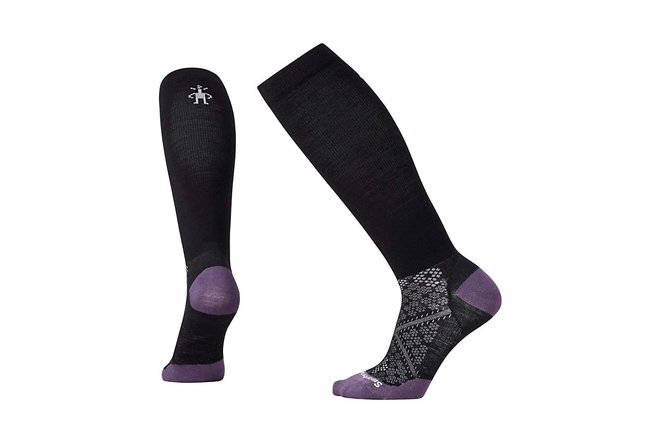 Socks are probably the least sexy thing you can spend 50 bucks on, but SmartWool's PhD Graduated Compression Ultra-Light Socks are some of the best in the game. This style applies mild, measured pressure to keep blood in the lower legs from getting sluggish. Netted areas allow for breathability and the patented merino-blend fabric, dramatically dubbed "Indestructawool" by the company, is in fact way stronger than your average merino wool sock. (One product tester for the company allegedly ran around 900 miles before his pair gave out. We can't speak to that kind of experience personally, but we can say ours have come out on the other side of dozens of machine washes perfectly intact.) Note that while the PhDs do spare buyers the sporty bells and whistles found on most compression socks, their white elastic is visible around the ankle, so they're not the best pair for wearing with suits or professional clothing.
When Comrad launched last year, it did something pretty radical: It took compression socks, and made them cute. The brand's unisex styles — ombre effect, classic stripes, and parachute prints — are fun alternatives to the sporty or utilitarian look usually seen in this category. This is a pick that's equally suitable for the triathletes training at the gym and teachers in the classroom. The socks' tight knit offers an agreeable amount of support for everyday wear, and silver-infused fabric wicks away sweat, minimizes odor, and kills bacteria (I recently wore mine on a 24-hour journey from western Alaska to NYC, and didn't feel the least bit uncomfortable at any point.)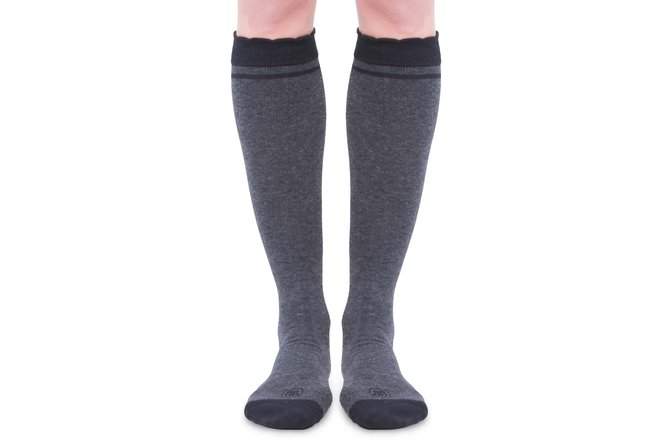 Belly Bandit's heathered gray and charcoal knee-highs earn consistently high marks from buyers, who love both the socks' look and effectiveness. On the looks front, customers praise this option as being one of the few pairs they're comfortable wearing with shorter skirts and dresses. And as for effectiveness, customers say the compression found here is gentle, but still helps to keep the blood moving and prevent uncomfortable swelling. Bonus: Belly Bandit's fabric, like Comrad's, incorporates antimicrobial silver to cut bacteria and smell.
You'll Also Like:
is a participant in the Amazon Services LLC Associates Program, an affiliate advertising program designed to provide a means for sites to earn advertising fees by advertising and linking to Amazon.com. Oyster also participates in the SkimLinks and SkimWords affiliate programs.
All products are independently selected by our writers and editors. If you buy something through our links, Oyster may earn an affiliate commission.