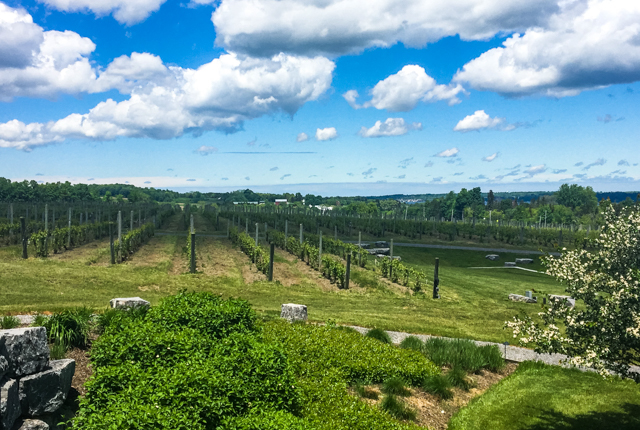 When it comes to planning a vino-focused vacation, the usual suspects -- Napa, Sonoma, Tuscany, and Burgundy -- will justifiably cross your mind. Unfortunately for oenophiles traveling from the northeastern part of the country, these can be costly and time-consuming getaways. The good news: New York happens to be the third-largest wine producing state in the country. The Finger Lakes, specifically, is best known for its cool climate varietals, like Riesling, ice wine, Pinot Noir, and Chardonnay. Just about a four-hour drive from Manhattan, this region of upstate New York is home to more than 100 wineries -- plus the Cayuga Lake Wine Trail, the oldest in the U.S. With that in mind, here are 14 of the best wineries in the Finger Lakes that deserve a toast.
Dr. Konstantin Frank
Vitis vinifera may be native to the Mediterranean region, central Europe, and parts of southwestern Asia, but thanks to Dr. Konstantin Frank, the common grape vine now also grows in the frigid Finger Lakes. After proving that it was a lack of proper rootstock (not the cold climate) that hindered the vines from growing in the area, Dr. Frank became the first person to produce the European variety of wines in the northeastern part of the U.S. That was back in the 1960s, and these days, the winery and tasting room, which overlook the picturesque Keuka Lake, still hold a high reputation for delicious Rieslings and sparkling vinos.
Wagner Vineyards
https://www.instagram.com/p/BWzO1vHDaYO
In 1976, Bill Wagner, a third generation grape grower, took an old backhoe and began to dig a cellar in the middle of an old horse pasture. Three years later, Wagner Vineyards opened its doors, making it the first winery on the east side of Seneca Lake. Today, the winery is still going strong, with more than 30 wines crafted from 20 grape varieties that are all grown on the estate. Rieslings are the main highlight here (sweet, semi-sweet, and dry blends are all available), though you won't go wrong with a Chardonnay, Cabernet Franc, Pinot Noir, or ice wine either. Take a refueling break at the the adjacent Ginny Lee Cafe, then sip some more. Those who wish to mix things up can go bottoms up with beer, as this is this only Finger Lakes winery with its own on-site craft brewery (and separate tasting room).
Red Newt Cellars
Founded in 1998 by David and Debra Whiting, Red Newt started with a mere 1,200 cases of Chardonnay, Riesling, Vidal, Cayuga, Cabernet Franc, Cabernet Sauvignon, and Merlot. Nearly two decades later, the Seneca Lake winery has upped its production to an impressive 20,000 cases. White wines focus on Riesling, Gewurztraminer, and Pinot Gris, while red varietals include Pinot Noir, Cabernet Franc, Merlot, and Cabernet Sauvignon. The winery's most popular vino, Circle Riesling, pleases with tangerine and honeysuckle aromas and an elegant palate of citrus and peach. After a few glasses, fill up on something more substantial at Red Newt Bistro, a casual restaurant that serves a seasonal and locally sourced menu.
Glenora Wine Cellars
Founded in 1977 as the first winery on Seneca Lake, Glenora is so much more than that. The property is home to vineyards, a winery, a hotel, and Veraisons, a restaurant with seasonal, locally sourced fare. Expect an array of varietals, but the Pinot Blancs, sparkling wines, and Rieslings are specially sought out. We recommend signing up for a cellar tour, which offers a behind-the-scenes peek at where the magic happens. Plus, those who want to stay close to the action can crash at the 30-room inn.
Lamoreaux Landing
With a striking Greek Revival building perched on a hill overlooking Seneca Lake, Lamoreaux Landing provides vino drinkers with some stunning views alongside their refreshments. However, it's not all about appearances here. The team has been growing grapes using only sustainable practices for three generations. The result is delicious wine, including staples like Chardonnays, Rieslings, and Pinot Noirs, as well as standout options like Muscat Ottonel, Gruner Veltliner, and the unoaked T23 Cabernet Franc, a smooth, fruity blend that hits the nose with dried cherry and tobacco aromas and treats taste buds to a hint of elderberry and black currant flavors. Sparkling wines and ice wines are also worth a try in the year-round tasting room.
Heart & Hands
https://www.instagram.com/p/BWvD6C8hYHn
Located on the eastern shore of Cayuga Lake, this seven-year-old boutique winery from husband-and-wife team Tom and Susan Higgins focuses exclusively on Pinot Noir and Riesling. The sampling selection is small (only 2,000 cases are produced each year), but that just allows for a bigger emphasis on quality. For starters, the vineyard is sustainably farmed sans insecticides or herbicides. Grapes are harvested by hand in the cool early morning hours before being hand-sorted to find only the best of the best. The Pinot Noir is fermented in small, open-top fermenters and tended to by hand twice daily. After about two weeks, the grapes are gently pressed and moved into barrels. (he winemaker considers every detail, down to the forest of origin and grain tightness. The Riesling, on the other hand, is gently pressed and fermented for about 50 to 90 days in small stainless steel tanks. Tip: Keep in mind that tastings are available by appointment.
Hazlitt 1852 Cellars
Jerry and Elaine Hazlitt might have opened their winery in 1985, but the Hazlitt family has been farming the land here in Hector, New York, since 1852. Now, you can become a part of the tradition by stopping by the tasting room, which doles out high quality Chardonnay, Pinot Gris, Merlot, and Cabernet Sauvignon. In addition to this location, which boasts a big horseshoe-shaped bar, Jerry and Elaine manage another tasting room in Naples, New York, called Red Cat Cellars. As the name suggests, this location is known for Red Cat, a sweet red wine made from the native Catawba grape.
Hermann J. Wiemer Vineyard
https://www.instagram.com/p/BVabbDsgOrn
Hermann Wiemer, a German native who immigrated to the Finger Lakes in the 1960s, had winemaking in his roots (his mother's family had been making vino in Germany's Mosel Valley for more than 300 years). Much like Dr. Konstantin Frank on Keuka Lake, this 40-year-old Seneca Lake winery was also one of the pioneers in exclusively growing classic European vinifera grapes, like Riesling, Chardonnay, and Pinot Noir. Riesling still reigns supreme here, with nine varieties from Dry to Late Harvest. And it's not just what the 80-acre estate produces, but how it's produced that's of particular note. The fruit is hand-harvested and hand-sorted, without synthetic add-ins like herbicides and insecticides. Fermentations also rely on indigenous yeasts, resulting in a distinct texture. Sip and see for yourself.
Heron Hill
Visitors to the Finger Lakes will have not one but three opportunities to experience Heron Hill, which operates tasting rooms on Keuka Lake, Seneca Lake, and Canandaigua Lake. Head to the Keuka Lake location, which boasts an airy, vaulted-ceiling tasting room and winery overlooking the vineyards. Today, Heron Hill produces six cool climate Riesling styles, from dry reserves to ice wines. To top things off, the Keuka Lake outpost also offers seasonal outdoor food and music events, as well as a wine-and-cheese tasting experience in the tower that displays panoramic views.
Americana Vineyards
https://www.instagram.com/p/BWYGwMxHER_
Housed in a relocated 1820s barn, this tasting room on Cayuga Lake offers an array of vinos, from dry to sweet blends, but that's not the only reason to visit. The location also offers 20 varieties of homemade fudge. You'll be welcomed right off the bat by Americana's official greeters, Max and Rubie, two chocolate labs. Other highlights include the on-site Crystal Lake Cafe, which is open year-round and plates dishes with locally sourced ingredients, as well as frequent events and live music.
Ravines Wine Cellars
For a taste of France in the Finger Lakes, head to Ravines Wine Cellars. Owner Morten Hallgren was raised in Provence, where his family owned and operated Domaine de Castel Roubine, a 270-acre estate with 170 acres of vineyards. Hallgren later went on to cut his teeth at a prestigious winemaking school in Montpellier before taking a job as chief winemaker at Dr. Konstantin Frank on Keuka Lake. And in 2000, he and his wife, Lisa, purchased a their own piece of land on Keuka Lake. The prime real estate is situated at the widest part of the lake, allowing the grapevines to receive maximum benefit from its temperature-moderating effects. Plus, it has a good slope that keeps the mineral-rich soils well-drained, and is located between two deep ravines, hence the name. Stop by the tasting room to sample Rieslings, Cabernet Francs, and other varietals while soaking in the idyllic views of the lake. Just 14 years old, the tasting room also appropriately features a sculpted head of Bacchus, the Roman god of wine. The Hallgrens also have a tasting room on Seneca Lake, and both locations are home to Ravinous Kitchen, a farm-to-table eatery that's open on weekends.
Sheldrake Point
Unlike many other wineries in the Finger Lakes, Sheldrake Point located right near the water, on the western shore of Cayuga Lake, meaning you can reach it by boat or car. Tie up your ride to one of the eight docks, then make your way to the tasting room, where $5 will get you a sampling for four vinos. Don't leave without trying the excellent Rieslings and an array of ice and dessert wines.
Anyela's Vineyards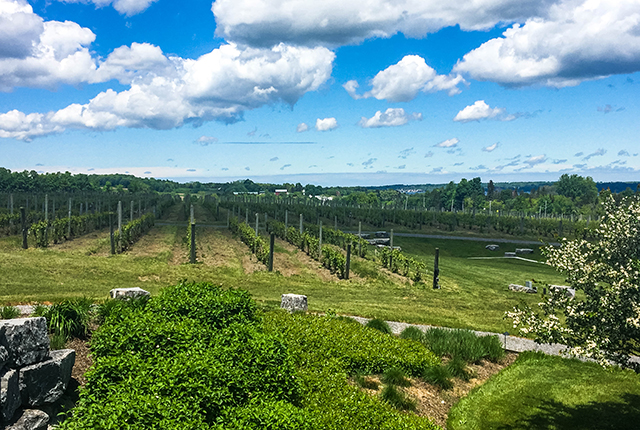 Although the Nocek family first planted their vineyards here in 2001, their story can be traced back much further than that. In fact, the family began growing grapes three generations ago in eastern Europe. These days, you can find their work on a hillside above Skaneateles Lake. For $5, sample five wines chosen for you, or spend another $5 to choose five samples yourself. Private group tastings (25 to 50 people) are also available Monday through Friday and will set you back $15 per person for five feature wines. Expect high-quality vino, as the team uses sustainable agricultural practices (no pesticides, herbicides, or fertilizers) to produce fresh, flavorful fruits.
Casa Larga Vineyards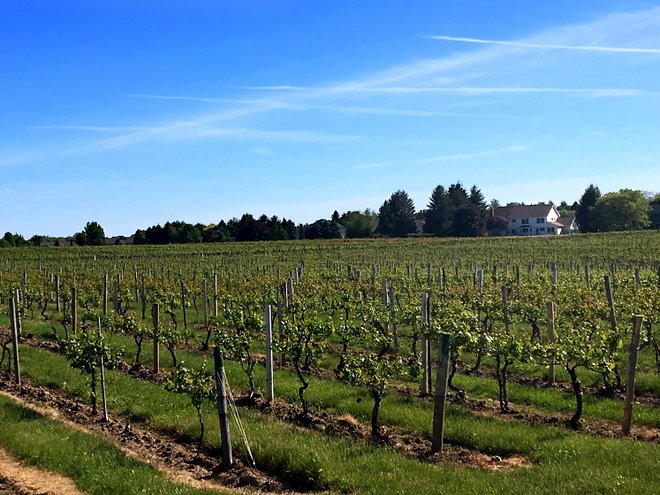 In 1974, Andrew Colaruotolo planted two acres of vines on a picturesque hill in Fairport, New York. He called it Casa Larga after his grandparents' vineyards in Italy. Colaruotolo himself was born in Gaeta, Italy, a small Mediterranean fishing village, and moved to Rochester after World War II. Sadly, Colaruotolo and his wife have passed away, but their three children keep the vineyards — and its Italian roots — alive. Located atop one of the highest points in the Finger Lakes region, the vineyards at Casa Larga occupy about 35 acres of land. Its high elevation along with other conditions (rich sandy loam soil) create optimal grape-growing conditions. The result is range of vino varieties — Chardonnay, Riesling, Gewurztraminer, Muscat Ottonel, Pinot Noir, Merlot, Cabernet Franc, and Cabernet Sauvignon, to name a few.
You'll Also Like:
All products are independently selected by our writers and editors. If you buy something through our links, Oyster may earn an affiliate commission.