If you're a frequent flyer (or buying a gift for one), you know that getting some quality in-flight shut-eye is key. The problem is, unless you want to collapse on your tray table or drift off on a stranger's shoulders, there's often no good place to rest your weary head. Neck pillows are a popular way to get comfy, but they're not all created equal. Current offerings include everything from pricey memory foam versions to economic microbead options. While it may be tempting to grab whatever they're selling at the airport newsstand, it's worth shopping around to make sure you snag a pillow you're comfortable with. After all, once you check into your destination, you'll want to spend your time exploring, not dozing, so here are the best neck pillows we found.
Traveling can be stressful, so why not turn your airplane seat into a spa with this elegant pillow stuffed with flaxseed? Handcrafted, with a washable cover, it can be microwaved or chilled to help relax your shoulder and neck muscles after the tension of a trip.
Constructed of super-soft fleece with an underlying ergonomic structure to support your neck, the Trtl pillow makes for a comfortable in-flight experience. It's perfect for those who want something different than the traditional U-shaped offering. Even better, it weighs under 150 grams, so it can easily fit into luggage.
Stay stylish, even in the most cramped coach seats, thanks to this patterned microbead pillow, which comes with a loop so you can snap it onto your luggage. Best of all, it comes with a comfy padded eye mask that hovers above the eyes, leaving your face free of unsightly marks or smudged makeup. Prepare to arrive at your destination fresh and bright-eyed.
If you're like most travelers, you hate the feeling of your chin falling forward just as you've reached a blissful state of sleep. That's where this velvety soft pillow from Bcozzy comes in. With arms that wrap entirely around your neck, the pillow prevents you from banging your head on the seat in front of you. Plus, you can bend and shape it exactly as you please for the most comfortable fit. It's also machine washable and comes with a snap-strap, so you can attach it to side of your carry-on.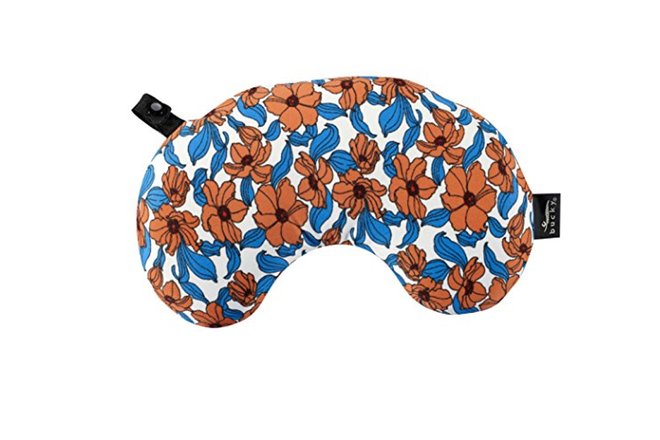 This compact pillow from Bucky can fit just about anywhere, and has a snap-on strap that's ideal for travel. Take your pick from 21 different colors and patterns. Plus, with a detachable cover, it's filled with soft millet hulls to keep your head in a natural position and your spine aligned.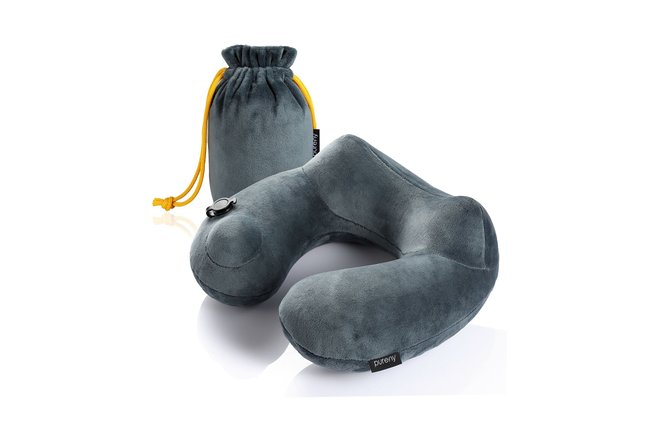 No huffing and puffing required — just push the double-sealed valve to inflate this pillow from Purefly. After releasing the air, it's easy to pack this pillow in the provided sack. The innovative design provides raised neck support to hold your head upright and maintain proper alignment, and the micro-velvet fabric cover is fully removable and washable.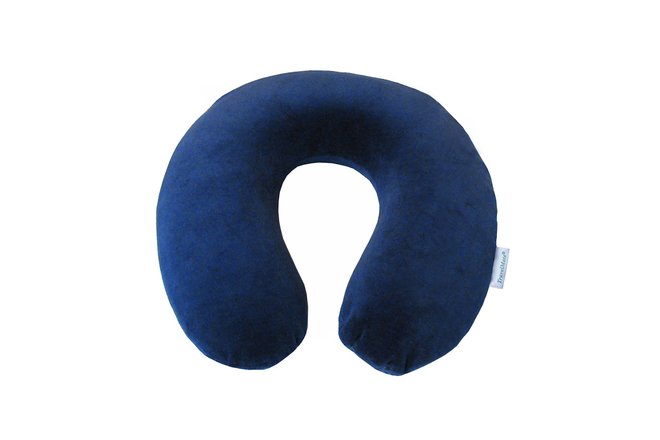 When it comes to travel, one size doesn't always fit all. This affordable pillow from TravelMate lets you customize your level of comfort with a built-in, removable memory foam insert. Simply adjust the thickness of the pillow based on your personal preference and sitting position. The thermo-sensitive memory foam molds to your body to eliminate soreness and tension that always seems to pop up on long-haul trips. Plus, this travel accessory comes with a machine-washable velour cover and a snap-on strap.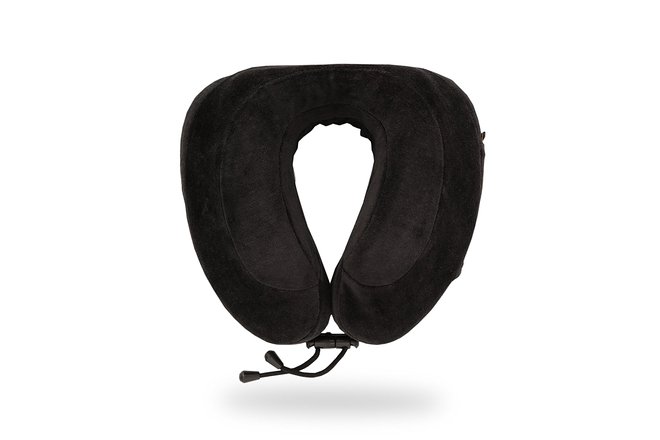 Made of ergonomic memory foam that conforms to any way you feel like sleeping — right, left, back, or forward — this pillow from Cabeau offers 360-degree support. And you don't need to tote it along, since it squishes down to about one-quarter of its normal size. Complete with washable cover, it also includes memory foam earplugs so you can drown out your noisy neighbor.
You'll Also Like:
Oyster.com is a participant in the Amazon Services LLC Associates Program, an affiliate advertising program designed to provide a means for sites to earn advertising fees by advertising and linking to . Oyster also participates in the SkimLinks and SkimWords affiliate programs.
All products are independently selected by our writers and editors. If you buy something through our links, Oyster may earn an affiliate commission.